From the moment we plant the very first tomato seeds (when it is still snowing), we look forward to harvesting the ripe tomatoes, biting in, and savoring the taste … Yummy! We grow many tomatoes, so we can enjoy them right from the vine, in salads, and meals. We also preserve tomatoes in yummy recipes to enjoy all winter long.
Sometimes there are more tomatoes then we can eat or have time to preserve. Not to worry! The easiest way ever to preserve tomatoes is by freezing them whole.
How to freeze whole tomatoes
Give the ripe tomatoes a quick rinse and place them into a freezer bag or container. Now they are ready to go into the deep freezer. Not sure why, but whole tomatoes do not have to be blanched, they keep great without. Sometimes I even leave the stem in, if getting it out would damage the tomato. I want to keep the tomato as intact as possible. In my experience this is the easiest and best method to freeze tomatoes.
How to use frozen tomatoes
Take as many tomatoes as you plan to use right away for the recipe out of the freezer bag or container.
Do not let them thaw first or it will be a mushy mess!
Rinse each tomato with warm running water, the skin will come right off. Now they also can be cored and cut into pieces, or be blended in a blender as needed for the recipe.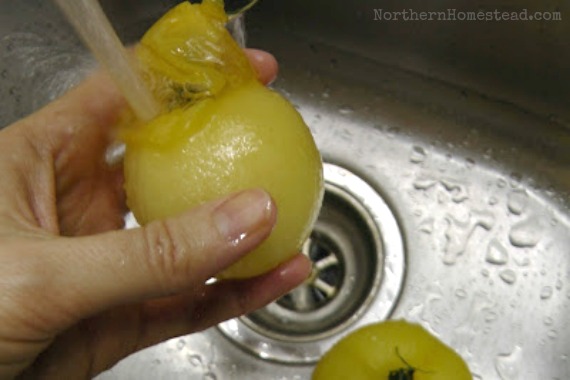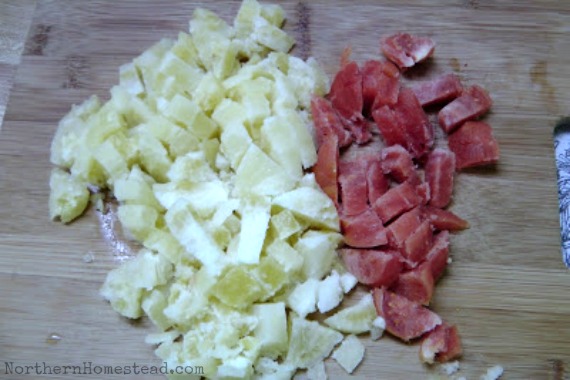 Frozen tomatoes will be more watery than fresh tomatoes, and they are not suited for fresh eating, but are great for soups and tomato sauces.
A fresh tomato soup or sauce in the middle of winter, delicious!
You may also like the Oven roasted Tomato Sauce that can be made with fresh or frozen tomatoes.
We invite you to subscribe to Northern Homestead and follow us on Facebook or Pinterest for the latest updates.
More food preserving post you might enjoy