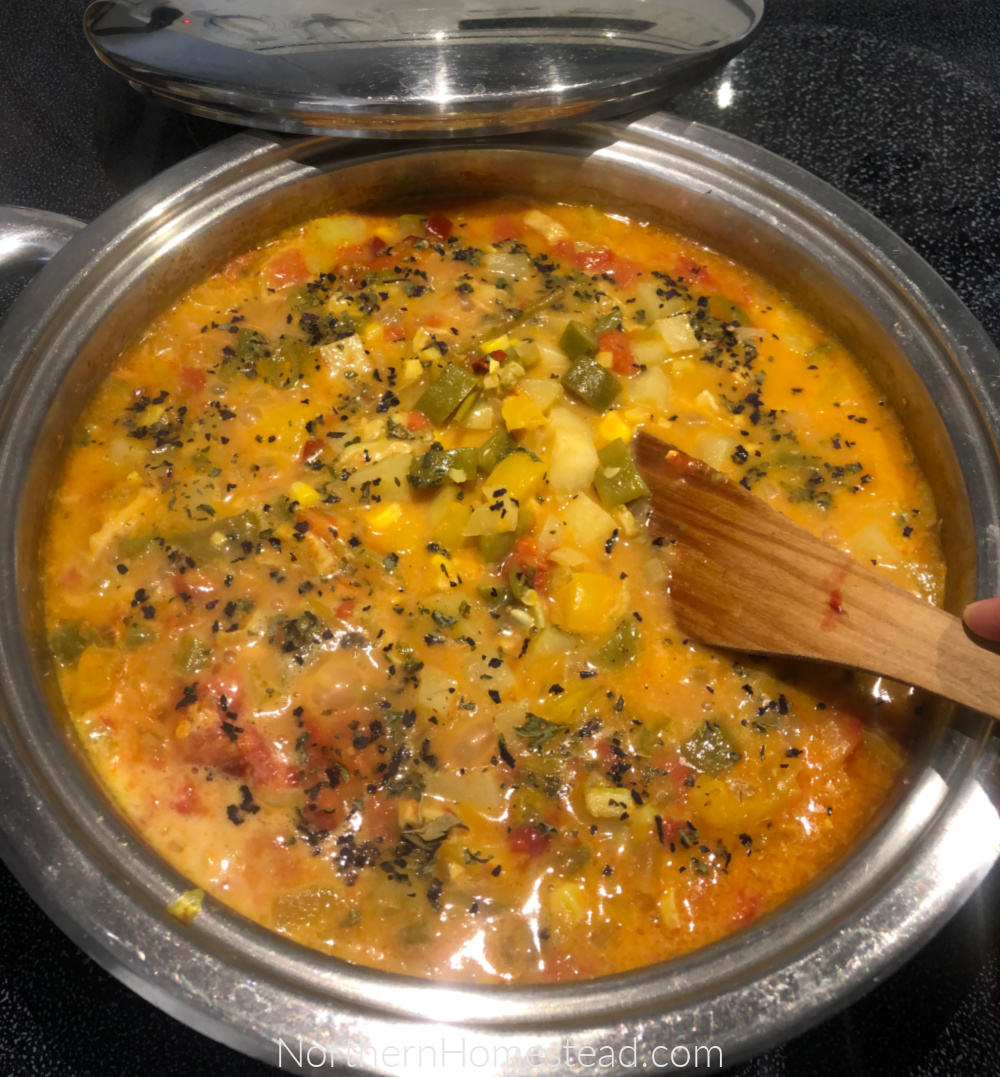 With this summer vegetable curry recipe, we want to demonstrate how 'growing what you eat and eating what you grow' can work year-round. It is one of our favorite plant-based dishes that we can make mainly from homegrown and/or home-preserved ingredients. Serve it with rice or noodles.
Why grow what you eat
As young adults growing what we eat was not on our radar. We were busy with other things. After moving to Canada I started gardening, maybe because I was missing summer so much during the almost endless Canadian winters.
Since we both grew up on a homestead, we knew at least something about gardening, but gardening in a cold climate and the short growing season was a whole new experience. However, we learned quickly and loved it.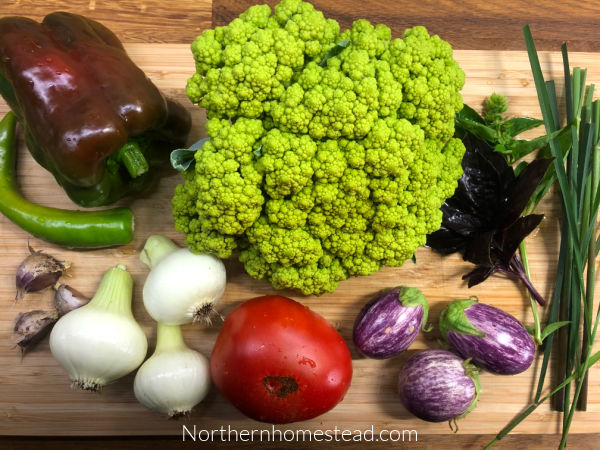 Gardening helped us to feed our family on a budget, as new Canadians this was a big reason to continue. However, I really got serious about gardening when I noticed what a positive impact homegrown food had on my health. No vitamins or supplements that I was always taking made such a difference.
Then we started eating plant-based, also for health reasons, growing our plants to eat made even more sense.
If growing our food saved money and was better for our health, we were all in. But would it also make meal preparation easier and could we do it year-round? We had to find it out.
Homegrown food year-round
As we share in this blog article Where does our homegrown food come from in the winter. We grow food year-round and preserve food for winter during our short summer.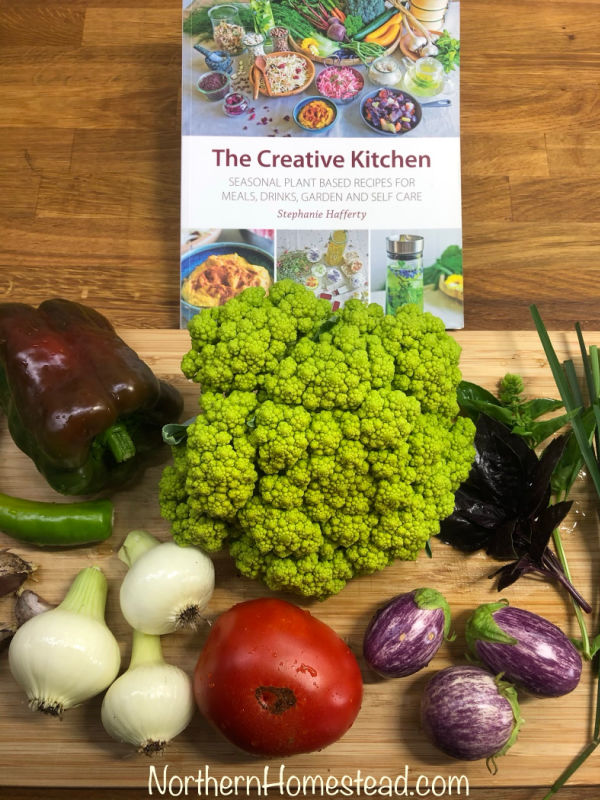 With this summer vegetable curry recipe example, we want to show you how this works year-round. The recipe comes from The Creative Kitchen book by Stephanie Hafferty, an excellent resource if you want to learn to use homegrown produce. Stephanie is a professional organic no-dig kitchen gardener, writer, and chef, specializing in seasonal plant-based food.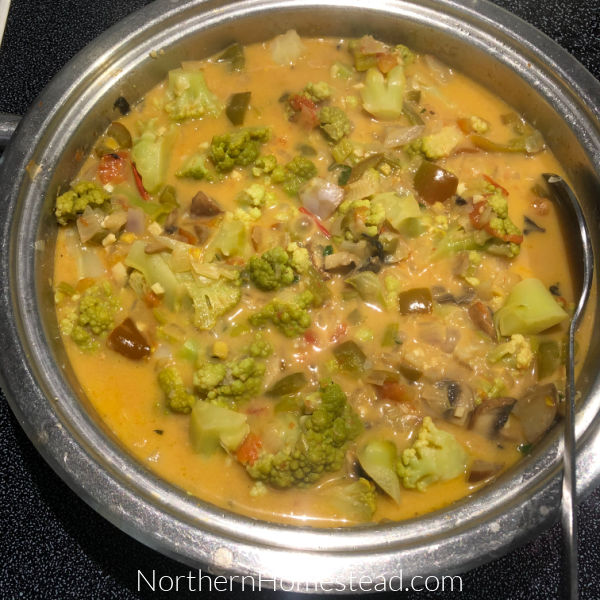 I adapted the recipe for our liking and shared it here mostly for demonstration purposes. The dish also turns out differently every time, since I use what is there. To get the original recipe you would need to acquire the book, but you will not regret it. The book is full of similar recipes and ideas that work just the same way. Stephanie encourages us to use what is available and gives us many suggestions in the recipe.
During the summer months when the garden is in full production, I add to the summer curry what is ripe and ready to go. Since the garden is always more productive than the two of us can eat, I freeze bag by bag the same ingredients.  For cooking I mainly freeze the vegetables, it is simple and works great. Read more about it in All about Freezing Vegetables, and our list of food preserving here.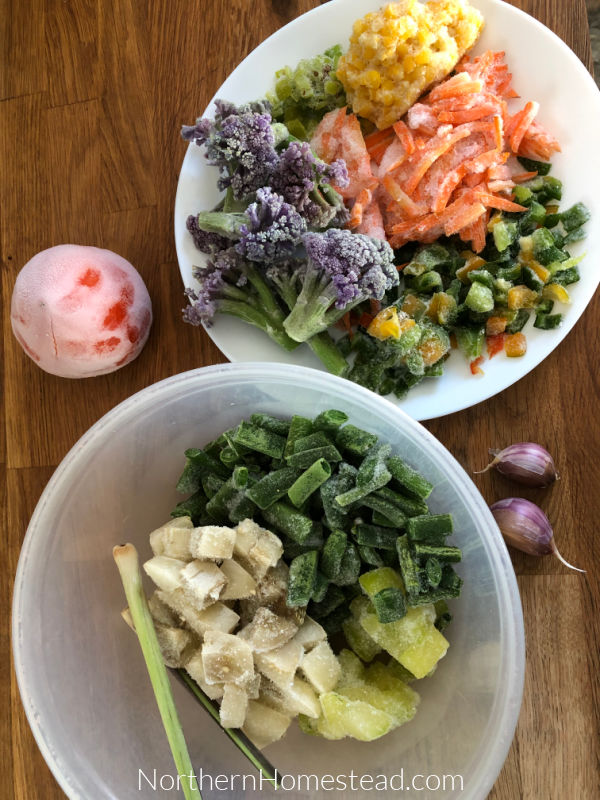 During the winter I basically have an instant meal almost ready. Most of the preserved veggies are already pre-chopped and can be used immediately.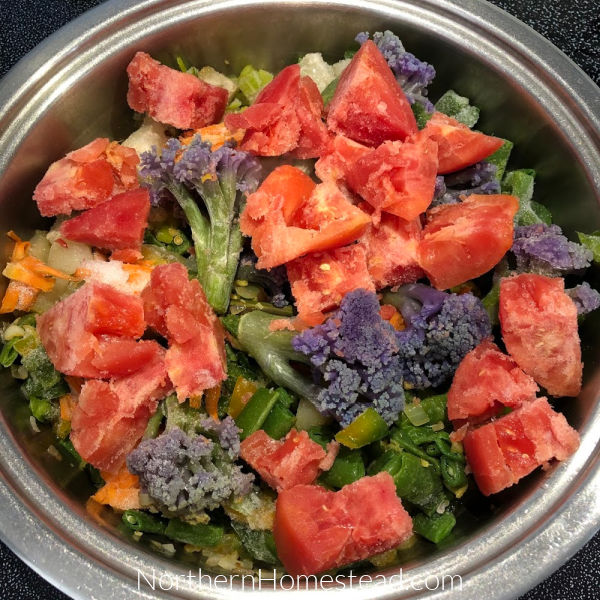 I gather from each freezer bag, glass, or pantry what I need and add it to the pot. The colorful veggies look beautiful and taste just like fresh. This way we can have the same dish at any time of the year whenever we want to.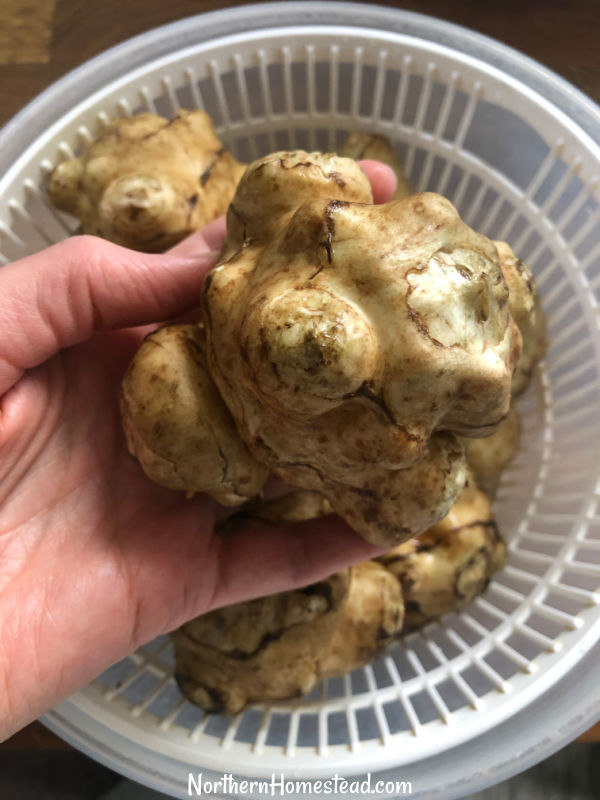 A great substitute for eggplants that do not grow so well in our climate is sunchokes that do grow well here. The texture is similar and the taste is even better in my opinion. Sunchokes go so well with other veggies and coconut milk. Yum.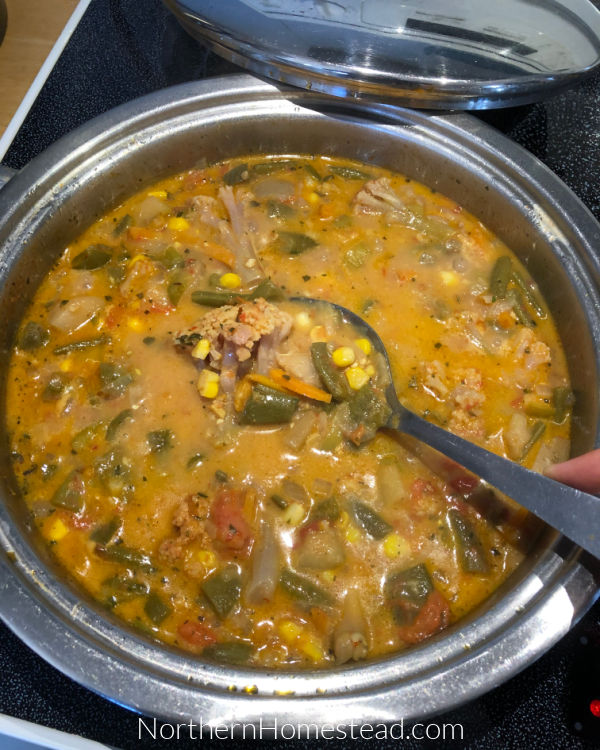 Again, the ready dish will look and taste according to what veggies are available. 
Summer Vegetable Curry Recipe
Now let's make the yummy dish, and it does not matter if you use fresh or preserved ingredients.

Summer Vegetable Curry Recipe Year Round
Author:
Anna @ Northern Homestead
Ingredients
1 cup cubed summer squash
1 cup chopped onion
4 cup vegetables (aubergine, cauliflower, corn, green beans, carrots, etc)
1 diced sweet pepper
1 cup diced tomato
2 cloves minced garlic
1 chopped chili pepper
400ml(13.5oz) coconut milk
1 stalk lemongrass cat into 8cm pieces.
1 teaspoon minced ginger
0,5 -1 teaspoon curry powder
1 teaspoon coconut oil for frying, optional
Fresh or dried herbs cilantro, basil
Brags liquid amino or salt to taste
Instructions
In some oil or water sauté the onions till glassy,
add garlic, ginger, curry powder, and sauté for another minute or two
Add all the vegetables
top with coconut milk
cook for 30 minutes or till done to your liking
sprinkle with herbs
add seasoning
More inspirations for homegrown food year-round
Growing our own plant-based food and preserving it for winter is the main theme of this blog.
You can find all the growing articles listed on the page growing and all the preserving on the page preserving.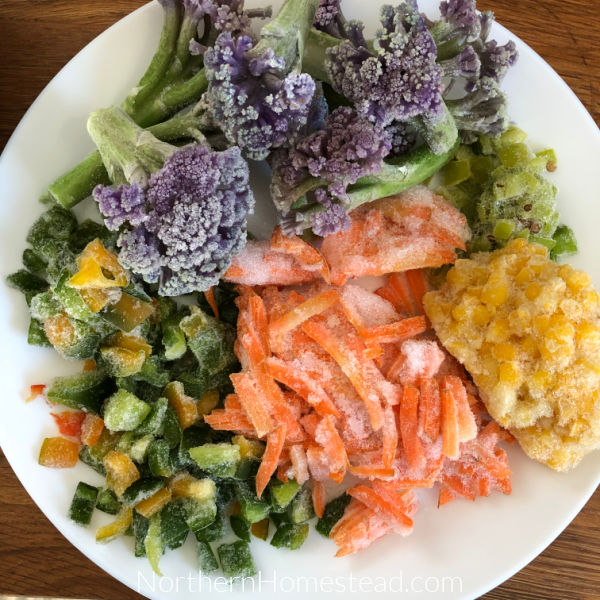 Freestyle cooking is a great ability to have when it comes to homegrown ingredients no matter what time of the year. In freestyle, you can also easily substitute vegetables that might be similar, like cauliflower with kohlrabi.
The no-plan meal planning method for gardeners is a great help to make meal plans, especially during the growing season. Things do not ripen according to our plan, they ripen when conditions are right.
To have a fully stocked plant-based pantry makes meal preparation really simple. After all, we do not garden to make things more complicated, we do it to have simple but healthy and yummy homemade food.
We invite you to subscribe to Northern Homestead and follow us on Facebook, Instagram, or Pinterest for more great recipes.
More Recipes You Might Enjoy: