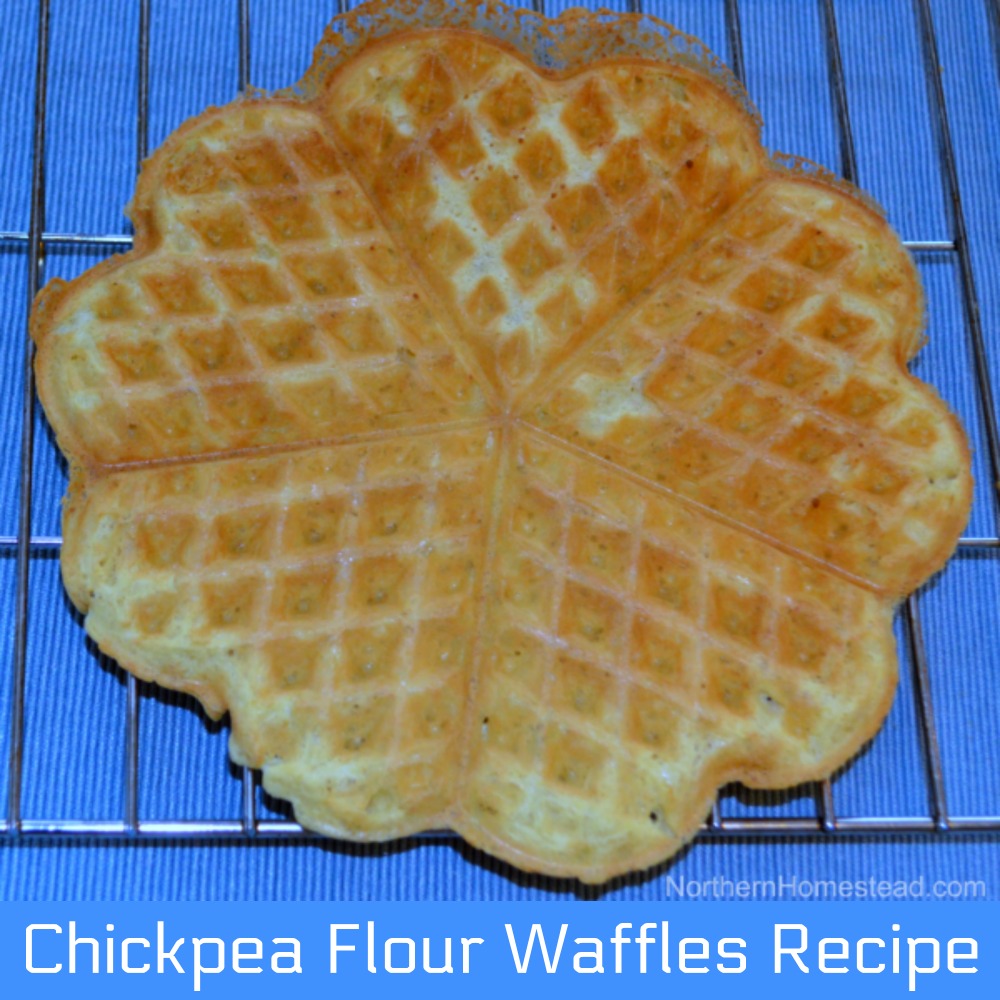 If you need an easy, yummy and satisfying breakfast recipe for mothers day, here it is! Chickpea flour waffles recipe brings the use of chickpea flour to another level. I thought chickpea flour pancakes were good, and they are, but waffles are awesome. Or why not make both? Anyways, try it and tell us what you think.
When we started the whole-food plant-based diet, we pretty much gave up on waffles. I did try making them vegan, but we could not help but compare them to our previous waffles, and that just did not make it. Then one day I tried the chickpea flour. We could hardly believe how great this turned out.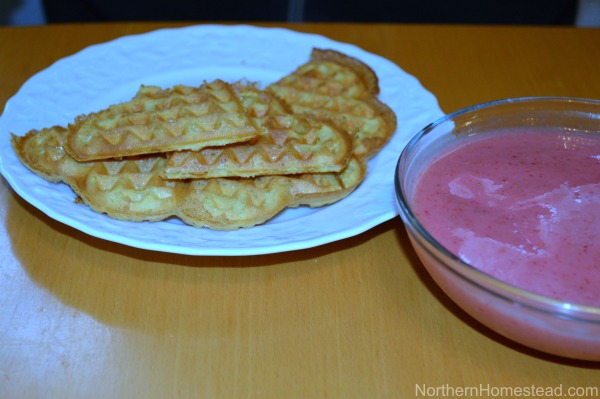 I have to say though, that we like the europian style waffles that are thinner and more crispy. Yes, we do like crispy waffles, and these are just so crispy and delicious. If you are into soft waffles, I would still give this a try and if you don't like them, the batter can be made into pancakes, so no risk here.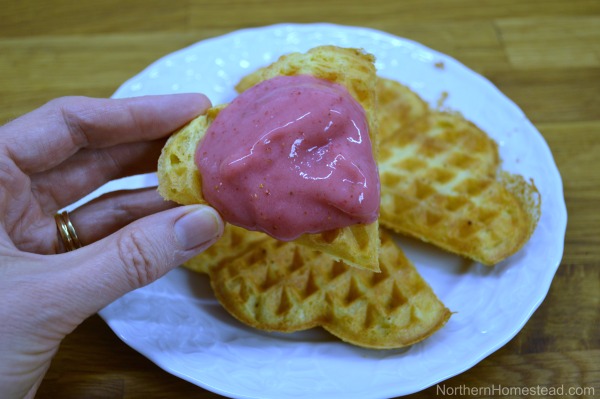 These waffles taste great topped with berries or cherries and yogurt or ice cream. Really, use your imagination. Here I combined coconut yogurt with frozen strawberries and a drizzle of maple syrup, mixed it in the food processor and we dipped or topped the waffles with it, yum!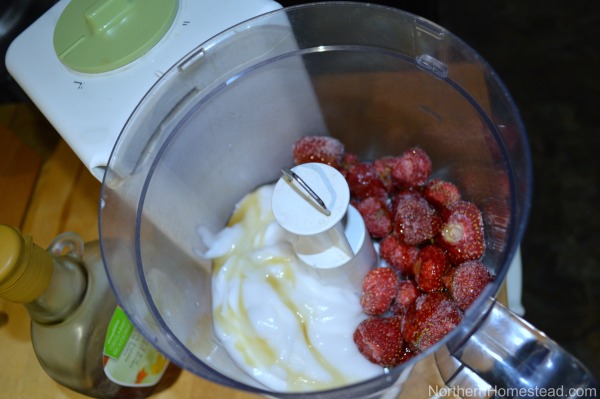 Chickpea or Garbanzo bean flour can be purchased, however, finding it in the store may not be as simple as looking for chickpea flour. Look also for gram, gram dhal, chana, garbanzo bean or besan flours. Asian and middle eastern markets would be good places to find it.
It is easy to make your own garbanzo beans flour in a high-speed blender straight from chickpeas. Add the dry chickpeas to the blender and blend/grind till fine. There you have it – homemade chickpea flour.
Lime or lemon gives the batter some acidity so the baking powder is better activated.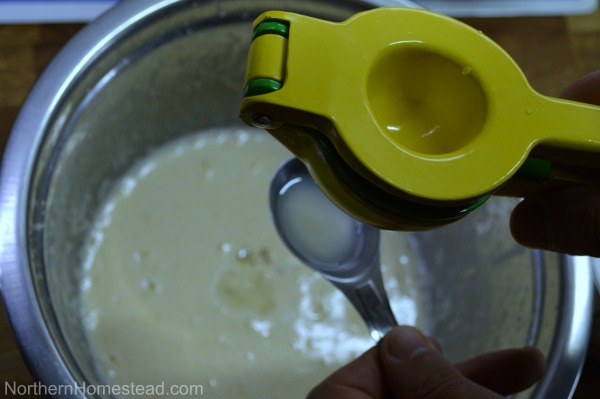 You will see that our recipe does not include salt or sugar. We like them this way. You can add a pinch of salt and a tablespoon or two of sweetener to your liking.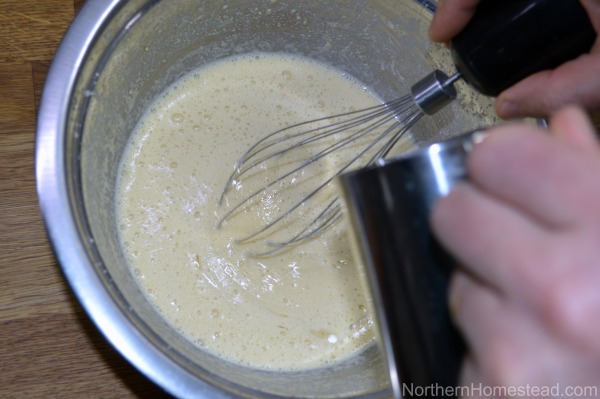 Our Chef'sChoice waffle maker does not stick, if yours does, you will need some extra oil to use for the waffle maker.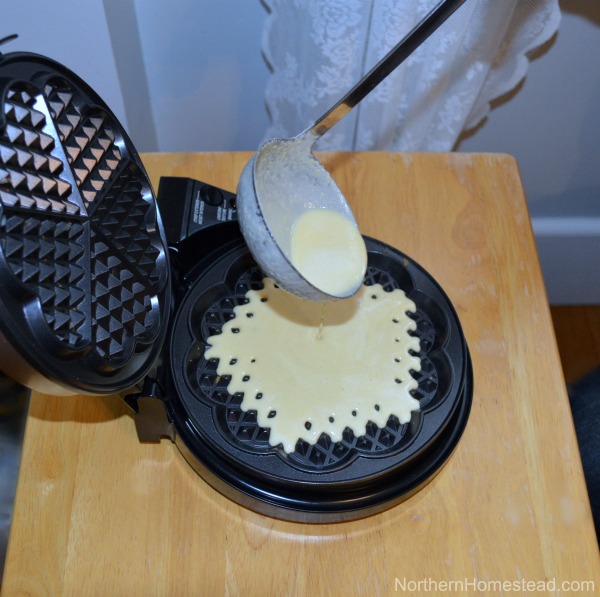 Chickpea Flour Waffles Recipe
Author:
Anna @ Northern Homestead
Ingredients
1 cup chickpea flour
1 cup of water
1 tablespoon lemon or lime juice
1 teaspoon baking powder
1 tablespoon coconut oil melted
Instructions
Combine chickpea flour and water and let soak for up to 12 hours.
add all other ingredients and mix well.
Heat the waffle maker and bake the waffles till golden.
This gluten free, nut free, dairy free, vegan chickpea flour waffles recipe is a real treat no matter what your diet choice is. For breakfast, dinner or as a dessert this recipe is easy to make and the waffles are satisfying.
We invite you to subscribe to Northern Homestead and follow us on Facebook, Instagram, or Pinterest for more great recipes.
More Recipes You Might Enjoy: