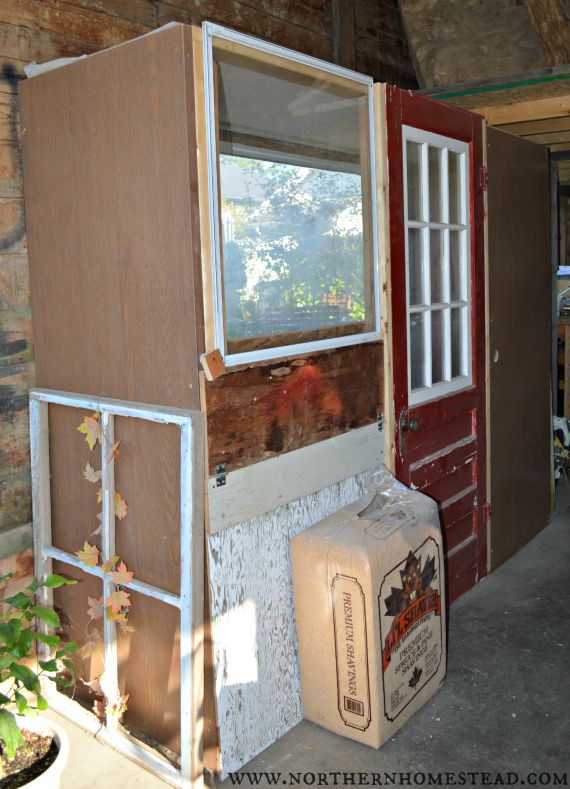 Using recycled material to build new structures is fun. It is also very easy and best of all free. Our chickens are indoors in our garage greenhouse. Since we are in zone 3, our winter can be very unpleasant for chicks to be outdoors. Plus caring for them outdoors is no fun either. Our solution to have a coop in a building has worked very well so far. See more about Keeping Chickens in Serious Winter here.
This summer our chickens needed a new coop, to replace the temporary coop they were in last winter. We wanted to have a great place for them to live in the coop all winter long. It needed to be spacious, bright, easy accessible and spacious. The free indoor chicken coop from recycled doors meets all our expectations.
The construction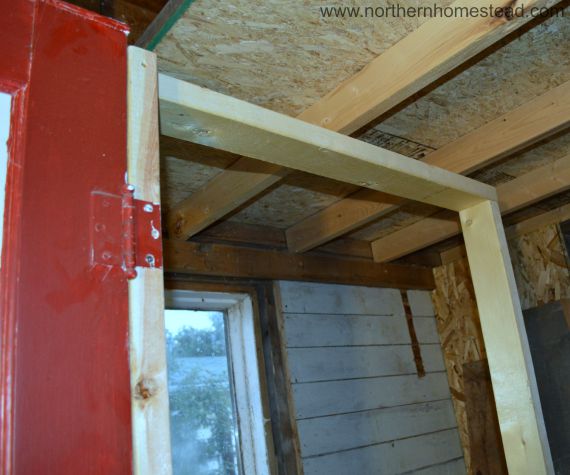 The chicken coop is 1 door wide and 3 doors long. The middle door opens for an easy access. We used 4 doors, two for the side walls and two in front. The third side is not a door.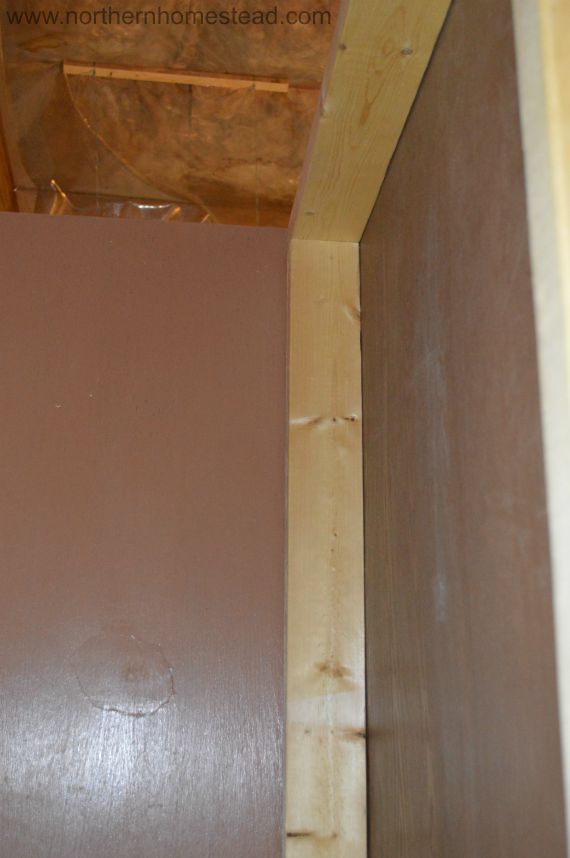 I used a simple frame for the 3 front sides, using 2×4 boards and mounted the side doors directly to the external wall.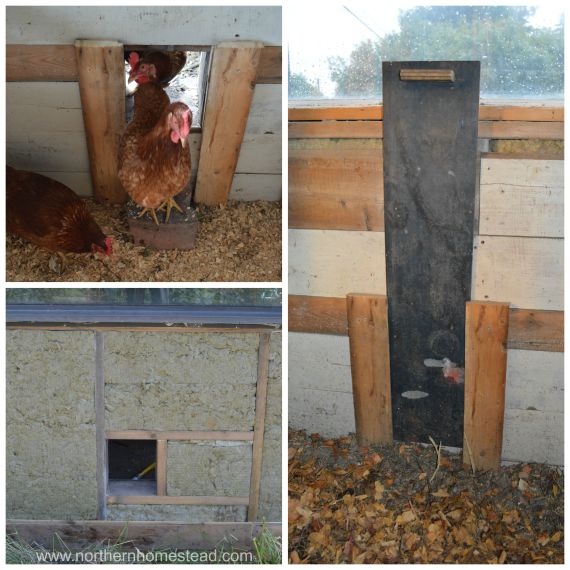 The outer wall is insulated, with an opening to the outside chicken run. In winter we close that opening. Our 3 chickens have enough space inside and it is very bright in there with lots of air.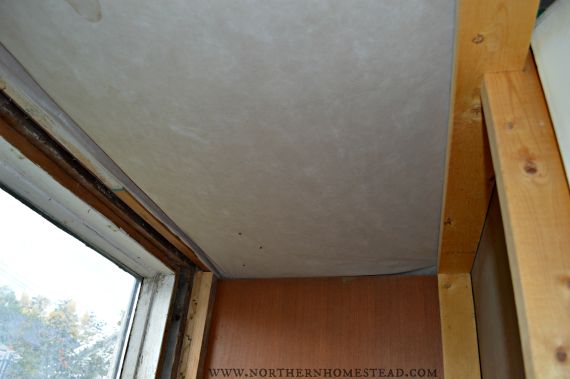 The coop has no roof, since it is indoors anyways. Instead we span a Frost Blankets
over the top. The material does filterer the dust from the coop, but lets air into the coop.
The egg laying boxes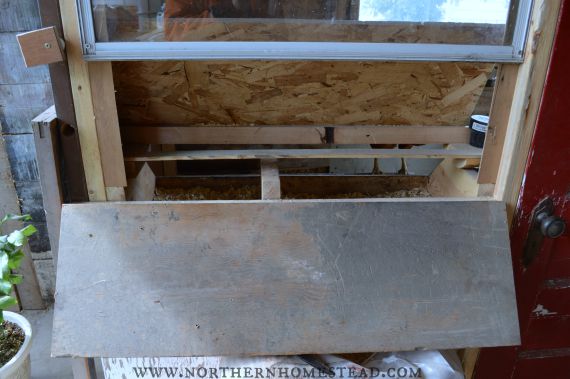 The third side where the egg laying boxes are is not a door, we wanted to have an opening for the eggs, and a window for more light.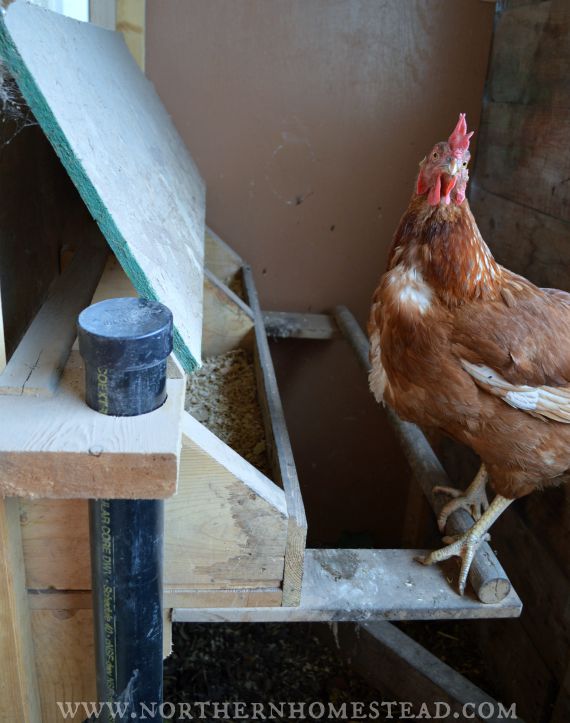 The nesting box is spacious, sometimes a chicken gets broody and blocks the nesting space. Here they have lots of room for every situation.
The pipe chicken feeder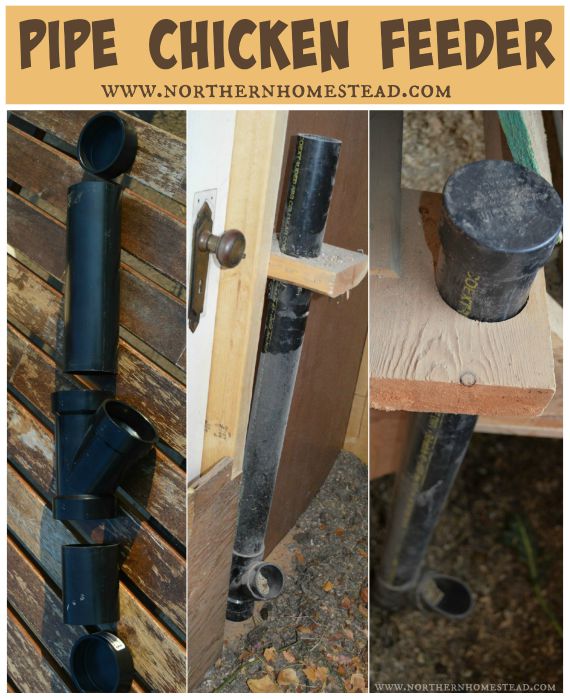 The feeder is a pipe. A pipe feeder is great for chickens, they can have food supply without being able to waist it our mess in it. The picture shows first a layout of it. Note, that the bottom part needs to be smaller, as you see in the second real life picture. I also mounted a addition to protect the food even better, see third picture. It works very well.
Chicken Water Bucket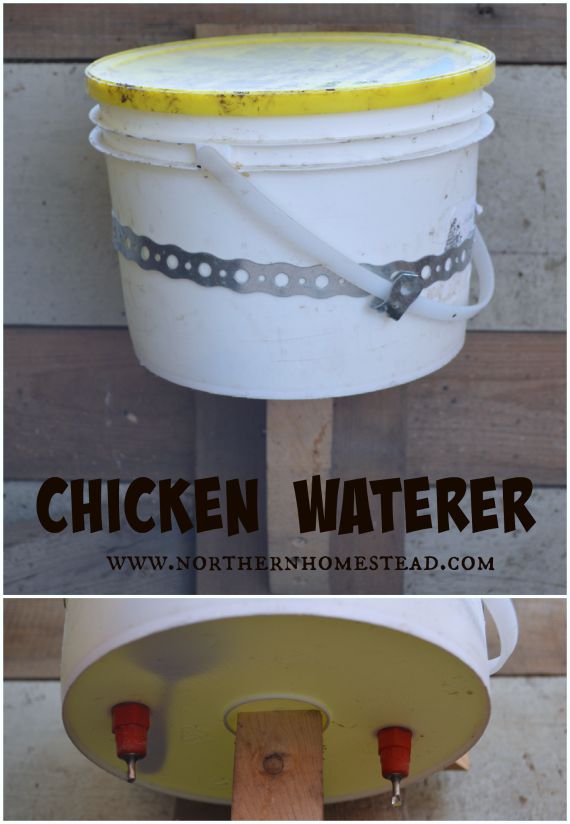 For water we use a bucket with nipples. Again, the chickens can have water for a few days without getting it dirty. I mounted the bucket on a little shelf support, and it is being held in place with galvanized pipe strapping. Note, everything in a chicken coop needs to be fixed firmly. Chickens do go on everything and sometimes they can be quite wild.
The nipples are the Poultry Drinking Nipples
that are mounted into the bottom of a bucket.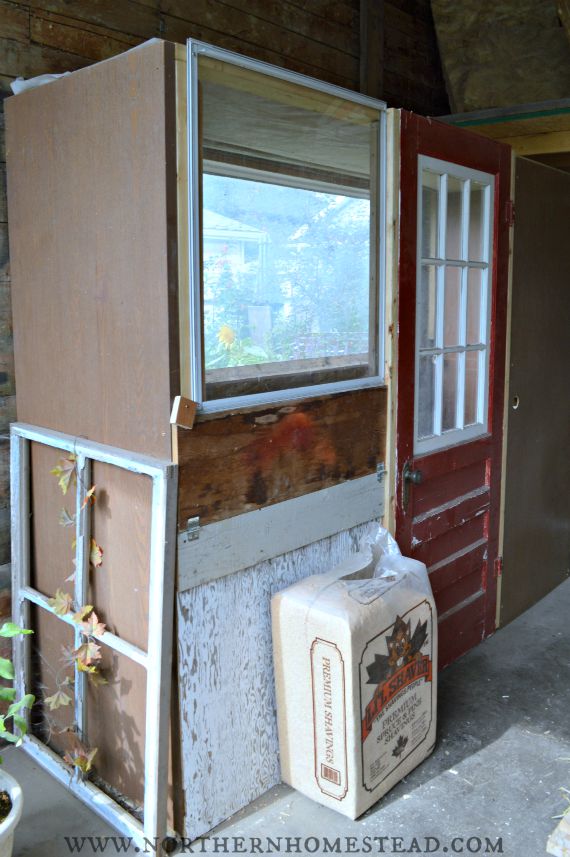 Update: Even though keeping chickens indoors has worked very well, in a long run we did not like all the dust they produced. It is something to keep in mind, chickens are dusty!
We invite you to subscribe to Northern Homestead and follow us on Facebook or Pinterest for more great tips.
You May Also Enjoy: