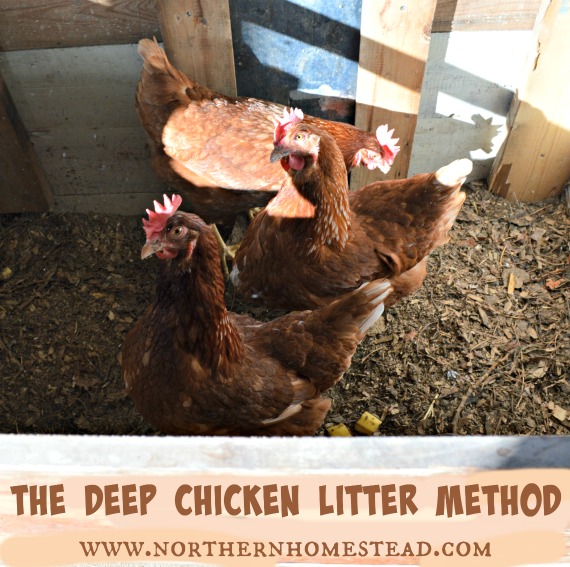 A year ago we became happy chicken owners. Even though we both grew up having chickens, to be responsible for them is a different story. We had to learn all about chicken food, litter, and cold protection in the winter. One of the things that we wanted to try, but our parents never did, was the deep chicken litter method. It just sounded too good to be true. Now after a year of doing it, we know that it is true!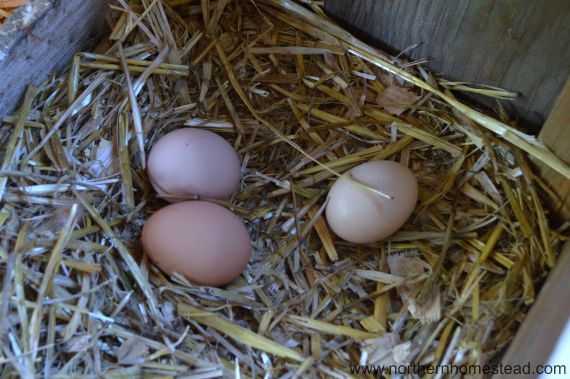 What is the deep litter method?
The deep chicken litter method is a no cleaning, deep litter bedding for a stationary chicken coop house. All you do is add litter material. We use wood shavings and leaves accumulating up to a foot of deep litter. The chickens work it through and it composts on its own. It is dry and not smelly at all. Here's a side picture of the deep litter. As you see there is ready, dark compost at the bottom, and a mixture of bedding, droppings, and scraps on top.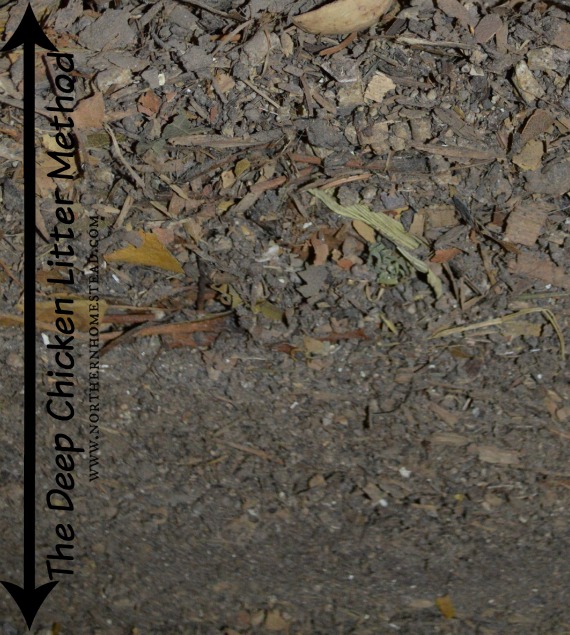 How does the deep litter work?
The secret of the deep litter is in something I can't explain to you. But somehow fungus and bacteria break the material down. To understand, let's talk about dough for bit. If you leave your cookie dough on a warm day on the kitchen counter, the dough will get sticky and smelly very soon. At the end of the day you will not be able to bake cookies, but will instead have to clean up your kitchen to get rid of the smelly sticky stuff. However, if you leave your sour dough in the same environment, it will rise nicely and at the end of the day you will have an aromatic loaf of bread. The difference is in the bacteria. The sour dough bacteria makes the dough rise and not spoil.
Same with the deep litter. It takes time to get the composting process started, but once it gets going, it works like a charm. The secret is not to clean, but to feed the chicken coop, by adding natural litter bedding material. Cleaning the chicken coop would be like throwing away the sourdough starter. Do not do that.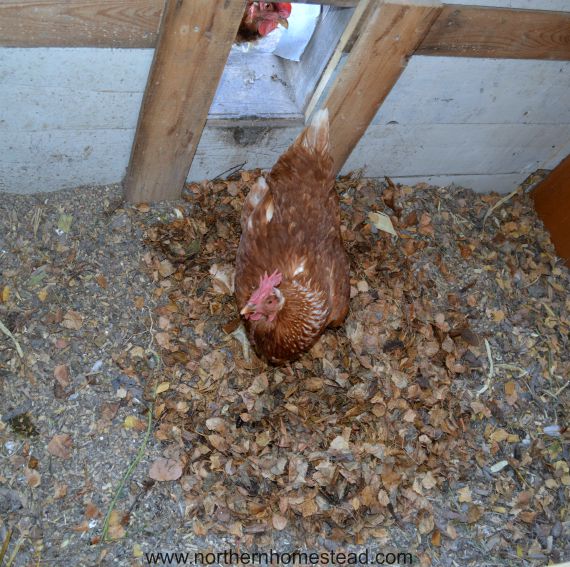 Instead you want to build an active compost pile. Chickens love compost piles, and if their whole coop is one, it is like a chicken feast on a daily basis. Just like any good compost pile you need carbon materials – the brown and nitrogen material – the green. For brown use dried plant material such as wood chips, hay, straw, dry leaves. The green will be the chicken manure. Please note that fresh grass, yard waste, and kitchen scraps are also green material. The deep litter should be high in brown material. You want to build the deep litter on a dirt floor so that natural bacteria underneath can get the process started, and also worms can come into the deep litter.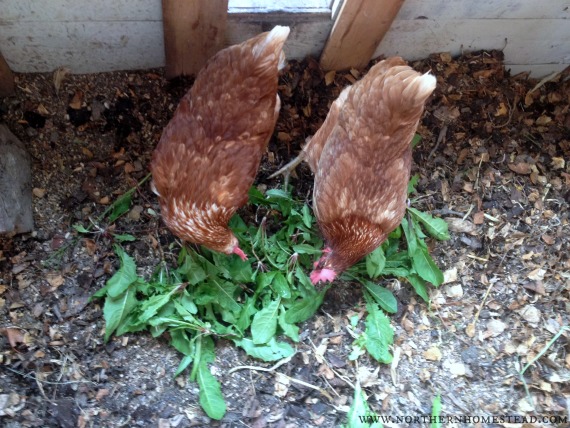 The results of a deep litter method
1. Less work
Adding some bedding material is all you have to do on a somewhat regular basis. We only have 3 chickens, so I add about a gallon size bag of leaves a month, plus as needed about a hand full wood shavings here and there under their sleeping area, where there are more droppings. I just add litter bedding when I see open, uncovered droppings. That shows me that more is needed. Use your nose. If you smell ammonia, use more bedding material.
2. Chicken manure compost
Chicken manure is one of the richest for the garden. The nice thing in the deep litter method is, you have no work to produce the compost. The chickens work it for you. Just remove the upper layer and take the deeper, composted layer for the garden. Put the upper layer back down and continue the deep litter method. Do not take away all the litter. Remember, it is like throwing away your sour dough starter. Do not do that.
3. Less smell and flies
Open animal droppings smell and attract flies -they just do. There is no way around it except if they aren't there, when the droppings fall into a mess of litter and get worked in and decompose. That's the result of a deep litter method. If you still see droppings you need more litter material. The deep litter method makes keeping chickens in town easy.
We invite you to subscribe to Northern Homestead and follow us on Facebook or Pinterest for the latest updates.
You May Also Enjoy: