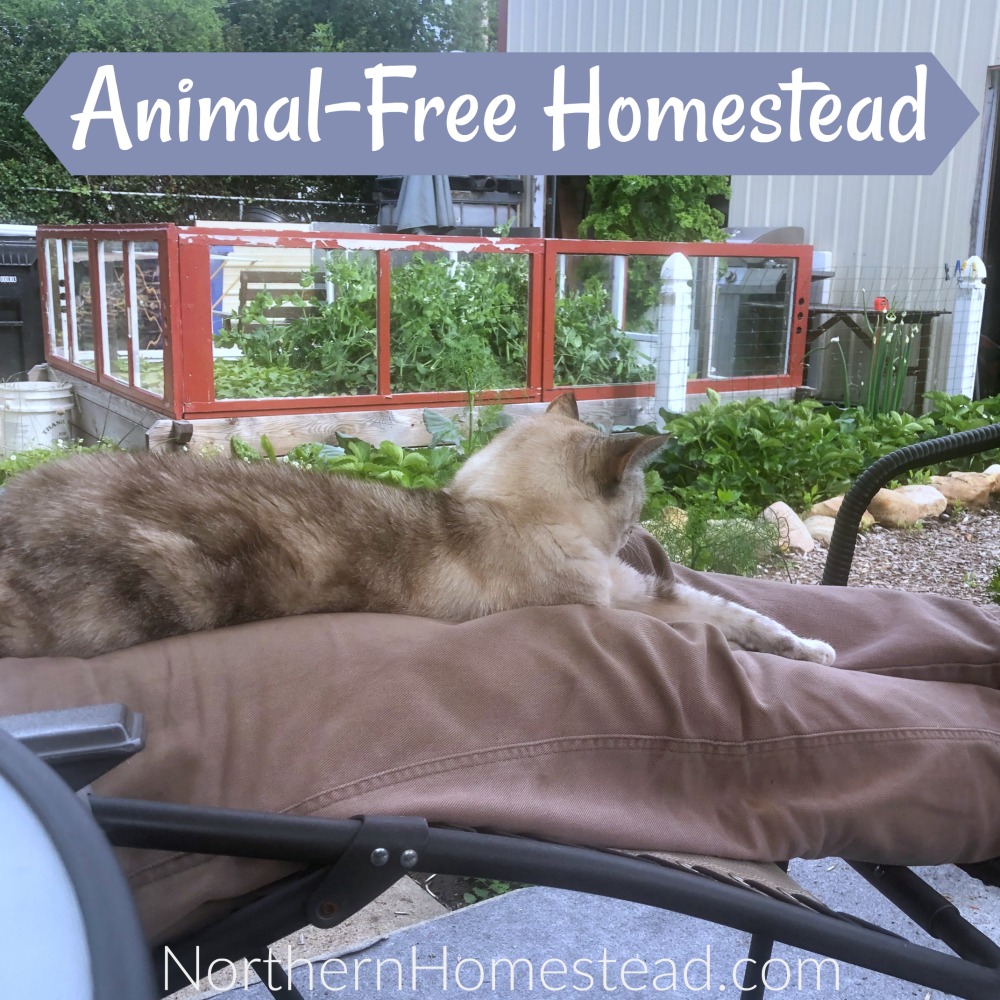 Update: This animal-free homestead article was written 2 and a half years ago (2019) a bit over a year after we started our journey on a plant-based diet. I call it a journey since we had no idea where it would take us. We thought it was just about what was on our plate to eat. Soon we realized it was a lot more.
More than anything we needed a shift in our consciousness. That shift is happening very gradually and I feel we have not arrived yet.
We changed our diet purely for health reasons. We had to decide between chicken and chickpeas in our dish to see what is better for our bodies. We did not see any differences in those two choices at the time, they were just different food choices, that's it.
We had no environmental, and certainly not animal rights motivations for our new plant-based diet.
To our surprise, it was fairly easy to change our diet. We loved the new foods that we were implementing and loved how we felt with them. That was stage one.
This animal-free homestead article leads us to stage two. Not only was our new diet simple and delicious, but we also loved our new lifestyle. Feeling good and having less work to do for our food supply. That's what this article is about.
That our photo depicting an animal-free lifestyle includes a carnivorous cat, have some found a bit ironic. That was on purpose though, we wanted to show that we are not against animals, and we are not judging anyone for their food choices. We are just sharing the benefits of our lifestyle for us.
Farm animal-free homestead
Technically we are not an animal-free homestead, we have always had some pets. It started with our daughter wanting a bunny. Over the years we have had several bunnies, a guinea pig, a hamster, and several cats. But we did not butcher or eat them.
The so-called real homesteading animals that we have raised were chickens before we gave up on backyard chickens and became farm-animal-free. Now we are down to just having a cute cat. By the way, the cat in the picture is intentional, to show that we can have animals without eating them.
I was listening to the book Farm City, and really enjoying it for the writing style and the simple story. I also loved the fact that Novella Carpenter, the author, was growing her own food right in the city. The book also includes a lot of animal husbandry and yes, even butchering details. Since I grew up on something like her city farm, just much more urban and homey, I could relate to some of it. Most of all I rejoiced in the fact that I myself do not have to go through so much trouble to get food on my table. More about it later.
The history of homesteader's food choices
The Homestead Act (1862) that set in motion a program of public land grants to small farmers was not the start of people growing and raising their food. All over the world, people grew and raised different foods for many generations. Before there was communal or commercial food, everyone was in some way a homesteader who made sure to get food on the table by making it.
HOMESTEADING IS NOT DEFINED BY WHERE SOMEONE LIVES, SUCH AS THE CITY OR THE COUNTRY, BUT BY THE LIFESTYLE CHOICES THEY MAKE.
From Homegrown and Handmade
Wherever meat played a big role in people's diet, animals were hunted or raised. In places where meat played a very insignificant role, vegetables and legumes were grown.
The old traditions of the eastern world were vegetarians. We associate health and longevity with them.
The majority of the western world was heavy on meat, so homesteaders raised animals for food. Most of our ancestors did. I grew up on a homestead where farm animals played a big role. I share more about it in my post: How people lived simple yesterday.
Our ancestors raised animals for food because they wanted to. And they often wanted, because it was socially the thing to do. The traditional food that is socially accepted played and still does play a big role.
Our parents and grandparents who lived through the world wars knew how to survive without meat. Even now we are often told that we eat as they did in the lean years, and they admit that they were very healthy during those years. Of course, we as the generation after the war have no relation to it.
The same is true for whole-grain products. Whole grain bread was everyday bread, white bread was desired and not so often available.
It is not true that all homesteaders back in the day raised animals for meat and ate whole-grain bread. Often the poorer ate beans and whole grains and were strong and healthy. The better off had meat and white bread, and servants to do the work for them.
Homesteaders of today
The young generation of homesteaders in the modern 'back to the land' movement often has no relation to these old historical patterns. Most of us grew up eating meat and not even thinking about it. Many, like me, grew up raising animals on the homestead or farm.
There was never a point in my life where I decided to be an omnivore. I was it before I could even speak. Most likely it is the same for you.
I even remember hiding in a closet while our family's pig was being slaughtered, so I would not hear the heartbreaking sound of that dying animal. But I do not remember making any negative connections between that suffering animal and the food at the pig slaughtering feast later that night. The constant slaughtering on our homestead had dulled my feelings.
Homesteaders who have not grown up so close to raising animals for food have an even more distant connection to it.
Many nowadays homesteaders and farmers face the death of an animal for the first time while butchering their own. The book Farm City, which I just finished listening to, describes it in the most colorful words. Like Novella Carpenter, many homesteaders and farmers who want to connect to their food, start with little to no knowledge of what it takes.
Rethinking homesteading food choices
If a homesteader decides to raise animals because he or she eats meat, that in itself is a noble task. After all, that's what homesteading is about, to care for own needs and in this case food.
Homesteaders in the past often made their food choices relating to social norms. Homesteaders of today are often misled to believe that butchering animals is just a must-do part of homesteading.
There must be a better reason for raising or not raising animals for food.
Today our food choice does not have to be according to the social norm of being poor or rich, "in" or "out". In a day and age where food is easily accessible to most of us, we can choose what nourishes our bodies.
My mother-in-law who grew up on beans and whole-grain, remembers that they were healthy back then. They had healthy teeth and felt good overall. Why did they not stick to that diet? Simply because it was the poor man's diet during the lean years. Now they can afford better. They also can afford all the high blood pressure and other illnesses and medications that go hand in hand with the "better" diet.
There was never a time on our planet earth where information to make smart decisions was so easily available. We also are free to make choices without being excommunicated from the society we live in, except of course if we are part of some radical group.
For us being a farm animal-free homestead feels freeing and empowering. After we informed ourselves on what is best for us, we had the freedom to decide. We eat plant-based by choice not by following any radical movement.
Nutritional Facts is a good place to find the latest updates on what science is saying about our favorite foods to help us make the healthiest choices for ourselves and our families.
Being an animal-free homestead
Being an animal-free homestead is great. We grow a lot of our food ourselves. Read more about how much food can an urban homestead grow for the winter. Since we are also an urban homestead and live in a cold climate we can't possibly grow everything we eat. But everything we eat is grown.
Growing up on my parents' homestead, we would bring in loads and loads of feed for the animals. Humans don't need nearly as much food as a pig does in its short lifespan. Nor do we need as much grain as chickens do for the eggs they lay. And don't get me started on the feed for a cow. Just storage for all the hay took up a space bigger than our greenhouse today. My mom often complained that animal feed would consume all our money.
The nuts, seeds, and legumes, which replace the animal products in our diet don't need large storage space. Read more on what we eat and store in our plant-based pantry.
The best part is, that we can store our nuts, seeds, and legumes in our pantry and not in the stable, and we don't have to go check on them twice a day in any weather. They don't need water when it's -40 and any water just freezes over in minutes, nor do they make a mess that needs to be cleaned out.
Meal preparation is not a bloody affair anymore, nor do leftovers spoil within hours.
We love our animal-free homestead lifestyle.
Historically Helen and Scott Nearing are the great-grandparents of the back-to-the-land movement, and they also were an animal-free homestead back in 1932. "The Good Life" is an interesting read for lovers of simple, natural, and handmade life. Another book is Helen's cookbook "Simple Food for The Good Life" … with recipes for a vegetarian/vegan diet.
Our farm animal-free homestead nourishes well our body and soul. It is a simple, comfortable, and satisfying lifestyle.
I bet if more homesteaders knew how good it is, they would become plant-based too.
After reading this you might be curious about where we are at now.
"Once we stopped eating meat, we noticed a change inside of us. A love for all creatures that we share this planet earth with arose. It was often and still is overwhelming and very beautiful.
We changed our diet and the diet changed us. I share a bit more about it in our article Why we are not prepping. You can head over and read more if you want.
There is still more to learn. Animals are living beings that play an important part in our ecosystem and maybe even bigger in our evolution. We are on a journey that at its core is not about food, and we are excited to see where it leads us.
We invite you to subscribe to Northern Homestead and follow us on Instagram, Facebook, or Pinterest for the latest update.
More posts you might enjoy