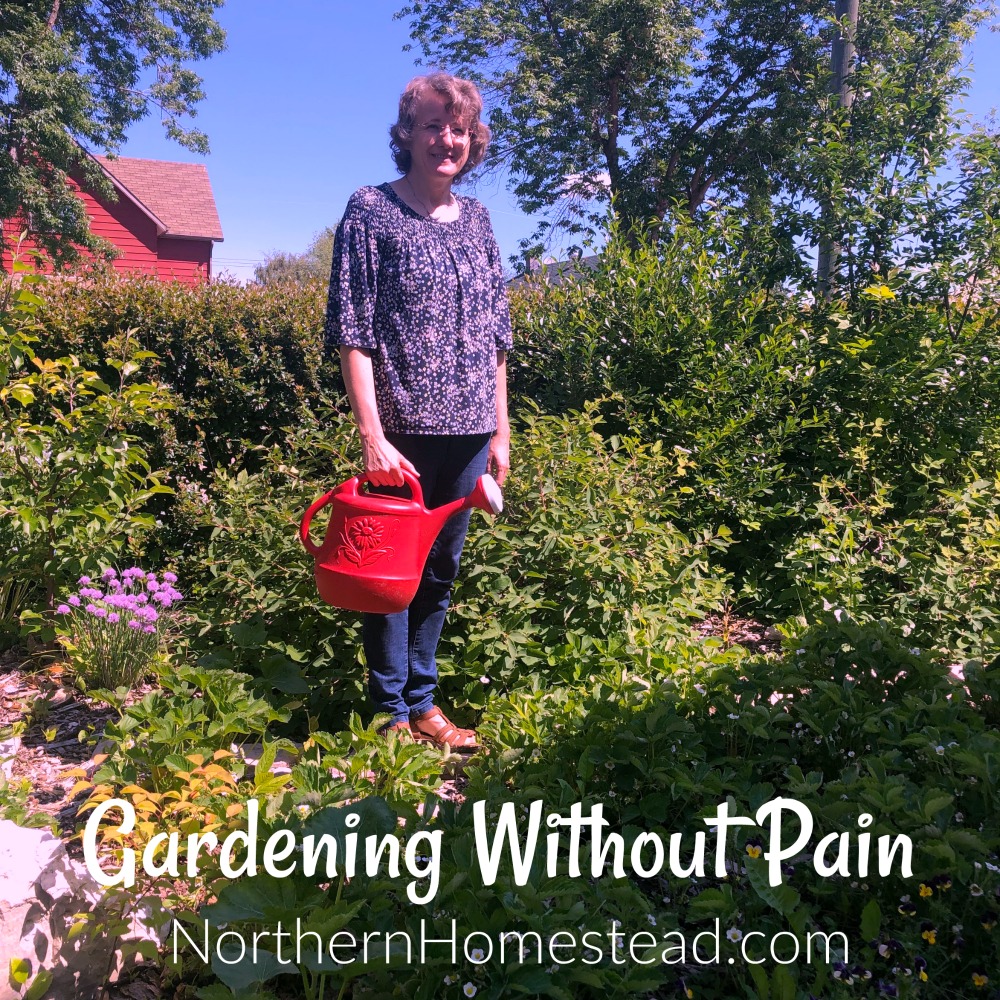 Just over a year ago gardening without pain was a dream for me. After an x-ray, I knew it was nothing acute but just a beginning of a painful road ahead. If what I felt was early osteoarthritis, I knew I did not want to go any farther with it. The joint stiffness hindered me to bend over, and the hip/leg pain would wake me up at night.
Even simplified gardening for the weak and sick was getting harder and harder. I knew for gardening without pain I needed some help and some radical change.
First I tried chiropractic with no relief, in fact, at times things got worse. Then one day I had this inner knowing that I should not visit a chiropractor for this anymore. Since I'm used to intuition, I knew that it was a good idea to listen to it.
But I needed help.
We already radically changed our diet to whole-food plant-based. I would love to report that the pain went away just like that, but it did not. I felt overall better pretty soon, but my joint pain stayed for a while.
As you know, I'm a busy homesteader. With spring changing to summer, the garden planting, weeding, preserving, cooking and the blog, all of that keeps me pretty busy. I love it, but it's no fun with pretty much constant pain. I could not understand why I was so stiff while being active and busy. The stiffness was more intense during winter months for the last couple of years, but with spring things usually improved. Not this time.
Since I was not going to a chiropractor again, I had to find help on my own. And I did.
I'm sharing this with you in case someone is struggling just like me. Please note however that I'm in no way a doctor or therapist. This is just my personal story, and if it helps someone, it makes me happy. But see for yourself what you do, I take no responsibility.
I came across a German pain specialist Liebsher & Bracht. Roland Liebscher-Bracht claims that joint pain can be fixed with his exercises.
I have to admit that being as stiff as I was I could not follow any of his exercises. But, he would assure that it is normal when the exercises are painful and if followed slowly at a pain degree 8 out of 10 it would do no harm.
What encouraged me the most though, was his explanation of why I had the pain I did.
All my activities in the house, garden, and even at the desk had essentially the same posture: bent forward legs and bent knees. He explained that by sitting or bending forward the vascular muscles had to stretch and overwork, all the while, the front muscles, hip flexor, is shortened. He also explained that even at night we like to sleep with bent legs and knees, we do that because the muscles are used to doing it almost all day long. We need to stretch the muscles back to their normal length so to speak.
His explanation made a lot of sense.
Exercises for hip pain/hip osteoarthritis with his 90 years old, top-fit mother seemed doable for me. In her age, she still gardens. After all, if she can do it, I should too. ​​
The idea of all the exercises is to stretch the front or side muscles that are shortened. All the exercises are done slowly and held for about 2 minutes. The exercises also need to be done regularly because we also bend and sit regularly.
When I first started with his exercises, I could barely do them. The pain was intense. However, I could feel that after doing the exercises I felt a little better. So I continued with them. After a time it got somehow easier and I noticed that I had a choice to be in pain or to do the painful exercises and feel a little better.
Now a year later, I still do Liebsher & Bracht's exercises and I can garden without pain. I can also go for walks again and enjoy an active life. I'm truly grateful for all the free information.
Gardening and joint, back, hip, etc. pain often go together. But as Roland Liebscher-Bracht says it does not have to be this way. With his easy-to-follow self-help exercises, I too am able to help myself.
We invite you to subscribe to Northern Homestead and follow us on Instagram, Facebook, or Pinterest for the latest update.
More posts you might enjoy