This pickled beets recipe is for canning in a water bath or steam canner. It is a traditional sweet pickle recipe, great for variety. In combination with the vinegar, it makes for a sweet and sour taste. Yum!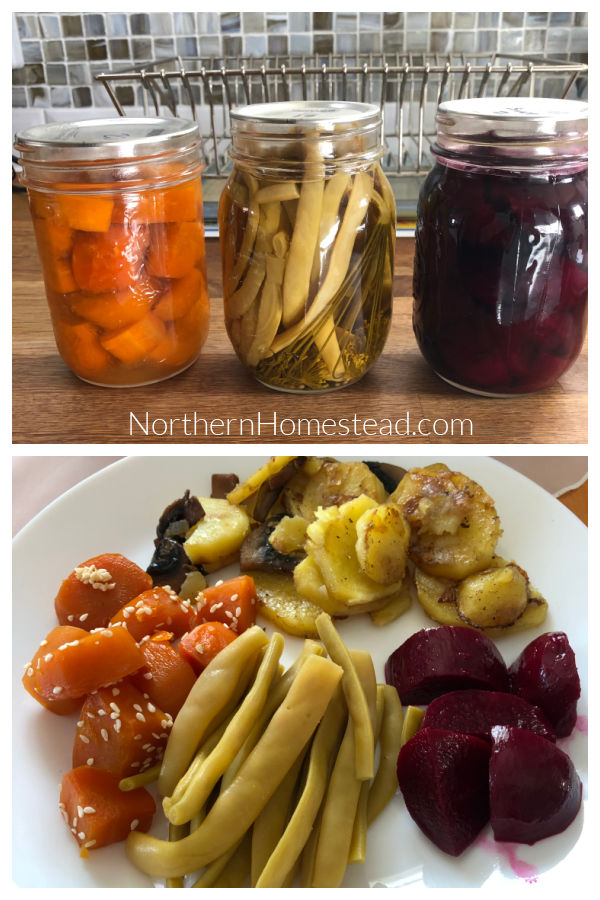 Having canned food on hand makes for an instant meal. And if it all is homegrown and homemade, it's even better. To find all the canning recipes we have shared, go here.
What beets to use for pickling?
We grow different varieties of beets to use in different recipes. We store beets in cold storage, freeze in 3 ways, ferment, can, and pickle.
For storage, you want to use good size blemish-free beets, for canning any beet will do. Pickled beets are immersed into sugar and spice so that the variety does not matter all that much. Use whatever is left, the small baby beets, or the overgrown cut into bite-size pieces beets.  
Preparing the beets for pickling
Cut the tops off of freshly harvested beets leaving about 1/2 inch. You don't want the beet to bleed out while cooking. Now wash the beets and layer them in a large pot. You will need about 10 cups of beets for six – 500 ml (pint) jars. 
Start with the biggest beets at the bottom, they need the longest to cook. Add about 2 inches of water, there is no need to cover all the beets with water if you have a fairly tight lid for the pot. Cook for 20-40 minutes, depending on the size of the beets.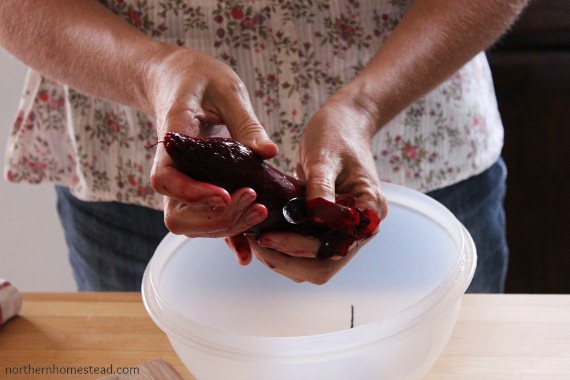 The beets can be peeled right away under cold running water, or let them cool a bit and peel them dry.
Now cut off the root and stem. Safe them for a borscht soup. Small beets can be left whole, bigger sliced, or cubed. 
Prepare the jars and lids
The sweet pickled beets recipe is a traditional recipe that a friend shared with me many years ago. It says to sterilize the jars and boil the lids. I don't do that any longer. Since the jars will be processed for 30 minutes, the jars and lids will be heated in the process. Just make sure they are clean.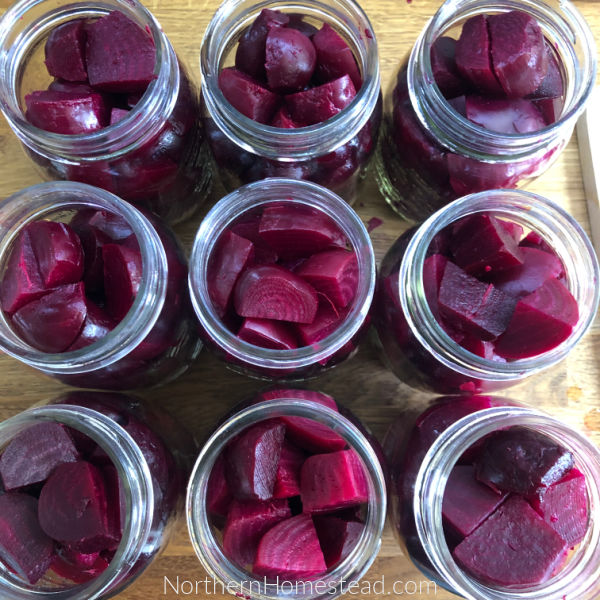 Wash the new lids, I always cover them with boiled water for about 10 minutes. However, even that is not needed with the new lids. They can be left at room temperature.
Pickled beets recipe
Pickled Beets Recipe
Author:
Anna @ Northern Homestead
Serves:
6 - 500ml (pint) jars
Ingredients
10 cups prepared beets
6 cinnamon sticks
6 small bay leaves
6 cloves
2 cup white vinegar
2 cup water
2 cup sugar
Instructions
In each jar put 1 of each, cinnamon stick, bay leaf, and clove.
Fill the jars with prepared beets leaving 1.2 cm (1/2 inch) headspace
Combine vinegar, sugar, and water in a saucepan and bring to a boil, simmer till sugar is dissolved.
Cover the beets with the liquid, again leaving 1 cm (1/2 inch) headspace
Remove air bubbles, top-up liquid if needed
Cover with lids and screw on bands finger tight.
Process in a water bath or steam canner for 30 minutes
Note: This is a traditional recipe, with lots of sugar, use it at your own risk.
If you want to reduce the sugar, you can. In this case, I would suggest you follow the Ball Complete Book of Home Preserving book. Use for the liquid ingredients:
2 1/2 white vinegar
1 cup water 
1 cup sugar 
Bring to a boil and proceed as explained in the recipe.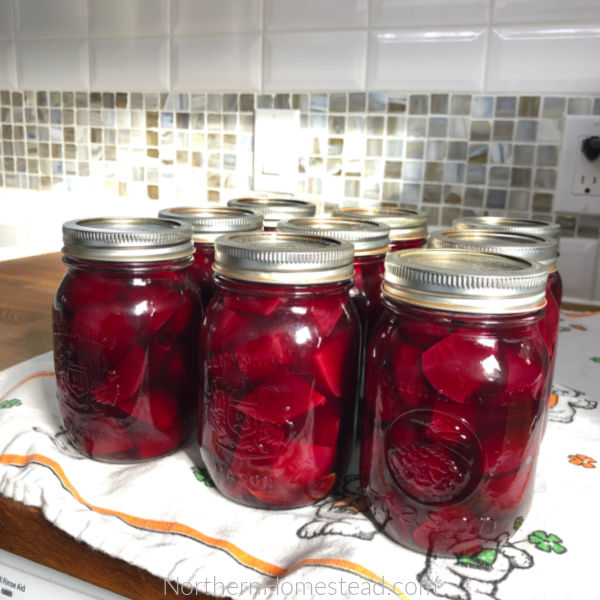 Let the jars cool on a towel, check the seals, and store them for use.
We invite you to subscribe to Northern Homestead and follow us on Instagram, Facebook, or Pinterest for the latest updates.
More food preserving posts you might enjoy