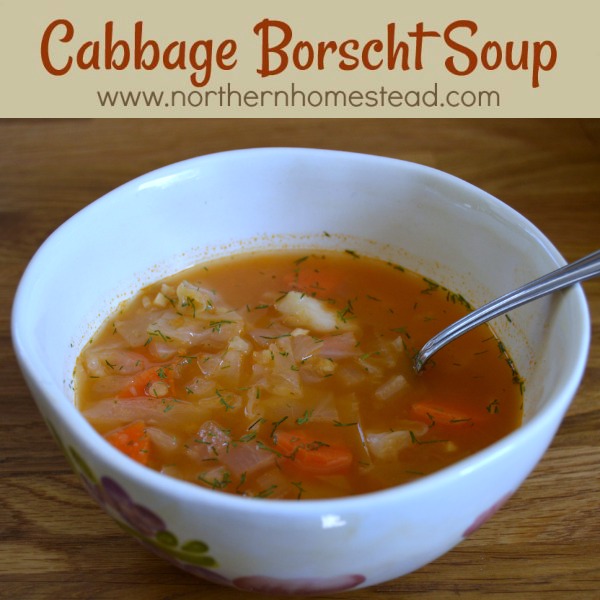 Cabbage borscht soup is a very yummy traditional meal. It is not the same as beet borscht. There are several versions and recipes of borscht soup and it seemed every family had its favorite. I love this kind of recipes that can be followed loosely since there is no right or wrong in making borscht.
Cabbage borscht soup is best with homegrown vegetables, fresh from the garden. It is a great harvest to table meal.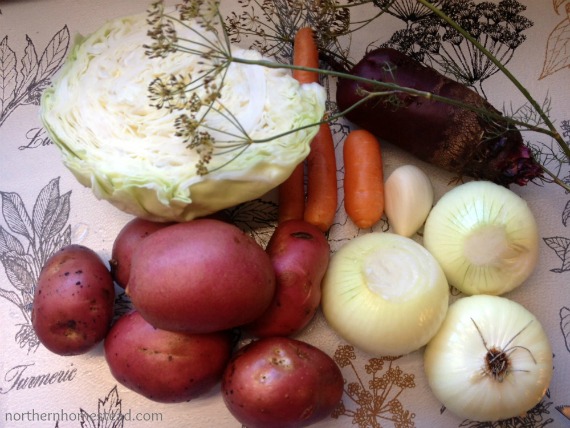 Cabbage borscht soup is very rich in vegetable flavor and is a great soup for the whole-food plant-based diet. If you followed our blog for a while, you know that this soup was not always vegan, but since we have learned to enjoy it using just plants, that's the only way we make it.
Borsht can be made without any protein, but I find that some legumes make borscht even better. Red lentils, or pinto beans, or white beans or whatever beans, chickpeas, etc you prefer.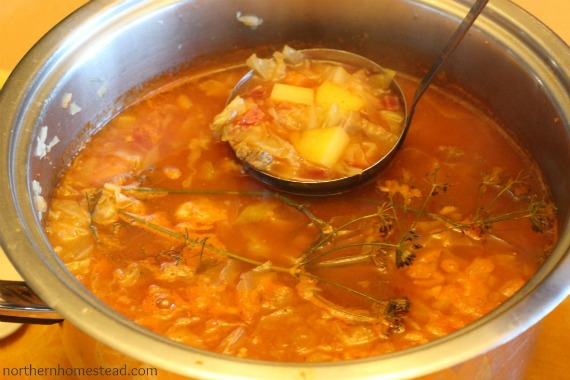 Lentils can be added dry to the coup since they don't need more cooking time than a potato. Other legumes need to be precooked or use a can.
Our favorite is home-canned pinto or kidney beans. Since I can the beans myself and know what's in there, I add the whole pint (500ml) jar to the soup. The liquid from the beans gives the soup a bit of creaminess/graveness that we all love.
Instead of tomato paste, you can also use a big fresh tomato (about 2 cups) from the garden.
Using all vegetables, the soup will vary in color but is always delicious. I think the pictures do no justice to the actual borscht soup.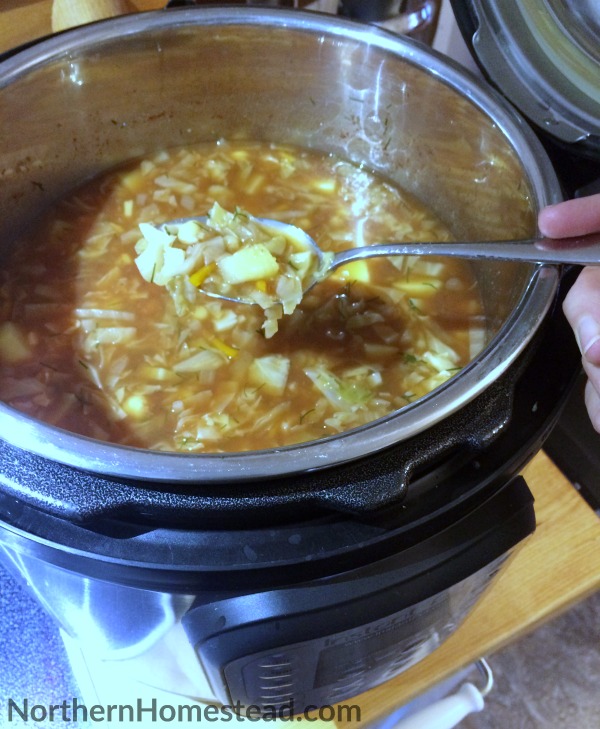 My favorite way to make borscht soup is in the instant pot. It really just needs 10 minutes on high pressure and turns out yummy. When time is off, it's best to let it release on its own. If in hurry you can use the 10-minute natural release. Let the cooker go into the "Keep Warm" mode and count 10 minutes. Then press "cancel" and twist the steam release handle on the lid to the "Venting" position.

It is said that borscht tastes best after the seventh heat up, now that's an exaggeration. But yes, borscht can be prepared in advance and is great as leftovers. Yummy!
We invite you to subscribe to Northern Homestead and follow us on Instagram,  Facebook, or Pinterest for more yummy recipes.
More Recipes You Might Enjoy: