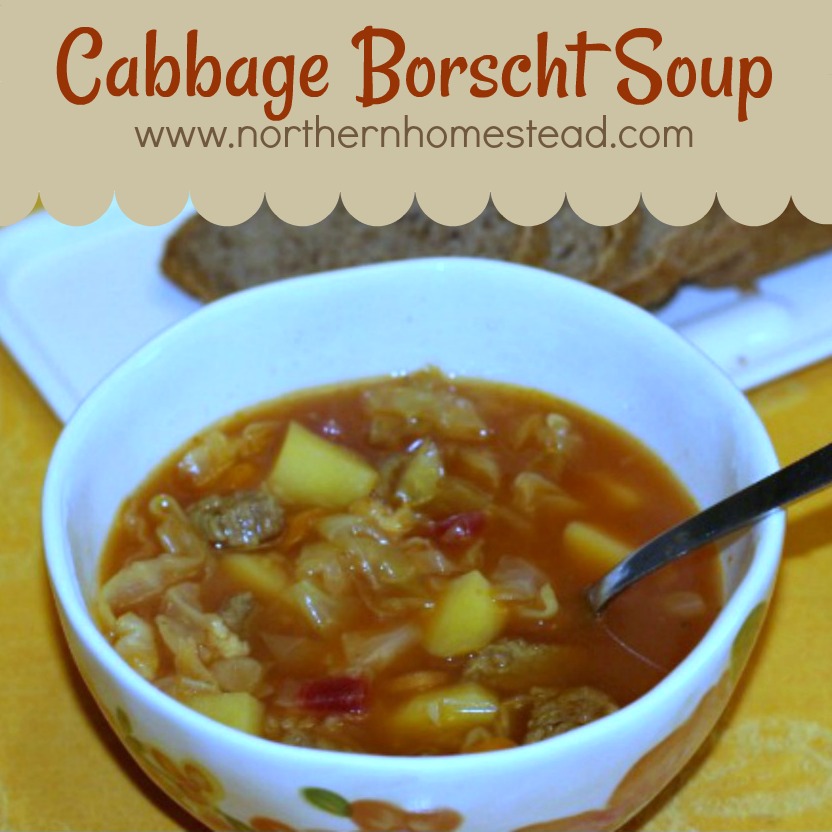 Cabbage borscht is a very yummy traditional soup. There are several versions and recipes, here is the recipe that we love, it is a cabbage borscht soup from Simply Delicious cook book 1 (Einfach Köstlich 1). Using homegrown vegetables, fresh from the garden makes this soup even more delicious. It is also a great winter soup.
Cabbage borscht can be made with beef, chicken or vegetarian, either way it tastes great. The beef cabbage borscht will be more hearty, chicken more mild and the vegetarian version is very rich in vegetable flavor. For a beef borscht I like to use homemade chicken broth, for the chicken version the beef broth, it just makes it more rich and tasty.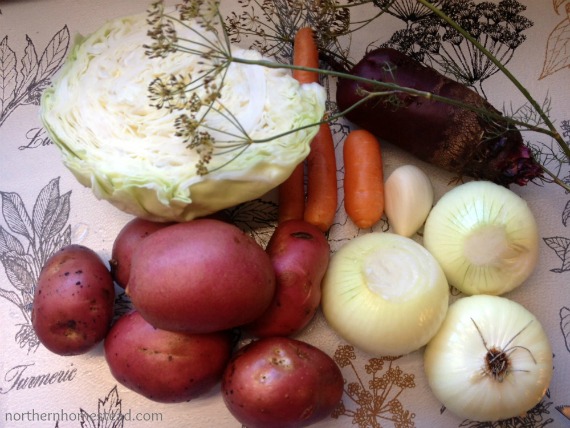 Recipe:
500 g of meat (beef stewing meat or chicken leg quarters)
3 onions diced
Salt to taste
2 quart of liquid (I like to take about 2-3 cups homemade chicken or beef broth and the rest boiled water)
1 bay leaf
1 beetroot diced (fresh, from a jar or frozen)
1-2 diced carrots (fresh, or frozen)
6 potatoes, diced small to medium size
1 pound cabbage, finely chopped
1-2 cloves of garlic
3-4 tbsp tomato paste, or 1/2 – 1 cups oven roasted tomato sauce
1 bunch of dill

Instructions:
In a large soup pot fry the meat, than add the onions and let them fry until they are translucent. Add the liquid. I once learned that you should not mix raw water with cooked meat, it would damage the nutrients. Whether that's true I do not know. Does anyone know more about it? Anyway, I always boil the water first.
Now add the vegetables and let everything cook for at least 20 minutes. Borscht can also cook longer, it becomes only richer in flavor. But after 20 minutes the potatoes are cooked and the tomato paste or sauce may be added. Finally add the dill.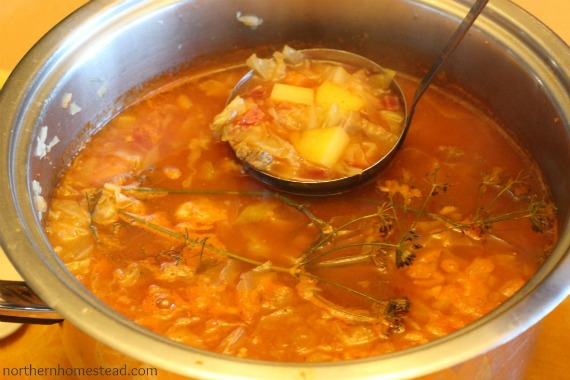 It is said that borscht tastes best after the seventh heat up, now that's an exaggeration, but yes, borscht can be prepared in advance and is great as leftovers. Yummy!

We invite you to subscribe to
Northern Homestead
and follow us on
Facebook
or
Pinterest
for more great recipes.
More Recipes You Might Enjoy: