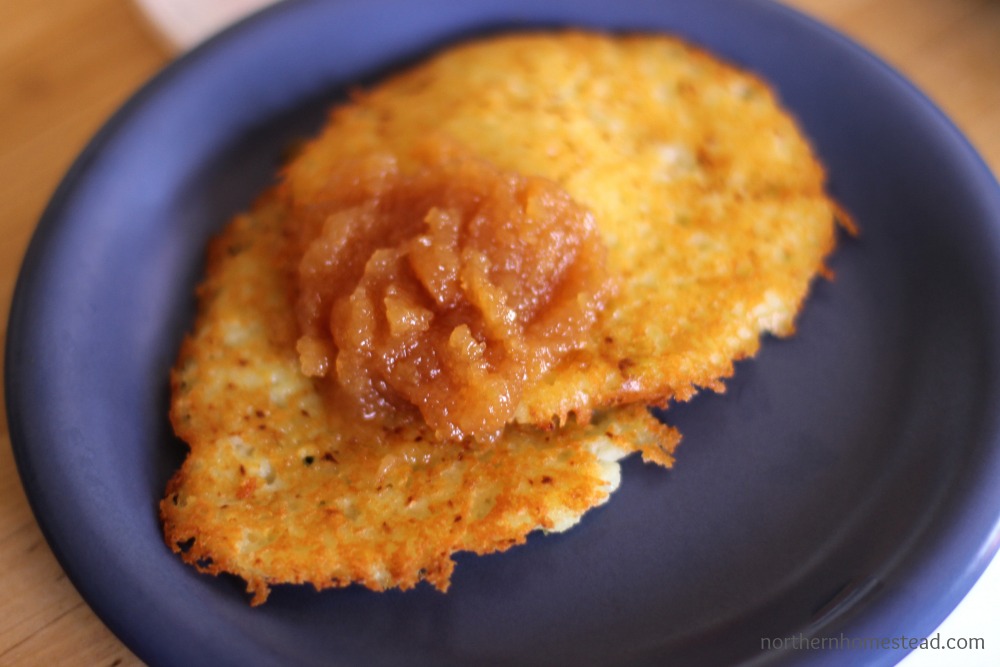 Kartoffelpuffer – Potato Pancakes Recipe is a real treat. This recipe is gluten-free and vegan with only 5 ingredients. The potato pancakes are so yummy that you would think that making them is a culinary science. Guess what, it is not. I like it simple, so simple that anyone could make them.
My version involves a food processor. If you do not have one, you can still make them by using a grater. The Food possessor does the job in seconds. We have used our Brown Food Processor for 25 years and counting. An appliance I would not want to miss, it's a real must have in the kitchen.
For the kartoffelpuffer – potato pancakes recipe, choose a yellow potato with a buttery flavor. We like the German Butterball potatoes with creamy and waxy golden flesh. The batter will be less watery and the pancakes delicious.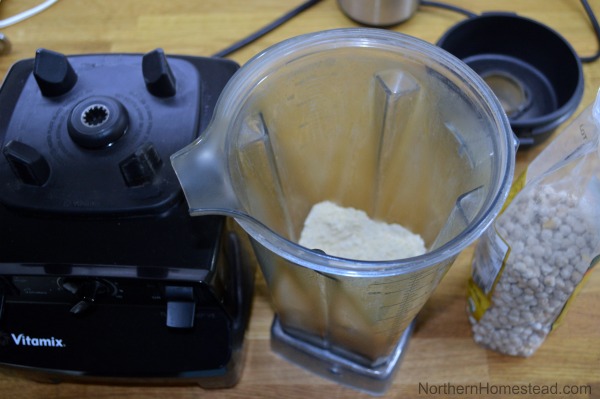 This recipe is gluten-free and vegan. To reach that you will need Ground Garbanzo Bean Flour. It is easy to make your own garbanzo beans flour in a high-speed blender. Add the dry chickpeas to the blender and blend/grind till fine. There you have it. Use what you need and store the rest in a dry place for next time.
For this recipe, you will need 1-3 tablespoons of the garbanzo bean flour. Why 1-3 you might ask? Because we are working with a natural potato. Some are more watery than others. I find fresh potatoes need more flour to hold together and old potatoes less.
Can you substitute the garbanzo bean flour? Yes, you can if you do not care for it to be glutenfree nor vegan. Use 1 tablespoon wheat flour and 1 egg instead.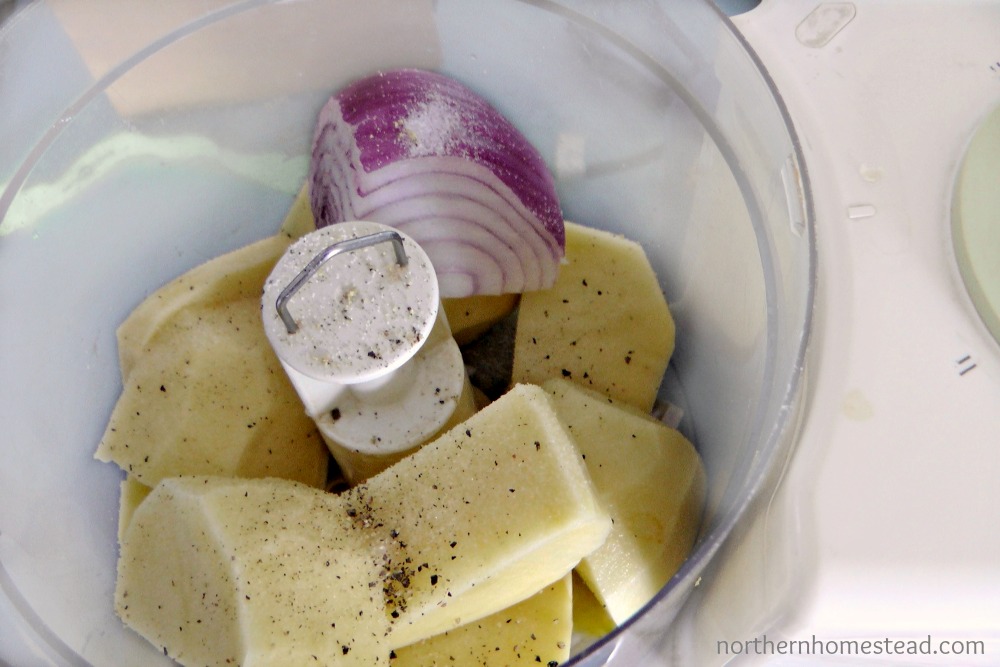 To make the batter is super easy. Put everything into a food processor and chop until it's fine. I like it to be a puree if you like small pieces just stop earlier. You can strain the batter if it is absolutely too watery, I never do.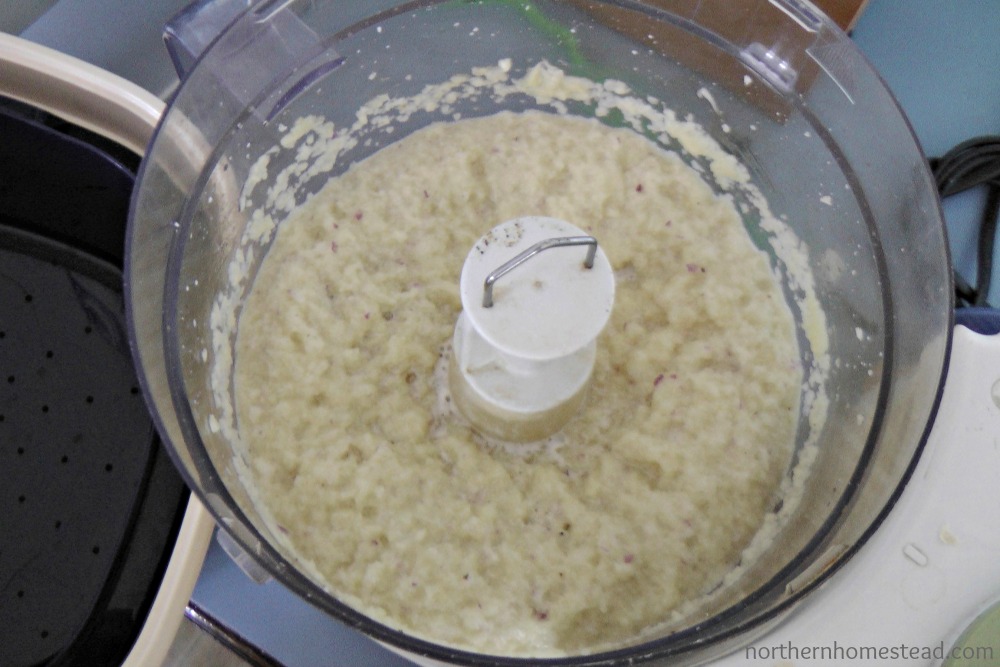 Fry immediately because raw grated potatoes can turn dark and you want them to look golden, not gray.
We love potato pancakes with homemade apple jam.
Enjoy!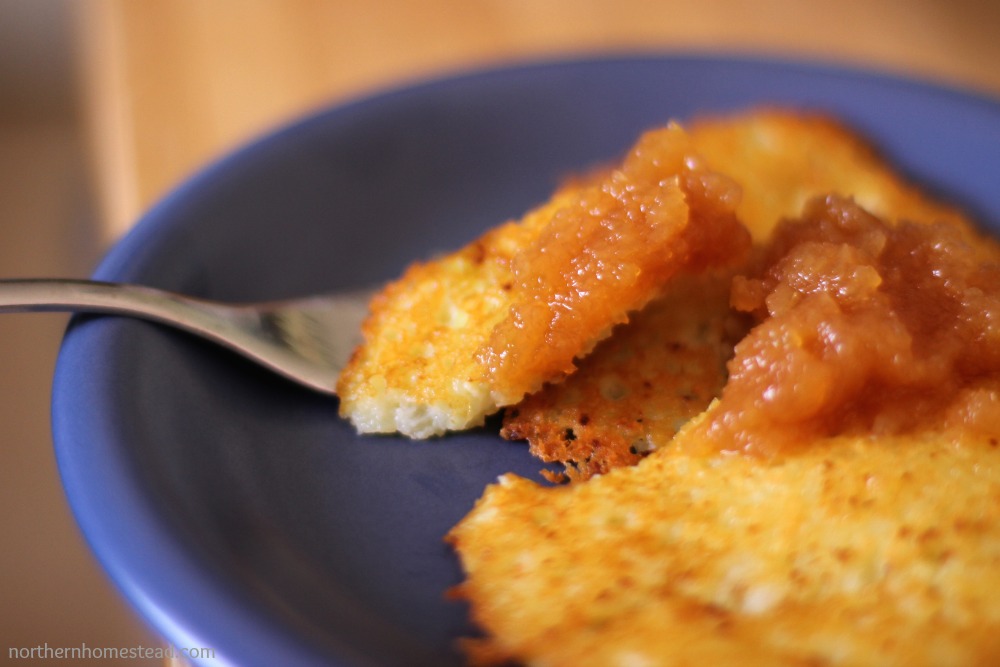 We invite you to subscribe to
Northern Homestead
and follow us on
Facebook
or
Pinterest
for more great recipes.
More Recipes You Might Enjoy: