Simple living, self-sufficiency, off-grid living and back to the basics is having a huge comeback these days. Homesteading and backyard farming has become popular again. In this post, I share childhood memories of how my parents lived a simple, mostly self-sufficient, urban homesteading life. How was it, and how did we do it? Here is the good and the bad and the ugly truth about the simple homesteading life.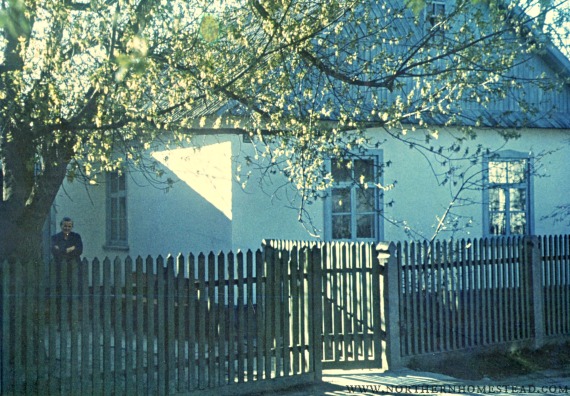 Dream Homestead
The homestead I grew up on (picture above with my mom who is 91 now), would be considered a dream for many people today. I grew up on homegrown, home raised, and home-cooked food more then most people I know.
The homestead was not big, only about 1/3 of an acre, but a highly productive place. In the front were the buildings, in the back was the garden. In between some space for a dairy cow, a pig, and some chickens. Sometimes we would also rais rabbits and ducks.
The buildings were surrounded by trees. The trees gave much-needed shade and also provided food for our family. I remember just one tree, in the middle of our front yard, that had nothing edible on it but was good for shade, all the other trees were fruit trees. There were many trees, one could almost say that our house was built in an orchard. Also, the garden had trees at the corners.
The garden provided us with all the vegetables our family eat. If we could not grow it, we simply did not have it.
The animals provided most of the dairy, eggs and meat products for our family.
We were not off-grid but also not dependent on the grid. The grid and water supply were never reliable. Many things were done by hand the old fashion way.
Simple buildings
Our house was a natural adobe brick house that my father had built. He made all the mud bricks himself first and then built the house out of them. The wall was about two feet wide, and highly insulated. All the windows, doors, floors, and ceiling were built out of wood, also crafted by my father. No, my father was not a carpenter, but he knew how to work with wood. Our house was a simple 4 room house, with an enclosed porch, a pantry with access to the root cellar, and also a simple bathroom addition.
Opposite to the house was another building complex. Here was a summer baking and cooking room with a big wood oven that served for bread baking, and a huge round pot also heated with wood. To have these two cooking places in a separate room was very practical. No matter the weather my parents were able to use them.
All summer long my mom baked all our bread in there. In the winter she did it in the house, since we heated the oven anyways. The pot was mainly used during butchering times, to boil big portions of meat and make sausage and lard.
Next was the summer kitchen. This room served as a kitchen in the summer and as an additional cold storage room in the winter. Every spring we would move the entire kitchen here, and in the fall back to the house. As a child, I thought this was really fun!
We did not have any air conditioning in the house, so having the cooking outside the main house was important to keep the house cool. And there was lots of cooking and food preservation done in the summer.
The next building in a row was the stable. There was room for a cow and its calf, pigs (only till butchering time in late fall), and the chickens. I remember the stable being smaller than our summer kitchen, maybe just because it was so crowded, then all of our animals shared the space in the winter, in order to keep it warm without any additional heating.
On one side was the cow's place where she was chained to the food manger. This way she could always be fed from the front and made her business in the back. In this position, she spent all winter and gave birth to her calf also. On the other side was room for her calf and the pig. In the summer the cow had about the same amount of space outside, but she could spend the days on pasture outside of town.
Last were the coal and hay rooms, we had to store both for the winter.
Heating and water
In the middle of the house, there was a round coal oven. The oven was painted black to absorb as much heat as possible. It had a big oven in the middle for baking and cooking. Above was an integrated water tank that led to radiators all throughout the house, providing additional heat. The whole system ran only on gravity.
The bathroom had two ways to heat water:
For the winter the bathroom had a wood stove with a water container on top of it. Whenever a bath was desired, we would make a fire underneath and have a warm space and hot water at the same time. This water was town water that only worked in the cold season.
For the summer a rooftop container would warm up from the sun. At the end of the day, we had warm water to shower with. Our summer water supply was very limited, so all the water had to be brought in and up to the roof, so a quick shower was all we could have.
Outhouse
The composting toilet was outside in the outhouse. We did not use buckets but had a hole in the ground. Once a hole was filled, the outhouse was moved to a new location. The old hole would be covered with some soil to decompose.
Gardening and orchard
We grew most of what we ate, and what we ate we grew. Our urban lot was used mainly for gardening. The main crops were potatoes; high in yield and good for storage. Beans, beets, carrots, tomatoes, cucumbers, cabbage, and other goodies also grew here for our food supply.
The garden was divided into early, tender crops, and late crop areas. The tender crop area was fenced in, so we could start things early, or keep some crops later without the chickens going into it. The rest was free chicken run space, except during the productive months.
Because of the semi-desert climate we lived in, the whole garden needed to be irrigated. An irrigation system was in place connecting our garden, and all the gardens in the neighborhood, with a water channel coming from the mountains. Nothing would have grown without this important part.
Animals
We raised a milk cow, who had a calf every year, one or two pigs, meat rabbits as well as chickens and other domestic birds for meat, eggs, and feathers. We did not grow the feed but had to bring it in. All the kitchen scrub was given to the animals as well. In return, the manure was composted and used in the garden.
From our own milk supply, my mom would make soft cheese, cream, and butter. Plus milk always made a quick drink or meal for us kids. Very little of the milk went to the calf. Right after birth the calf was separated from the mutter and given milk in a bowl. Either the mother cow nor the calf really knew what they were missing, or did they!?
We would make our own sausages, lard, smoked meat, and more. Chickens were there for dual purposes, laying eggs and making chicken soup at the end of the laying time. Sometimes we had ducks or geese, again for dual purposes: for meat and the feathers were used in homemade bedding.
Food preserving and storage
To preserve food for winter was very important. We dehydrated fruit in the hot summer sun by simply spreading them out on a flat roof. This was possible since our summers were very dry. We also canned fruits and vegetables and made jam. In the fall we fermented sauerkraut. The pantry was not heated, making it a great cold storage room in the winter. Dry fruits and canned goods were stored there.
The cellar was keeping potatoes and other root vegetables fresh. The root cellar was a small room underneath the pantry and accessible through a hole in the pantry, covered with a wooden lid. Nothing fancy, but very effective. We stored root crops in there from harvest to harvest.
Animals were butchered in the fall so the meat could be preserved better. The meat was smoked and salted. We also had a fridge, even though it was mostly in the summer kitchen and only used as a fridge during summer months. In the winter the room and the fridge were storage space for meat. In the summer we mostly ate vegetables, eggs, and dairy products, plus an occasional chicken.
Groceries
Even though we grew and raised a good amount of our food, we were not completely self-sufficient. There was no way we could possibly grow any of the grains (wheat or rice) we ate. We also bought sugar, salt, and honey. Conventional cheese or sausages, as well as sweets, were a seldom treat. Also, fats were the desired products.
The shocking part
With so much homegrown, home raised, and homemade food you would think that we were the healthiest and happiest people around.
We were not.
My childhood memories include lots of nausea, throwing up (especially after butchering parties), as well as recurring colds and other health problems. My parents (also not healthy) were always busy doing everyday chores. And a big portion of our tight budget went for buying in feed for animals.
I do not recall seeing any of our domestic animals as pets, or even as being cute. They caused a lot of hard and unpleasant work. Butchering them was a normal cycle of life, we used them for food. Considering if they had a happy life or not, would not have crossed my mind. Our cow was stiff every spring and our pigs never saw sunshine. We cared for them in a way to get the most out of them. Still, our domestic animals did have a better life and care than most farm animals of today do.
We ate mostly from the garden, not because we wanted to, or thought that was healthier, no it was what was available and what our family could afford. The more products became available, the less self-sufficient we became.
Today
Since I have lived through the transition from being mostly self-sufficient on my parents homestead and going all the way to the conveniences of modern living, we slowly make our way back to homesteading. Contrary to people yesterday we do not have to, we want to. Today we have the choice on what we want to repeat, and what is better to leave in the past.
It took me a while, but I'm starting to see the cruelty of home-raised animals. Except if you have lots of natural pasture and shelter space, domestic animals often do not have a happy life. It is not always better for children to grow up around them and they are not an unconditional healthy food source.
It makes me think if we weren't better off if my parents had used the space the animals needed on that small homestead, for growing beans, and the money to get feed to buy nuts and seeds instead. Back then however no one even seemed to think this way, or did they?
There is a book called The Good Life by Helen and Scott Nearing, which chronicles 60 years of vegetarian homesteading off the grid. This might be the best solution (not just) for urban homesteading.
We are an animal-free homestead, we eat a whole-food plant-based diet, and many of my childhood sicknesses and weakness that I struggled with for most of my life, are gone now.
We have no desire to be off-grid (live without electricity) or refuse running water and central heating. Those things sound romantic as long as you have not lived them. For religious or fanatic reasons one might be happy to do it for a while, but living simply is much easier with some modern conveniences.
Today I see the value of homegrown food. I see the satisfaction and the joy that comes with it. I also see the health and taste benefits, even though homegrown and homemade food is simple, but it is just so good.
My parents' example shows clearly how a family can grow a good portion of their food in an urban homestead. We strive to follow this encouraging example by growing as much as we possibly can.
We invite you to subscribe to Northern Homestead and follow us on Instagram, Facebook or Pinterest for the latest update.
More posts you might enjoy