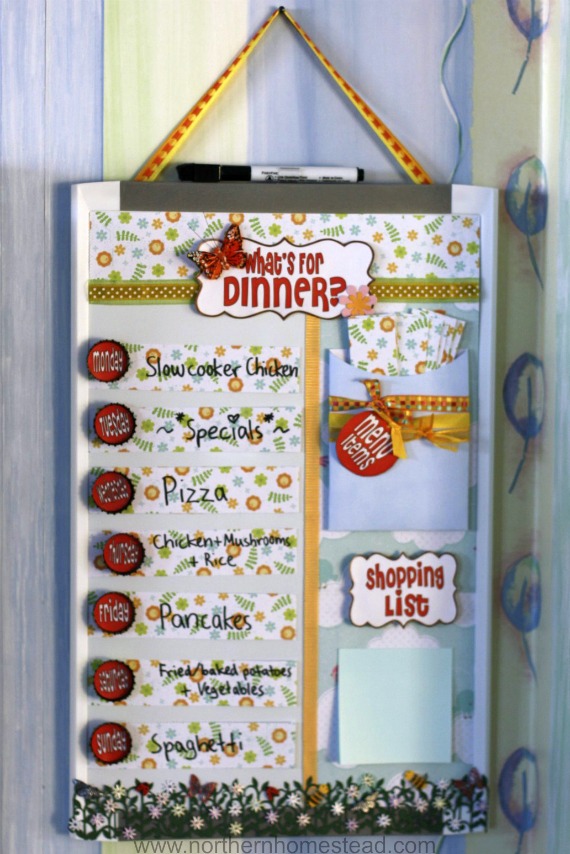 One of my very special gifts that decorate our kitchen is a handmade Menu Planner from our daughter Melanie. Isn't it gorgeous? Thank you, Melanie!
The need for a meal planner
There are people who are so good at planning anything and everything, and then there are those who find planning what's for dinner to be harder than actually making the meal. I've wanted to do menu planning for a long time. Like most families, we have some favorite meals, that are mostly simple family recipes. With a history of picky eaters, most of our recipes aren't online – so trying an online service had no lasting success for us.
Stephanie Langford's book Plan It, Don't Panic: A Complete Meal Planning Resource was very interesting. It is great for people who get all their food from a grocery store and can plan a month in advance. However, I did not stick to it. I explain in my post: 7 proven steps to feed a family on a budget, that things do not grow and ripen according to our meal plans, they just ripen whenever the conditions are right. We prefer to make a meal from what is grown or is on sale. We needed a plan that was flexible and a bit more fun too. Strict planning is not so much my thing.
The handmade meal planner
Then I saw this wonderful Menu Planner at heartlandpaper. I thought this was a great idea and the free 'days of week' template was easy to use. We went shopping with the instructions and my creative daughter put it all together for me as a present. Now, this is a planner that looks beautiful and feels like fun doing. Two important factors for someone like me.
The planning

First I wrote down a list of all our favorite recipes. Then Melanie wrote all the names (well, some recipes do not have real names) on the paper slips, including ones such as Dine Out, Wild Card, Try Something New, Leftovers, and Specials. Then we planned our first week. I also like Heartland papers advice to sit down with the family once a week to plan the meals. I'm curious to see how it will work in everyday life. Maybe it is the real solution to our menu planning.
Simplified update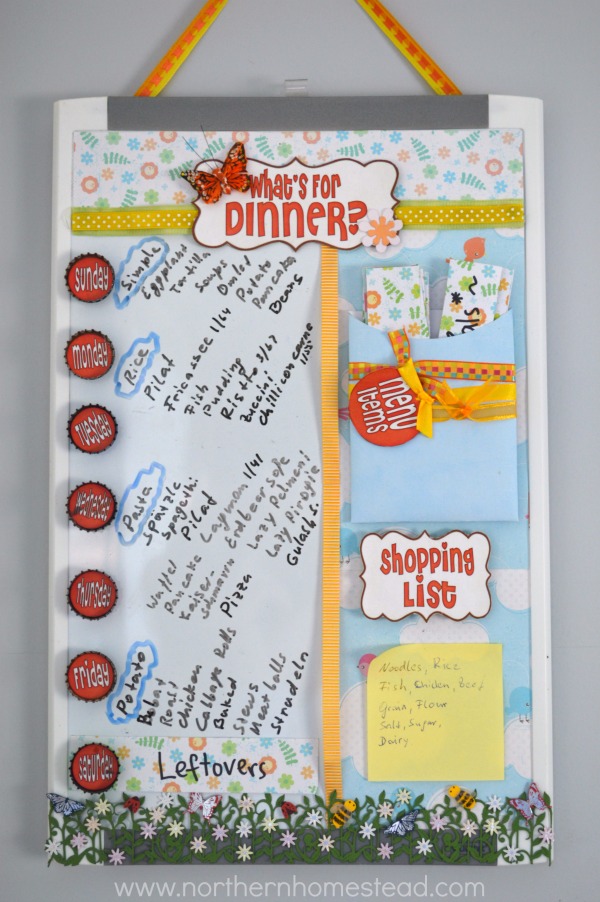 After using the planner for a while, I have come up with a simplified version. I just have a few categories and lots of options for the days of the week in each category. For example, on Monday I make some kind of dish that goes well with rice or has rice as the main ingredient. I can go with seasonal vegetables of all sorts, or use canned or frozen veggies in the winter. Sometimes I buy veggies if they are on sale because they are in season somewhere else. This works better for us, as we grow what we eat and eat what we grow, even if we can't grow everything our self.
Hope this gives you an idea what a meal planner of a 'not so planned person' looks like, read more here. However you would use this planner, it is a beautiful art in the kitchen.
We invite you to subscribe to Northern Homestead and follow us on Facebook or Pinterest for the latest update.
More Posts you might enjoy