Have you been wondering why November started so mild in our part of the world and continued beautiful? We bought some land and needed to fence it in before the ground freezes. There you have the real reason ;). The fence went up on November 14th and the weather changed overnight. Okay, that at least is my version of the story, and I like it. Now let me tell you all about our new land to build a permaculture property.
The searching for land
Ever since we moved to Canada in 2007 we have been playing with the idea to own an acreage. Honestly, we had no idea what we were looking for or even what would be possible, but we were looking anyway.
One day we shared our dream of owning some local land with an experienced local realtor. Our idea was to purchase an acre or two for under 100 grand. She laughed at us, land here is expensive. But we kept looking anyway.
Whenever something would come upon the real estate market that was close to our price range, we would go to see it. It became kind of a hobby of ours. However, each and every time, we could clearly see there was a catch to the low price. It was either a flooding area, close to a noisy farm or factory, overgrown with no garden or building site, etc. And mostly it was also only close to but still not under our fixed budget.
Years went by, we purchased our house in town and built up our urban homestead. We love it here, but ever so often the thought arises if we only had more land, we could do this and that.
To have more growing space, we gardened at a friend's farm, and community garden, and we still kept looking for a land not as eagerly anymore though.
One day this 2-acre parcel, which we now call our new land, came up for sale. It was clearly within our price range. However, by now we didn't even start the car right away, to go look at it. We had seen so many, considering the price, there sure must be a big catch.
Casually, with little expectations, we did drive by one day. It looked quite nice, with no obvious catch.
Here is a short video as we enter the property for the first time. You will not be able to see the video with an ad-blocker.
The new land to build a permaculture Property
Our new land is about an hour's drive northeast of us. It's out in the prairie, while we are closer to the foothills. Getting farther away from the mountains was important to us. The summer is a bit warmer there, and chinook winds are not as strong. Those warm winds are quite damaging to perennial plants and cause headaches to sensitive people.
The land is not all flat, it has a bit of a slope to the south, and lower and higher points, making it interesting for permaculture design.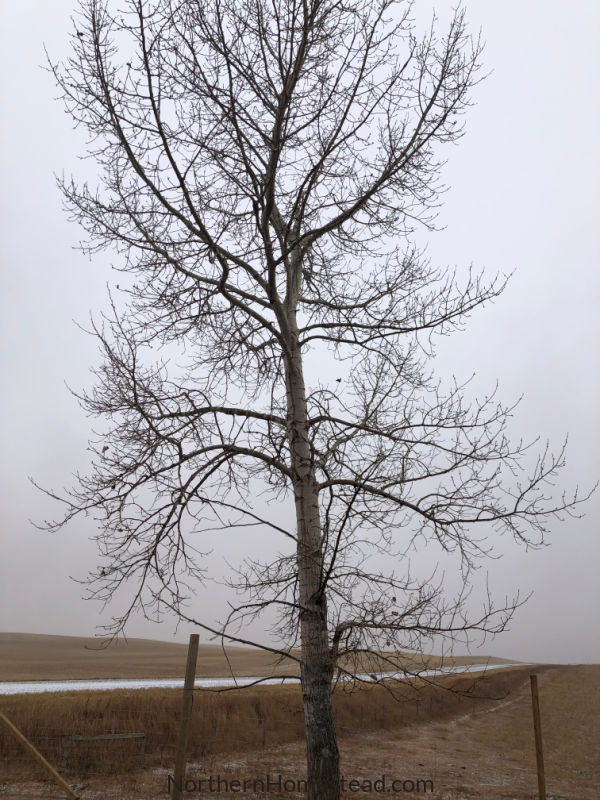 It's bare land, zoned agricultural, with lots of possibilities. We love small houses, and even though we are not looking to build a house there just yet, to be able to live small or even creative was important to us.
Renewable energy or living off the grid is another factor. Not that we already have plans, but having some options is nice.
An elderly neighbor who spent all his life in the areas, stopped by to say hi. He shared that the two big trees that are majestically growing on the property were planted by his father. However, when he heard that we were planning to plant more trees and fruit-bearing trees, he was about to talk us out of the idea of buying that land. It's gumbo soil he said.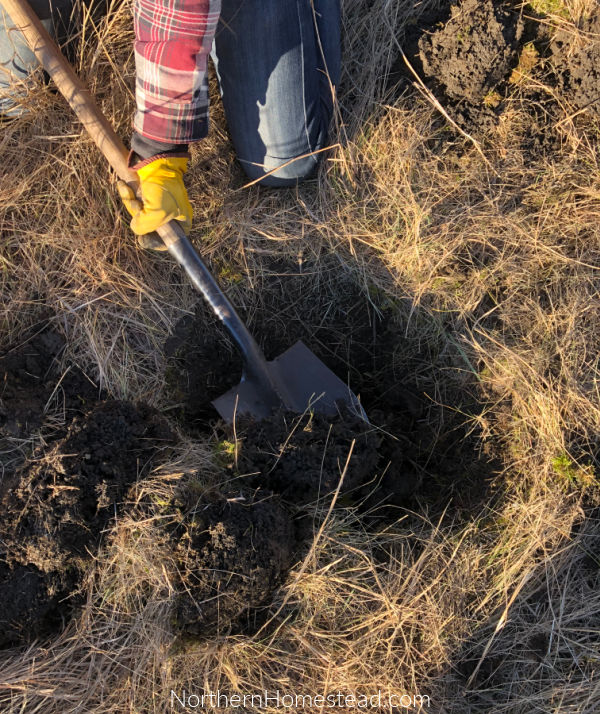 Quite honestly, we had never even heard of gumbo soil. We learned that gumbo soil is typically defined by the overwhelming presence of very fine particles of clay, with some small amounts of sand and/or organic material. Was there a catch after all?
His daughter added that growing a garden is quite impossible in gumbo soil, because even a little rain makes the area not accessible, and by the time it dries, the weeds have taken over. We learned two things from it, do not dig (and we weren't planning anyways), and the soil must be quite fertile since weeds grow so well in it.
A friend whose father farmed on gumbo soil praised the good potatoes that soil would produce, there is also something good about it.
The learning continues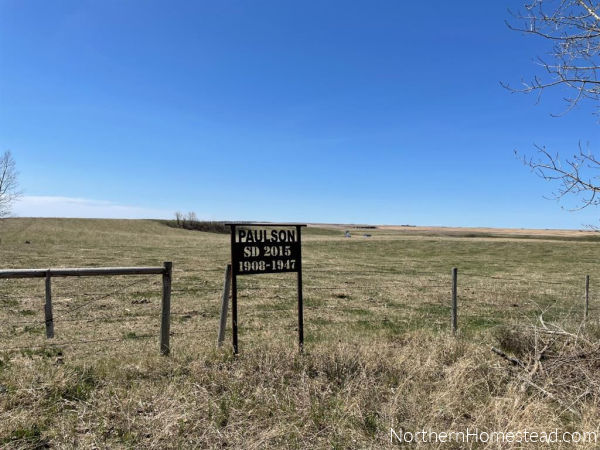 The property is a historic school side. I love that fact. The friendly neighbor did not talk us out of purchasing it but made us even more aware that we need and want to learn to manage it.
That former school site will be a part of our lifelong path of learning.
Learning does not only happen by doing but even more so by not doing, by observing, and being still. Patience has never been my strength, I already suspect, that that will be one of my most valuable lessons on that piece of land.
As I shared last week, over the winter months I am taking the permaculture design course, to be able to design the land to permaculture principles and share what I learn with you, so this school site also continues to teach.
Stay tuned for more
We have been sharing our urban home garden with you since 2012. We will also continue to be urban homesteaders. There is a wealth of information about that already on the blog.
Today we are opening a new category 'Permaculture Property'. We plan to share the whole process from designing, planting a shelterbelt and a food forest, starting a garden, building good soil, and much more.
Some greenhouse ideas, like maybe another Geodesic Dome, or Walipini are in the making. As usual, it will be hands-on low cost.
Most of all we plan to have fun and hope it will be enjoyable, useful, educational, helpful, or just plain entertaining to follow our journey as we build our new land into a permaculture property.
A great read: Building Your Permaculture Property: A Five-Step Process to Design and Develop Land
We invite you to subscribe to Northern Homestead and follow us on Instagram, Facebook, or Pinterest for the latest update.
More posts you might enjoy