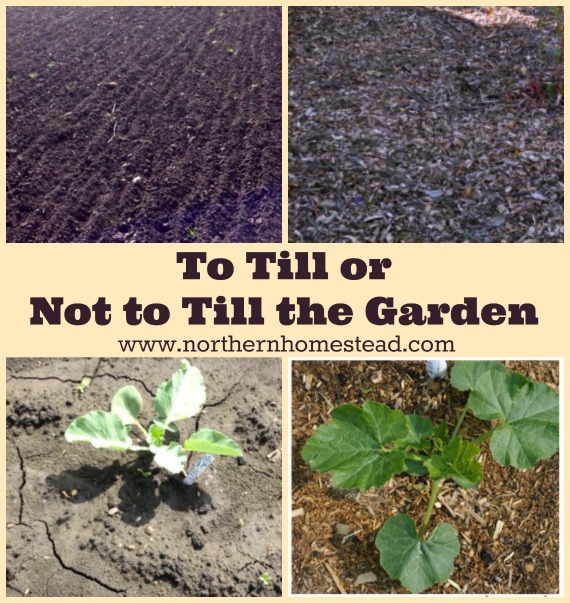 Growing up on a homestead, spring time was a busy garden time. The garden was cleaned up, fertilized with composted manure, and turned over. We did that every spring. The young adults would form work groups to help to dig the gardens of those who were not able to do that by themselves. Digging seemed to be a necessity of life. Today rototillers have replaced these working volunteers, doing the job much faster, with less man power, and yet it's still is a big job. But is digging and tilling actually necessary? Most old folks would say yes, but there is a 'No Till' gardening movement with great results also. The question remains, to till or not to till the garden? Here we try to explain when tilling is a good idea, and when it can and should be avoided.
You should till the garden when …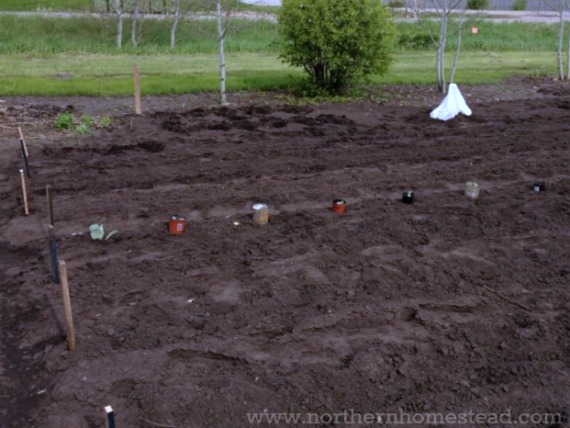 …the garden is bare, with some weeds, dry and hard, and it is time to plant.  This is the situation of most traditional gardens. My parents' garden looked like this every. single. spring. Maybe your garden looks like this too. This is the time to till your garden for the very last time. Tilling brings immediate results. Till it and plant. But after the harvest in fall you can change your garden into a no till garden. If you cover your garden, you will not have to till it ever again.
After the harvest in fall you can change your garden into a no till garden.
You can till your garden when …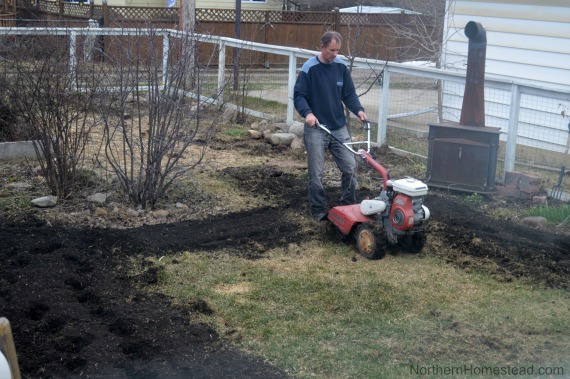 … you want to switch to a no till garden. Sheet mulch no till gardening methods recommend just to cover the area with cardboard and/or newspaper, add compost and mulch and it is ready to be planted. Brett L. Markham in his book Mini Farming: Self-Sufficiency on 1/4 Acre compares double digging to a no till garden system. In 3 years there is no difference, but he says digging helps to speed up the process. So if your existing garden is weedy, dry, and hard, and we are still at least a few weeks away from planting time, till it, cover with cardboard and/ or newspaper and mulch it. In few weeks you will have great soil to plant in. However, do not till nasty weeds that multiply with roots. Here it really is better to dig, not to till, making sure all the roots are gone.
You do not have to till your garden when …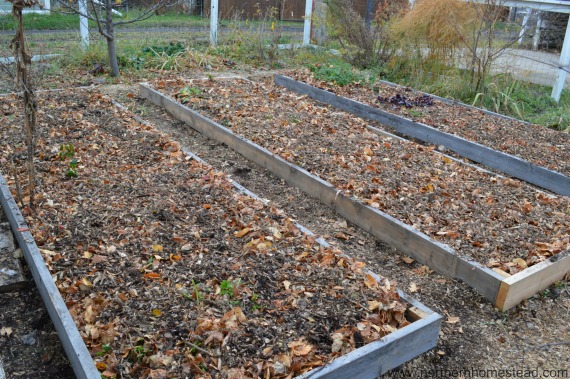 … your garden soil is covered. Natural mulch such as wood chips, straw, seedless hay, grass clippings, or leaves keep the soil moist and soft and the weeds down. In spring there is no need to till or dig the garden. In fact, it would actually harm your garden if you would till-in the mulch.
Not everyone is a fan of a mulched gardens. Some find it easier to work with just soil. I get it. Even though there is more to mulch than just covering, you can also cover the soil with some kind of breathable blanket. It does not matter so much what you use: weed barrier, tarp, cardboard … . What's important is that the soil is covered. As soon as the snow melts, put your cover on. The soil will not dry out, weeds will not grow, and all you would need is to work it with a Broadfork
, add compost, and work it in the top few inches of the soil. Covered soil is maybe not as soft as fresh tilled soil at the top, but is much softer all throughout than tilled soil will ever be.
You should not till your garden when …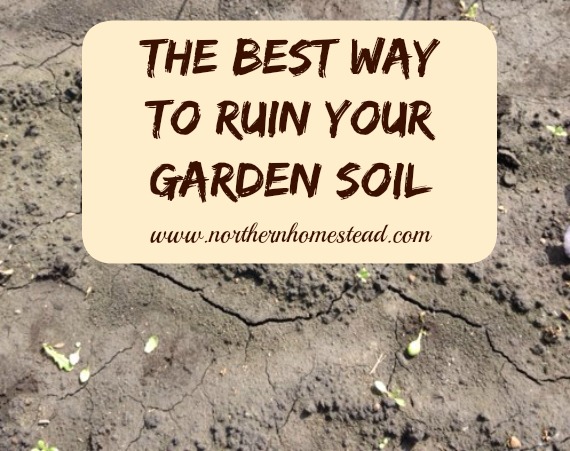 … you want to build up a great soil for many years to come. Even though tilling can help you to plant an immediate garden, it will ruin your garden soil in the long run. It makes soil harder. Intense gardening in the same spot, year after year, is only possible if you do not disturb the soil with constant digging and tilling. Roots in a tilled garden always hit the hard core, split and compete with each other. Seeds from weeds brought up through the tilling will grow and after a few short weeks the freshly tilled garden is just as hard, dry and weedy as it was before the tilling. A real vicious cycle. You can break that by covering the soil and stopping the tilling.
The soil will build up, and get better every year. Here is a great deep soil cut picture of what the soil looks like in a no till mulch garden, simply amazing!
Hope this helps you to understand tilling and no tilling a bit better and helps you to have a better garden with less work.
Here are some good information on no till methods.
See how we replaced our lawn with food production.
We invite you to subscribe to Northern Homestead and follow us on Facebook or Pinterest for the latest updates.
More posts you might enjoy