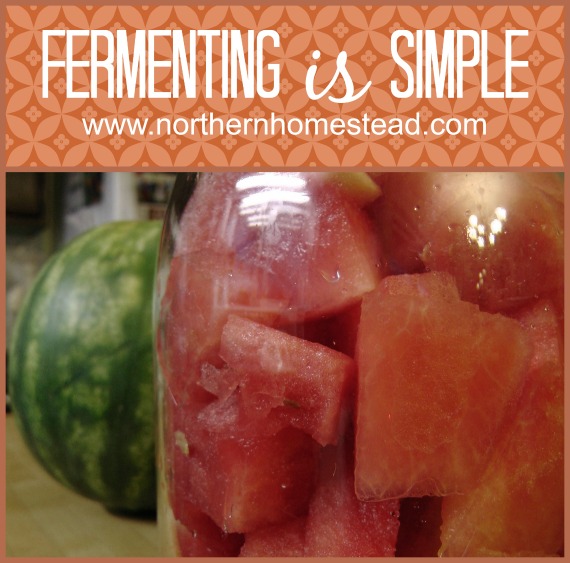 Here at Northern Homestead, we love fermented foods. We love them because they are delicious, healthy, and simple to make. It is a great way to preserve the harvest. Learn the basics of fermenting food at home.
There is a whole science on how food gets Lacto fermented by using just salt and if needed water. The book Fermented Vegetables
covers a lot of it along with some interesting stories. However, in our home kitchen, we just need to know how to ferment food safely and deliciously. That's what this post is about.
What you will need to make fermented food
Fermenting is simple! You do not need any special equipment. Start with using whatever you have in your kitchen and add special equipment as you see a need for it.
You will need:
A container big enough to hold all the vegetables or fruit you want to ferment. A crockpot, glass jars, or containers, even an ice cream bucket all make great fermenting containers. A fermenting water-sealed crock is great to have for sauerkraut and also larger batches of vegetables. In the picture below I use an old crockpot to make sauerkraut and weigh it down with a salad bowl and a jar with pickling cucumbers.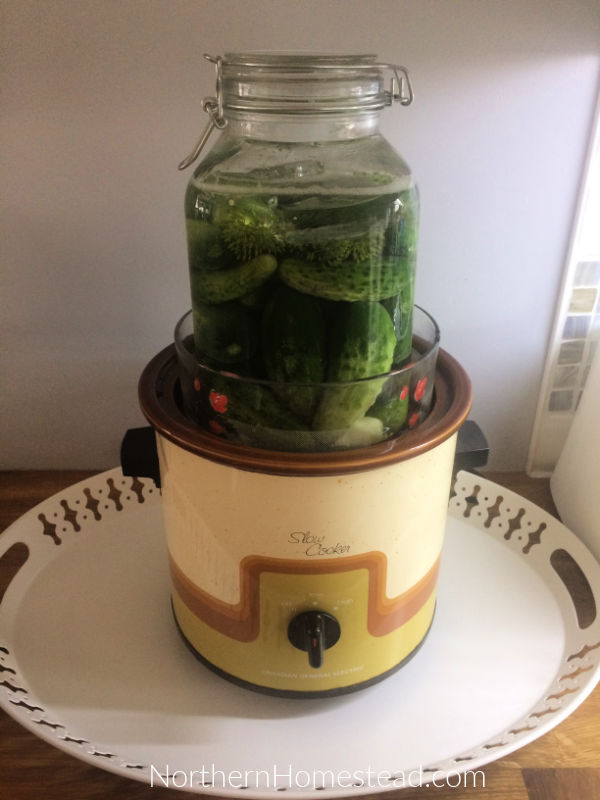 A weighing stone or a plate with some weight on it to keep the brine up. The Tupperware shaker insert fits well into my jars to hold the veggies down, also small cups can be used as well. A plastic bag with some water in it works well for fermenting in jars.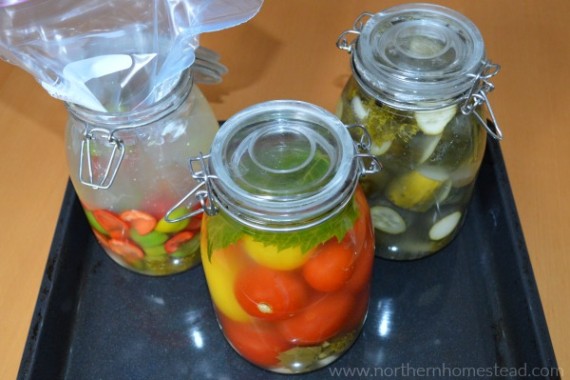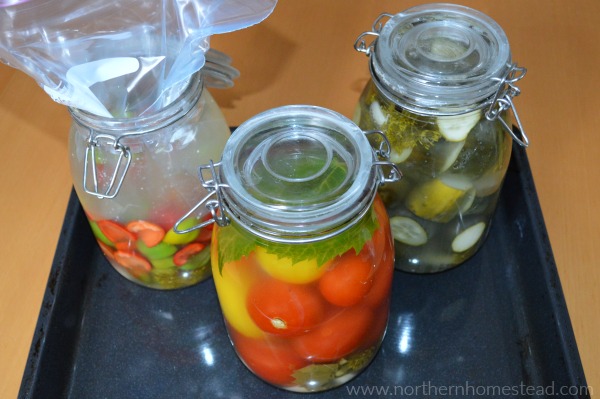 A Lid and Econolock
are in my opinion a luxury that is not needed. The seal-tight jars from Ikea work actually even better. The seal does not allow air to come in, but it does allow air to vent if needed.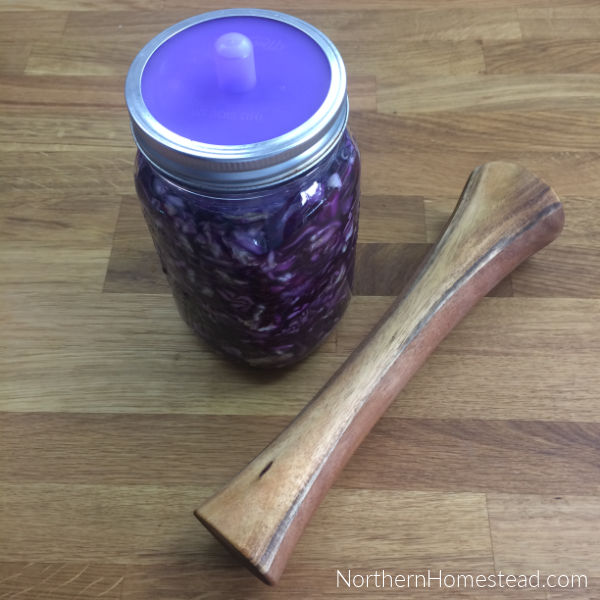 A fermentation kit is a great kit to have, and we would recommend it, but as you read above you can start with whatever you have in your kitchen.
Brine and salt
There are basically two ways to ferment, in its own brine or in water brine. The most known own brine ferment is sauerkraut. However, the same way other vegetables can be fermented as well and taste delicious. Here we sliced beets thinly and added salt.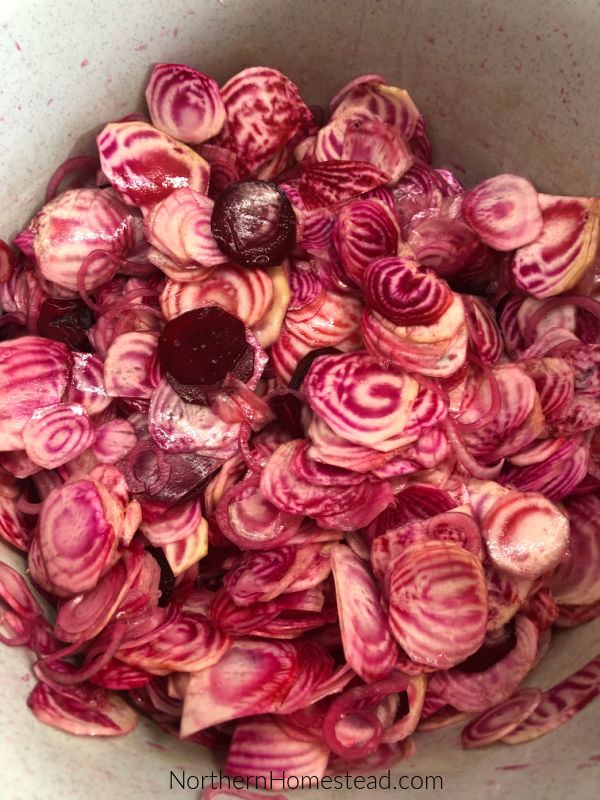 The salt brings out the juices in the vegetables, so no water is needed to ferment. Make sure to weigh the veggies down, and the fermentation can begin.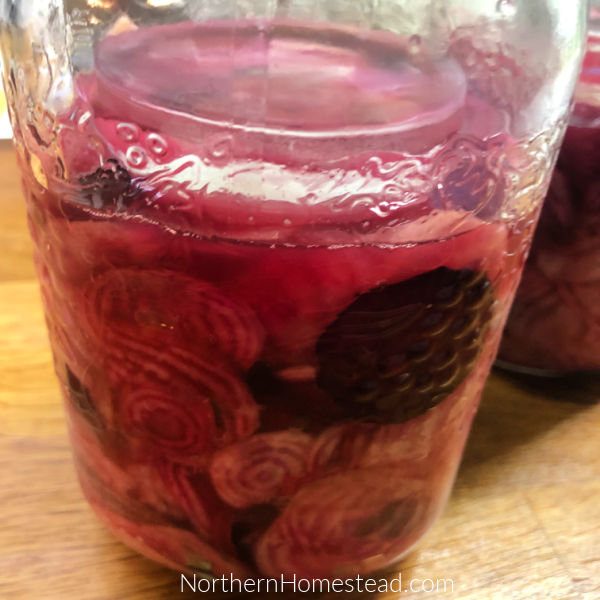 If you want to ferment bigger chunks of vegetables or fruit, you will need a water brine. Use clean, unchlorinated water. If tap water is all you have, I'd recommend boiling it before making brine.
Salt is the most important ingredient when it comes to fermenting besides the vegetables of course. The salt keeps the bad bacteria from growing and allows the good to develop.
What salts to use? Preferably you want natural real salt with no additives and not refined. I have used Canning and Pickling Salt
successfully, however at least here in Canada it does not say that the salt is not refined, so it probably is. Also, fine salt dissolves better than coarse salt.
How much salt to use? Ideally, you want to use 1-3% salt to the weight of vegetables or water for brine. More salt slows the fermentation down. Researching it a bit I have found that northern countries tend to use less salt, but Asian countries and also the US recommend a higher percentage of salt.
If you ferment vegetables without a water brine, just taste the mixture. It should be salty, but not unpleasant salty. For example, if you have 1-kilogram cabbage and you use 1 tablespoon = 20-gram salt, it results in being 2% salt. For my taste, it's quite salty. Use your taste buds, because you can use a bit less or more.
Water brine of course can not be tasted. According to the book Fermented Vegetables for a basic brine, you will need – 1 gallon of water to 1/2 cup of salt. 1/2 cup of salt is ≈ 120 grams which convert to a bit more than a 3% brine. To be closer to 2% use 1/3 cup = 80 gram.
Note: For a long time storage 1 gallon of water to 1/2 cup of salt is great. To eat and enjoy soon 2% is enough. There is no need to make it saltier.
Cucumber brine is always saltier than brine for other vegetables. The Shockey's in Fermented Vegetables
suggest using 3/4 cup of salt to 1 gallon of water. Again you can make them half-salt and sour to enjoy right away.
Make it tasty
Even though salt and veggies/water are all you need to make a simple fermentation, you might want to add some flavor with dill, rosemary, garlic, ginger, turmeric, master seeds, cinnamon, pepper, etc. Follow a recipe or make your own, using your preferred spices and herbs.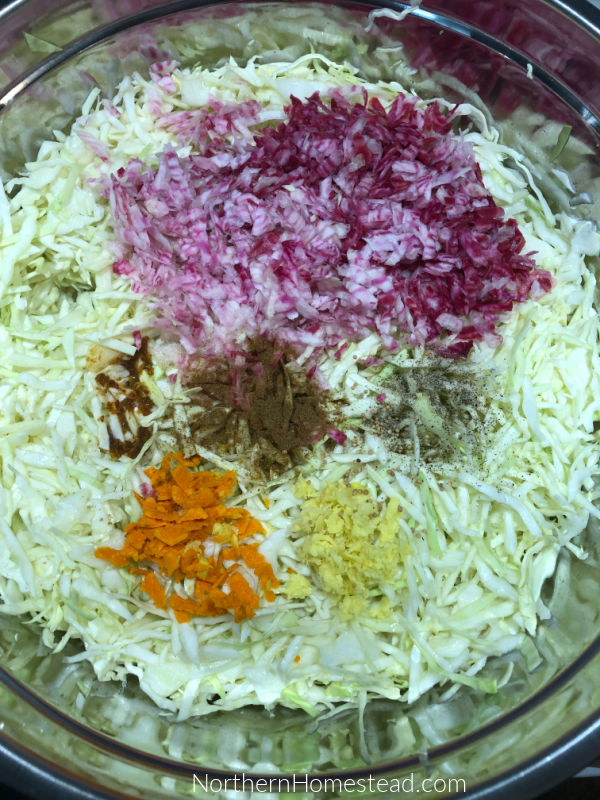 Adding grape leaves or horseradish (you can use just the stem of the leaf or the root) will keep your ferments more crispy without adding too much salt.
The fermentation
The simple rule to succeed with fermenting is to keep it covered with brine. Here is where the weighing stone or a plate with some weight on it to keep the brine up comes in handy. The Tupperware shaker inserts in this picture fit well into the jar to hold the veggies down.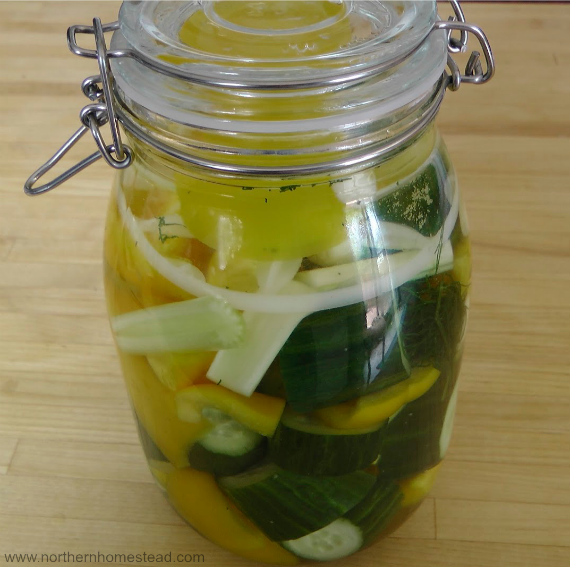 A plastic bag with water also works great especially when the veggies you are fermenting are cut or shredded. Get creative, use what you have but keep the ferment covered.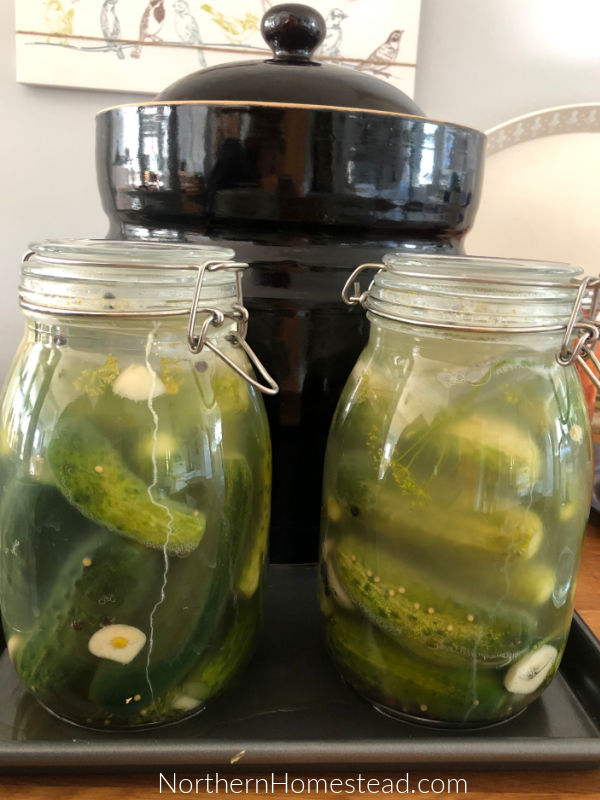 While fermenting the jars might overflow, it is normal. To prevent a mess, keep your ferments on a plate or baking sheet.
Keep the ferments out of direct sunlight at room temperature (15 -24 C ). Cooler temperature will slow the process down, warmer will speed it up.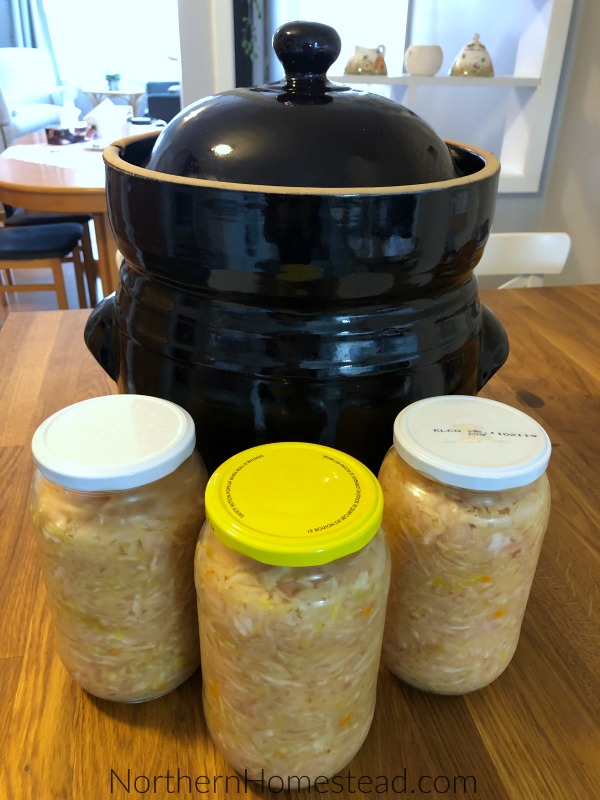 The fermentation is done if you see and hear no activity. It usually takes about a week. Now transfer the ferments to a cooler place, a refrigerator is best. For that, you might also want to refill it into smaller jars. Make sure the fermented veggies are still all under the brine.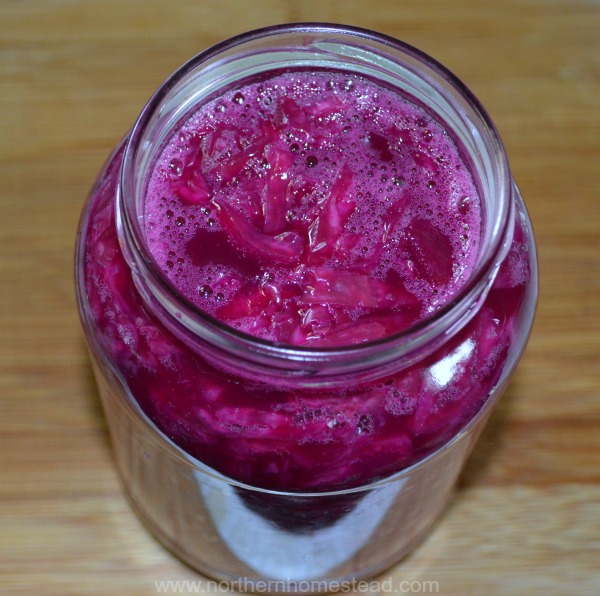 What to ferment
Last but not least let's look into what to ferment. Great organic fruits, vegetables, and herbs will make great ferments. Especially for long time storage and fermentation that is used as preservation use freshly harvested produce.
However, I find fermenting also helpful for not so great products. Winter cucumbers that are tasteless can become yummy half sour pickles, and a not so sweet watermelon turns into a delicacy when fermented.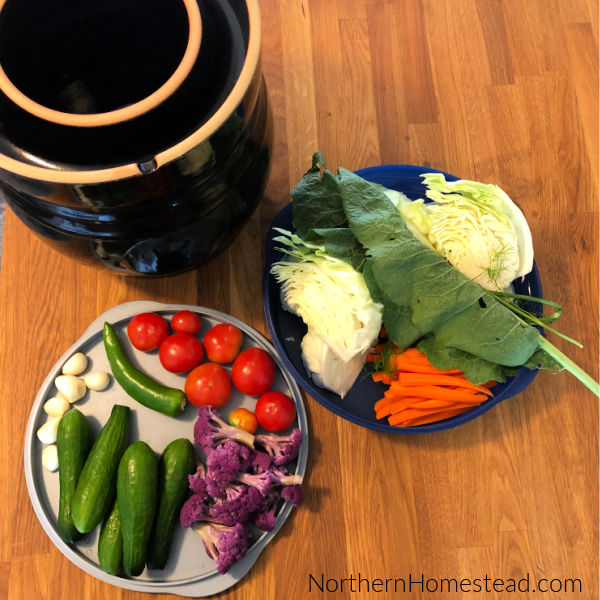 When it comes to the question of what vegetables to ferment, it is easier to list what might not be such a good choice (potatoes, or broccoli), because almost anything tastes greatly fermented.
The book Fermented Vegetables: Creative Recipes for Fermenting 64 Vegetables & Herbs in Krauts, Kimchis, Brined Pickles, Chutneys, Relishes & Pastes
offers more than 120 recipes, using the same basic methods for fermenting 64 different vegetables and herbs. They show how easy it is to make dozens of exciting dishes, including pickled brussels sprouts, curried golden beets, carrot kraut, and pickled green coriander.
Fermentation examples
The simplest ferment to start with might be half-salt and sour pickles, here is how.
Fermented pepper paste is a must-have in our hose.
Sauerkraut is a staple in our house. We have made it the simple (poor man's) way for years. See here how to make sauerkraut the simple way.
If you have a water-sealed fermenting crackpot, here is how to use it.
In this video, we show an example of water brine fermentation. We are making dilly carrots.
Fermenting is simple, learn the basics and start fermenting your favorite vegetables using what you already have in your kitchen.
We invite you to subscribe to Northern Homestead and follow us on Instagram, Facebook, or Pinterest for more yummy recipes.


More Recipes You Might Enjoy: