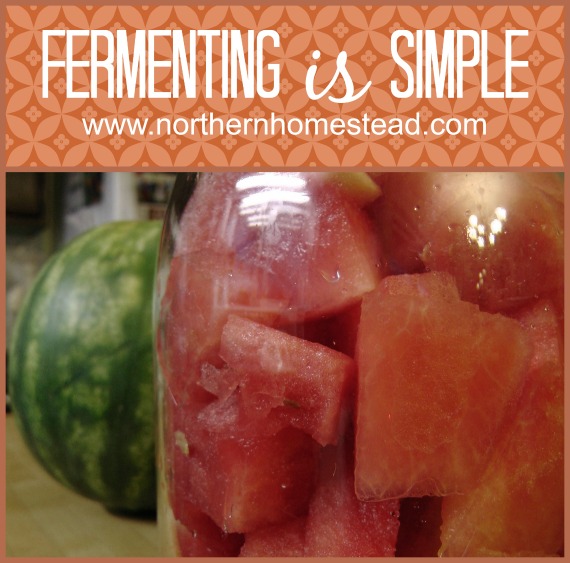 Here at Northern Homestead we love fermented foods. We love them because they are delicious, healthy, and simple to make. Just try it for yourself and you'll see!
What you will need to make fermented food
Fermenting is simple! You do not need any special equipment nor any starters. Even beginners can make their own fermented foods with whatever they have in their kitchen. You will need:
A fermenting crock or a slow cooker, glass jars or containers, even an ice cream bucket all make great fermenting containers.
A weighing stone or a plate with some weight on it to keep the brine up. A Tupperware shake insert  fits well into my jars.
A Lid and Econolock
or a plastic bag with some water in it for fermenting in jars.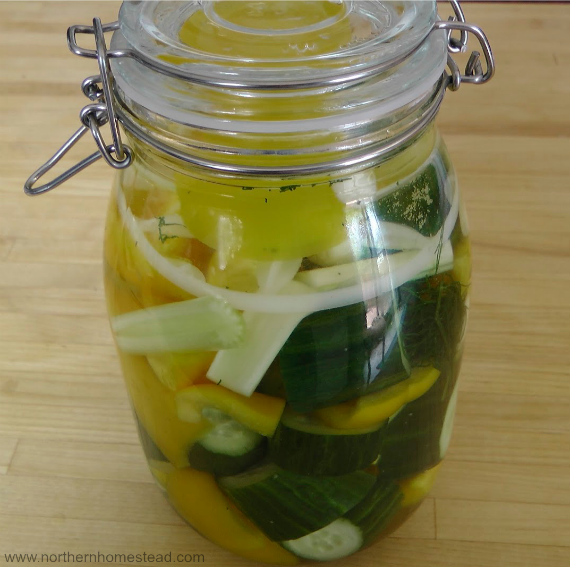 Brine and salt
Salt is the most important ingredient when it comes to fermenting. The salt keeps the bad bacteria from growing and allows the good to develop. According to the book Fermented Vegetables
you will need: Basic brine – 1 gallon of water to 1/2 cup of salt; Cucumber brine – 1 gallon of water to 3/4 cup of salt;
You can also use whey to help the fermentation to get started and to minimize the use of salt. The book Nourishing Traditions
has great info on this. You can cut the salt in half by adding 2-4 tablespoons of whey.
Personally I do not use whey nor so much salt, and it always works great. My basic brine is 1 quart water to one tablespoon salt; Cucumber brine – 1 quart of water to 1 1/5 tablespoons of salt. I use coarse Canning and Pickling Salt
and heap it on the spoon. One of the reasons it works without whey and a lot of salt might be the fact that we constantly ferment food.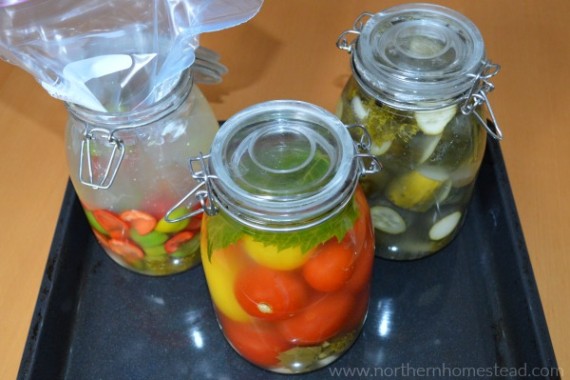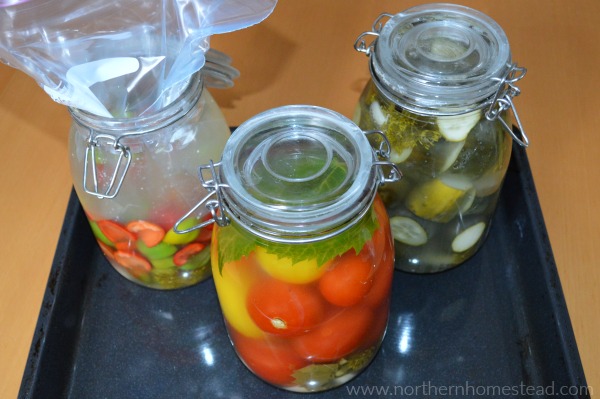 With this simple brine you can ferment almost anything. Some vegetables, like cabbage, will even make their own brine by adding salt, see my sauerkraut recipe.
Make it tasty
Even though salt and water is all you need to make a simple brine, you might want to add some flavor with dill, garlic, and pepper. Mustard seeds, cloves, and whatever other spice you like can be added as you prefer. Adding grape leaves or horseradish leaves (you can use just the stem of the leaf) will keep your ferments more crispy.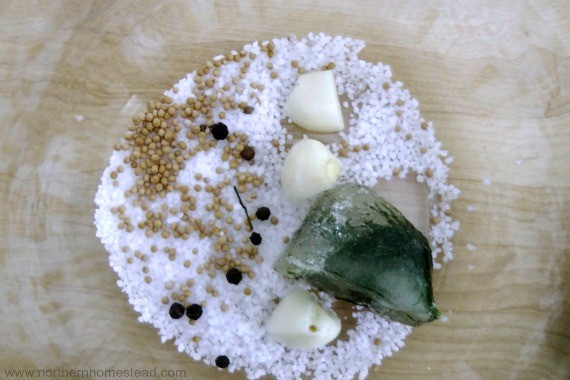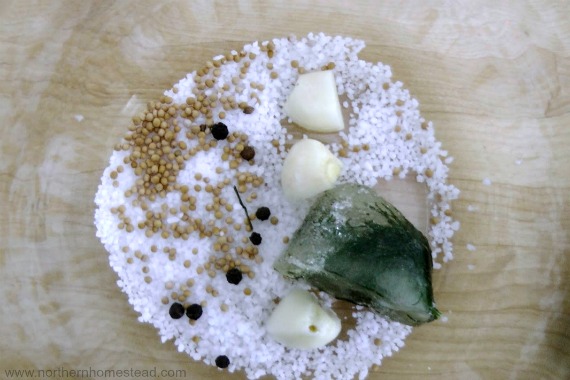 What to ferment
Great organic fruits, vegetables, and herbs will make great ferments. However, I find fermenting also helpful for not so great products. Winter cucumbers that are tasteless can become yummy half sour pickles, and a not so sweet watermelon turns into a delicacy when fermented. The book Fermented Vegetables: Creative Recipes for Fermenting 64 Vegetables & Herbs in Krauts, Kimchis, Brined Pickles, Chutneys, Relishes & Pastes
offers more than 120 recipes, using the same basic methods for fermenting 64 different vegetables and herbs. They show how easy it is to make dozens of exciting dishes, including pickled brussels sprouts, curried golden beets, carrot kraut, and pickled green coriander. I just had to get the book right away to try some of the the creative, delicious, and healthy recipes. The book is packed full of useful information.
You can see the authors in a video called "Beyond Cabbage — The Fermentistas Show". It really stood out to me that these professional fermentistas (as they call themselves) use the same simple method I do. Worth watching!
Hope this encourages you to start fermenting – fermenting is simple!
We invite you to subscribe to Northern Homestead and follow us on Facebook or Pinterest for more yummy recipes.


More Recipes You Might Enjoy: