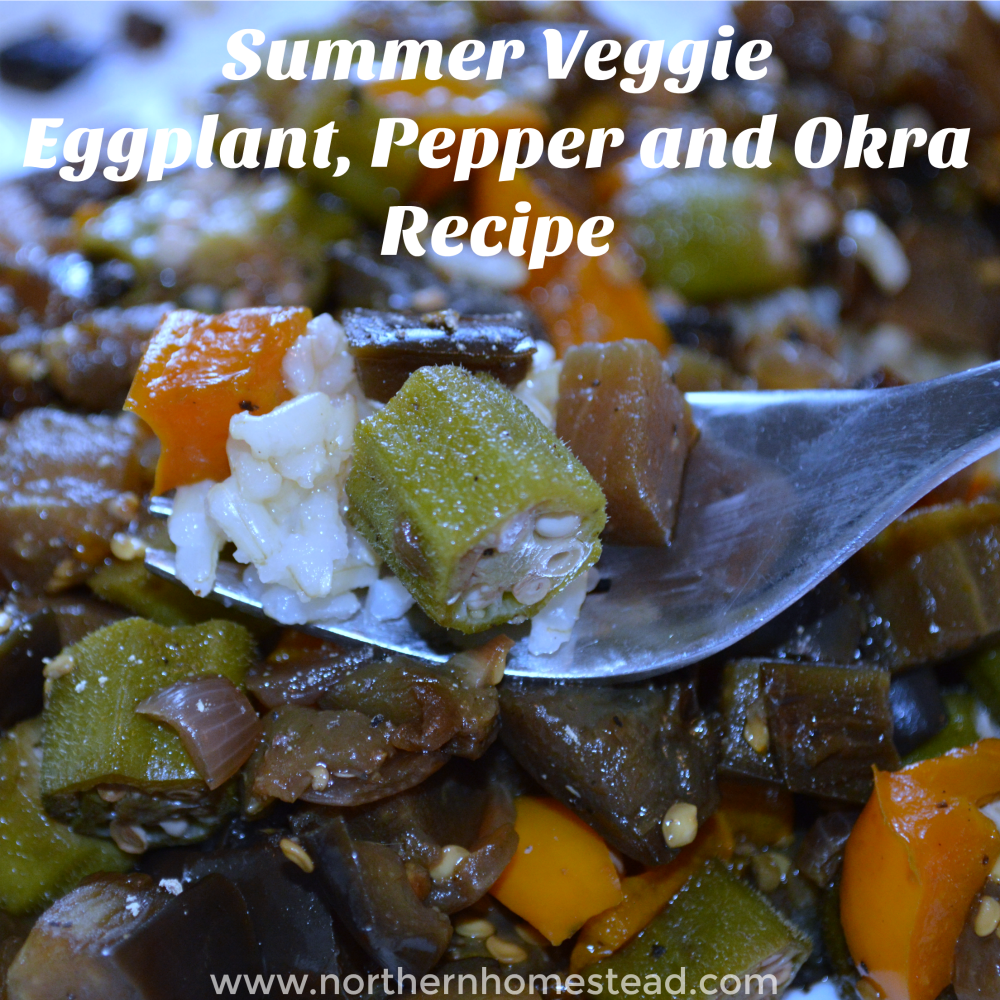 This summer veggie eggplant, pepper and okra recipe is made out of real summer veggies and it's super yummy. Since our summers are so short, we try to grow all the veggies at the same time. There are broccoli, peppers, carrots, potatoes, and tomatoes growing happily together. In our northern cool climate, all veggies are summer crops. The only difference we notice is that some don't grow as well as others do. And there are some that are really struggling because they are true summer veggies who like it hot.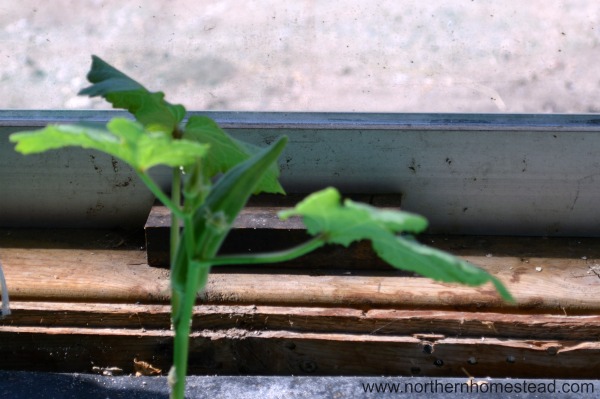 For example this okra plant. It's a first for us, and probably a last. Our summer weather is just too cold for okra. This one is actually growing in our indoor garden and it does have a fruit, the first and only okra fruit up till now in our garden. A great substitute for okra is scarlet runner beans or any other green bean. 
Eggplants and peppers grow quite well in a greenhouse. We prefer the small eggplant varieties, so for a recipe like that we would use 2-3 from our homegrown eggplants. Peppers do well on the tower garden, growing hydroponically. Outside in soil they do not grow that well here. After all, peppers are classic summer vegetables as well.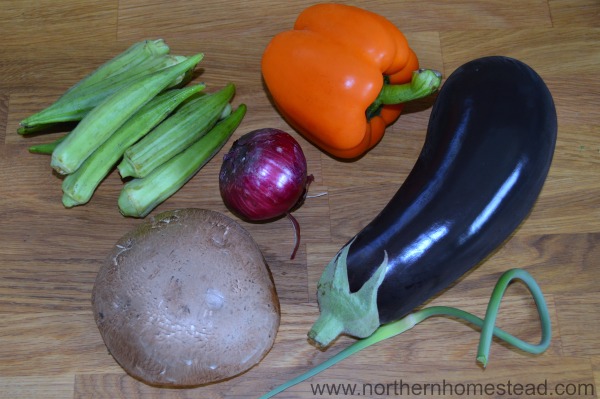 Thankfully we can still enjoy all the summer veggies because grocery stores carry them and often do so even year-round. This is the reality of growing food from the garden to the table in a cold climate. We do grow a lot, but like on this particular day, the only homegrown harvest I used was the garlic scape. However, as with all my recipes, if you don't have something or grow something else that would be a good fit just substitute it.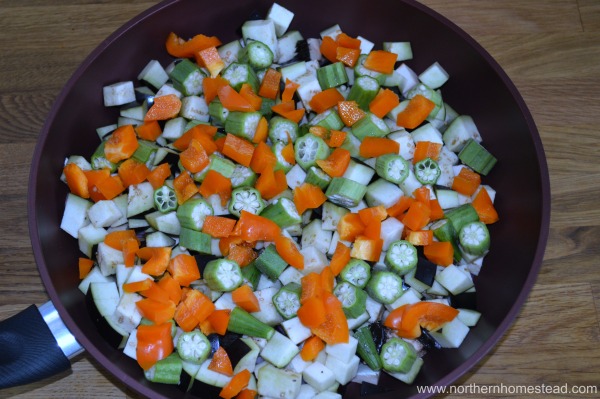 This summer veggie eggplant, pepper and okra recipe was inspired by a Filipino friend. In her home country, all these summer veggies grow nicely and are used widely. Since we like to follow Dr. Fuhrman's whole-food, plant-based diet, I added mushrooms to the dish. Mushrooms are an important anti-cancer food that we should eat more often, and it goes very well with summer veggies.
My friend would use Chayote, which also does not grow here. You can substitute it with baby zucchini.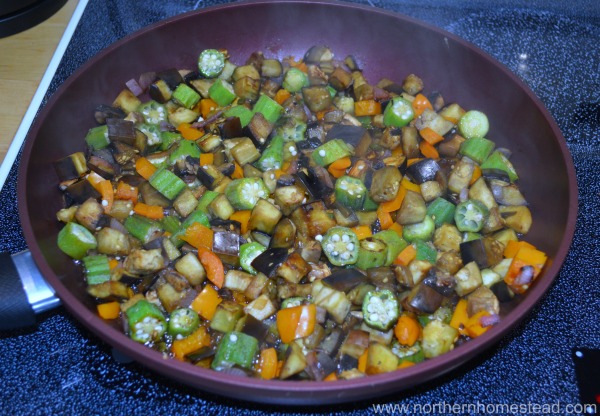 For seasoning, I used Bragg liquid soy seasoning. It's a natural soy sauce that gives the summer dish a special note.
Serve the summer veggie eggplant, pepper, and okra dish on a whole grain of your choice. A lot of Asians of course use rice. I find adding beans to rice makes it even better. It's yummy and filling.

Summer veggie eggplant, pepper and okra recipe
Author:
Anna @ Northern Homestead
Ingredients
1 onion, chopped
1 portabella mushroom, cut into cubes
1 cup summer or winter squash cut into cubes
1 medium eggplant, cut into cubes
1 cup cut okra
1 pepper, cut into cubes
1 clove of garlic
1 tablespoon braggs soy
Black pepper to taste
Instructions
In a large skillet, layer all the veggies in the order they are listed. Turn on the heat and let the first layer brown a bit before you stir. The veggies will give liquid, if you feel there is not enough, add some water or vegetable broth.
Cover and let simmer for 10-15 minutes.
Season with Soy and black pepper
Serve on whole grain rice
To add some flavor to the whole grain rice, I like to cook the rice in vegetable broth instead of plain water. I simply use the Instant Pot for it, 1 cup of whole grain rice, 1 1/4 cups of broth, and half a teaspoon of salt. Cook on high pressure for 25 minutes. After the cooking time is done, unplug the pot and let the pressure release slowly by itself.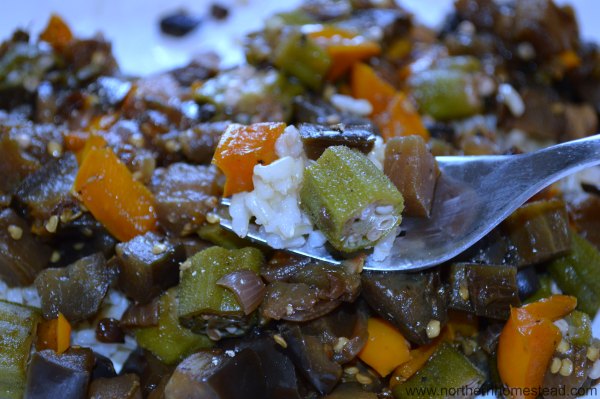 Hope you enjoy the summer veggie eggplant, pepper, and okra recipe as much as we do.
We invite you to subscribe to Northern Homestead and follow us on Facebook or Pinterest for more yummy recipes.
More Recipes You Might Enjoy: