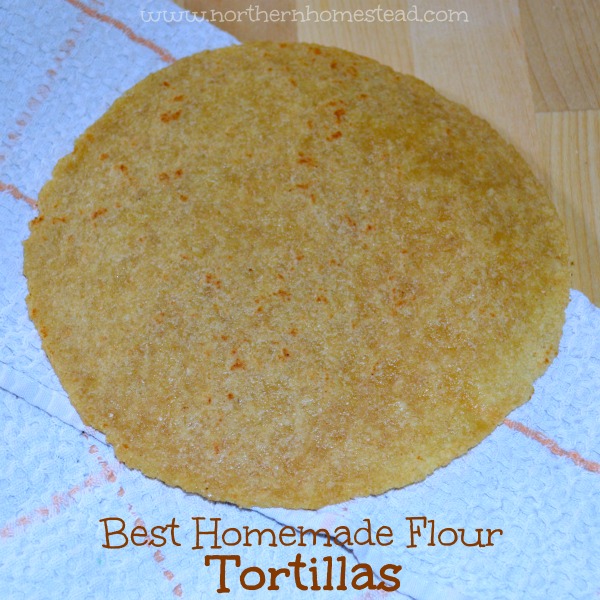 Homemade whole wheat flour tortillas are a favorite in our house. We enjoy them in so many ways: traditionally as tortillas with filling made from mushrooms, sweet potatoes, or beans, topped with salsa, greens and cheese (we prefer nut cheese); or topped with some pizza ingredients as a thin and instant pizza crust; or even with some apple butter as a sweet treat. Yum yum!
We love them homemade, not just because they are more healthy (and they are), but more so because they are so irresistibly delicious. You will never buy Tortillas again.
I like to make 20+ at a time, and freeze the leftovers. Yes, homemade tortillas freeze very well. To reheat I often put the tortillas into a plate and cover with another plate, and place the plates on top of a hot pan or pot. Reheating in the oven is possible too, but they tend to dry out more.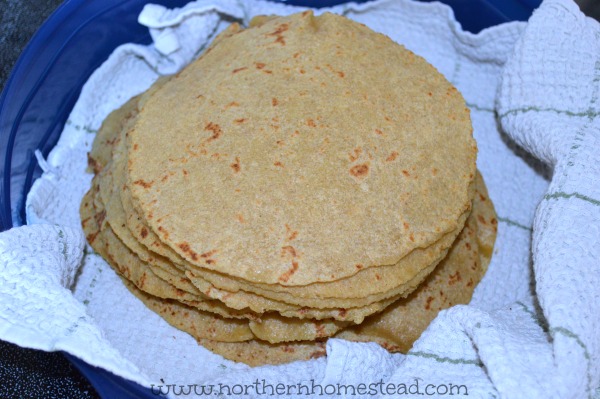 These homemade whole wheat flour tortillas can be made with any whole grain, but I find they taste the best with whole grain Kamut. Kamut is a brand name for an ancient Khorasan wheat. It is nutrient dense and highly digestible. In fact, some people who cannot tolerate wheat are able to enjoy Khorasan wheat. It has more protein than wheat, and delivers a healthy complement of complex carbohydrates, and a high mineral content. It contains selenium, zinc, magnesium, vitamin E, thiamin, riboflavin, phosphorus, magnesium, zinc, and copper.
Now if this all sounds to scientific for you, all you need to know is that it's good for you and  tastes great. More nutrients simply means more taste. You can buy Kamut at many places or order online from Breadtopia.
If you are into making homemade Tortillas more often, it is so worth it to get yourself a Tortilla press. We love our Victoria Cast Iron Tortilla Press.
Tortilla presses do not only work with corn tortillas, they also work great for Kamut flour tortillas. It makes the job so much easier and saves time, too.
I like to put the dough into a cut open plastic bag, so the tortilla does not stick to the press. It will stick to the plastic too, but is relatively easy to remove it from it.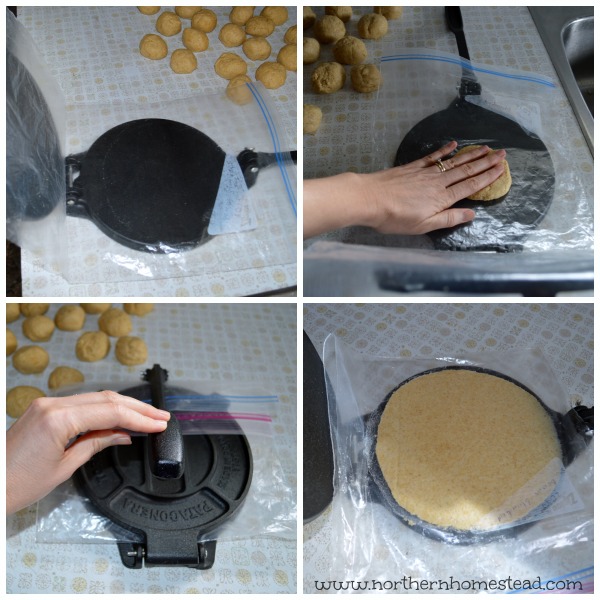 If I work alone,
I press and put the first tortilla into the hot pan,
press the second tortilla,
turn the first tortilla in the pan,
remove the second tortilla from the plastic,
now with one hand remove the first tortilla from the pan, and
place the second tortilla into the pan.
Are you dizzy yet? Now repeat this 20+ times ;).
To make tortillas alone is doable, but it sure is nicer, more relaxed, and fun, to do it with two people. Now you know what you can do for your next date night ;).
One last thing, does the recipe really need oil? The whole food, plant-based diet omits the oil wherever possible. You can totally make homemade tortillas without oil or salt. However, at least for me it does not work in the tortilla press, it just sticks to much. Whenever I make tortillas oil free, I roll them with a rolling pin. The flour used for rolling out the tortillas tends to burn in the pen. All in all, I find the little bit of coconut oil to be a better option.
Now let's get started.

Homemade Whole Wheat Flour Tortillas
Author:
Anna @ Northern Homestead
Ingredients
6 cups (750 g) whole wheat flour (preferably freshly ground) (I like to use kamut)
2 cups cold filtered water
1 Tablespoon apple cider vinegar
1½ teaspoons non-aluminum baking powder
½ teaspoons sea salt (Optional)
⅓ cup coconut oil melted
Instructions
Combine the ingredients in a bowl and make a dough.
Let the dough rest for at least an hour, better over night.
Divide the dough into 24 pieces (or more if you want smaller tortillas, less if you want bigger ones)
Roll out or press the tortillas.
Fry the tortillas in a frying pan on medium heat for about a minute each side. Do not use oil when frying them, the oil in the dough is enough to keep the tortillas from sticking.
Enjoy!
We invite you to subscribe to Northern Homestead and follow us on Facebook or Pinterest for more yummy recipes.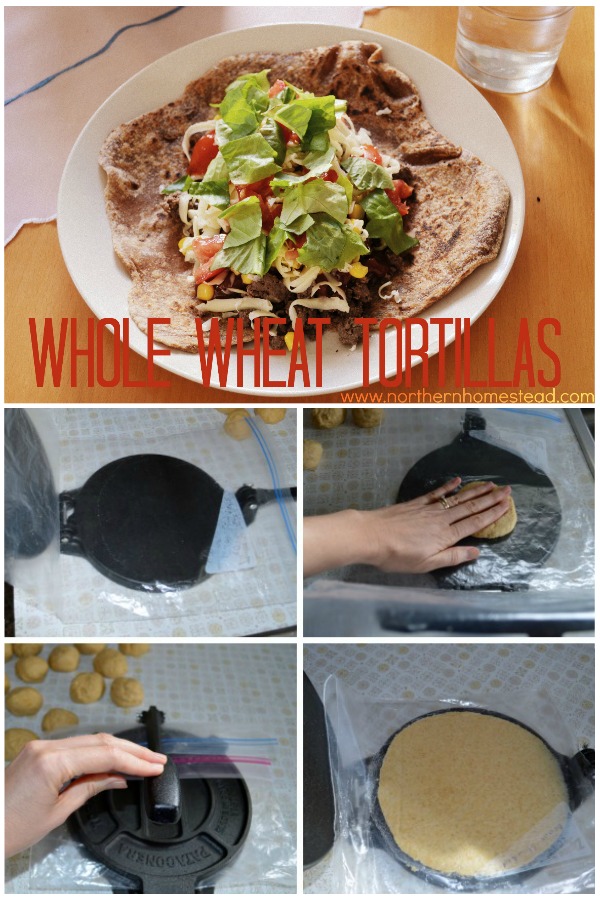 More Recipes You Might Enjoy: