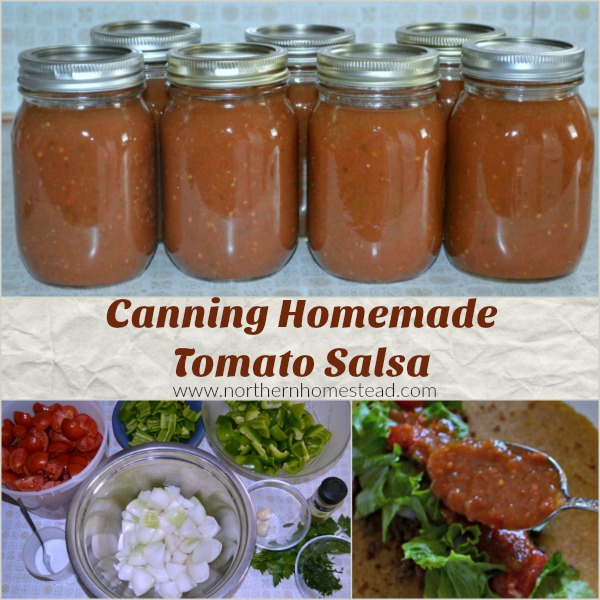 We love homemade salsa and go through many jars every year. There are so many recipes to choose from. This recipe is the Zesty Salsa from Bell that I converted to grams. It uses only homegrown vegetables, no canned food added.
Why have a recipe in grams and not in cups?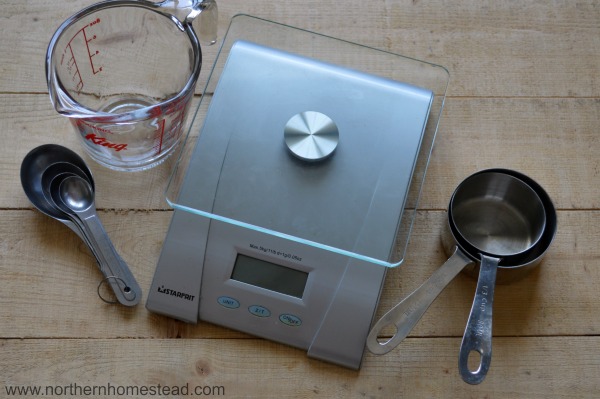 Measurements in cups are great for things that have a consistent texture, like sugar or liquids. When it comes to vegetables it will depend greatly on how you cut them. The finer you chop the veggies, the more you will need to fill a cup. In this recipe for example if you cut your tomatoes into bigger pieces and chop your hot peppers finely, the salsa will be very hot, simply because your measurements are off. A kitchen scale helps you to work more precisely.
A kitchen scale also makes this recipe (or any salsa recipe) very versatile. You can chop up the ingredients however you like them. I often can a batch with finely chopped veggies and another one with coarsely chopped veggies.
A recipe in grams also allows you to measure the veggies prior to cutting them. This is very convenient. There is no need to chop more veggies than will be used in the recipe.
Finally, since the recipe is in grams, it can be easily adjusted to whatever grows in your garden. Replace the green peppers with colourful ones, the hot with mild … whatever suits your taste. Just make sure not to use more veggies in grams than the recipe asks for, so the acidity and safety is still right.
Using homegrown ingredients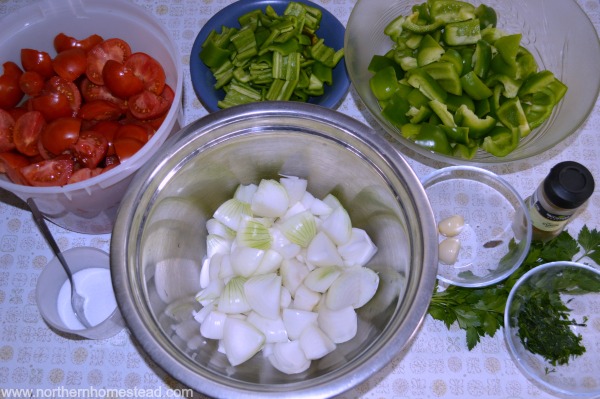 We love recipes that use only ingredients that grow in our garden. You can mix and match whatever grows well for you. For this recipe you will need about 25 medium tomatoes, 5 large peppers, and about 10 medium hot peppers, and 5 medium onions (red, yellow, or white, whatever is your favourite).
Salsa is often one of our first preserves we make. All of our homegrown peppers are still green at that point of time. However, this recipe would also taste great with colourful peppers, the result would be a more sweet and rich salsa. If that suits your taste, go ahead and use them.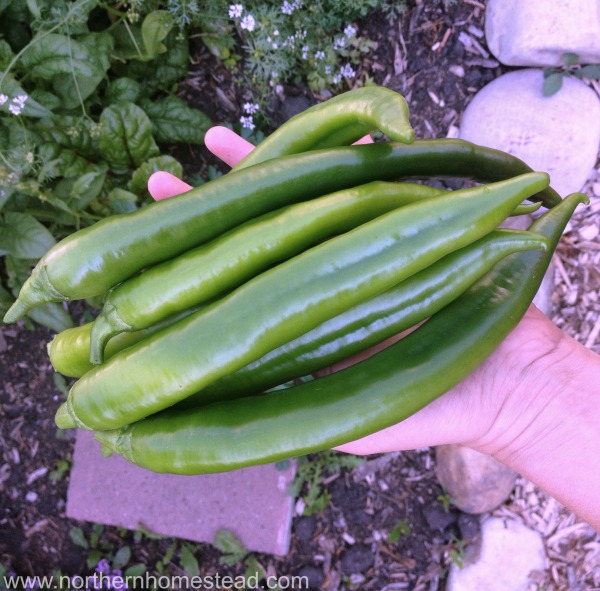 The hotness of the salsa will greatly depend on the chili peppers you use. We grow the Anaheim pepper that is a very mild hot pepper. But we also grow jalapeño and hot chili peppers. The recipe can be completely changed by the hot peppers used. You can also use hot banana, Hungarian wax, or serrano pepper.
Making a thicker salsa
If you prefer a thicker salsa, make sure to use more meaty tomatoes. You can also strain the cut up tomatoes before using them. Coarsely chop tomatoes and strain them for a while so the salsa is not so liquid. Make sure to weigh out the tomatoes after they have been strained so your recipe still has the needed amount of tomatoes.

Making a fine textured Salsa
Since the measurements are in grams, the recipe can be made in different ways. The simplest and also a delicious way is to clean and weigh out all the vegetables, put some of each into a Vitamix Blender, and chop them all up.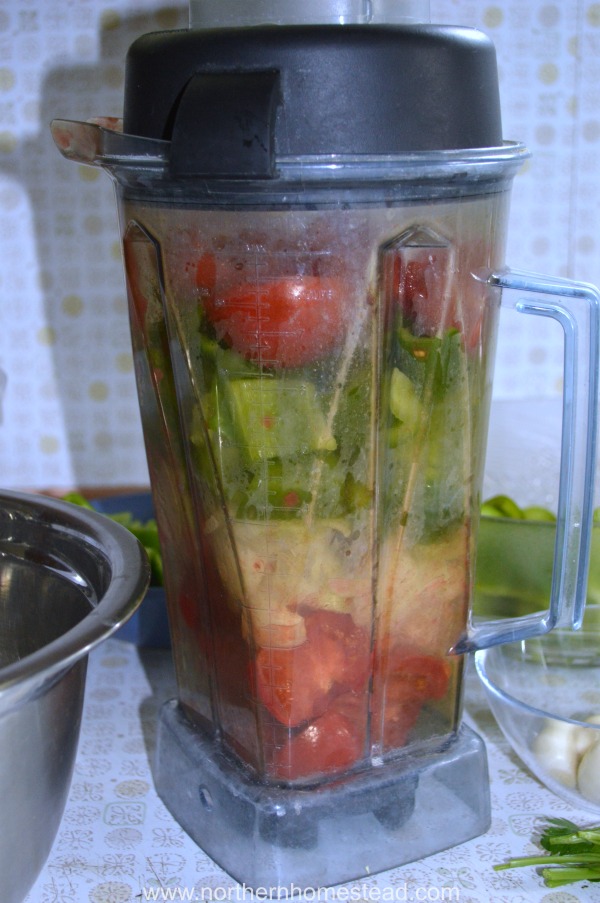 This will result in a fine textured salsa. This one is great if you plan to use the salsa in cooking, or as addition to a salad dressing, yum!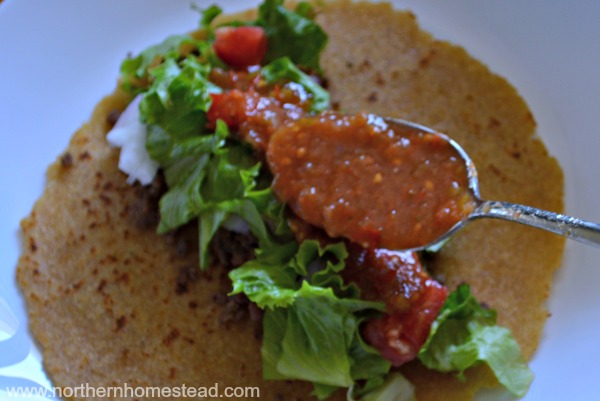 Making a chunky salsa
If you like your salsa chunky, cut the clean and weighed out vegetables into your desired size of pieces by hand. You will want to peel the tomatoes first. Blanch tomatoes in boiling water, rinse in cold water, and remove peels. This version is a bit more work but makes a beautiful tomato salsa.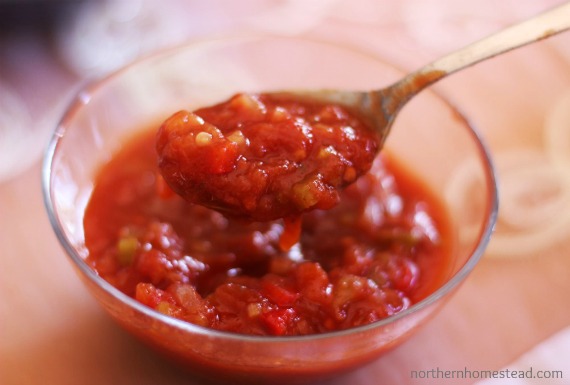 So let's get started canning homemade tomato salsa!

Canning Homemade Tomato Salsa
Author:
Anna @ Northern Homestead
Serves:
Makes 6 500 ml jars
Ingredients
2000 g (10 cups chopped) tomatoes
600 g (5 cups chopped) green bell peppers
600 g (5 cups chopped) onions
300 g (2-1/2 cups chopped) chili pepper (mix mild and hot to taste)
3 cloves of garlic
1-1/4 cups cider vinegar
1 tbsp. salt
2 tbsp. fresh cilantro
2 tbsp. fresh parsley (Optional)
1 tsp dried oregano (Optional)
½ tsp. cumin (Optional)
Instructions
Add all ingredients into a large saucepan. Bring to a boil, stir often, and let simmer for 10 - 45 minutes, till it has the consistence you like.
Fill and seal salsa into sterilized pint (500 ml) jars, filling to ½ inch from top.
Process in boiling water bath for 15 minutes, adjusting for altitude. Remove jars from water and cool. Check seals.
You want to learn canning at home? Canning isn't as complicated as it sounds. This DVD will show you just how fun and easy preserving your foods can be!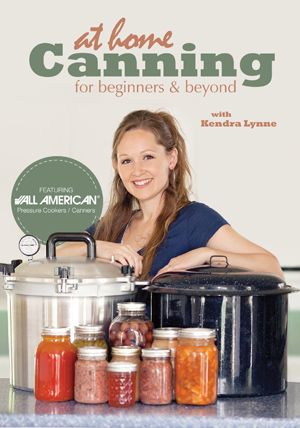 We invite you to subscribe to Northern Homestead and follow us on Facebook or Pinterest for more yummy recipes.
More Recipes You Might Enjoy: