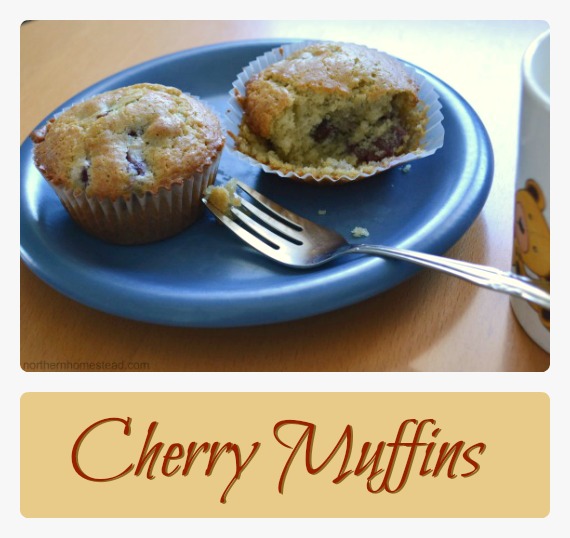 Cherries are one of our daughter's favourite foods. Every year on her birthday I make cherry pierogies, homemade of course since I do not know if one can buy those. They are tasty, I would say. Health wise, I am not sure, I think they go more into the category of homemade junk food. But since we only have them a few times a year on special occasions, I am ok with it.
I can only make pierogies with all purpose wheat flour. Our daughter reacts to wheat, but since it is for her favorite food she thinks it is worth the pain (do you do that too, eat something that actually brings you pain, but find it worth the pain?). Anyways, I went to buy some wheat flour for pierogies and saw that the organic brand was on sale. I have bought organic unbleached all purpose flour before, and did not find it worth the money. But since it was on sale I thought it wouldn't do any harm. This time it also was a brand I hadn't tried before. At home again I noticed right away that this organic unbleached all purpose flour looked different than any other unbleached all purpose flour I have used. It was not white. Well you might say that of course, it's not bleached so it's not white. But I always buy unbleached and it is white anyways, maybe not as white as bleached, but white. This one was not white. It had a natural color, not as dark as whole grain but you could tell it comes from grain. I made the pierogies, we enjoyed a special meal and … and
no pain, no reaction to wheat.
It makes me wonder if all the unbleached all purpose flour is somehow bleached? Or is it a different grain that Western Family uses, or what makes the difference? Is it the chemicals, or the type of grain our daughter reacts too? Many questions.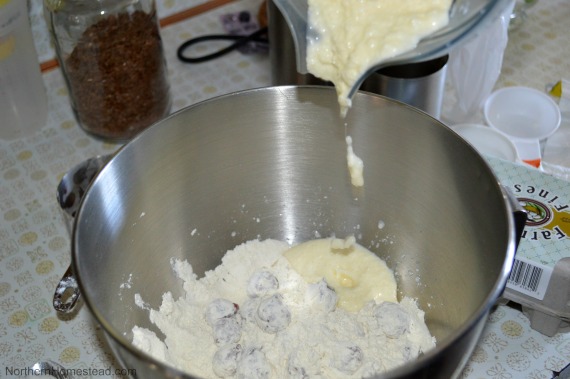 One day she was down with a cold and craving some muffins – cherry muffins. We looked for a good recipe, but did not really find what we wanted. So I made up a recipe based on one we loved. It was a hit! We used the leftovers of the organic unbleached all purpose flour. However, as always I would recommend whole freshly ground spelt.
To fill the muffin pan I love to use a Scoop Spoon
– it makes the task so easy and no batter mess.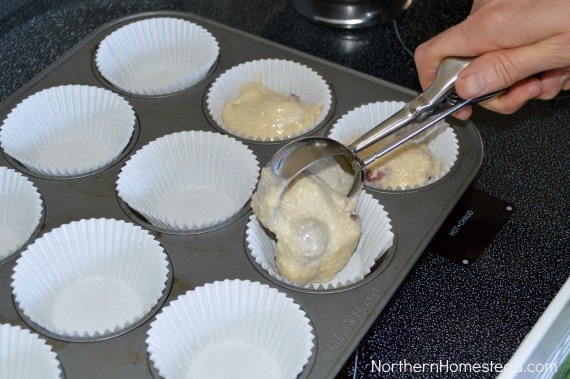 Muffins sure taste best right from the oven, and they went fast :).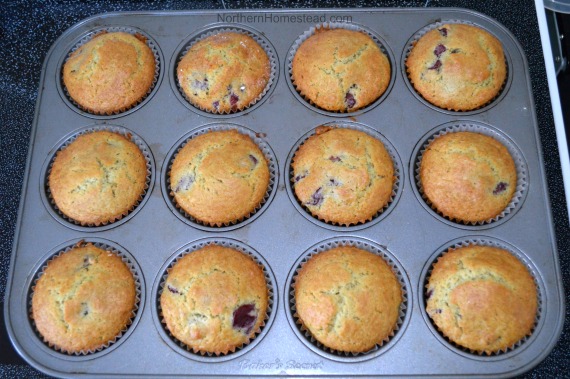 Cherry Muffins
Author:
Anna @ Northern Homestead
Ingredients
1½ cup flour (We used organic unbleached wheat, freshly ground spelt is very yummy too)
1 teaspoon baking powder
½ teaspoon baking soda
½ teaspoon salt (less if butter is salted)
½ cup sugar (preferably organic)
1 cup cherries (we used drained cherries from a jar)
¾ cup milk
1 egg
⅓ cup butter
Instructions
In a medium bowl, mix all the dry ingredients together, add the cherries
If you have a high speed blender, simply blend all wet ingredients for a minute or two. If you do not have a blender, In a separate bowl, whisk the egg, milk and melted butter until well blended.
Stir egg and milk mixture into the dry mixture.
Line with paper liners 12 muffin cups.
Fill muffin cups about ⅔ full.
Bake cherry muffins at 375° for 20 -25 minutes.
If you like this post don't forget to subscribe to Northern Homestead and follow us on Facebook or Pinterest for the latest updates.
More Recipes You Might Enjoy: