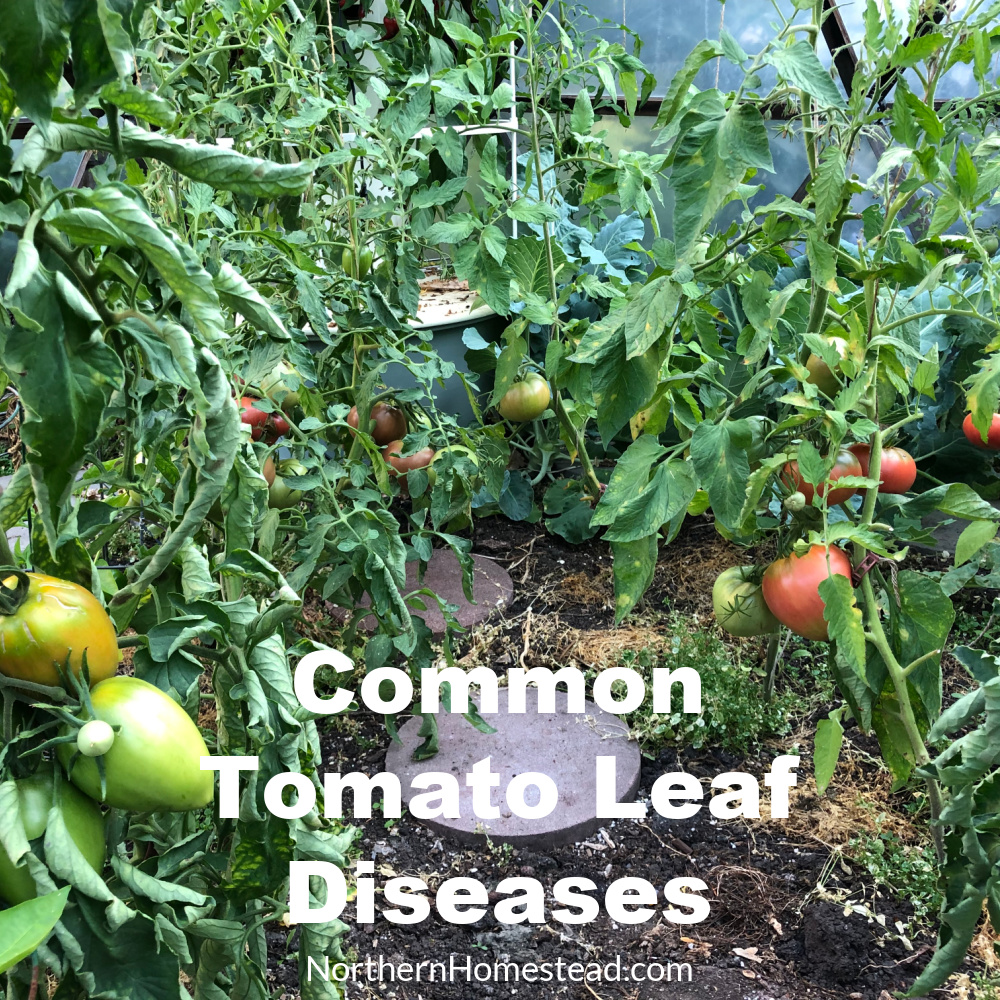 Tomatoes are one of our favorite plants to grow. We share many blog articles about growing tomatoes in a cold climate. Today we are looking into common tomato leaf diseases. In a cold climate, there is hardly a season where we do not have at least some of them.
Tomatoes prefer a warm, dry with light breeze environment but that's really the opposite of our climate. Through greenhouses and microclimates, we can provide warmth, at least during most days. But that leads to moisture build-up, temperature fluctuations, and other challenges that a cold climate brings.
Leaf roll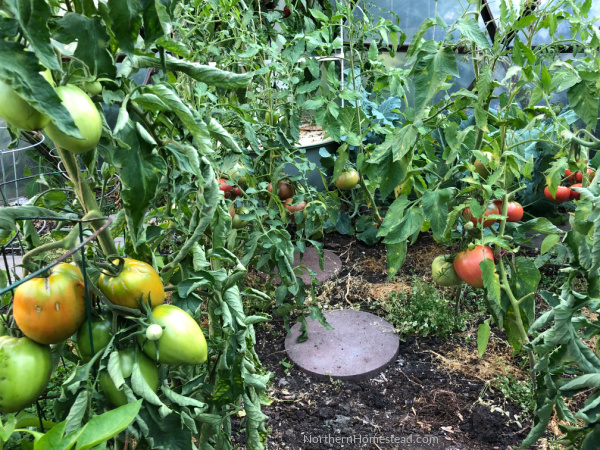 Leaf roll in tomatoes can arise due to various factors, including high temperatures, extended durations of wet soil, drought, or significant pruning. Root damage resulting from adjacent tilling can also lead to this condition. Most frequently, older leaves are affected, showcasing an upward curl. In some instances, up to 75% of the plant's foliage might exhibit this symptom. The curled leaves often feel rigid and leathery. Notably, leaf roll tends to manifest when plants bear a heavy fruit set. I would put it more into a category of disorders, and I do not remember growing tomatoes in a greenhouse without it. Some tomato cultivars are inherently more susceptible to this condition than others.
Prevention & Treatment:
While leaf roll doesn't drastically impact the crop's health, certain preventive measures can minimize its occurrence:
Ensure tomatoes are planted in well-drained soil.
Provide irrigation during dry spells.
Do not prune more than 2-4 leaves at once.
Tomato yellow leaf curl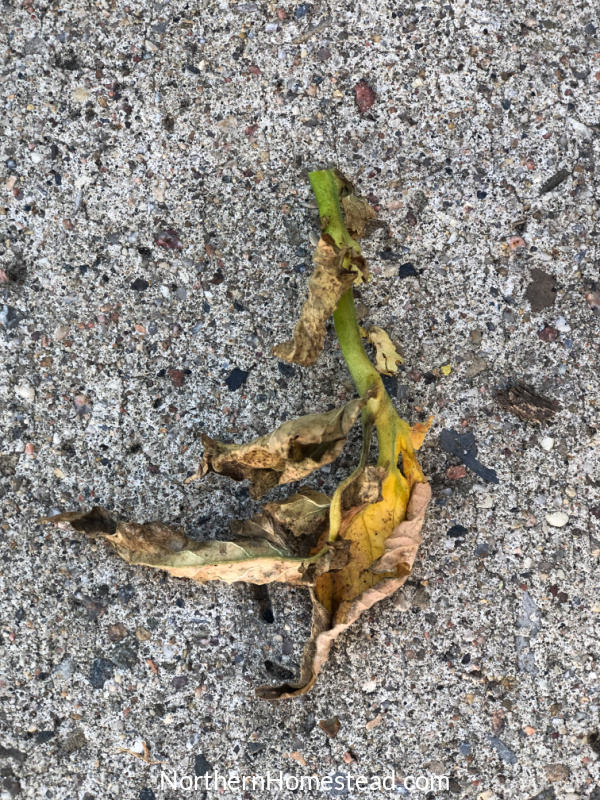 This disease, induced by the Tomato yellow leaf curl virus (TYLCV), is transmitted by whiteflies, posing a severe threat to tomato and pepper yields. Whiteflies can introduce the disease from nearby infected weeds like nightshades or jimsonweed. Post-infection, symptoms in tomatoes might not manifest for up to 2-3 weeks. These include leaf upward curling, yellow leaf margins, smaller leaves, stunted growth, and flower drop. Early infections can lead to zero fruit yield. Infected pepper plants might remain asymptomatic.
Prevention & Treatment:
Immediate removal of symptomatic plants can decelerate disease spread. Ensure removed plants are bagged promptly to contain whiteflies.
Weed control is crucial both within and surrounding the garden.
Reflective mulches, like aluminum, can deter whitefly feeding.
Weekly sprays of 0.25 to 0.5% horticultural or canola oil (2-4 teaspoons oil with a few drops of dish soap per gallon of water) can repel whiteflies. Some recommended horticultural oil products include:

Bonide All Seasons Spray Oil Concentrate
Fertilome Horticultural Oil Spray Concentrate
Monterey Horticultural Oil Concentrate
Southern Ag Parafine Horticultural Oil
Summit Year-Round Horticultural Oil Concentrate

At season's end, eradicate susceptible plants and dispose of them safely.
Septoria Leaf Spot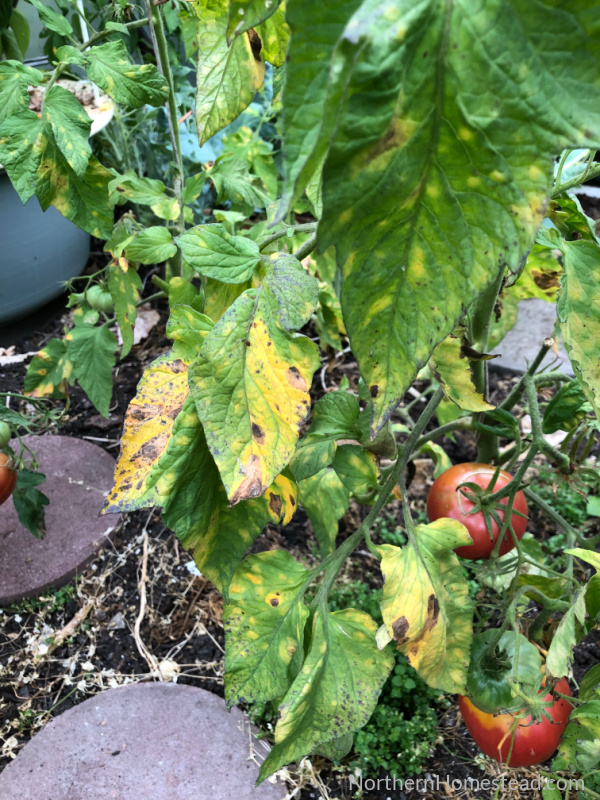 Caused by the fungus Septoria lycopersici, this disease damages tomato foliage, petioles, and stems but spares the fruit. It's most evident on lower leaves post fruit-set, presenting as small, round spots with dark borders and beige centers. Tiny black specks (spores) appear in these spots. If left unchecked, affected leaves yellow, die, and fall. Optimal conditions for the fungus are temperatures between 68-77° F, high humidity, and wet plants from rain or overhead irrigation. The ailment weakens the plant and compromises fruit quality and size, potentially leading to sunscald. This fungus doesn't originate from the soil but survives on decaying vegetation, previous crop residue, and specific weeds.
Prevention & Treatment:
Rotate crops every three years.
Prioritize sanitation, including debris removal.
Avoid overhead irrigation.
Fungicides like chlorothalonil, copper, or mancozeb can control the disease.
Leaf Mold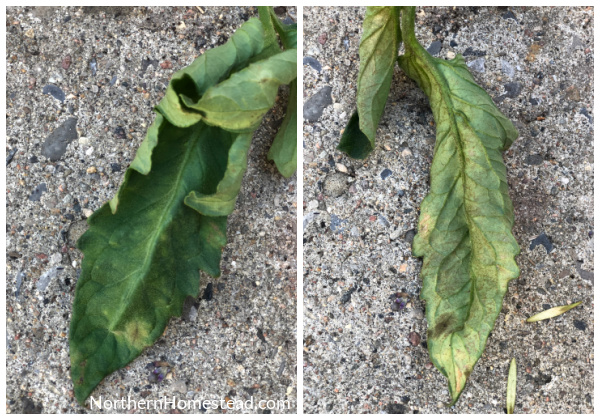 Attributed to the fungus Passalora fulva, the first signs appear on older leaves near soil due to poor air circulation and high humidity. Initial symptoms are pale green or yellowish spots on the upper leaf surface, which eventually turn a distinct yellow. In humid settings, lower leaf surfaces showcase gray, velvety spore growth. Severe infections see spot merging and entire foliage death. Stems, blossoms, and fruits might also be affected. The fungus persists on crop residue and soil, with its spores dispersing via rain, wind, or tools.
Prevention & Treatment:
Remove crop residue.
Staking and pruning can enhance air circulation.
Space tomatoes adequately for better airflow.
Always water at the base, avoiding foliage.
Use preventative fungicides such as chlorothalonil, mancozeb, or copper.
Early Blight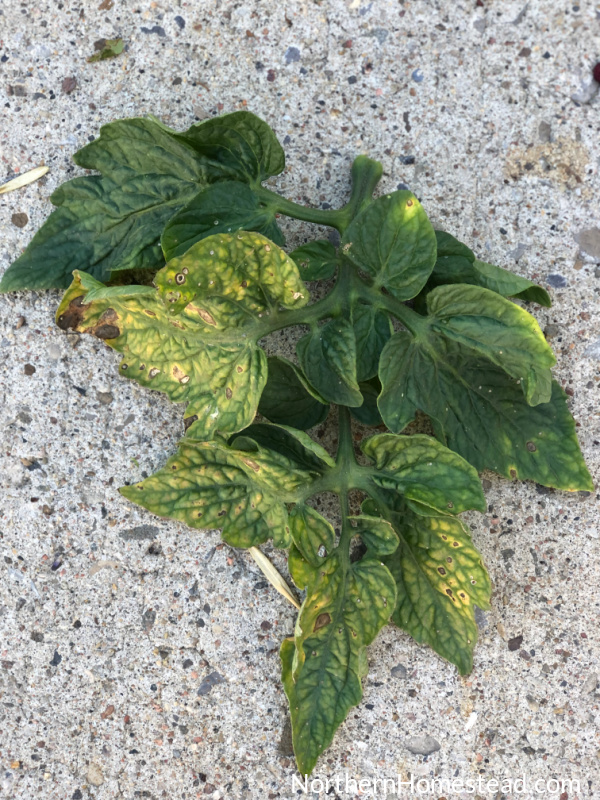 Early blight is a plant disease stemming from the fungi Alternaria linariae (previously termed A. solani). Initial symptoms on plants include small brown spots primarily on older leaves. As these spots grow, a distinct bull's-eye pattern of concentric rings may form at the center of the affected area. Surrounding tissues might turn yellow, and during periods of high temperature and humidity, extensive foliage damage can occur. Lesions on stems resemble those on leaves, and when close to the soil line, can encircle and harm the plant (known as collar rot). The fruits, when affected, show large lesions covering most of their surface, also exhibiting concentric rings. Infected fruits often fall off prematurely.
The fungi's survival sources include debris in the soil, seeds, stray tomato plants, and other solanaceous hosts such as potatoes, eggplants, and the black nightshade weed.
Prevention & Treatment:
Opt for tomato variants that are resistant or tolerant.
Plant only disease-free seeds and plants.
Implement crop rotation and weed control.
Space plants to prevent touching and use mulch.
Avoid wetting foliage and maintain plant vigor.
Remove and discard affected branches and leaves.
Annually test soil and ensure adequate potassium levels. Lime soil as per results and use calcium nitrate side dressing for tomatoes.
For acute disease cases, use fungicides like mancozeb (highly effective), chlorothalonil, or copper-based ones. Always follow label instructions.
Late Blight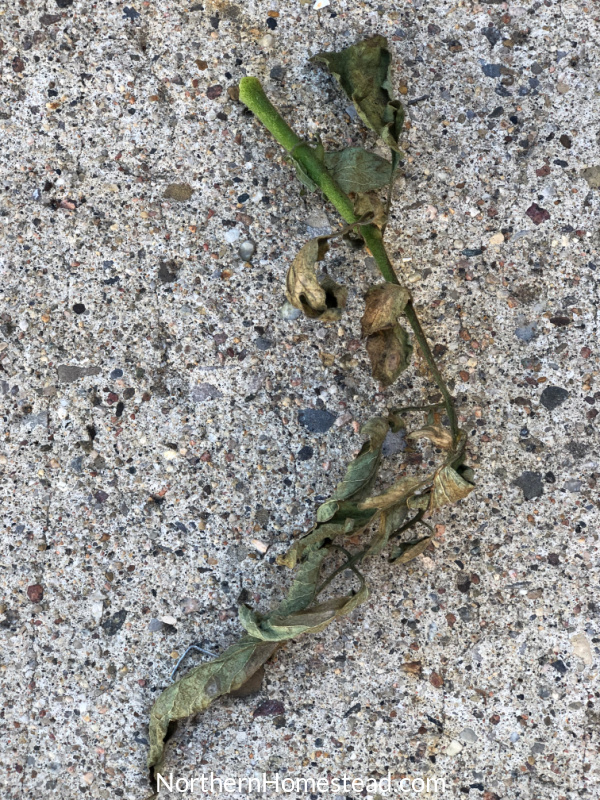 Late blight, caused by the pathogen Phytophthora infestans, poses a significant threat to potatoes and tomatoes, particularly in cool, wet conditions. It can target all parts of a plant. Young leaf lesions manifest as dark, damp spots that can swiftly expand, eventually leading to white mold formation on the leaf's underside. This disease can cause complete defoliation within a fortnight. The affected tomato fruits develop large dark or olive-colored lesions. This fungus's spores are spread through rain and wind, with high humidity and temperatures in the upper 70s °F being ideal for infections.
Prevention & Treatment:
Ensure foliage remains dry. Gardens should be placed where morning sunlight is prevalent.
Provide ample spacing between plants and refrain from overhead watering, especially late in the day.
Always opt for certified disease-free seeds and plants.
Remove and destroy stray tomato and potato plants, along with potential host weeds.
Do not compost spoiled store-bought potatoes.
Remove and dispose of affected plants promptly.
For severe infestations, consider fungicides like chlorothalonil (highly effective), copper fungicides, or mancozeb. Follow label directions.
General tips on how to prevent tomato leave diseases
Healthy plants and soil are the best prevention. Airflow and regular watering are a must.
To improve air circulation and prevent contact with soil, it's best to prune any leaves that touch the ground. Check out this blog article for more tips on pruning tomato plants.
Here is a list of things we usually do, but did not do this season: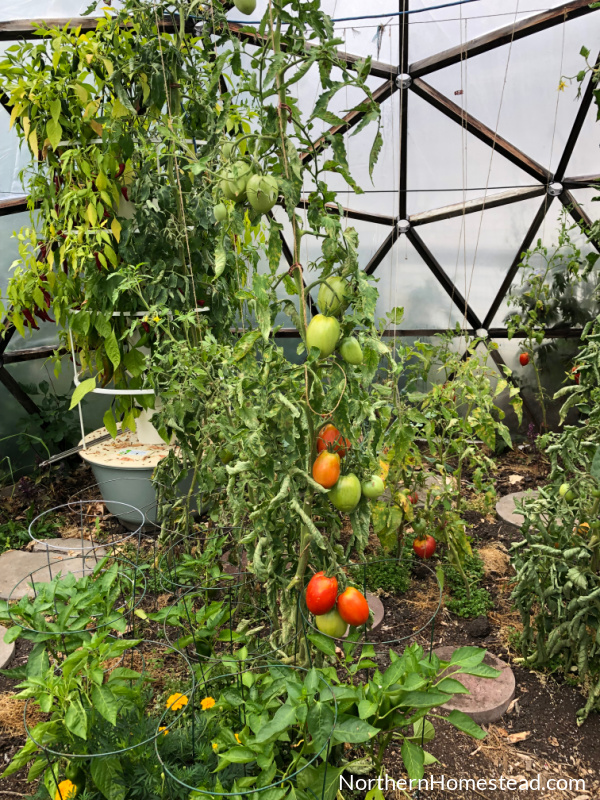 Wash the whole greenhouse after the growing season. Last year I did not do that.
Soak (wash) the soil prior to planting. Again, this was the spring we did not do that.
Have healthy seedlings. This season a lot of our seedlings did not germinate due to a different seed source. Find seeds that do well, and stick to them. I was too late for ordering and my favorite seeds were sold out.
Give plants space to grow and not be shaded by other plants. This year we placed the big tower garden right in front of the tomatoes. It gave us great peppers, but the tomatoes had less airflow and light.
Prune away any leaf that has a disease. It is hard to tell in practice which disease it is, and for home gardens not as important, but make sure to prune away anything that seems suspicious, except leafe roll, that does not spread or hinder fruit production.
We do not know which of the above led to more leaf disease, or maybe all of them. Learn from our mistakes.
What to do when you have a serious and spreading leave disease?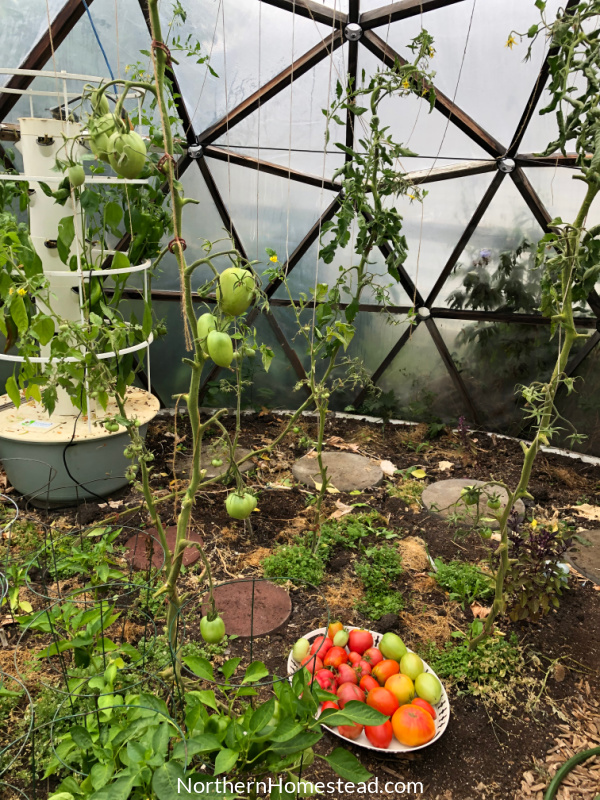 While we typically prefer a laid-back approach to gardening, allowing nature to take its course, diseases like tomato root rot or spreading leaf diseases demand vigilance.
For effective prevention and treatment:
Identify the specific disease affecting your tomatoes.
Implement the appropriate measures. If you're unsure of the disease type, it's wise to be cautious since plants can be affected by multiple diseases simultaneously.
Always dispose of diseased leaves in a bag.
Use gloves and ensure your tools are clean.
Disinfect tools after every use to avoid further spread.
Next planting season, consider a different location for your tomatoes to interrupt the disease lifecycle. If you use a greenhouse, remember to follow the standard care procedures we overlooked this year.
We invite you to subscribe to Northern Homestead and follow us on Instagram, Facebook, or Pinterest for the latest update.
More Growing Tomatoes Posts You Might Enjoy: