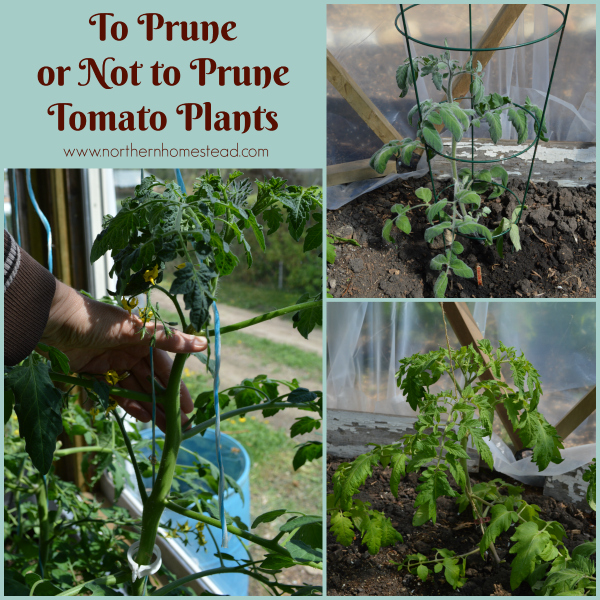 To prune or not to prune tomato plants is an option tomato growers have. Not all tomatoes need pruning, in fact, some should not be pruned except for the bottom leaves and possibly at the end of the growing season. Some growers decide not to prune at all, and some go over the top with pruning. Whatever you decide, here are some things that are good to know about pruning tomato plants.
There are two main varieties of tomato plants: Determinate and Indeterminate. A seed package will tell you what you got. I don't know of a way to tell if a plant is determinate or indeterminate by just looking at a young plant, but later in the season you can see if it is a bush-type tomato or a huge, still growing, vine type plant.
Pruning will give you earlier and better fruit, but be sure to know what can and what should not be pruned.
Use clean hands and clean pruning shears for pruning. If your plants have any diseases, disinfect your working tools with hydrogen peroxide.
Determinate tomato plants
Determinate plants are bush-type plants. They only grow to a certain height, produce their fruits often all at once, and die off.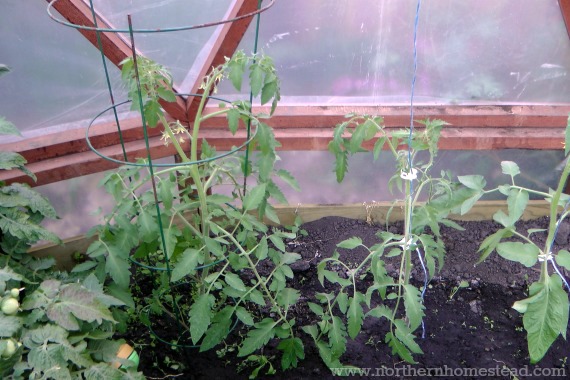 The picture above shows a determinate plant, that is higher at the beginning of the season than the indeterminate plant next to it. In a month the determinate will be about double in width and the indeterminate double in height. That is just the growing pattern of determinate tomatoes, they grow into a bush.
Determinate plants grow suckers just like all tomatoes, but do not need to be pruned. The suckers will also not get bigger than the plant is, and actually give you more tomatoes. Bush tomato plants prefer a cage to support them. Read more about it in the article how to support tomato plants.
There is no need to prune determinate bush-type tomato plants.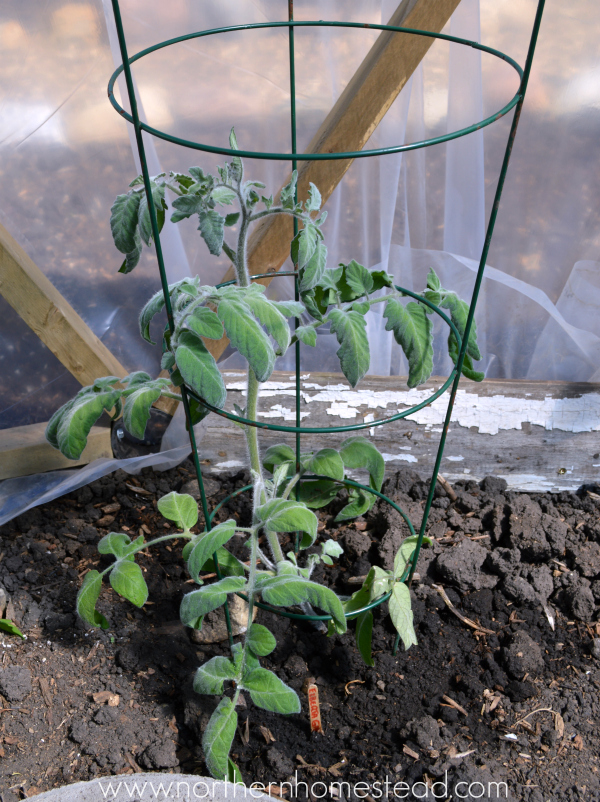 Determinate tomato plants are usually earlier than indeterminate. They are great for beginners, container gardening, and for a short growing season.
Indeterminate tomato plants
Indeterminate plants grow all season long. If all the suckers are left on, it will eventually be a huge bush too, with the difference that the suckers grow endlessly as well. So if they are not pruned, they definitely will need serious support.
Some tomato growers like to cut indeterminate tomatoes back, so they stay small and let the suckers grow to a limited height. That way it turns into a wide bush. If space is not an issue it is an interesting way to grow.
We prefer to prune indeterminate tomatoes to a single stem. That way we can grow more plants in a small space, vertically. For support, we use Tomato Clips
with a string. Read more about it in the article how to support tomato plants.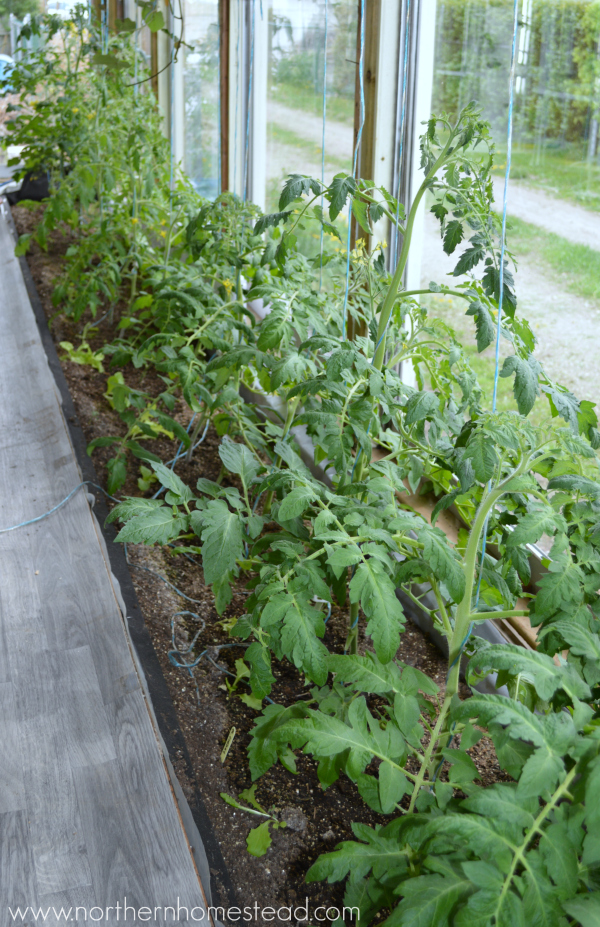 Dwarf tomato plants
Dwarf tomato plants stay small even if they are indeterminate plants. We do not prune dwarf tomato plants. I like to start a few dwarf plants very early and plant them in a pot; we have our first ripe tomatoes before the rest come up. They can also be grown in hanging baskets, in a bucket the Kratky way, or traditionally in the ground with a cage.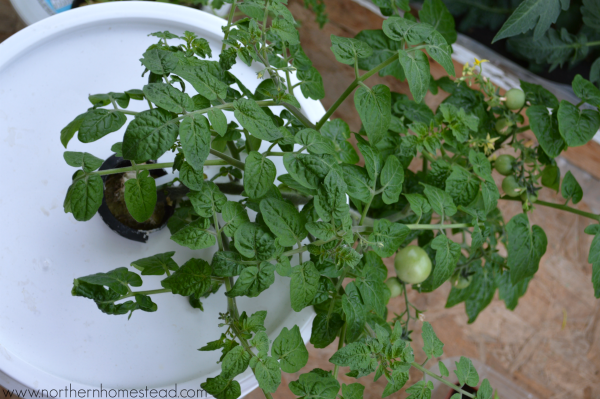 Indeterminate dwarf plants, like Mano, are great for indoor growing. Even though they stay small like a determinate plant, they do not produce all fruit at once and die back, but give you a continuous harvest.
How to see what is a sucker
It is not always easy to see what is a sucker and what is the main stem. Also as we said before there is no way to see what is indeterminate and what is a determinate plant while the plants are still young. A seed package will tell you that.
To help you to see the difference, we made a video that is best watched on your phone right in the garden. Make it full screen and compare your plants with what you see. We hope it is helpful.
How to prune indeterminate tomato plants
Only indeterminate, not dwarf tomato varieties, benefit from pruning. Pruning will give you earlier and better fruit. By pruning the plant to a single stem you can grow more plants in a small space. We find that prune indeterminate tomato plants, help us to harvest ripe tomatoes earlier in the summer.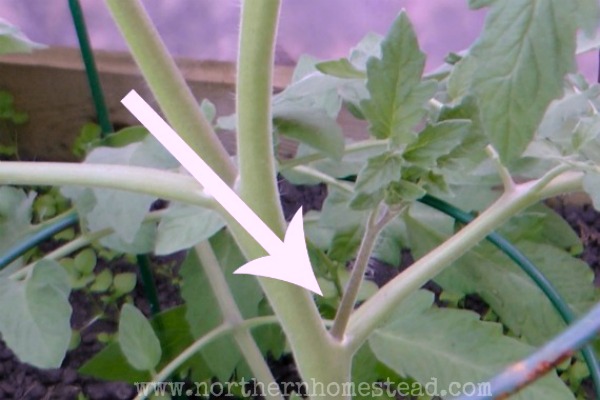 A sucker is a little thing between a leaf and a stem that looks like a little plant. You can pinch it off with your fingers, or cut it back with clean pruning shears leaving a little stem. The stem will eventually die back but it will buy you some time till a new sucker can grow in its place.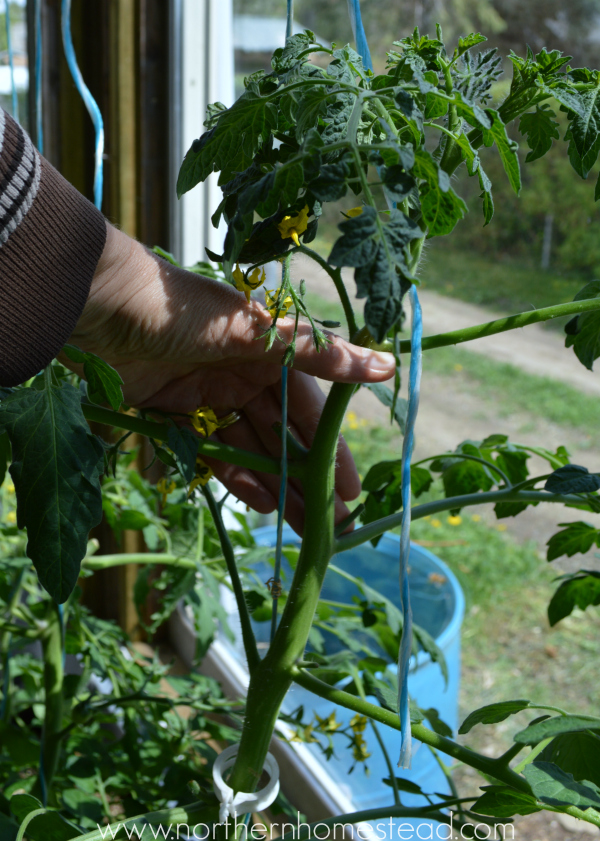 Pruning needs to be done regularly, otherwise, the little suckers will grow into a branch. By the way, you can grow new plants from these suckers.
Some tomato varieties like to split quite early in the season. Even though the split can be handled like a sucker, you can also let it grow and prune the plant into a two-stem plant (See video above). Note, that one stem needs about one square foot of space. If you planted one plant per square foot, you are better off pruning the plant into a single stem. If your space allows it, go for two or more as you desire.
How to prune back leaves and fruit clusters
Tomato plants do need lots of sunshine and air circulation to be healthy. For indeterminate tomatoes, all the leaves under the first fruit cluster are not needed any longer and can be taken off. For determinate tomatoes, take off all the leaves that are lying on the ground. Also, any leaf that looks sickly or yellow does not help the plant, take it off. If a plant generally has too many leaves so that no air circulation or light can come through, take some off.
If you want the fruit to ripen faster (and who doesn't), taking leaves off stresses the plant and it signals that it needs to produce fruit fast, hence the fruit ripens sooner. Taking 2-4 leaves off every week, starting from the bottom as soon as fruit clusters develop, helps to have earlier ripe tomatoes.
To prune back fruit clusters to a limited number of tomatoes during the growing season is an option, too. Personally, I only do that if a cluster has many fruits set and still a lot of flowers blooming. In this case, I take the flowers off. Sometimes tomato fruit clusters decide to grow into a leaf or brunch, those need to be pruned off as well.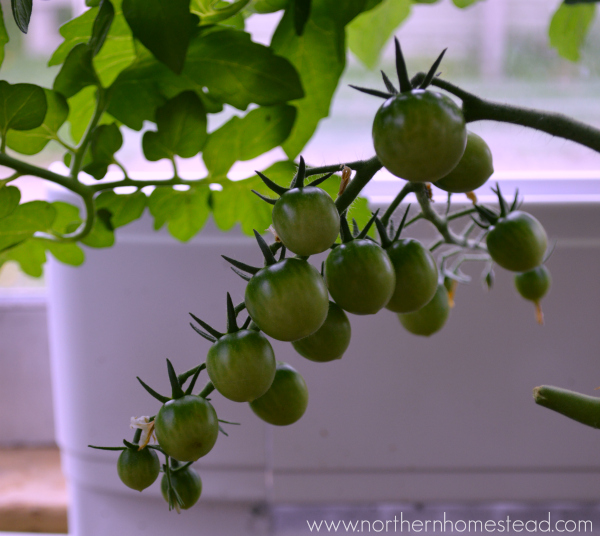 How to prune plants at the end of the growing season
About a month before the growing season is over you can clip the growing tips off all your tomatoes (determinate and indeterminate), and take new flowers off. The plants will need to focus the energy on growing and ripening what is there. You can also continue, or start at this point if you haven't already, taking leaves off, see above.
This is especially important if most of the tomatoes are still green and fairly small at this point in the growing season. Pruning will help to mature the fruit, so most of them can ripen before the first frost. Read also how to ripen green tomatoes indoors.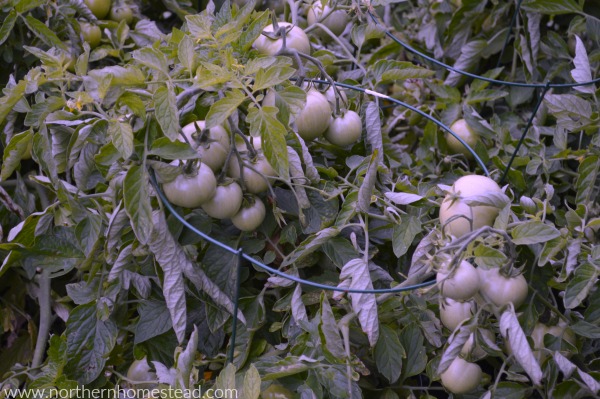 Whether you decide to prune or not to prune tomato plants is up to you, the tomato grower. However, I would encourage you to consider pruning in a cold climate and a short growing season. You will get earlier and bigger fruit and healthier plants.
Happy tomato growing!
If you like this post don't forget to subscribe to Northern Homestead and follow us on Instagram, Facebook, or Pinterest for the latest updates.
More Growing Tomatoes Posts You Might Enjoy: