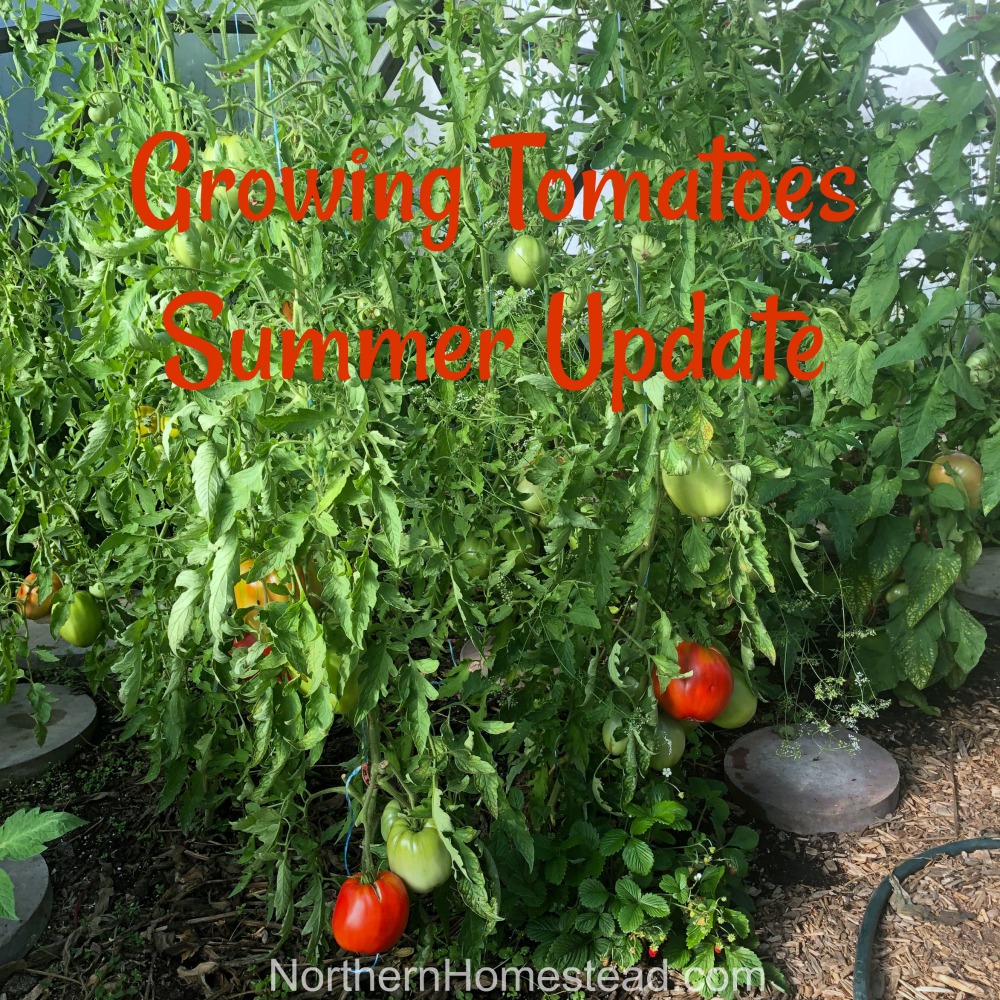 Growing tomatoes in cold climate and harvesting ripe tomatoes in the summer is something we write a lot about here at Northern Homestead. Today we are sharing a 'growing tomatoes summer update' in pictures. Starting from seeds, planting and harvesting ripe tomatoes in July. This (2019) is a good year for a growing tomatoes summer update because it was cool and rainy more than usual. Hope this encourages you to start growing tomatoes too, no matter your climate.
Starting seeds
According to our indoor seed starting schedule, we start tomatoes 6 weeks before they can be planted out. With our official last frost day on May 25, seeds need to be started on April 13. Since we grow most of our tomatoes in the greenhouse, we can plant them out a week or two earlier. Read more about when to start tomatoes indoors.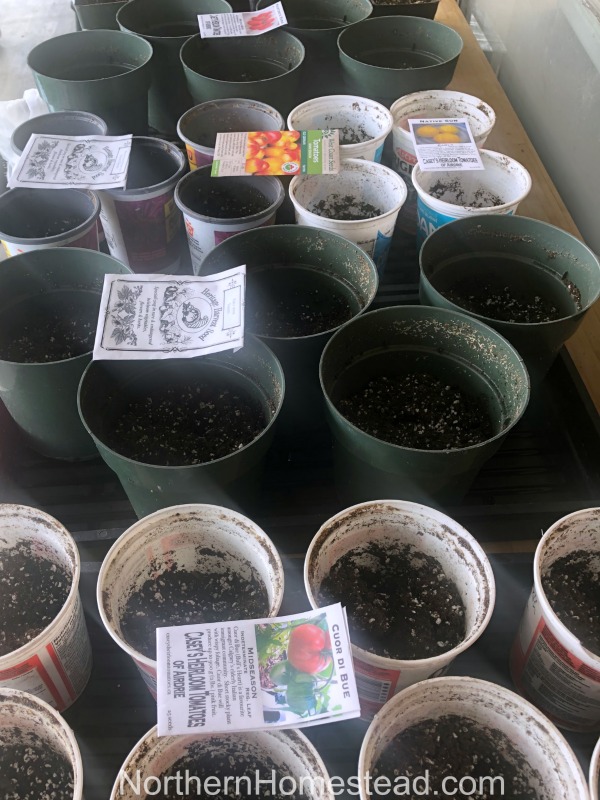 This spring we started the seeds on April 5, also a week earlier than the schedule says. As per usual I start the seeds in half-filled pots, and instead of transplanting the seedlings, I just filled up the pots with soil once the seedlings grew out the pot. Read more on how to start tomatoes from seeds.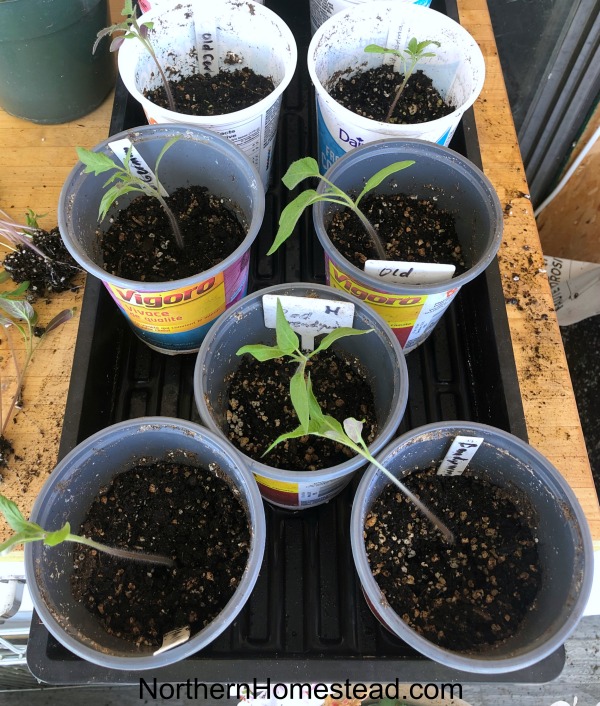 On April 28 the plants were ready to be filled up. Filling up the pot instead of transplanting the seedlings, does help to speed up the growth since the seedlings never go into a transplanting shock.
The same day the outside garden looked like this: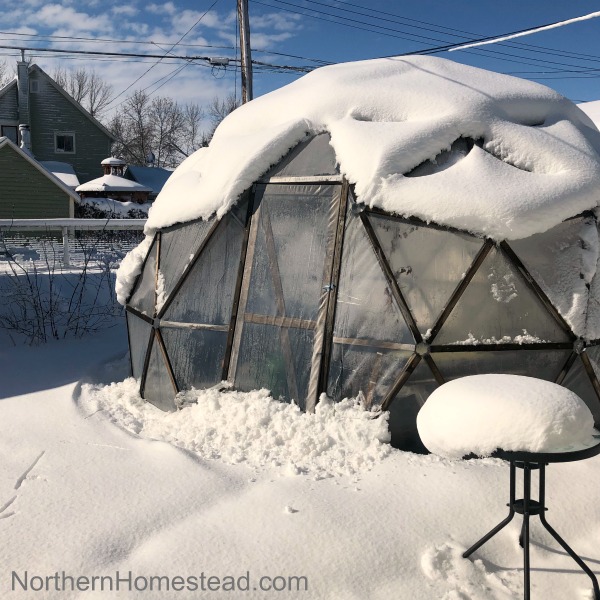 We had a blizzard come through the day before turning our spring upside down. Read more about the blizzard here.
Transplanting seedlings into the ground
The snow melted and spring came, dry and cool. Nevertheless, on May 9 we brought our tomato seedlings into the greenhouse to harden them off and to get used to the environment. Just a bit over a month after they were started.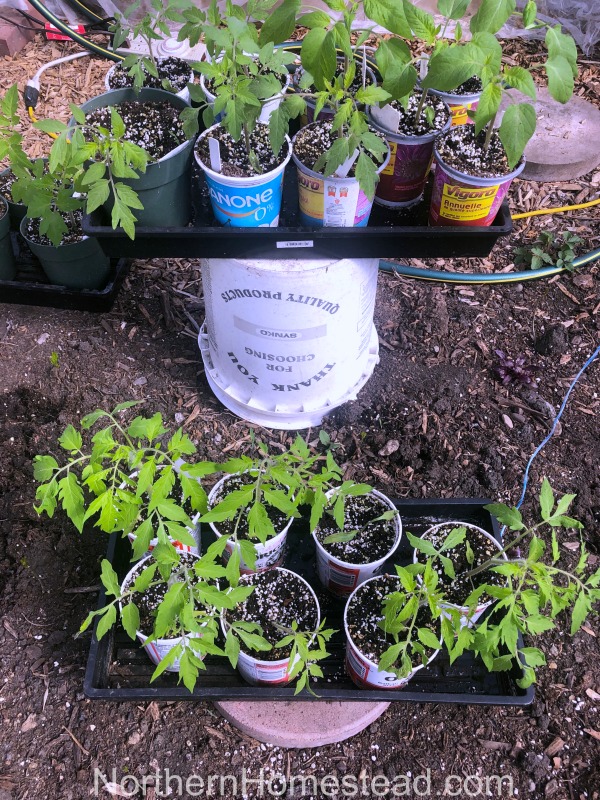 As you see in the picture, the seedlings are still very young. They have a lot of growing to do before they can bear fruit. We want them to be young and ready to grow.
On May 13 they were planted out into the ground. Read more on how to plant tomato seedlings.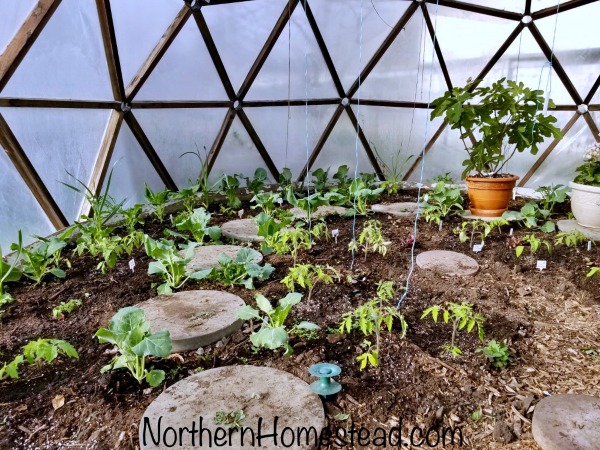 We interplanted the tomato seedlings with some cold weather plants that were planted in the greenhouse earlier. The plants grew together for a while till the early plants matured and were harvested.
Our greenhouse, just like the outside garden is a no-dig garden. We just mulch the soil with compost and/or wood chips.
Summer growing
As spring turned into summer, the plants really took off. On June 6 it was time to give the plants some support. Kohlrabi and broccoli have also grown a lot and are getting harvested.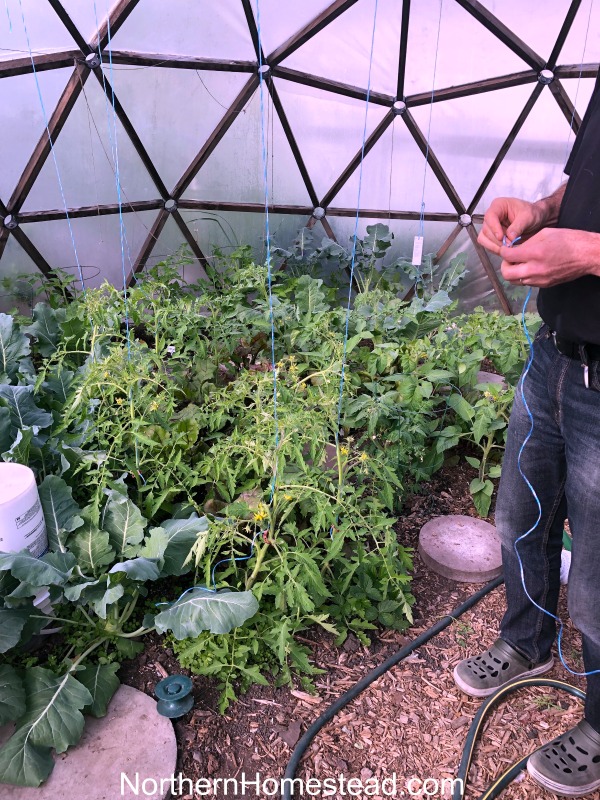 We like to use twine with clips to support indeterminate tomatoes and cages for determinate tomatoes. Read more on how to support tomatoes.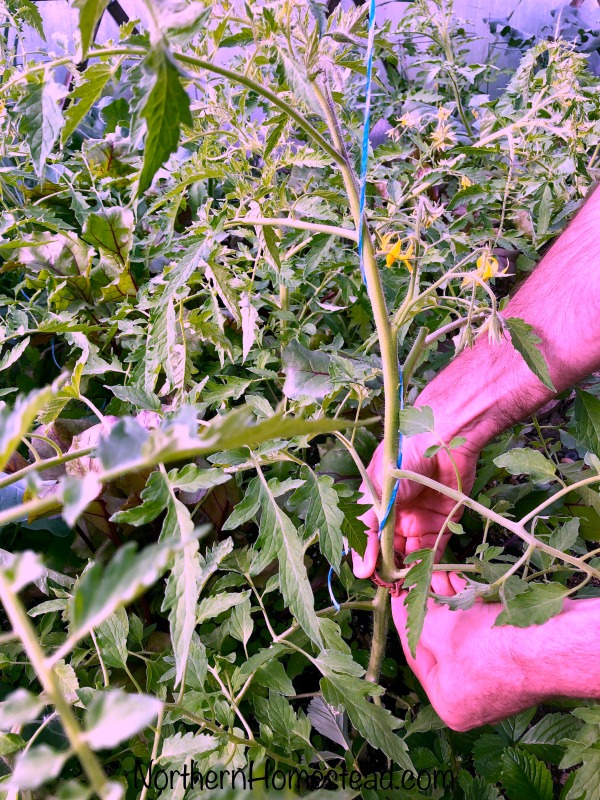 July 11, the plants have done a lot of growing and the fruit is getting bigger.
A few of the tomato plants were planted outside the greenhouse, just next to the door (see picture). As you see, they are a lot smaller than does in the greenhouse even though we did give them a frost blanket for the first few weeks.
Harvesting ripe tomatoes in the summer
July 24 marked our first ripe tomato. It was a big one and very ripe. Bulls' Heart is the variety, a yummy and very early tomato.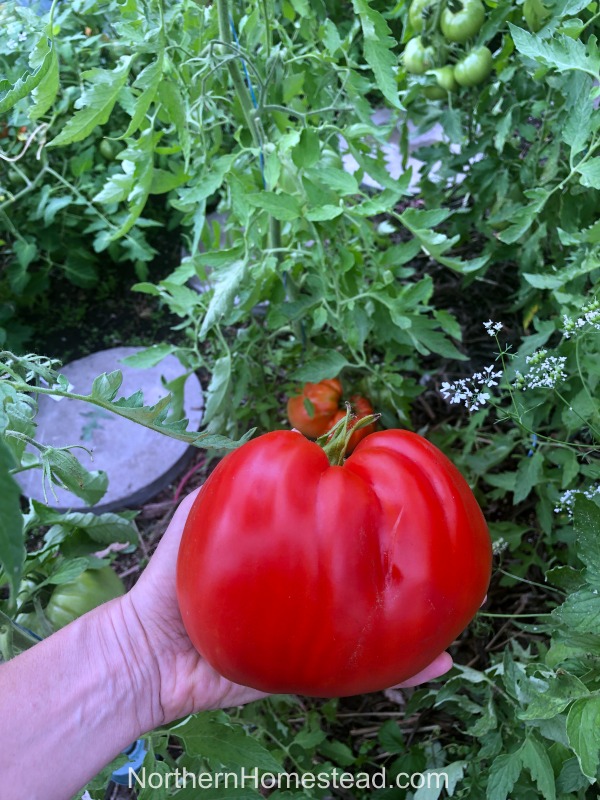 Many more tomatoes followed. We harvested (clockwise in the picture staring at 9 o'clock) Bull's Heart, Mano, Early Annie, Latha (growing outside), Old German and Brandywine (in the center of the picture). Native Sun that is also growing outside does not have any ripe tomatoes yet and a new paste variety also has not had any ripe tomatoes yet.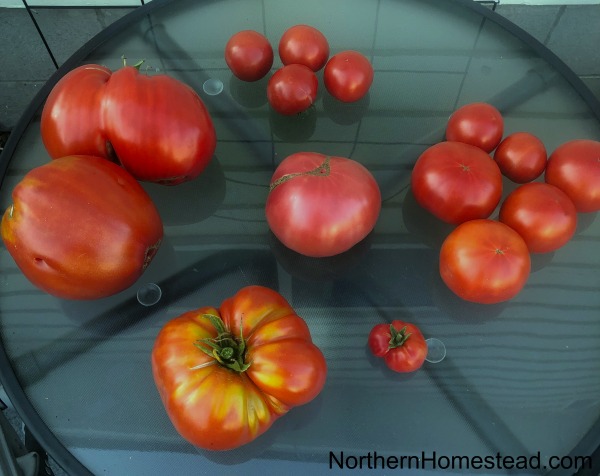 The biggest tomato so far was 1.8 lb (816.47 g) Bulls Heart tomato. All together we harvested way over 12 pounds of tomatoes in July.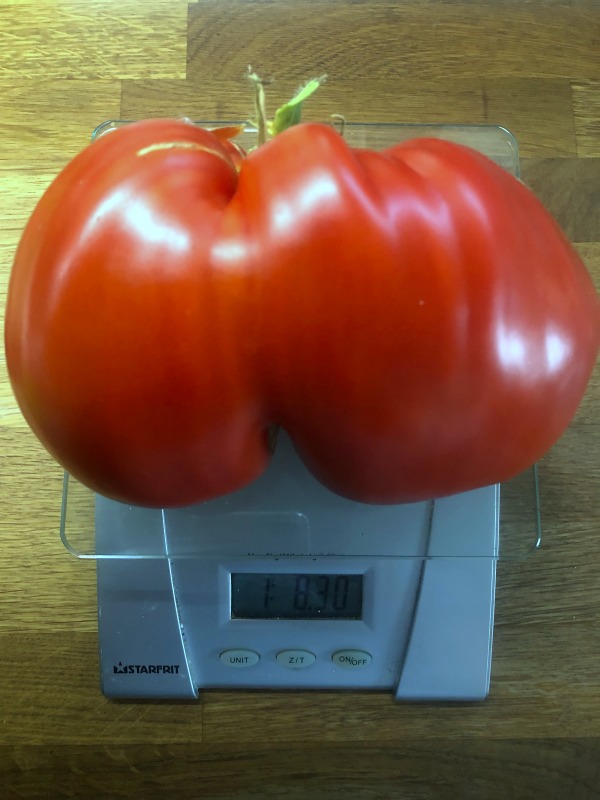 It can't get much better than enjoying a tomato sandwich during a sunny summer day. This Old German variety is a keeper, so beautiful and delicious.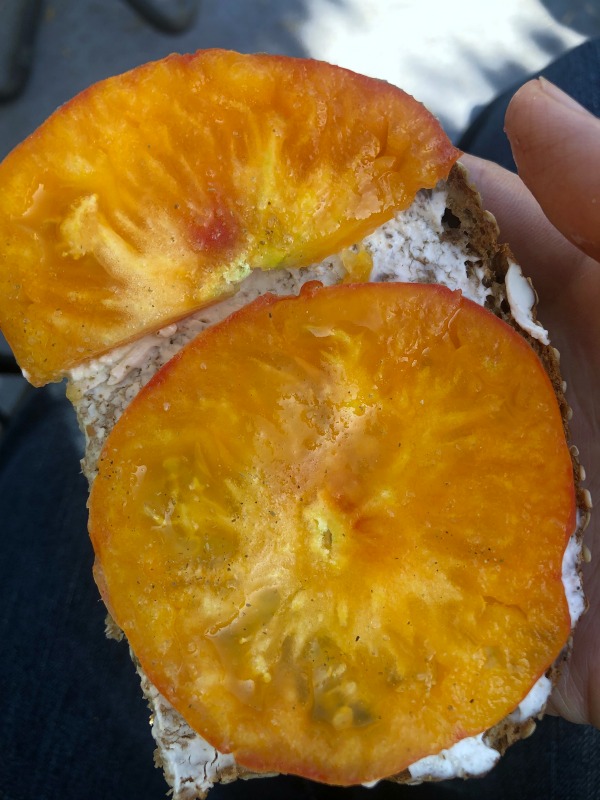 Hope you enjoyed this growing tomatoes summer update. We love growing tomatoes and would like anyone who wants to have the same great experience. How do your tomato plants grow?
If you like this post don't forget to subscribe to Northern Homestead and follow us on Instagram, Facebook or Pinterest for the latest updates.
More Gardening Posts You Might Enjoy: