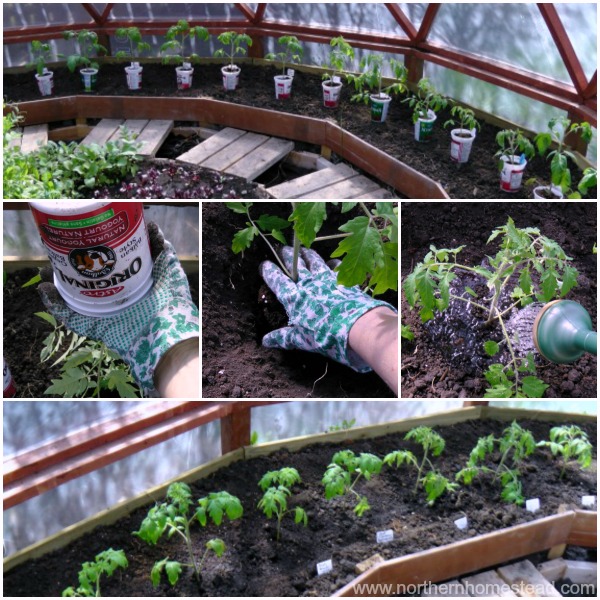 It is always a very exciting day when my tomato plants can finally go into the ground! I start all the seeds indoors. We grow mainly heirloom tomato varieties. Here we share how we do the transplanting tomato plants into the ground.
When to plant tomatoes out
Tomatoes are a warm-weather crop. They do not tolerate frost and do not like cold, wet weather either. It is best to wait till the last frost day or, if the weather is still cold and windy, wait a week longer before planting tomatoes into the garden. You want the temperature to be above 10C (50F), and soil temperature 16C (60F). These temperatures are not always realistic in a cold climate. Some summers our temperature is below 10C at night even in July. We work with protection and microclimates. We talk more about it later.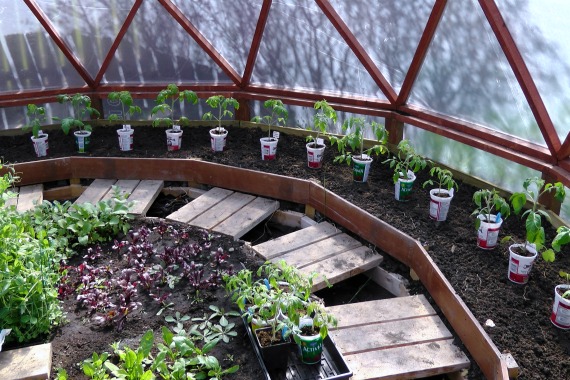 The timing when to transplant tomatoes into the ground is also important for when to start tomatoes from seeds. Do not start too early, you want the plants to be just putting out buds, not flowering yet.
Where to plant tomatoes
Location is everything when it comes to growing tomatoes. The best place to grow tomatoes in a cold climate is in a greenhouse. There they can be planted out about two weeks earlier, but still might need frost protection.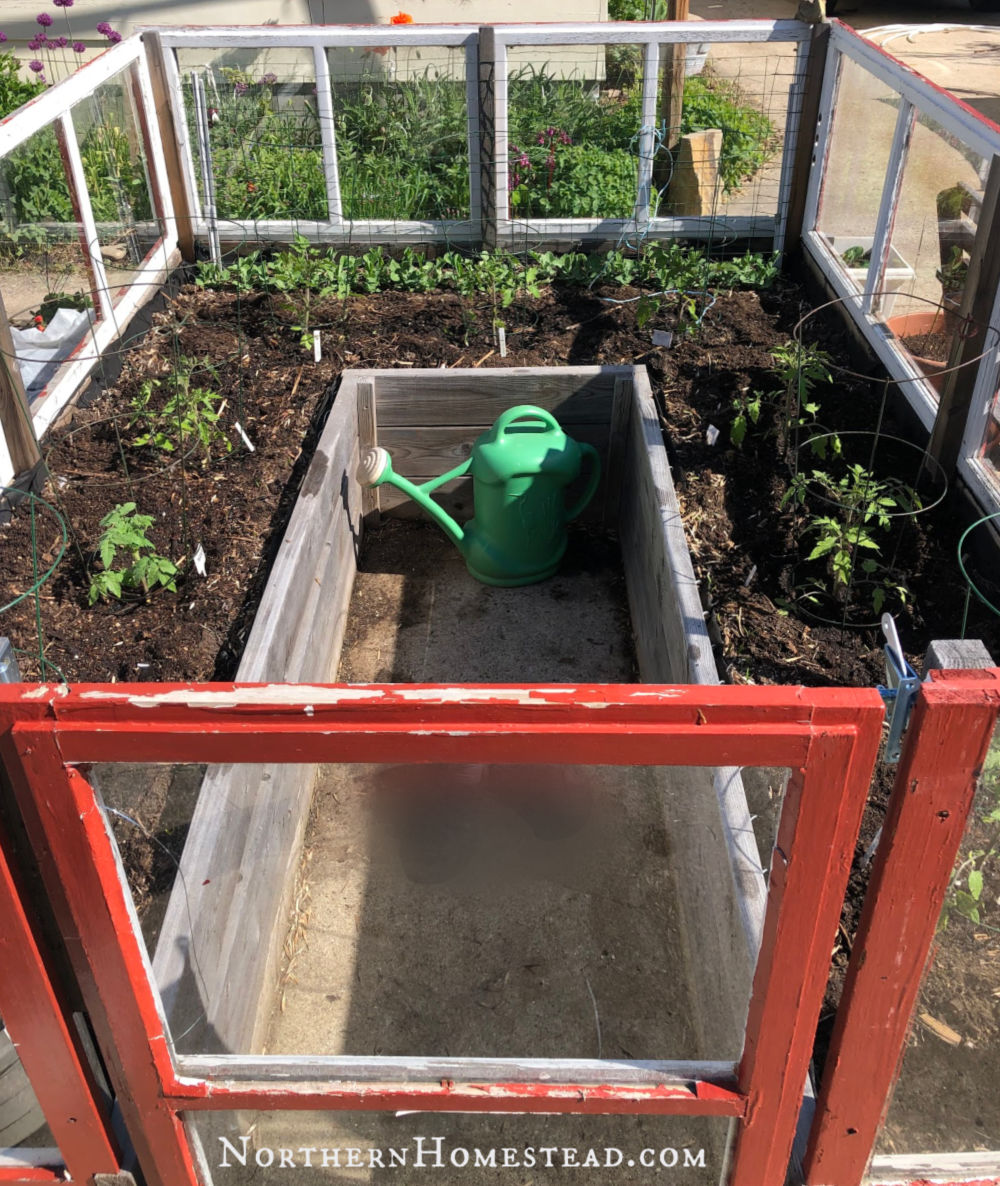 If you do not have a greenhouse, then a cold frame for tomatoes works great too. Or a more permanent structure a window protected raised bed.
A greenhouse or cold frame is the optimal growing space for tomatoes in a cold climate. If you do not have a greenhouse, find the spot in your garden that is too hot for most crops – it might be just right for tomatoes. If you have a warm spot on your patio or deck instead of in the garden, tomatoes can be grown in pots or grow bags as well.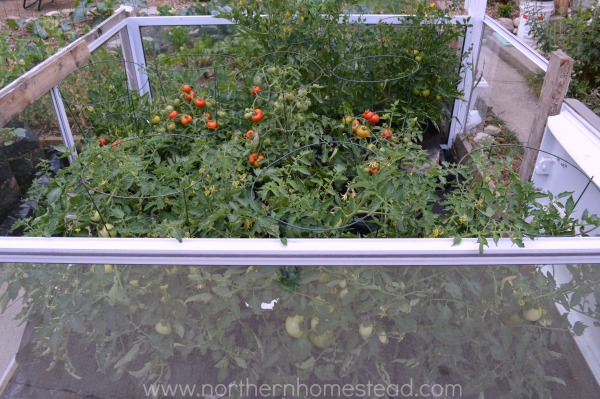 We have grown lots of tomatoes in grow bags on our driveway. The heat from the concrete and the black bags will help to keep the heat-loving plants warm. See how to grow in grow bags.
Note, if you are in a warm climate, tomatoes might be too hot in containers on your driveway. We are speaking about a cool climate here.
Harden the plants
Plants can't go from indoors right into the ground, it will put way too much stress on them. First, get them used to the outdoor or greenhouse environment while still in the pot. Starting with a cloudy day or shade, help them to get used to the outdoor environment. Read more about hardening off plants the easy way here.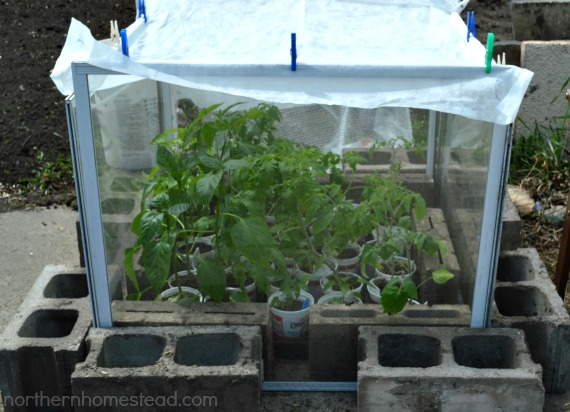 If you like it more conveniently, you can harden the plants off in a temporary greenhouse frame. Read more about that here. After the plants have got used to their new environment, then they can be transplanted without concern.
Spacing tomato plants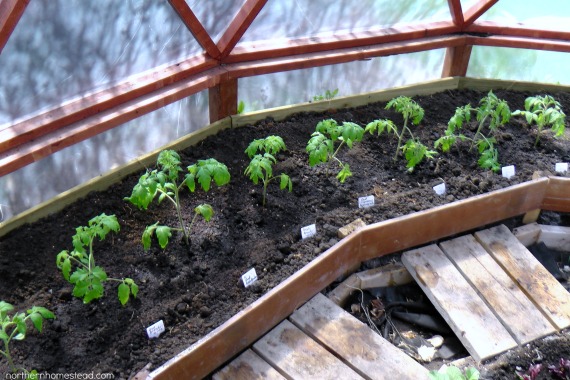 Indeterminate varieties can be grown vertically and need about a square foot, or half of the space if pruned to a single stem. Determinate varieties will grow to a bush, so they need 2-3 feet (60-90 cm) in diameter.
Tomatoes like moving air, do not plant them too close together. Read also about determinate or indeterminate tomato plants.
Transplanting tomato plants
Be sure not to water the plant too much before transplanting so the soil holds better together. Also, the plant is a bit more flexible and will not break as easily if it is not watered.
Dig a bigger hole than the plant is – it helps to loosen the soil all around the plant and encourages root growth.
Add 1-2 cups compost to the hole before planting. The compost is a natural fertilizer and will give the plants a boost.
Water the hole generously. You want the plant to reach down for moisture and nutrients. This way you will not have to water as often during the growing season. Read also how to water your vegetable garden.
If the tomato plant is a bit leggy it can be buried deeper, just like you do when transplanting the seedlings. Some growers like to grow tall leggy seedlings in order to be able to lay down the plant instead of planting it vertically. It might be worth it if you have a long growing season and lots of space. In our experience having young healthy seedlings is always the better option.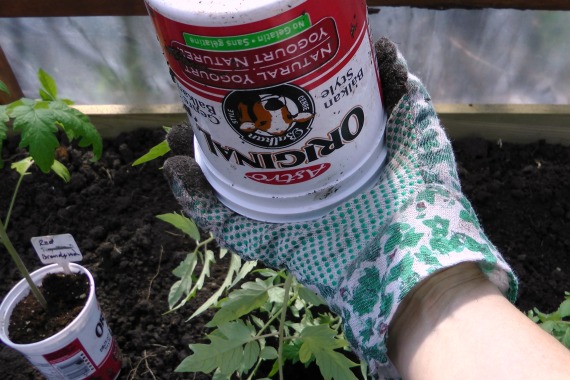 By turning the pot upside down and tapping on the pot, the plant will come right out.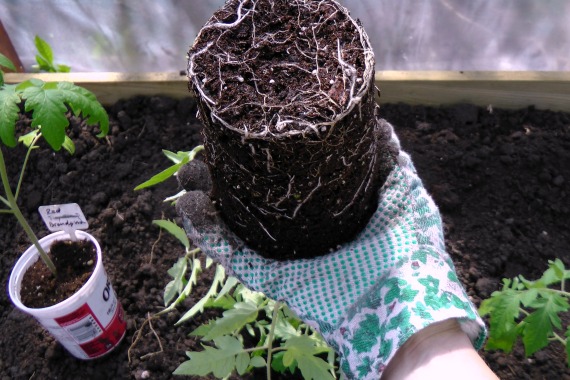 Now place it gently into the hole and fill the hole with loose soil.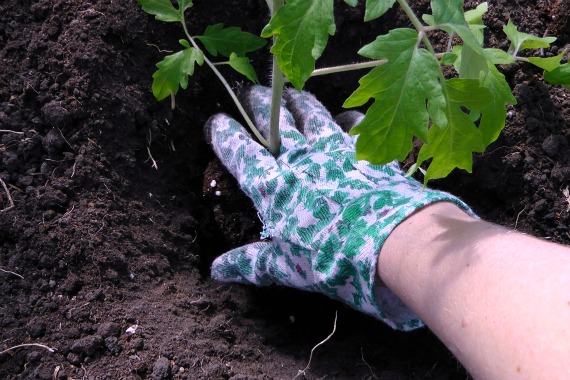 Do not press it down too hard, water the plant right away; the water will push the soil down as much as needed. It is good to form a mold around the plant for watering so that the water can go directly to the plant and not flow away to the lower ground.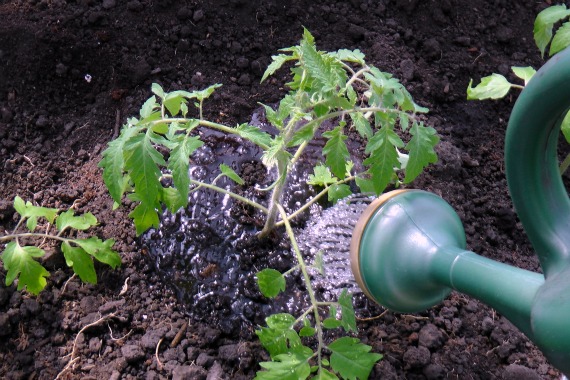 Protect the tomato plants
Give the plants some protection from the sun during the first days. Frost Blanket works very well for that. It also gives some protection from wind and cold during the night. I leave the blanket on for a few days even in a greenhouse.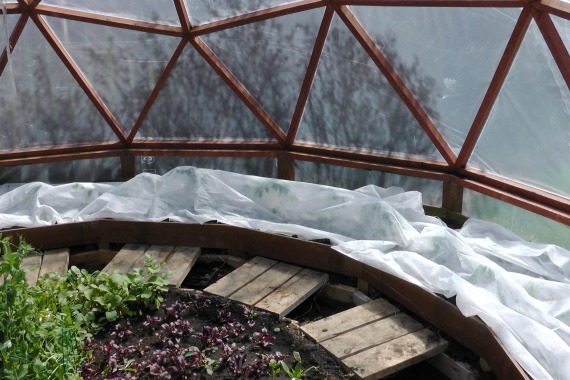 We invite you to subscribe to Northern Homestead and follow us on Instagram, Facebook, or Pinterest for the latest updates.
More Growing Tomatoes Posts You Might Enjoy: