Crepes are a type of very thin pancake. This recipe is a favourite family recipe that has been proven for many years without fail. It's super yummy. I also share some vegan options, using only whole food plant based ingredients.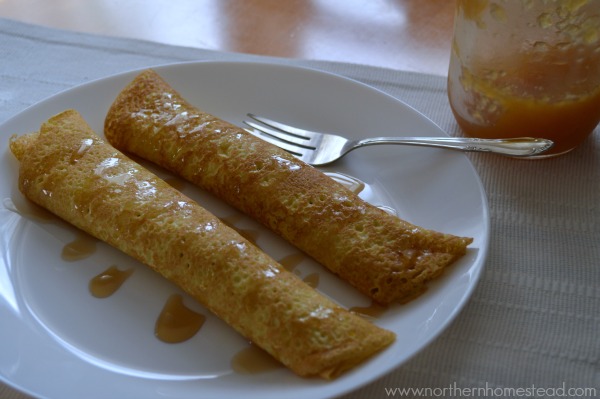 Growing up our children loved crepes so much that I had to set a limit on how often they were allowed to ask for it. I knew the recipe by heart and could make them in my sleep – I think. Now that we are empty-nesters, I do not make crepes very often.
The other day I decided to make crapes and was shocked that I forgot our traditional recipe! Thankfully our son, to whom I sent a text message for help, still remembered every detail. I had taught him to make them a long time ago, and he is good at it. I knew I had to write our family recipe down right away, so I have a place to look it up.
You see, it turns out I blog for myself ;).
A good pan for the Crepe – Thin Pancake Recipe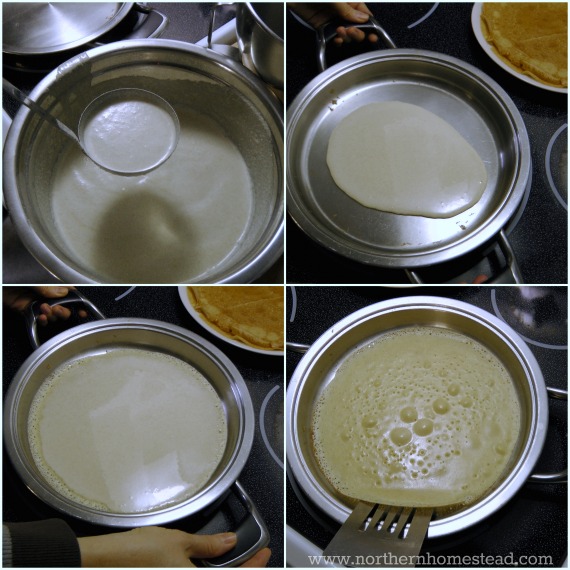 My pancake pan is a very special one. It is stainless-steel, instead of teflon coated. The bottom also is much thicker than most pans, resulting in even heat distribution. We have had this pancake pan for about 15 years with heavy use, still going strong. It is an AMC cookware pan, the Mercedes of cookware. We got our griddle on Ebay, and would always do it again. If your family is into pancakes and similar foods, this is the pan to go with. Here is one just like my Ebay Griddle (no, I am not the seller or anything, just sharing what pan I use).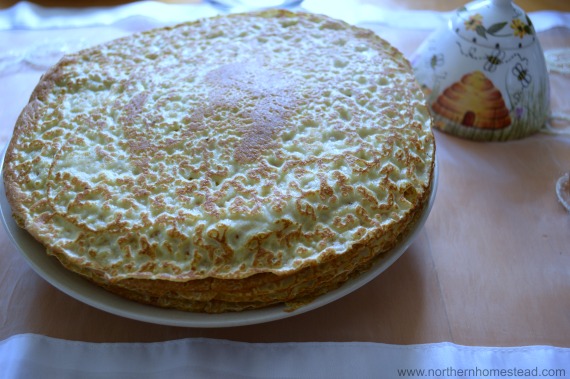 Traditional Crepes – Thin Pancake Recipe
Crepe pancakes make a great breakfast, lunch, or dinner. Not too bad as a snack or dessert either. My recipe makes enough crepes for a meal for 4. The batter can also be stored covered in the fridge for a day, and no one will complain about having crepes two days in a row. Yummy!

Crepe - Thin Pancake Recipe
Author:
Anna @ Northern Homestead
Ingredients
6 eggs (preferably farm fresh)
1 liter (4.2 US cups) milk
500 g flour (4 US cups) (I use organic unbleached all purpose wheat)
90 g (0.4 US cups) melted butter
100 ml (0.42 US cups) boiled water
Pinch of salt
Instructions
Beat the eggs until they are smooth,
Add the milk and salt and mix well
Add the flour and mix well with a mixer or blender
Add the boiled water and mix well
Melt the butter and add it in, give it a final mix
Preheat a good pancake pan on medium high heat
Add about a cup of batter at a time, spreading it evenly in the pan
Fry till golden brown, turn and fry till golden brown from the other side
Serve with apple sauce, maple syrup, sweetened condensed milk, berries and whipped cream, or whatever your favourite pancake topping is.
Vegan Crepes – Thin Pancake Recipes
When Jakob and I started following a plant-based diet, we thought crapes were a thing of the past, or would just be a seldom treat for us. I was wrong. Yes, you can make crepes vegan, and they are super yummy. Here a picture comparison: the front crapes are vegan, in the back are traditional.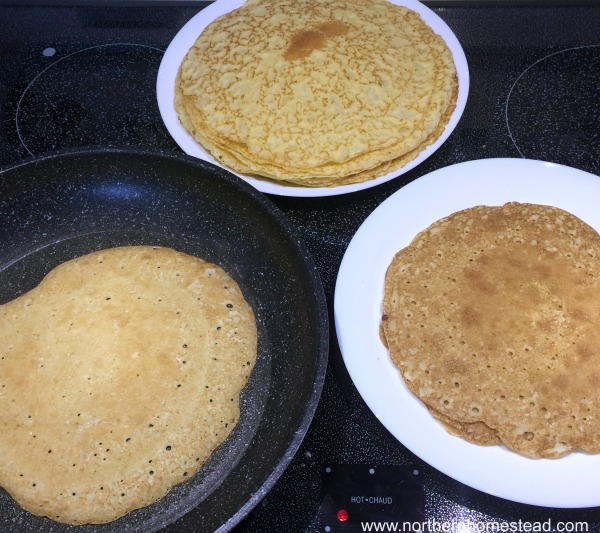 Vegan Wheat Crepes
I have done both whole wheat and white organic flour crepes. The crepes are easier to make with white flour and are very much like the crepes we are used to. However, they are more wholesome with whole wheat flour.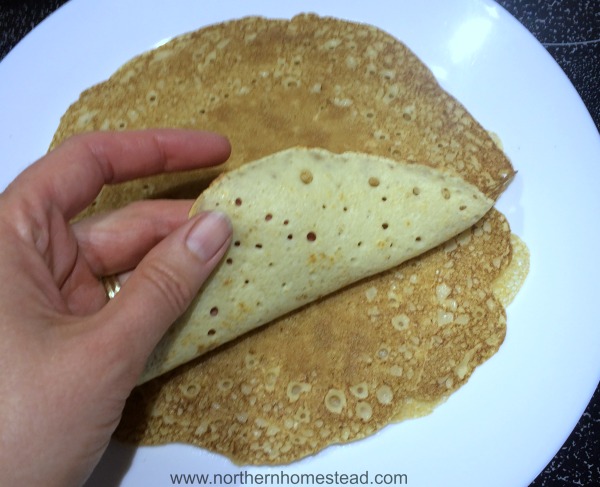 Ingredients:
1 Cup Whole Wheat Flour
2 Cups Unsweetened Non-Dairy Milk
1 Tablespoon Tapioca Flour
Splash of Vanilla Extract
Gluten-Free Vegan Crepes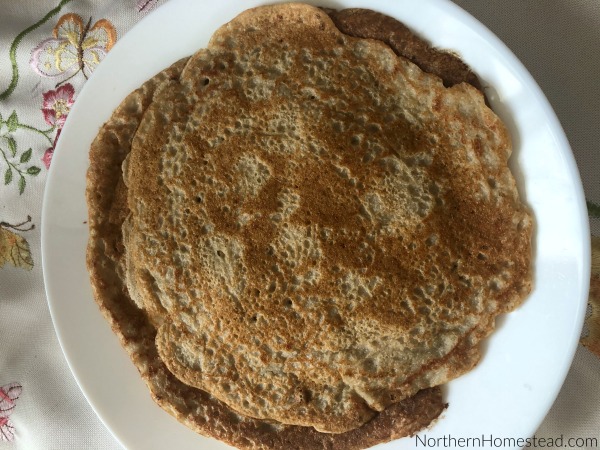 Our new favorite recipe for crepes comes originally from Nutrition Refined. I adapted it to our liking.
Ingredients:
1/2 cup brown rice flour
1/2 cup oat flour
1 1/4 cups unsweetened plant milk
1 banana
pinch of salt
Coconut oil for frying
I make the batter in the VitaMix blender, starting with rice, grinding it, then adding outs, grinding some more, then adding everything else and mixing it together.
We invite you to subscribe to Northern Homestead and follow us on Facebook or Pinterest for more great recipes.
More Recipes You Might Enjoy: