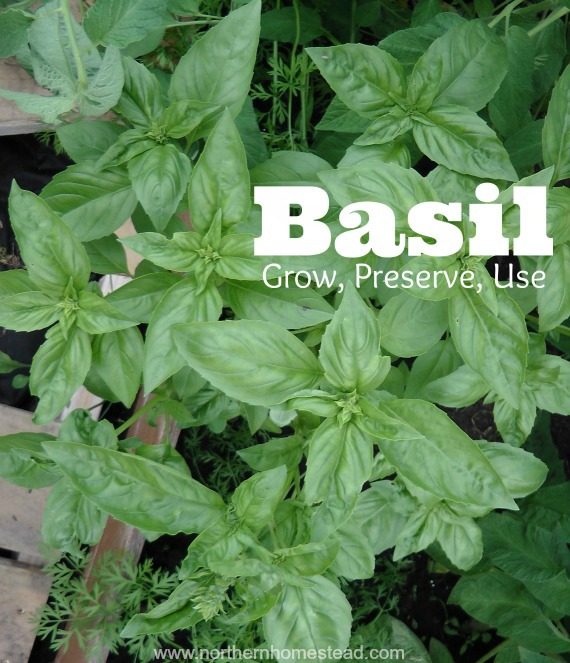 Basil is a great culinary and medicinal herb. Fresh and preserved (dry, or frozen) basil is great to use. Not just the taste, but also the scent of basil is unique.
Fresh basil adds a summer fragrance and taste to a dish or salad. Basil is also great for teas and oral health. The basil herb is traditionally used for supplementary treatment of stress, asthma, and diabetes. Basil oil is supposed to be antioxidant, antiviral, and antimicrobial.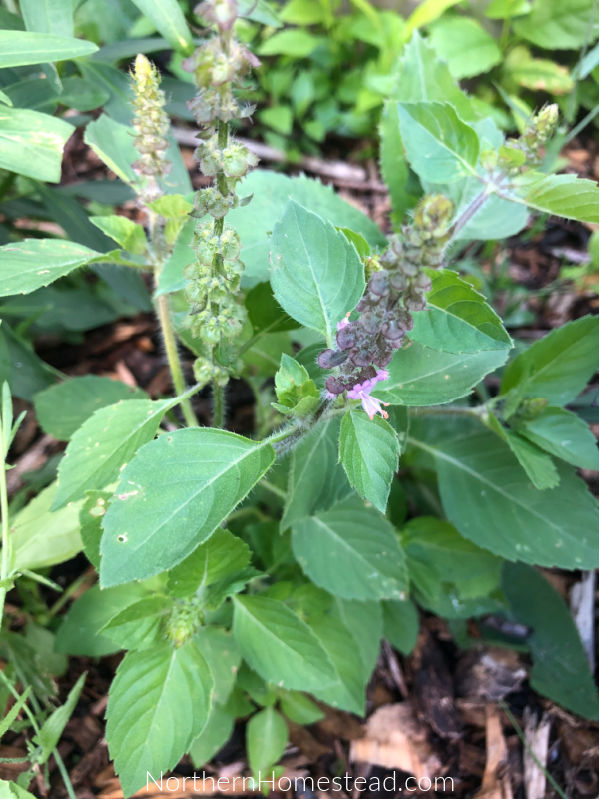 There are many varieties of basil, too many to list here. They all have their own smell and flavor. Do not limit yourself to just the common green basil, grow also for example purple, lemon, lime, or holy basil.
Growing Basil
Basil is a warm-weather annual herb and does not like the cold. It hardly grows in our area even in the summer, but it does grow in a greenhouse and in the winter in a container indoors. Other than that it loves heat and light, I find basil is a very easy herb to grow.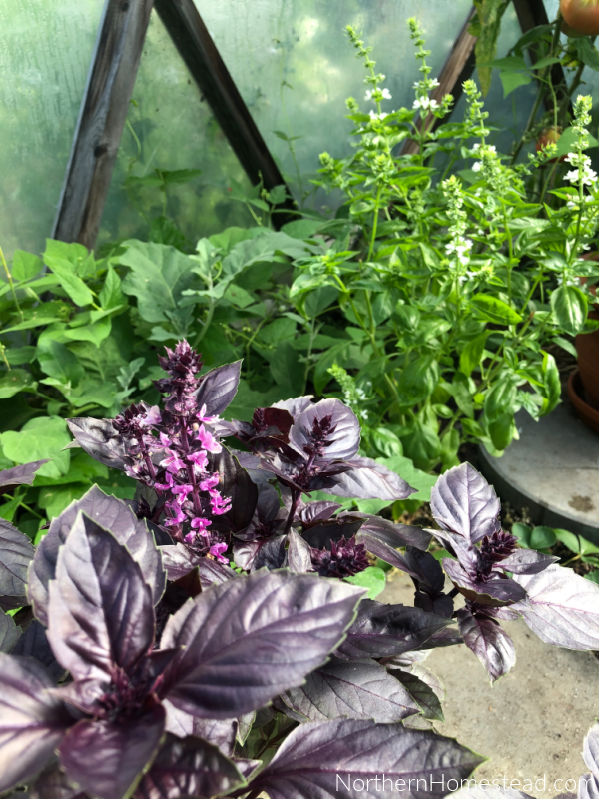 Basil is a beautiful plant. Different basil variety has different flowers, so it makes a lovely plant in the flower garden as well. Purple basil has beautiful lavender flowers while green basil has tiny white flowers.
Starting basil from seed
Basil is easy to grow, but I find it harder to start it from seeds. Basil needs light to germinate properly. Start basil later in spring (like April) to make sure there is sufficient light. Cover the seeds only lightly with soil, again, the seed still needs to "see" light. To keep the soil moist cover the seed container with plastic. Do not place it in direct sunlight, just in a bright location.
Growing basil from cuttings
You can also grow basil from cuttings, which is pretty exciting. Just take a cutting to multiply a plant in the fall for a winter indoor plant and in the spring again for a summer garden. Whenever a plant gets leggy or old just cut a new cutting and you will have a beautiful plant all throughout the year.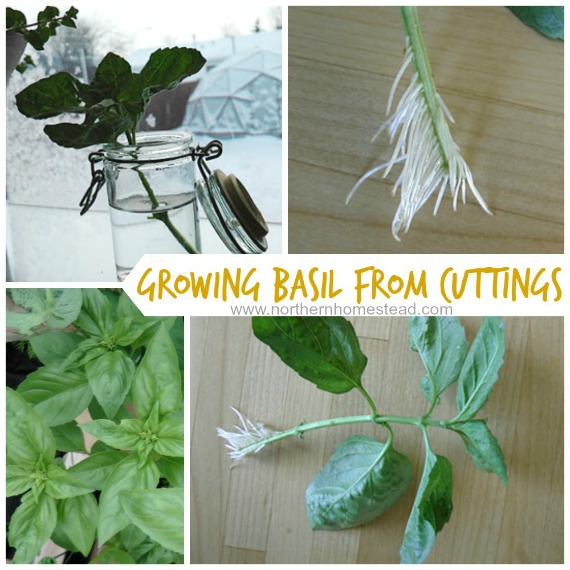 Take a cutting from the existing plant and put it in water to grow roots. In about two weeks the basil cutting will develop healthy roots and will be ready to grow into a new plant. Plant the basil seedling into a pot with good potting soil or grow it in water (hydroponic/aeroponic) and it will add a 'little summer' to the winter.
However, basil is a distinct summer crop, it does grow in a sunny and warm window during the winter, but to be honest I do it more for decoration and a for the summer scent that basil provides.
Growing basil in Hydroponic
Basil grows very well in any hydroponic system. Here's a Kratky method basil that we grew in our kitchen window in a recycled glass jar, that stays in an ornamental hanging pot. Learn more about Kratky hydroponic here.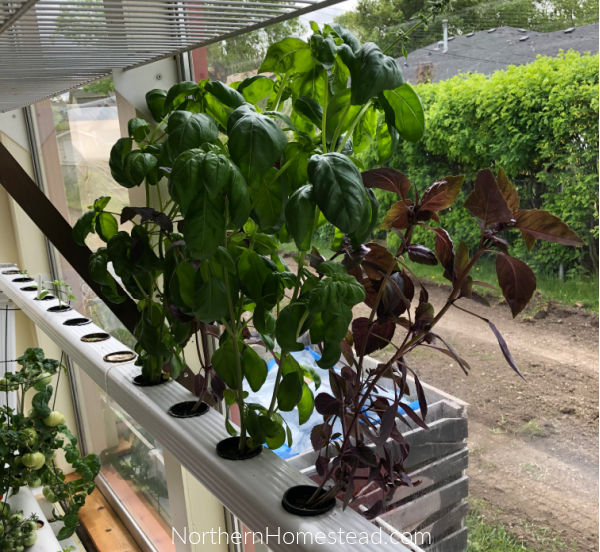 Here we grew basil in our NFT downspout hydroponic system. We grow plants in our indoor garden year-round, however basil only in the summer. It would be too cold for basil in the winter. If we want to grow basil in the winter, we grow it in the kitchen window, where it is warmer, see above.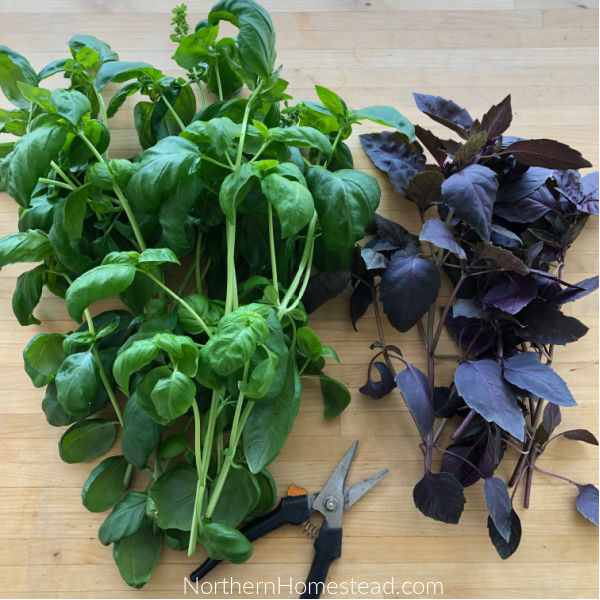 Basil can be harvested multiple times: cut it back and it will grow new leaves and look even better.
Dehydrating Basil
Dried herbs are great, they are already harvested and clean and ready to use. To dry herbs like basil is very easy. You actually do not need to have a Dehydrator
to be able to dry basil. Simply harvest and clean the stems and leaves, now you can hang them upside down in a place with some air movement. You can use leaves, stems, and flowers in teas.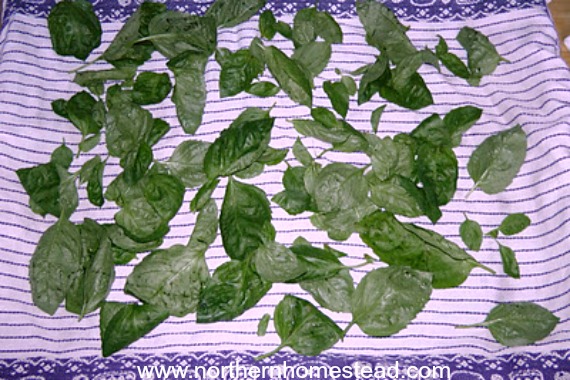 Or take off the leaves and spread them on a baking sheet with a clean towel. Do not cut the leaves, they keep better if they're left whole. After a few days, the basil leaves will be dry. Now you can store them in a jar for several months. This method has worked great for us.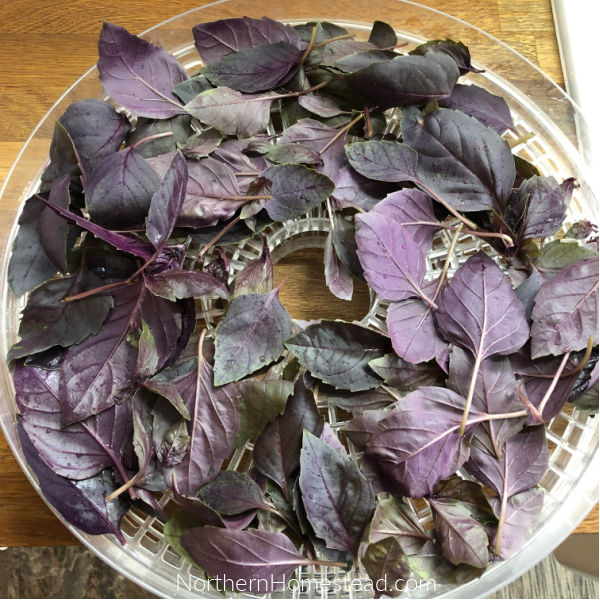 It works just as great on a dehydrator tray. To speed up the process you can turn it on, I never do. Just place the tray on top of a cabinet and let it air dry. However, in a moist climate, a dehydrator might be a good option.
Dry herbs are more intense than fresh ones. So be sparing. Taking a few leaves out of the jar, crush them in your hands, the preserved aroma will be released.
Freezing Basil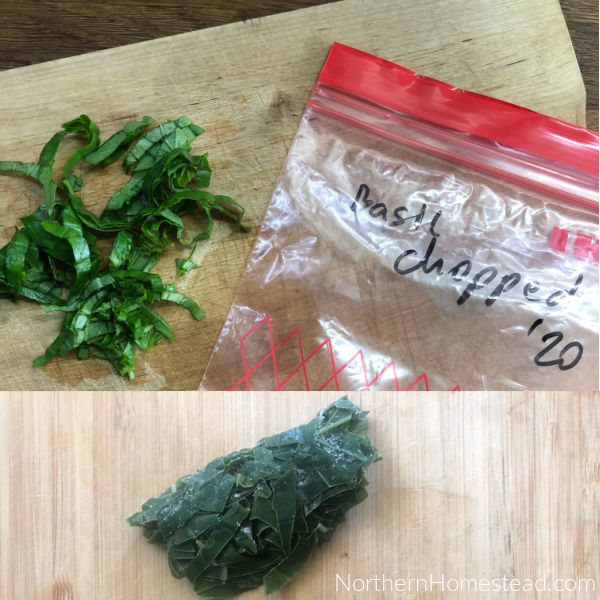 Basel can also be frozen. There is a rumor that basil turns black when frozen, I tried it and can not verify it. However, basil does change color rather quickly when cut and left in the air. But if working quickly, cut and freeze it did not turn black, at least not for me.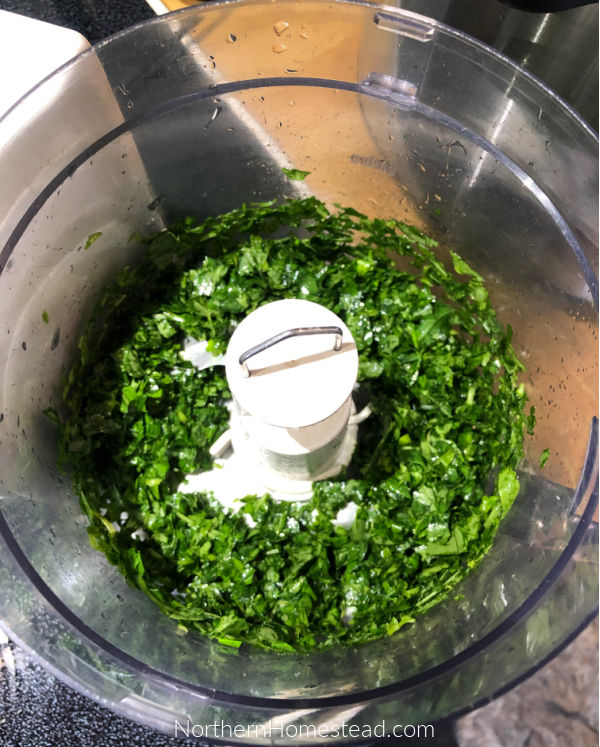 A common way is to freeze basil in oil. Just chop them adding a few tablespoons of oil to coat the leaves in it.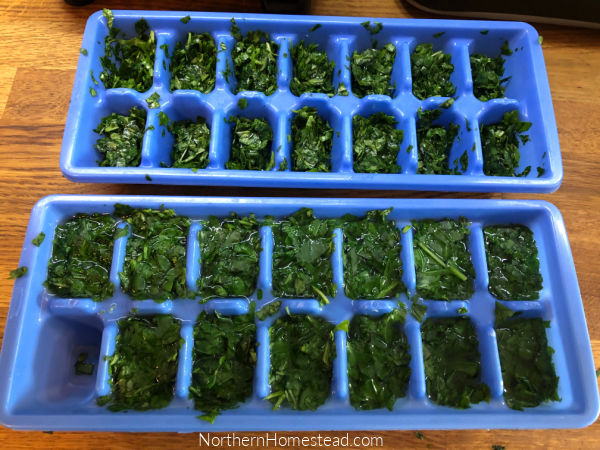 Now transfer the coated and chopped basil into an ice cube tray and freeze (it's the basil in the tray above).
Or blanch basil. This is a very easy way to freeze any herb for use in soups or sauces where a bit of water does not matter. Fill a tray with the herb, chopped or whole, and top with boiling water. Freeze immediately (in the picture the tray in front).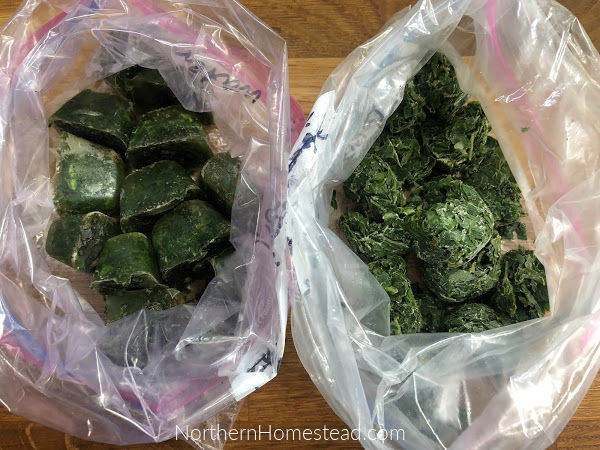 After the cubes are frozen, transfer them into a freezer bag or container, label, and freeze.
We invite you to subscribe to Northern Homestead and follow us on Instagram, Facebook, or Pinterest for the latest updates.

More Growing Food Posts You Might Enjoy: