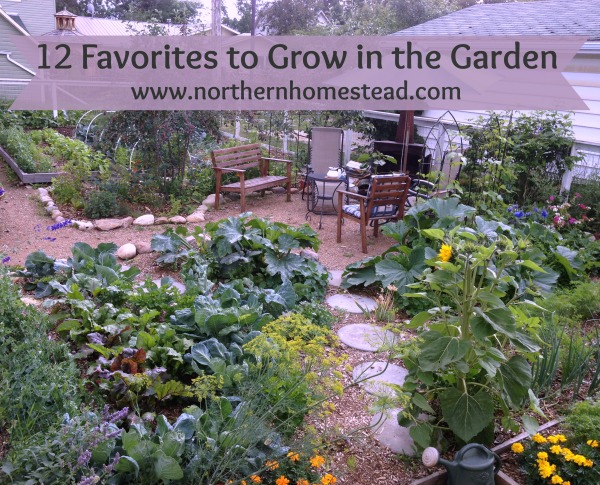 Fall update on our 12 favorites to grow in the garden. Every year we grow annual vegetable plants that don't do well in our climate. I must admit that during a long winter and a dozen catalog dreams, we tend to forget it and plant it all over again. This year I wanted to record what really is worth growing.
It is important to grow what you eat, and not what looks good in a catalog. Here are 12 of our favorites to grow in the garden. The list is not exhaustive, but these are the top plant favorites to have in the vegetable garden.
1 Beans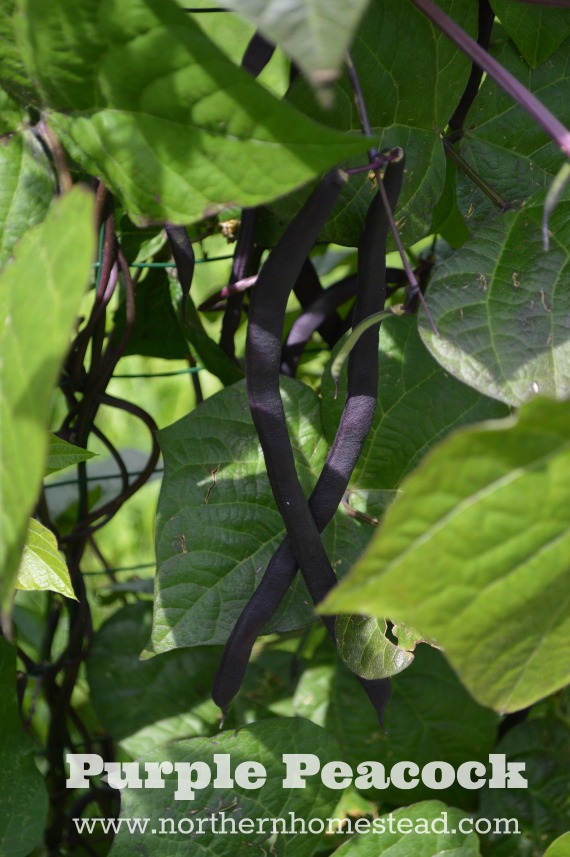 We have grown Purple Peacock pole beans for years, but they do not produce well during a cooler summer. It is a beautiful plant with dark purple pods, twining stems, light purple flowers, and dark leaves. This pretty variety is a very striking and useful screen in the garden. Plus the pods are tender and yummy, turn green when cooked, and the plant is extremely productive (during a warm summer that is).
The scarlet runner was the only bean we grew this year. They, too, serve a dual purpose, a screening flower, and edible beans. It does seem that they do not mind it as much if the season is on the cooler side. These two bean varieties can also be planted together along a fence, makes a beautiful display.
2 Beats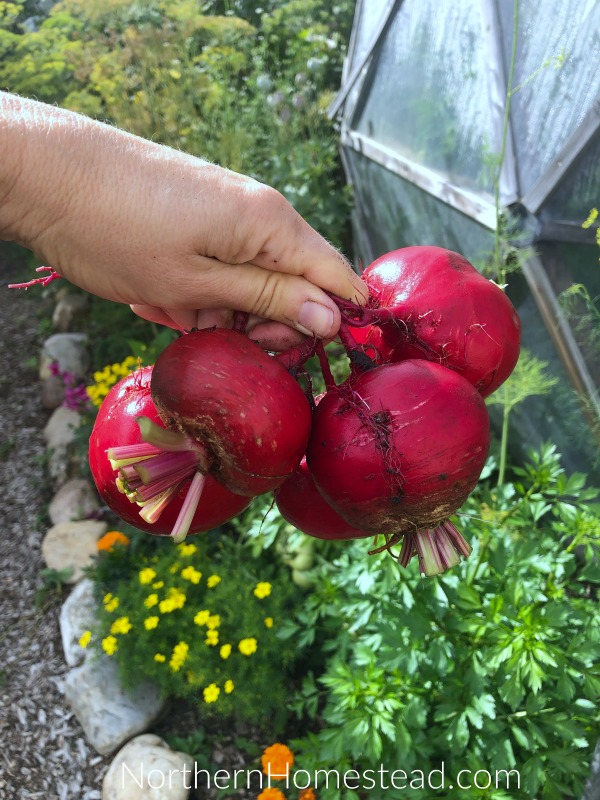 My favorite beet is the striped Chioggia beet. I find that it is better digestible than other beets. It's so pretty and tasty roasted and also ferments well.
Cylindra is a great beet for slicing and freezing, sweet and good, great for soups and pickles.
3 Cabbage and Co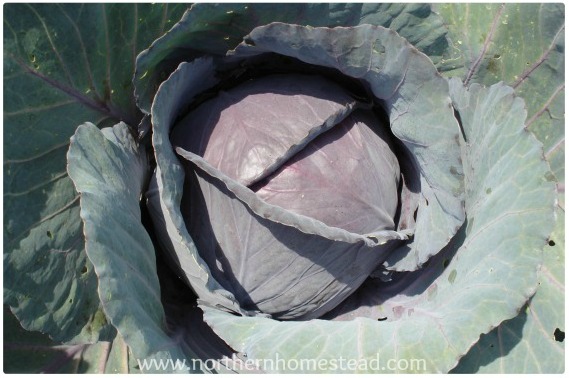 Cabbage is a cold-weather crop, if nothing else, a cabbage family plant will still grow in a cold climate. Our favorite is red cabbage, it grows well and makes yummy dishes. Read more in Growing Food – Cabbage.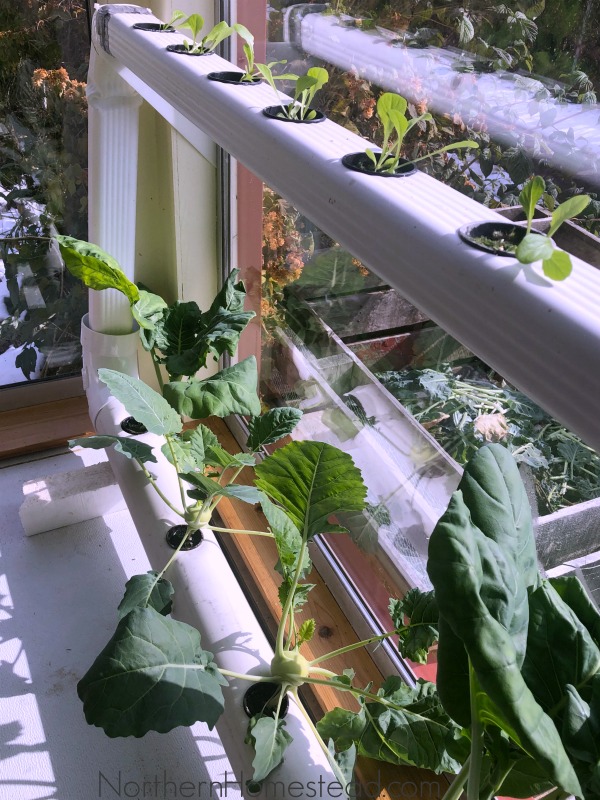 We also like to grow kohlrabies (The purple Kolibry, or white Konan), and Chinese kale in NFT hydroponic system all winter long. Kohlrabi can be used in recipes instead of cauliflower, and Chinese kale is very much like broccoli. The two, however, grow much easier than cauliflower or broccoli.
Speaking of cauliflower, I love growing cauliflower, but every year I doubt if it really is worth it, if space is limited.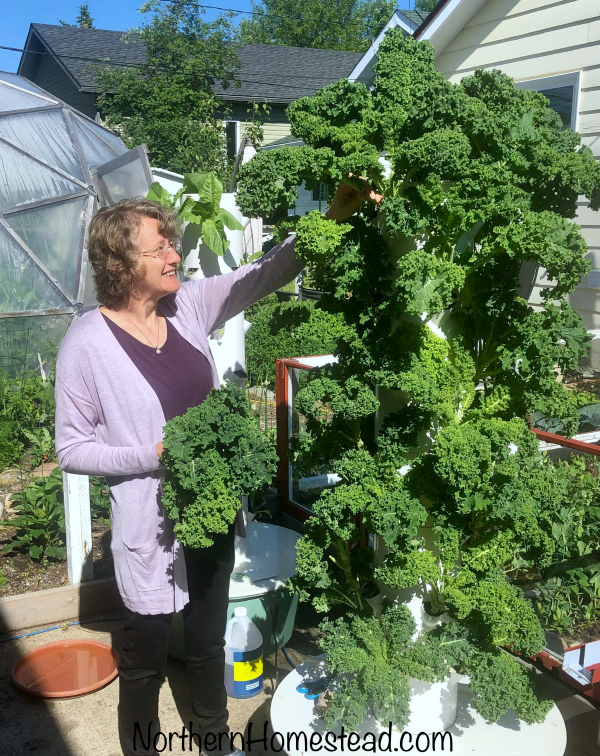 And we grow kale in the Tower Garden in early summer. It is usually enough to enjoy fresh and freeze for winter smoothies.  We like curly kale, it is so pretty and makes yummy kale chips.
4 Carrots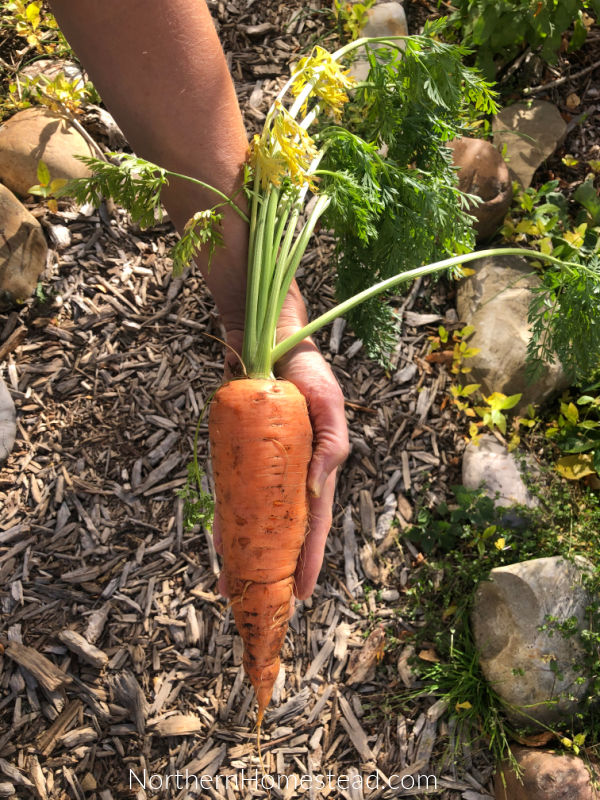 Nantes Touchon a very sweet fresh eating carrot, and Red Core Chantenou a huge carrot great for recipes, are two of the carrots we grow. We have tried many other varieties over the years. Read more at Growing Food – Carrots.
5 Cucumber
Patio Snacker is the one cucumber that we have had reasonable success with and does not take up half of the greenhouse. We have also grown greenhouse cucumbers indoors. That does work, however, the seeds are so expensive that it makes one wonder if that is worth it.
If you have a good pickling cucumber, that does not mind a cooler season, please share it in the comment below.
6 Garlic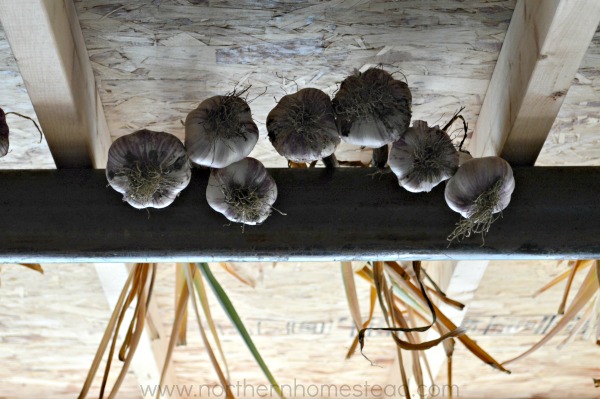 Garlic is easy to grow and stores well for a long time. It's food as well as medicine. We plant garlic in the fall, read more here. We grow hard neck garlic and are not totally sure about the variety. It could be a mix of Music and Russian red. We just always replant what we have grown, and I do not remember what we started with (sorry).
7 Greens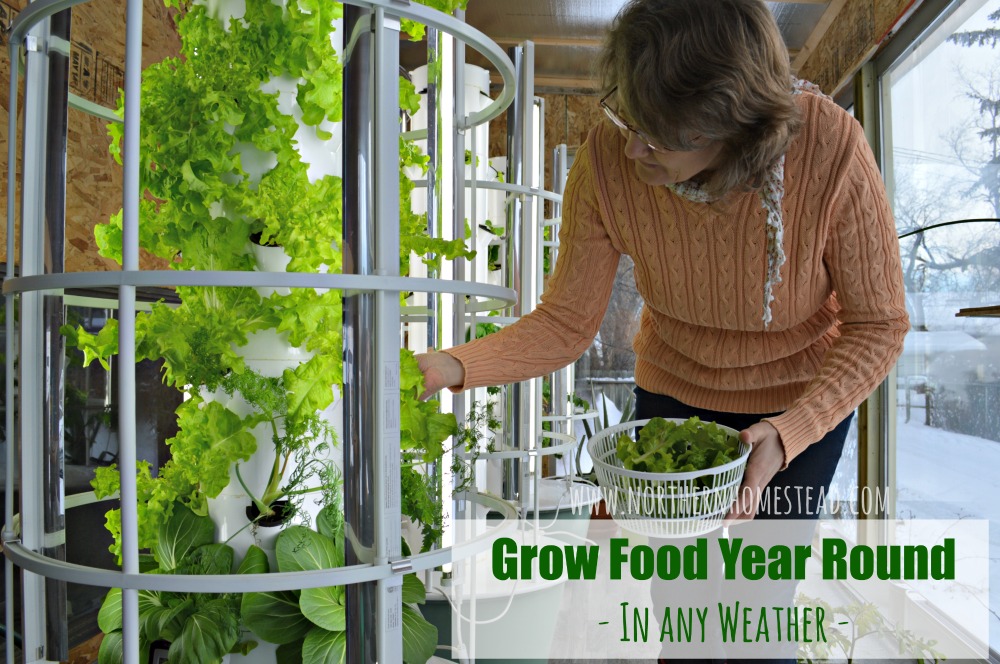 Lettuce is the number one plant that we grow year-round here at Northern Homestead. In the winter indoors hydroponically and in the summer outdoors.
Indoors we get the best results with Romaine lettuce. In early spring in the greenhouse and in the summer outdoors the Red Sails does well.
Growing all our lettuce is easier than you would think. Learn how to here: 3 Reasons To Grow Your Own Salad and How To Do It.
Spinach is a must-have in the garden, but it does not have to take up any space. We plant it in the fall, as soon as space becomes available after summer crops are harvested. The plant usually does not make it to produce before the snow, but it will continue to grow in spring providing fresh greens long before anything else is growing. We also plant spinach alongside zucchini, the plant will be done by the time the zucchini needs all the space.
8 Peas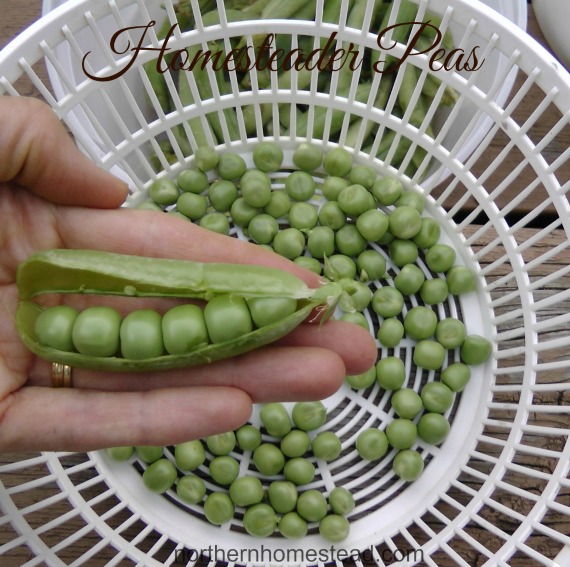 Peas Homesteader or Green Arrow grow well. I have also saved seeds and planted them again, they too grow well.
We grow peas and beans too, as nitrogen fixers along the edges of beds, or fences or even with tomatoes.
9 Peppers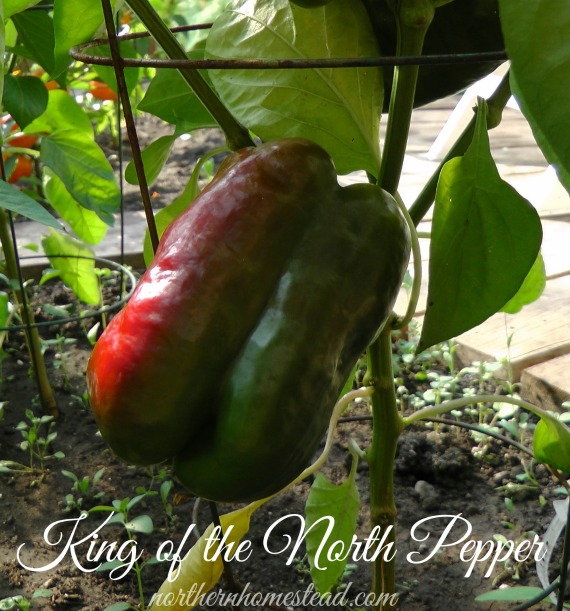 The most productive pepper in our experience is King o the North. It's a sweet bell pepper. Joe E Parker is a mildly hot pepper, also very productive.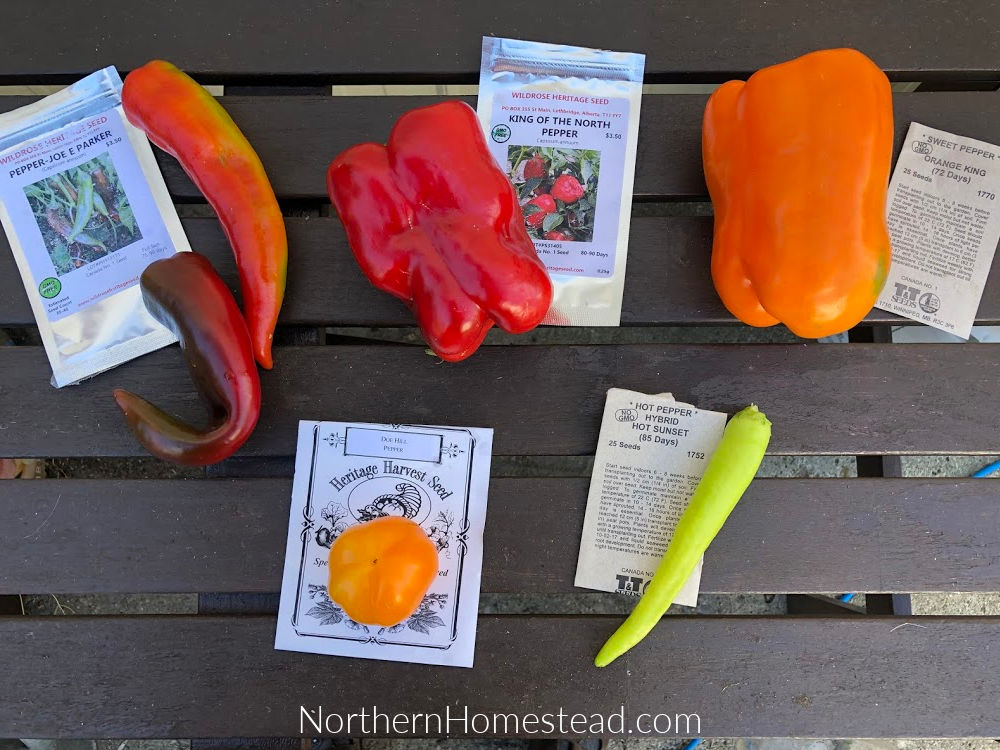 We also like to grow some hot peppers for a hot pepper paste, fire cider, and more.
Read more about growing peppers in the cold climate here.
10 Potatoes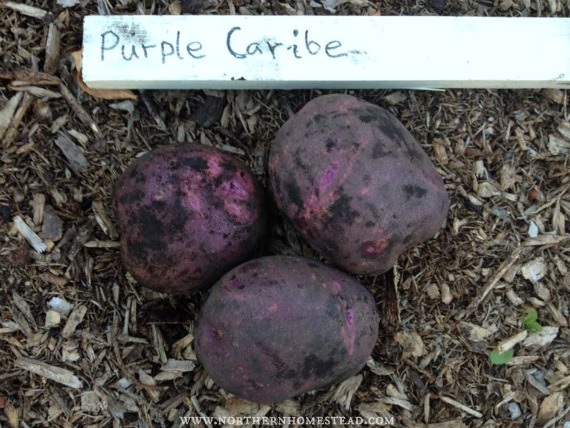 Purple Caribe is an early potato, we usually grow a few for that yummy new potato. It is a good-sized productive potato with great storage life. The plant grows very compact, so more dense planting is possible.
German butter balls are our favorite variety. It's a yellow potato with yellow, buttery flesh. It's a late potato. Read more about potatoes here: Growing Food – Potatoes
11 Tomatoes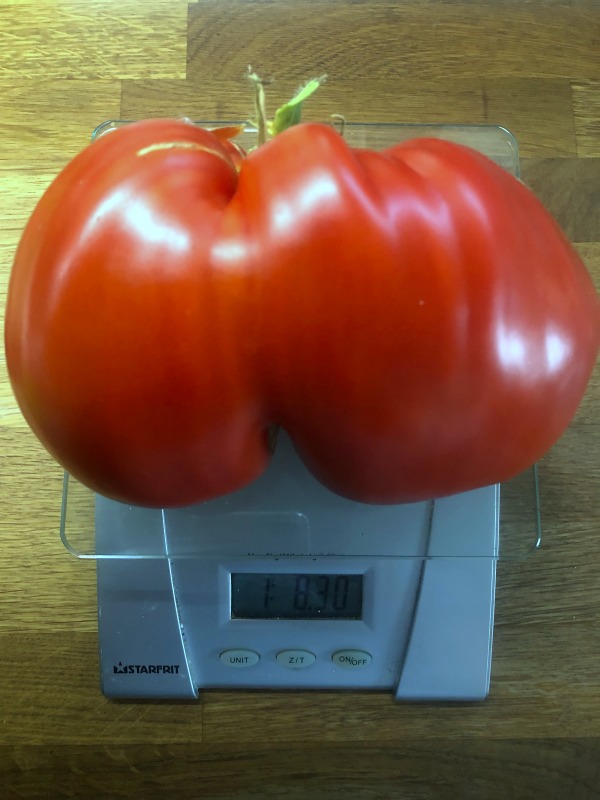 We grow mainly Heirloom tomato varieties, in our northern garden.
If I had to choose just one tomato variety, Bull's Heart would be the one. Thankfully we have room for a few more.
Native Sun, Early Annie, and Old German are varieties that I would add to the list of favorites.
Learn all about growing tomatoes in cold climate here: Tomatoes.
12 Squash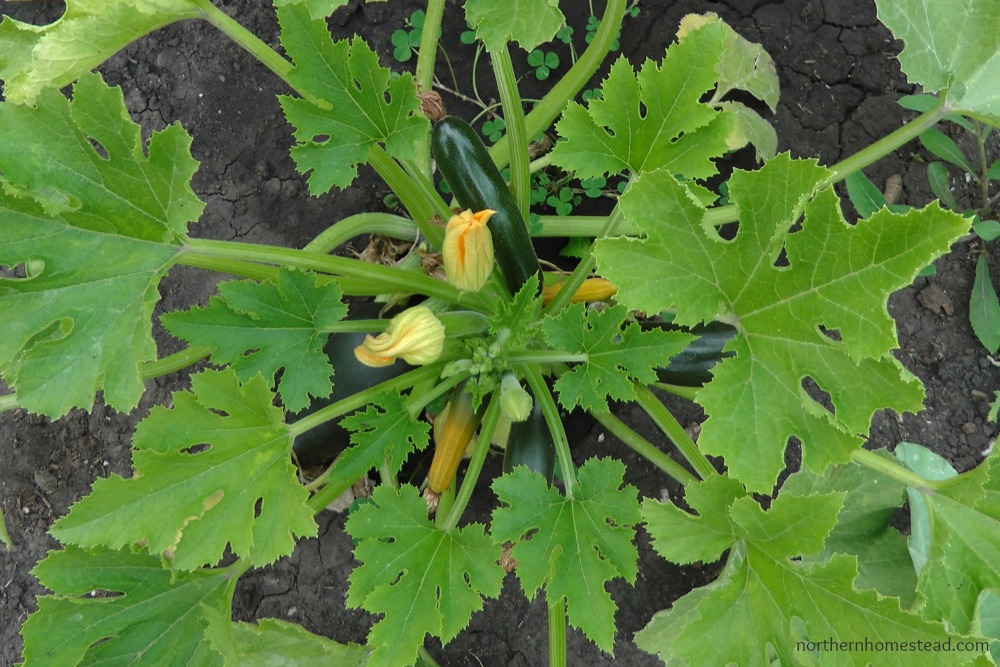 Dark star zucchini have beautiful, star-like flowers and dark green fruit. They can easily be grown in a flower bed. Plus the fruit has an amazing storage life.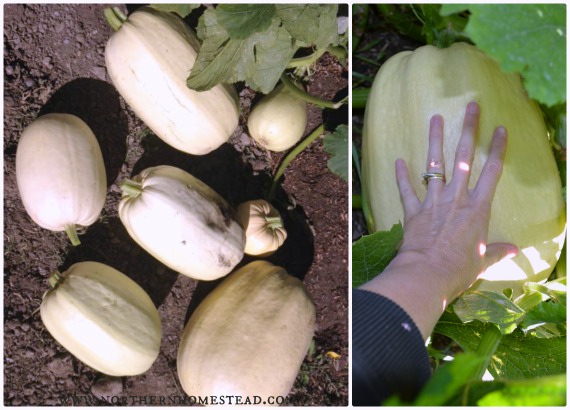 Tivoli bush Spaghetti Squash does very well for us. It produces short vines on a small plant with high yield. Perfect for squash lovers with smaller spaces. Spaghetti Squash has an amazing shelf life, we had our last one in April, and it was still just as good as fresh from the vine.
There are many more plants that we grow and love. Here is a list of annual vegetable varieties for a short growing season.
We would love to hear your about favorites and must-have vegetable varieties.
We invite you to subscribe to Northern Homestead and follow us on Facebook or Pinterest for the latest updates.
More Growing Food Posts You Might Enjoy: