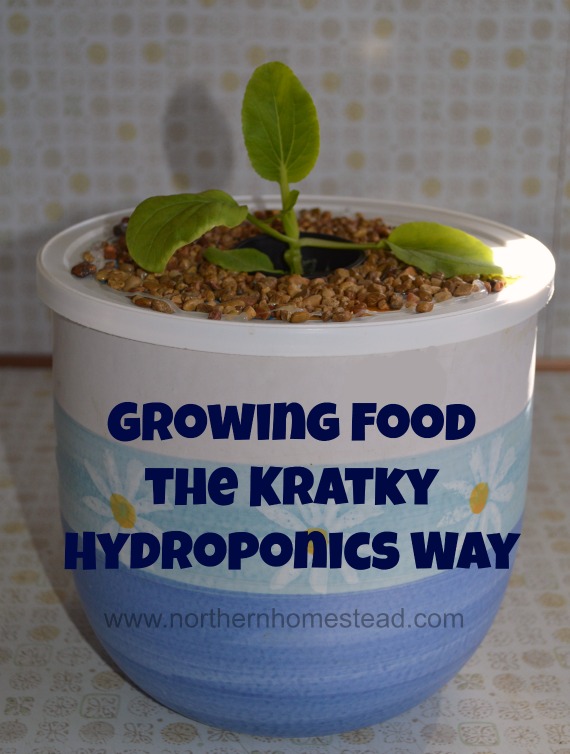 Growing food is becoming a priority for more and more people. Homegrown food tastes better, is healthier, and is a lot more affordable. However, you might not be so lucky to own land to grow food, in fact, you might not own one speck of land to grow food on. So what to do? Thankfully there are many great ways to grow food in very little space. Growing food the Kratky Hydroponics Way is one of many ways to grow food without land.
Grow in hydroponics
Before we discovered the hydroponic Tower Garden, we did not know much about hydroponics at all. It always seemed to me too complicated. We learned quickly that hydroponics is not complicated at all. It is just adding nutrients to the water, making sure the water has a PH at about 5.5-6.5, and that's it. You can use whatever nutrients brand you want or is available at your local supplier.
We prefer dry concentrated nutrients. General Hydroponics MaxiGro for Gardening is all you need to grow all kinds of greens and herbs.
General Hydroponics Flora Grow, Bloom, Micro Combo Fertilizer set is a liquid solution for all stages of growth.
General Hydroponics Ph Control Kit helps you to keep the PH at 5.5-6.5.
Sure, growing in water is not the same as growing food in organic soil, but in the garage greenhouse, driveway, house, and everywhere all throughout the long winter, we do not have any organic soil anyways. So hydroponic allows us to grow food in those places and times, and it is the next best thing to organic soil.
Besides, did you know that a good portion of store-bought food is grown hydroponically as well? So growing it at home, without any pesticides in a high-quality mineral blend is so much better.
What is the Kratky hydroponic method?
B. A. Kratky from the University of Hawaii discovered this non -circulating hydroponic growing method that does not require any pump or air stones, and no electricity at all.
A plant needs light, water, nutrients, and oxygen to grow. The Kratky method provides all this in a very simple way. You add water with all the mineral solution needed into a container with a net pot and some rock wool (or a growing medium of your choice), plant your seed, and let it grow. See how to plant a hydroponic garden here.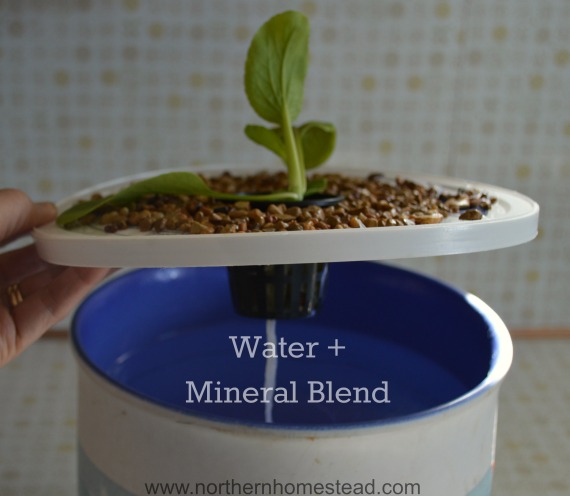 As the plant grows, it will "drink" the water. The gap will be filled with moist air, providing the roots with oxygen.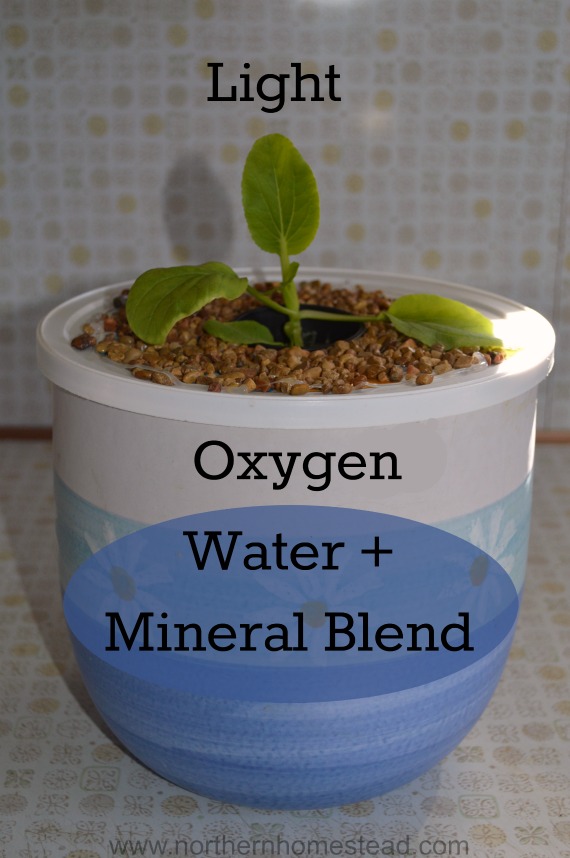 By the time the plant used all the water, it is ready to harvest. For plants that need longer to mature, just keep the container filled about half full.
What will you need to grow food the Kratky hydroponics way?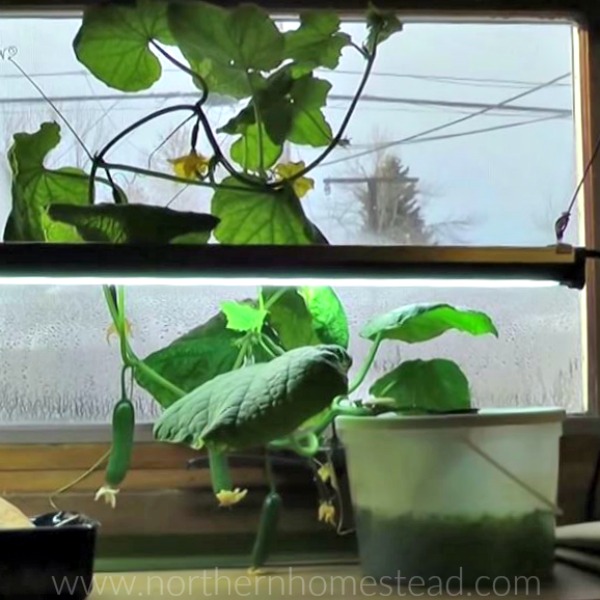 -A container to grow in. Any watertight container will do. It is good to choose a container that does not let light through to prevent algae from growing (see picture above, the water is green because of algae).
The container can be any size for as many plants as you want to grow, meaning if you want to grow a small plant and just one you choose a small container, if you want to grow a dozen plants you obviously will need a bigger container. Also, for the Kratky method, all the plants in one container have to be the same variety and at the same stage of growth.
For example, one lettuce needs give or take 1 gallon of water with a nutrient solution in its lifespan. A milk jug would work for it. If you want to grow 3 lettuce plants, set and forget till they are done, you will need a 3-gallon container. Or, as I explain below, you can also use a smaller container and refill it.
Bigger plans will need more nutrient solution, a pail, a rubber box, or whatever you have on hand can be turned into a growing medium. It is just like container gardening, except these containers, need to be watertight. I also like to use a nice potting pot, add a lid and grow in there, looks decorative too.
A plastic lid can easily be cut out to fit the net pot. Alternatively, a lid can be cut out of styrofoam too, and the bucket wrapped in black material to prevent light to come through (See picture below).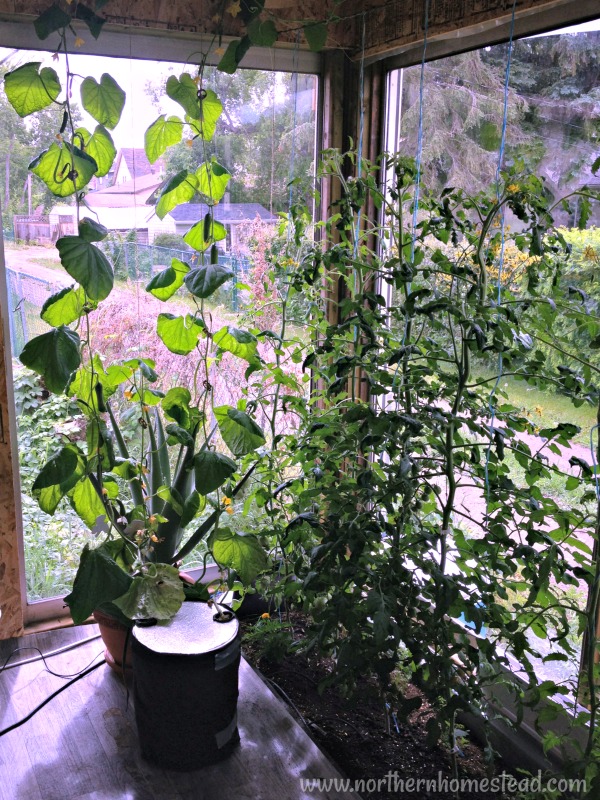 -A Mesh Net Pot
. We like the two inch, but you can get bigger if you want.
-Growing medium, we use Rockwool.
-A hydroponic solution, we like the General Hydroponics MaxiGro It is simple to use, and works for all kind of green plants.
–Ph Control Kit, to ensure the proper balance of nutrient solution.
-Seeds.
What to grow the Kratky hydroponics way
The simplest and most effective plant for the Kratky hydroponics method is lettuce. You need one gallon of the solution and can plant and forget it till harvesting time. But lettuce is not the only plant that can be grown. Any above-ground plant can technically be grown the Kratky hydroponics way.
Depending on the size of the container, it might not be all that set and forget. Bigger plants need to be refilled, making sure that the container stays about half full, allowing the roots to have lots of oxygen.
Here a Kratky hydroponics cabbage plant in our laundry room window.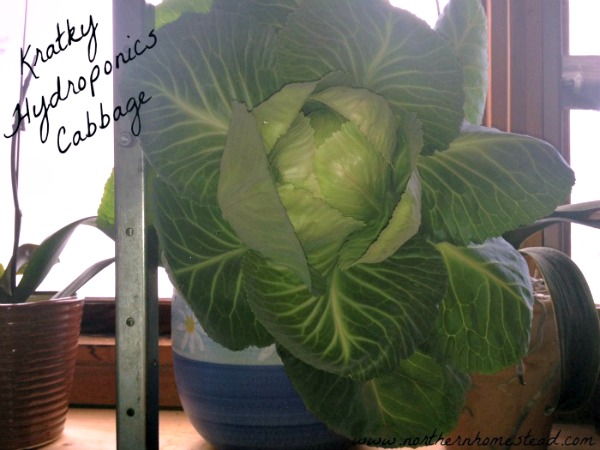 Here Kratky method basil in our kitchen window. We started the basil from a cutting, and it grows in a recycled glass jar, that stays in an ornamental hanging pot. Kratky hydroponic can be nice, too ;).
Here a tomato trial. So far we are impressed. However, growing tomatoes might be better in aeroponic than in a non -circulating hydroponic. Still, if that is all you can afford, go for it. In 12 weeks the plant shows remarkable growth and has set fruit, too.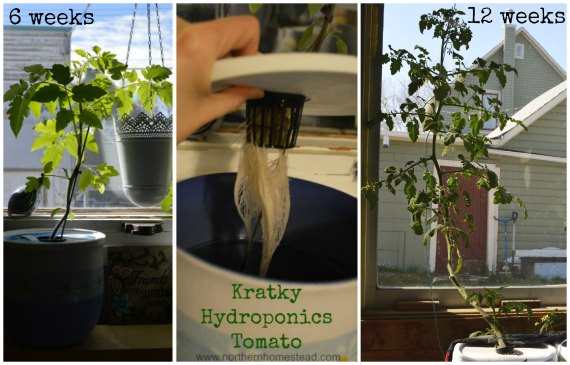 Start growing food the Kratky hydroponics way today! It is a simple and fun container gardening method suited for off-the-grid and water-saving growing. As all growing, it starts with planting, read also Planting a Hydroponic Garden.
We invite you to subscribe to Northern Homestead and follow us on Facebook or Pinterest for the latest updates.
Grow an indoor edible garden
Kratky hydroponic is a great way to grow food indoors in any weather. Read more about growing food indoors: