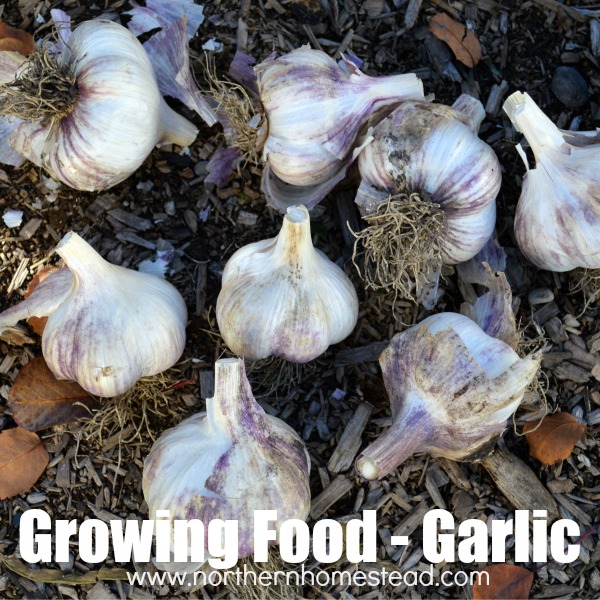 If you are into growing food – garlic is a must-have in the garden. Read on to find out how to plant, grow, harvest, store, and use the super food, garlic. Garlic is a crop that is easily grown and goes a long way in the kitchen. So many dishes just taste better with garlic. Some people love garlic more than others, but it's good for everyone. Good quality garlic is expensive, so it's definitely worth growing your own.
What garlic varieties to grow
There are many garlic varieties for different climates. At the store you will mostly get the soft neck garlic (artichoke), however, in our cold climate, we grow the hard neck garlic, with the hard stalk in the middle. If you can grow all types of garlic or need to choose your special one, here is a great tool: Choosing Your Garlic Favorites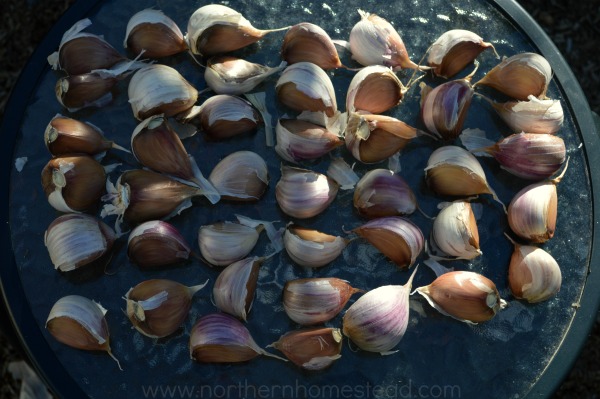 Russian Red is the variety we grow. It is great garlic for cold climate growers. This year I added a variety called Music as well. Since I get the "seeds" from a local farmers market, I already know this garlic will grow well in our climate. I'm not always so sure about the variety though.
If you are new to growing garlic, we would encourage you to get some garlic locally that you really like. You can eat some and plant some of the biggest and healthiest cloves in your garden. And there you have it, your favorite variety fresh from your garden.
How to plant garlic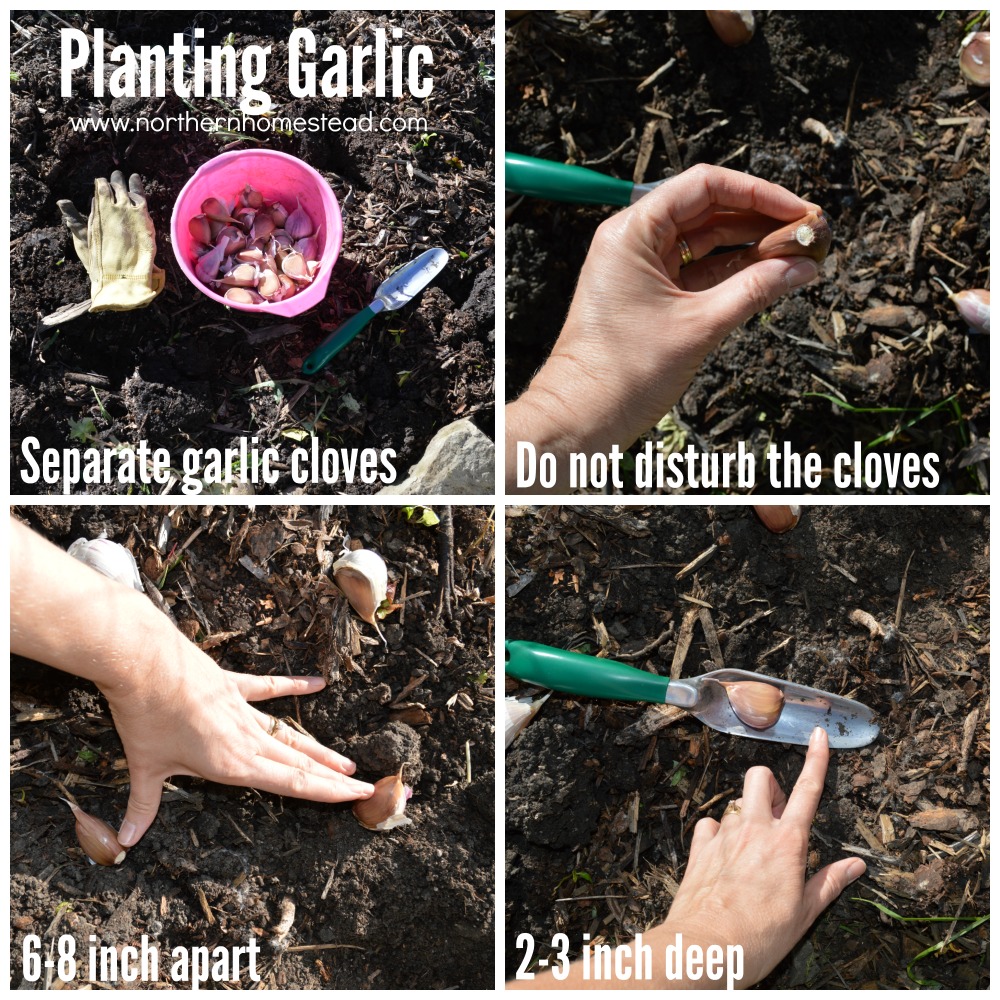 In our Zone 3 garden here in Alberta, we plant garlic outdoors in late September, before the weather changes to cold and rainy. The warmer your climate, the later you can plant garlic. In our cold climate, we plant about 4-6 weeks before the ground freezes.
For planting, separate the bulbs carefully so that you do not disturb the cloves. The upper and lower growing points still need to be intact.
We plant garlic 6-8 inch apart in every direction. In our cold climate, we plant garlic a little deeper, about 2-3 inches deep, and plant it pointing side up. Before winter, we also mulch the soil with compost or wood chips.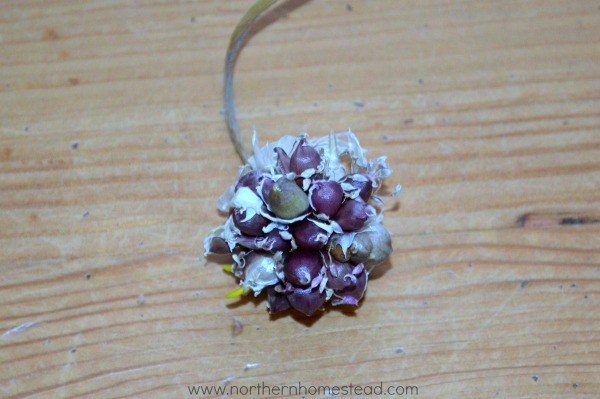 Garlic can also be grown from bulbils. The bulbils will take 3 years to become full-size garlic. Here is a video on planting garlic from cloves or bulbils (seeds). If you can't see the video go here.
Harvesting garlic scapes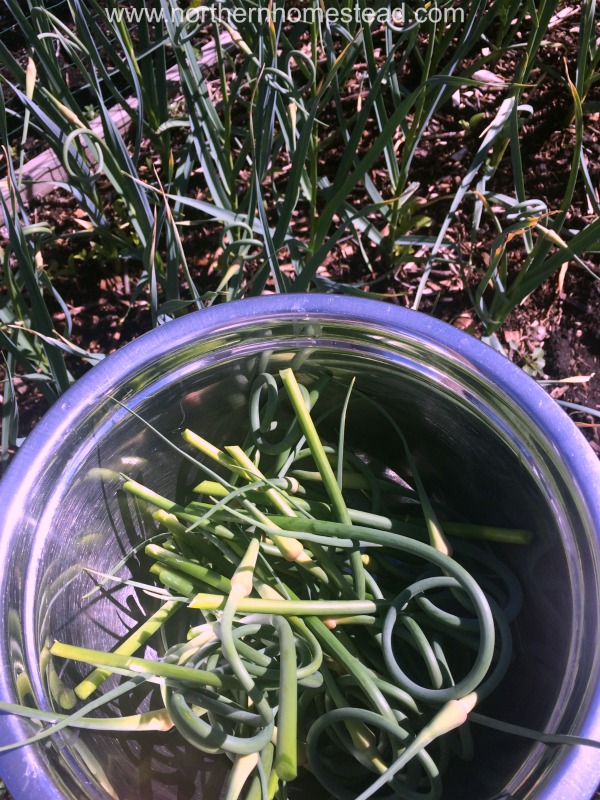 The hard neck garlic always produces lots of garlic scapes. Those are little curly stems that grow from the centre of the plant. It will finally produce a flower and go to seeds.
To ensure good size garlic you should harvest the garlic scapes and prune the leaves back a little. The best time to do this is before the bulb starts to open or the stem gets woody. Harvest them when they are still green and soft.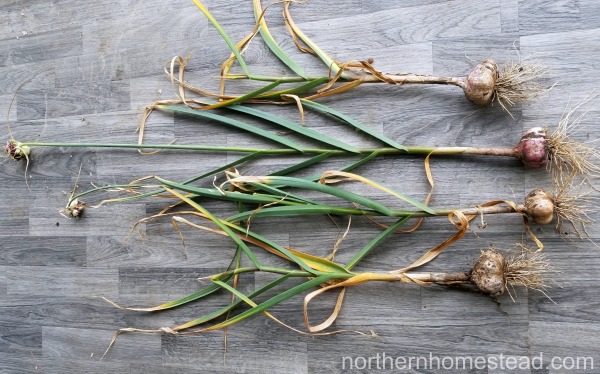 How important scape harvesting is you can see in this picture comparison. The bulbs that grew without seeds are just bigger and better.
Scapes are a great replacement for garlic in summer recipes. They also make great garlic scape pesto (See our favorite recipes below) or pickled garlic.
Harvesting garlic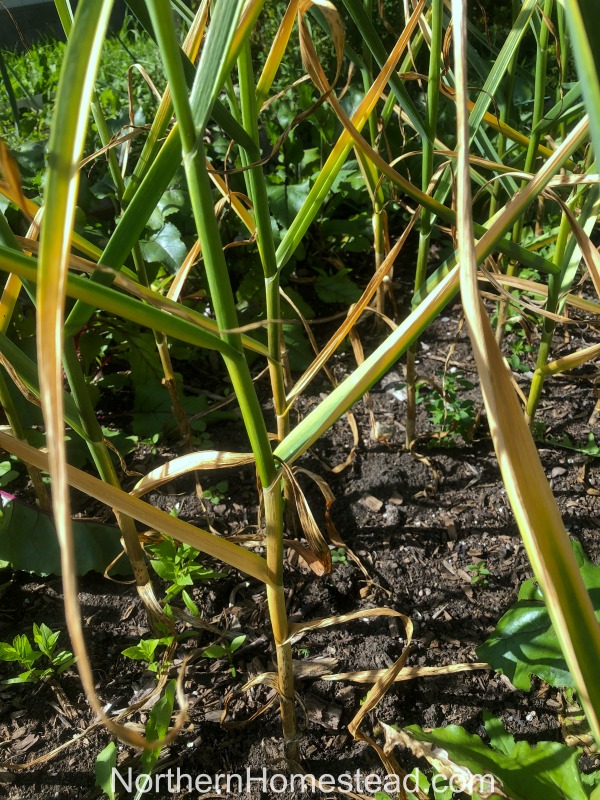 Garlic is ready when the lower 4 leaves (about half of all leaves) have yellowed and dried but the upper leaves are still green. The leaves form the protecting skin around the cloves.
If you harvest too early, the skin will be very thick and your garlic will have a hard time drying and storing well. If harvested too late, the cloves might split open and dry out or sprout sooner, there is just not enough protection.
To harvest loosen the soil with a fork in order to not disturb the bulb. If your soil is very loose, you can instead just pull the garlic on the stem.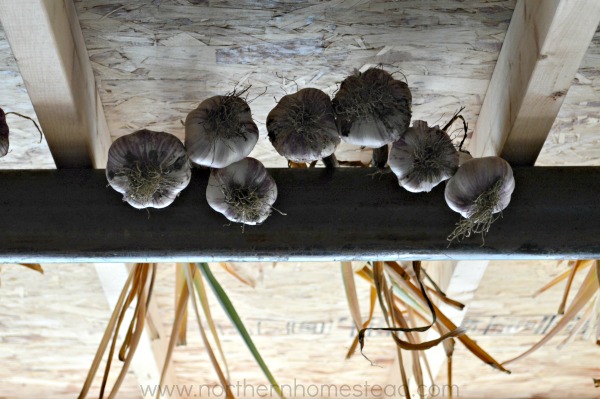 After harvesting, it is important to cure (dry) the garlic before replanting or storing it. Simply hang or lay out the garlic in an airy place, away from direct sunlight. Let the bulbs dry completely.
After that cut the stem, leaving about an inch, and prune the roots back. Now your garlic is ready to be stored.
Note: if some garlic was still green at harvesting time, compared to others that were ready, it is worth separating them and using them first. Improperly dried garlic just does not store well.
Storing garlic
Garlic is different than most root vegetables because it is planted in the fall, in cold and moist soil. Those are the best conditions for garlic to start growing. For storing we want to create the opposite conditions.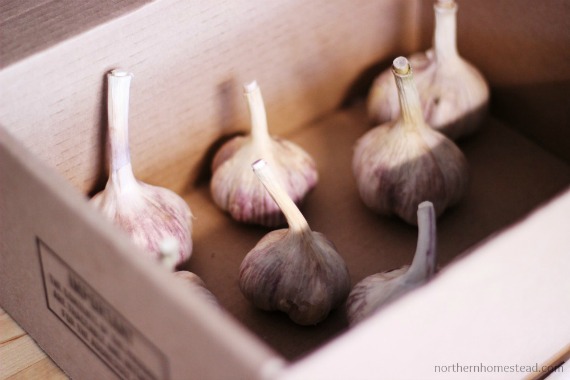 For storage choose healthy, dry garlic, the bigger the cloves the better. If the garlic isn't dry it can get moldy or start to sprout. So make sure to cure the garlic first.
We have stored garlic in a closed cardboard box – it's dark and dry in there with some air circulation. The box is stored in the basement (not the cold room!), where it is a bit cooler and darker than upstairs in the house.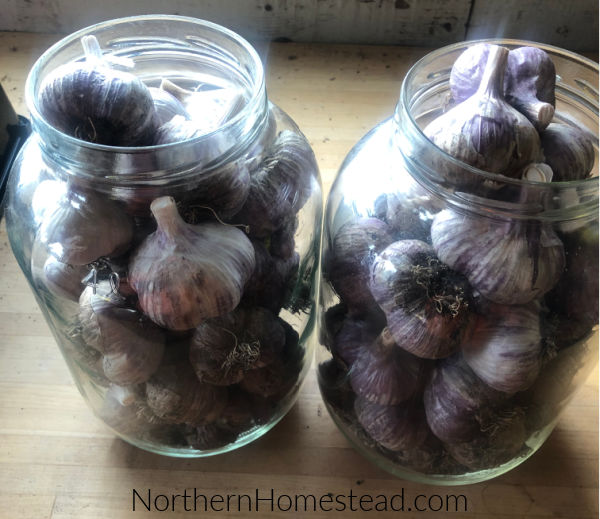 Then I learned from a Russian video to store garlic in an open glass jar, and I must say it works even better. I have since used only this method. The years are left open, so air can come in and store them just the same as the cardboard box, in our heating room in the basement.
Using garlic
Garlic is super yummy and very healthy as well. Read more about the medicinal properties of garlic. Fermented, raw, or cooked, garlic makes everything spicier. Here are some of our favorite recipes as well as from our homesteading friends (you might want to grow more garlic?).
Enjoy!
Fermented and pickled
Making fermented garlic and ways to use it
Easy fermented garlic and 5 recipes
Pickled garlic recipe
Dried garlic
All-natural homemade garlic powder
Make your own health remedies
Fire Cider (our favorite)
Foods for cold and flu
Plant-based garlic scape pesto recipe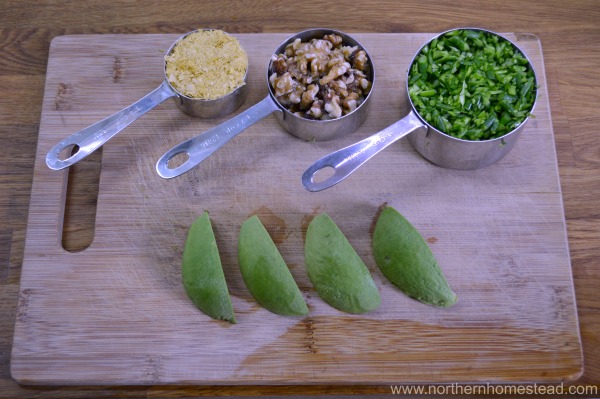 Here is a whole-food, plant-based recipe for garlic scape pesto.
1 cup chopped garlic scapes
1/2 cup walnuts
1/3 cup nutritional yeast
1 avocado
Combine everything in a food processor and process till the pesto is creamy.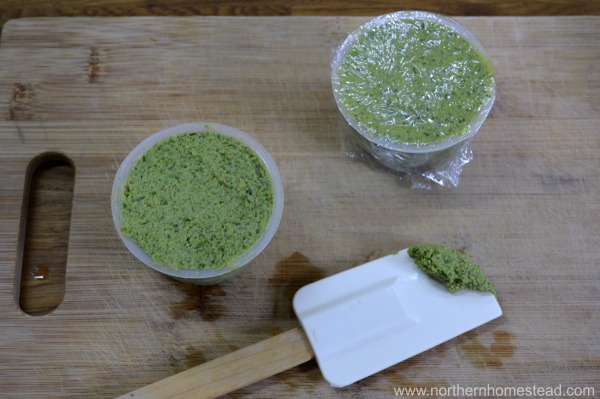 To store, place a plastic wrap right on top of the pesto, this way it will not turn brown.
Freezing garlic scapes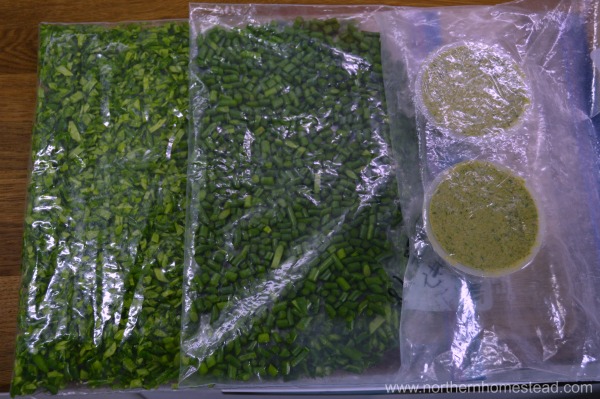 We use the deep freezer to preserve the tasty summer harvest of garlic scapes. Finely chopped for pesto, or cut for stir-fry and soups, or even the ready-made pesto can all be frozen.
We invite you to subscribe to Northern Homestead and follow us on Instagram, Facebook or Pinterest for the latest updates.
More Growing Food Posts You Might Enjoy: