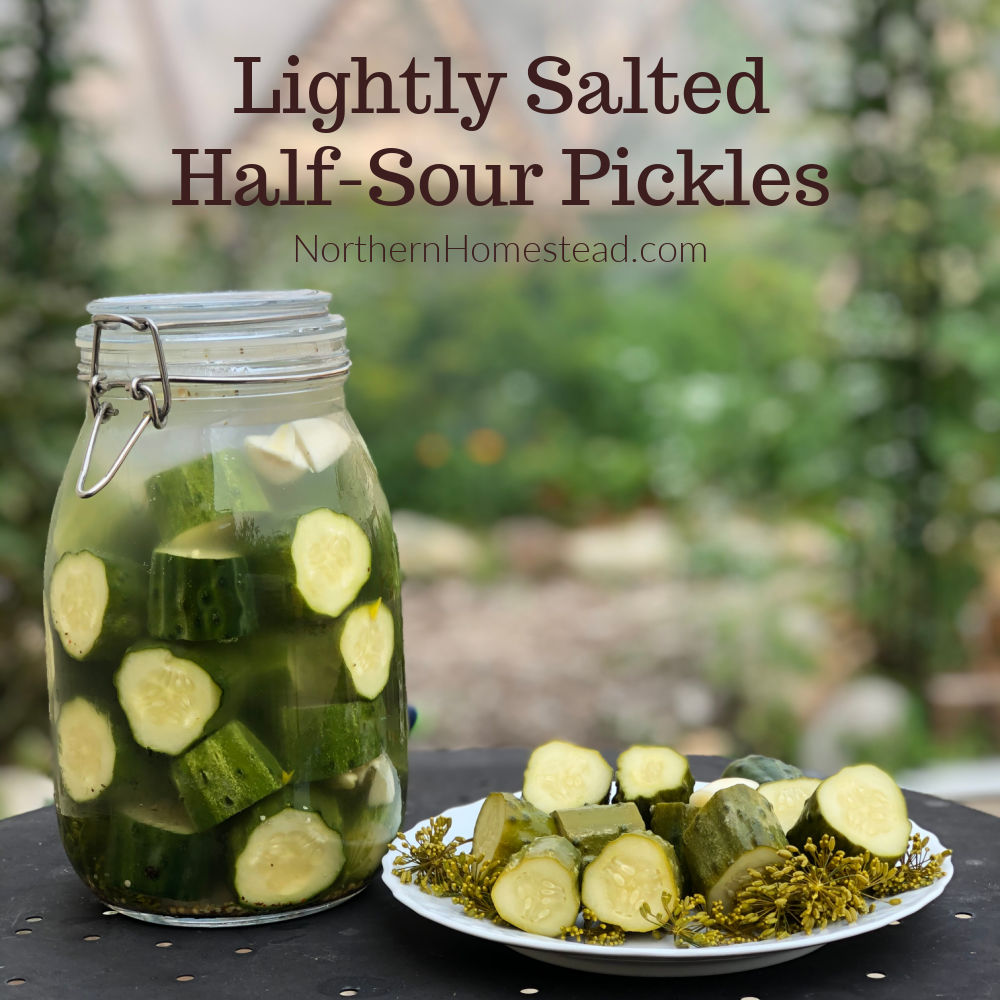 This lightly salted half-sour pickle is a traditional recipe that I learned from my mother-in-law. No family gathering was complete without this yummy treat. Crunchy, mildly sour, lightly salty, they complement nicely a festive dinner as well as a snack in between.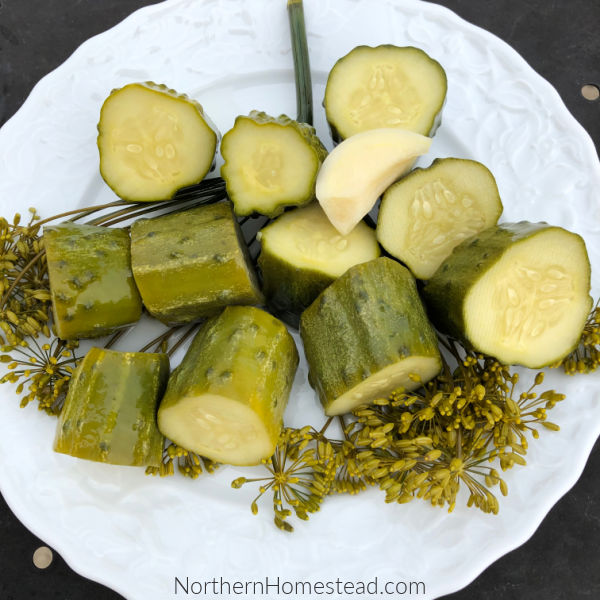 For these mild half-sour pickles, you do not need any special equipment nor special cucumbers. Any cucumber will do. My mother-in-law always used the English cucumbers from the store. 
I like to keep things really simple, the way our family has pickled for generations. For beginners, cucumbers are the best vegetable to start with. This is a simple way to ferment them for eating right away as fresh and lightly salted half-sour pickles.
What is the difference between half-sours and full-sours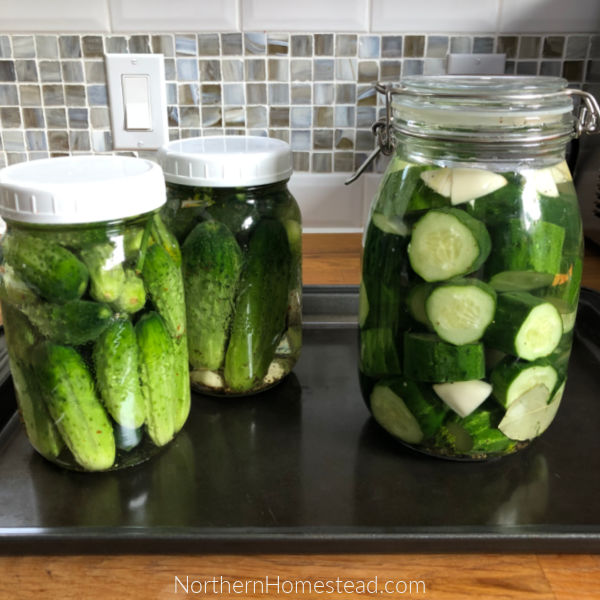 Most people only know half sours and full sour pickles. Note that this recipe is neither of them. But to make it more understandable, let's take a closer look. Also, if half-sour pickles were what you were looking for, here it is.
The difference between half-sour pickles and full-sour pickles is the time it takes to ferment them. In 3 days you will have half-sours, and in about 6 days you will have full-sours ready to eat. 
Any half-sour pickle will turn into a full sour if you give it time. After 3 days on the kitchen counter, it can go into the fridge and keep for months. 
For fermented half-sour (that will turn into full sours) you will need cucumber brine (1 Galon water 3/4 cup salt).
You want to use pickling cucumbers. Pickling cucumbers are shorter 3 to 4 inches (ca. 8 to 10 cm) and often have bumpy skin. They keep the form when fermented.
Slicing cucumbers vary from 4 to 10 inches (ca. 10 to 25 cm) in length and often have thicker skin than pickling cucumbers. If you make a full-sour slicing cucumber, it might not look very attractive.
What are lightly salted half-sour pickles?
Lightly salted half-sour pickles are a quick 1-day ferment. After 1-day out on the kitchen counter, they go into the fridge and last for about 10 days. Since they are made to enjoy fresh, they do not need so much salt. Since we love a less salty pickle, we love these lightly salted pickles a lot.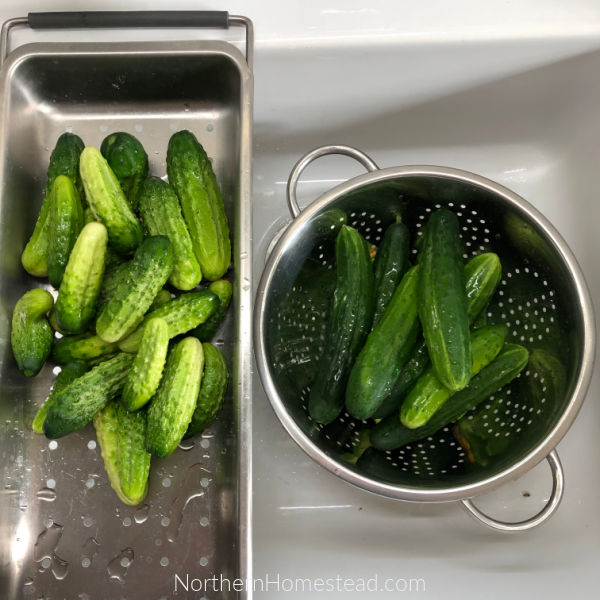 For the Lightly salted half-sour pickles recipe cucumbers can be of any size, shape, or variety. Bigger cucumbers can be sliced. Even English cucumber, the one that is readily available for most people works great.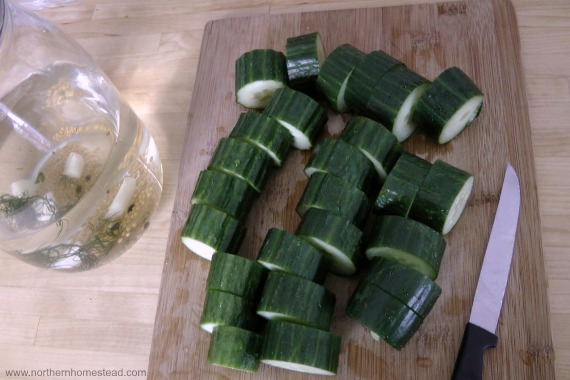 Whenever there is an overproduction of cucumbers in the garden or a great sale at the farmers market, make mild half-sour pickles.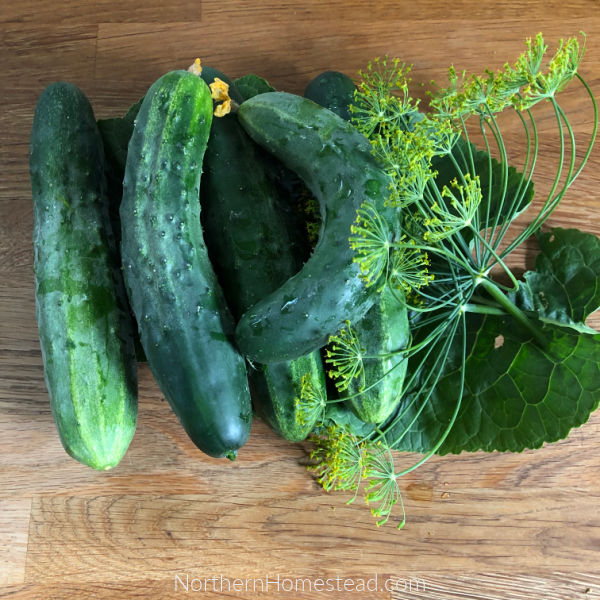 Besides cucumbers, you will need dill and garlic. Dill heads that have started to form seeds will add the most flavor. Flowering heads have a milder flavor. Dill greens can be used too. 
Garlic is a must. Crashed or sliced several cloves can be used. However, as in any traditional recipe, use as many or few as you like.
Horseradish, grapes, cherry, or currant leaves are added to keep the pickles crisp. They also each add a bit of unique flavor. Try it out and see what you like. The recipe works without them, but traditionally leaves are used. 
Any other spices are used to your liking. If there is one that is a must for you, add it. There is no right or wrong. 
Mild Fermented Half-Sour Pickles Recipe
How to make lightly salted half-sour pickles
The recipe is for a 2-quart (1.89 l) jar.
Author:
Anna @ Northern Homestead
Ingredients
Brine:
1 liter (32 oz) of filtered boiled water
1.5 tablespoons pickling salt
Dill
1-3 cloves of garlic, depending on your taste
Horseradish, grape, currant, or cherry leaves as available
Some black pepper kernels to taste
Mustard seeds, celery seeds, bay leaf, or pickling spices to your liking
About a pound of pickles or 2 English cucumbers sliced
Instructions
In a clean jar or container (It does not have to be sterilized, just clean) add some dill, leaves if used, and garlic.
Fill the jar or container with washed cucumbers. If using bigger or English cucumbers, cut them into 1-inch (2.54 cm) big pieces.
Top with some more garlic, leaves, and dill.
Prepare the brine
Let the boiled water cool for at least 5 minutes.
Add salt and spices if used and stir well.
If your house is very warm, let the brine cool some more. You don't want the fermentation to be too quick. If your house is on the cooler side use hot brine.
Cover the cucumber with brine. You want everything to be covered.
Waight everything down to keep it under the brine. n a container a plate with some weight on will do, for a jar, use a small container or weighting stone.
Keep on the kitchen counter for 1 day, transfer into the fridge and use soon.
Fermenting other vegetables
Using the same method, you can ferment almost any vegetable you can imagine. Add a sliced pepper to the cucumbers, it looks very ornamental and tastes great, too.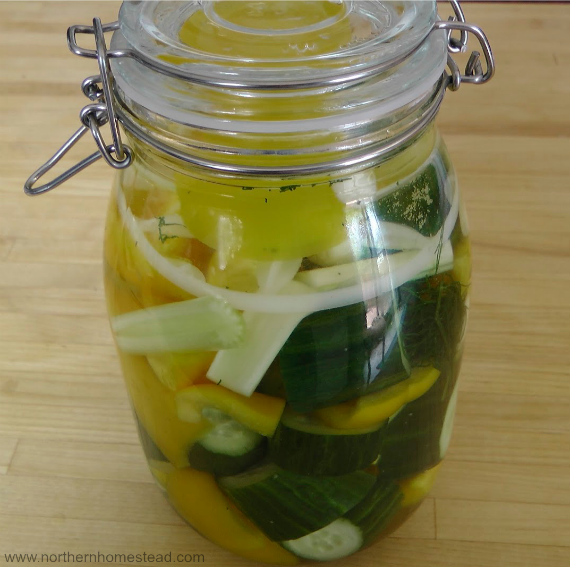 If you want to get more advanced in Fermentation
We would recommend Kirsten K. Shockey and Christopher Shockey's book: Fermented Vegetables: Creative Recipes for Fermenting 64 Vegetables & Herbs in Krauts, Kimchis, Brined Pickles, Chutneys, Relishes & Pastes
.
We invite you to subscribe to Northern Homestead and follow us on Instagram, Facebook, or Pinterest for more yummy recipes.
More Recipes You Might Enjoy: