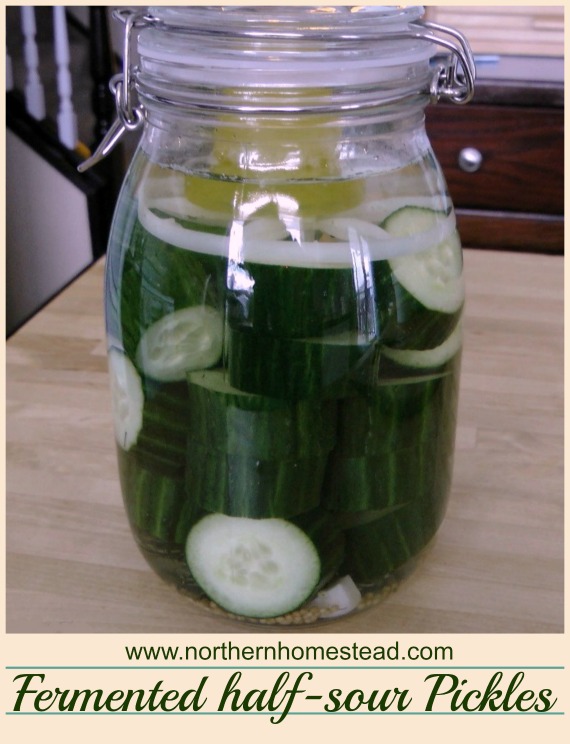 Fermented food is delicious and very healthy, and fermenting vegetables is very simple. You do not believe me? You don't have to. Just try it and you will be surprised. It takes just a few minutes of work and is delicious to eat. Fermented half-sour pickles are the perfect first-time ferment.
For laking of a better name, I called this recipe half-sour pickles, even though it might be better to call them mild sour. Normally you ferment half-sours for 3 days and you need more salt to keep them crisp, see the info below. We prefer to use less salt.
For these mild half-sour pickles, you do not need any special equipment nor special cucumbers. Any cucumber will do. Overgrown cucumbers from the garden as well as English cucumbers from the store. Yes, you can also use pickles, but they might be better for a real pickle recipe, that still uses less salt.
I like to keep things really simple, the way my family has pickled for generations. For beginners, cucumbers are the best vegetable to start with. This is a simple way to ferment them for eating right away as fresh and mild half-sour pickles.
What is the difference between half-sours and full-sours
The difference between half-sour pickles and full-sour pickles is first and foremost the time it takes to ferment them. In 3 days you will have half-sours, and in about 6 days you will have full-sours.
You want to use pickling cucumbers. Pickling cucumbers are shorter 3 to 4 inches (ca. 8 to 10 cm) and often have bumpy skin. They keep the form when fermented.
Slicing cucumbers vary from 4 to 10 inches (ca. 10 to 25 cm) in length and often have thicker skin than pickling cucumbers. If you make a full-sour slicing cucumber (let it ferment past four days), it might not look very attractive.
For fermented half-sour or full sour pickles, you will need cucumber brine (1 Galon water 3/4 cup salt).
If you are curious to try something new, here is the mild, less salty half-sour pickle recipe: 
How To Make Fermented Mild Cucumbers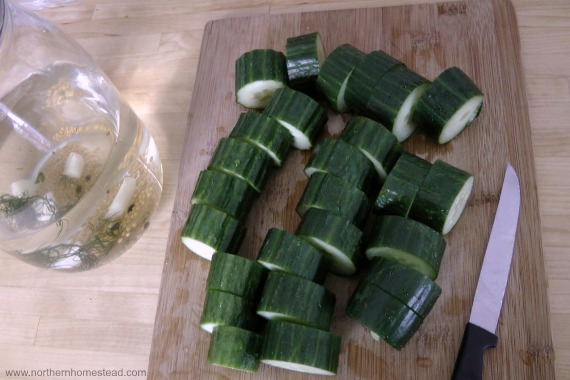 The cucumbers can be of any size, shape, or variety. Since we are not fermenting them to keep for long time storage. Bigger cucumbers can be sliced. In this recipe picture, I show you a sliced English cucumber, the one that is the easiest available for most people.

Whenever there is an overproduction of cucumbers in the garden or a great sale at the farmers market, make mild half-sour pickles. So let's get started.

How to make fermented half-sour pickles
The recipe is for a 2-quart (1.89 l) jar.
Author:
Anna @ Northern Homestead
Ingredients
Brine:
1 liter (32 oz) of filtered or culled boiled water
1.5 tablespoons pickling salt for cucumbers, 1 tablespoon for other vegetables. (I make the tablespoon heaped - do not use iodine salt!)
Dill fresh or frozen in cubes
1-3 cloves of garlic, depending on your taste
About a teaspoon of mustard seeds
2-3 slices of fresh horseradish root or a fresh horseradish leave (grape leaves can be used as well)
Some black pepper kernels and master seeds.
2 English cucumbers sliced - or about a pound of cucumbers
Instructions
Put all the ingredients for the brine into a jar or container and stir well.
If using English cucumbers, cut them into 1 inch (2.54 cm) big pieces and add them to the jar so that they are all covered in brine. It will take about two English cucumbers.
Push the cucumbers down by using whatever fits into your container. In a bucket a plate with some weight on will do, for a jar, I use a small container.
Keep in a warm place for 1-3 days, depending on how strong you want them to be. They can be eaten right away. Keep in the fridge and use soon.
Fermenting other vegetables
Using the same method, you can ferment almost any vegetable you can imagine. Add a sliced pepper to the cucumbers, it looks very ornamental and tastes great.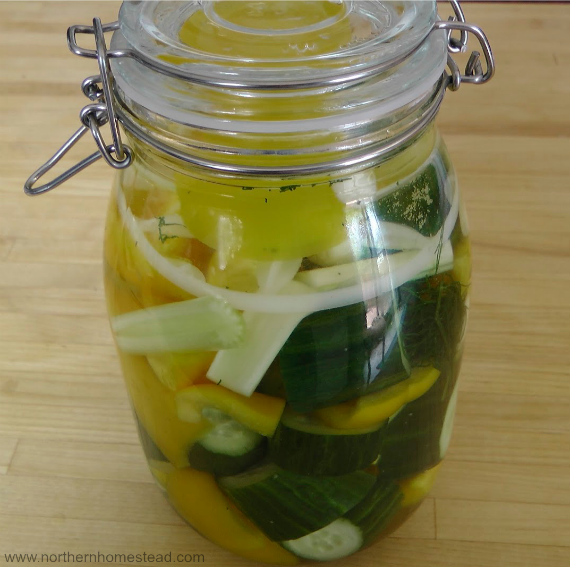 Once all the cucumbers are eaten, fill the jar with tomatoes. Cherry tomatoes work best for that. Yum, half-sour tomatoes!
If you want to get more advanced in Fermentation
We would recommend Kirsten K. Shockey and Christopher Shockey's book: Fermented Vegetables: Creative Recipes for Fermenting 64 Vegetables & Herbs in Krauts, Kimchis, Brined Pickles, Chutneys, Relishes & Pastes
.
We invite you to subscribe to Northern Homestead and follow us on Instagram, Facebook, or Pinterest for more yummy recipes.
More Recipes You Might Enjoy: