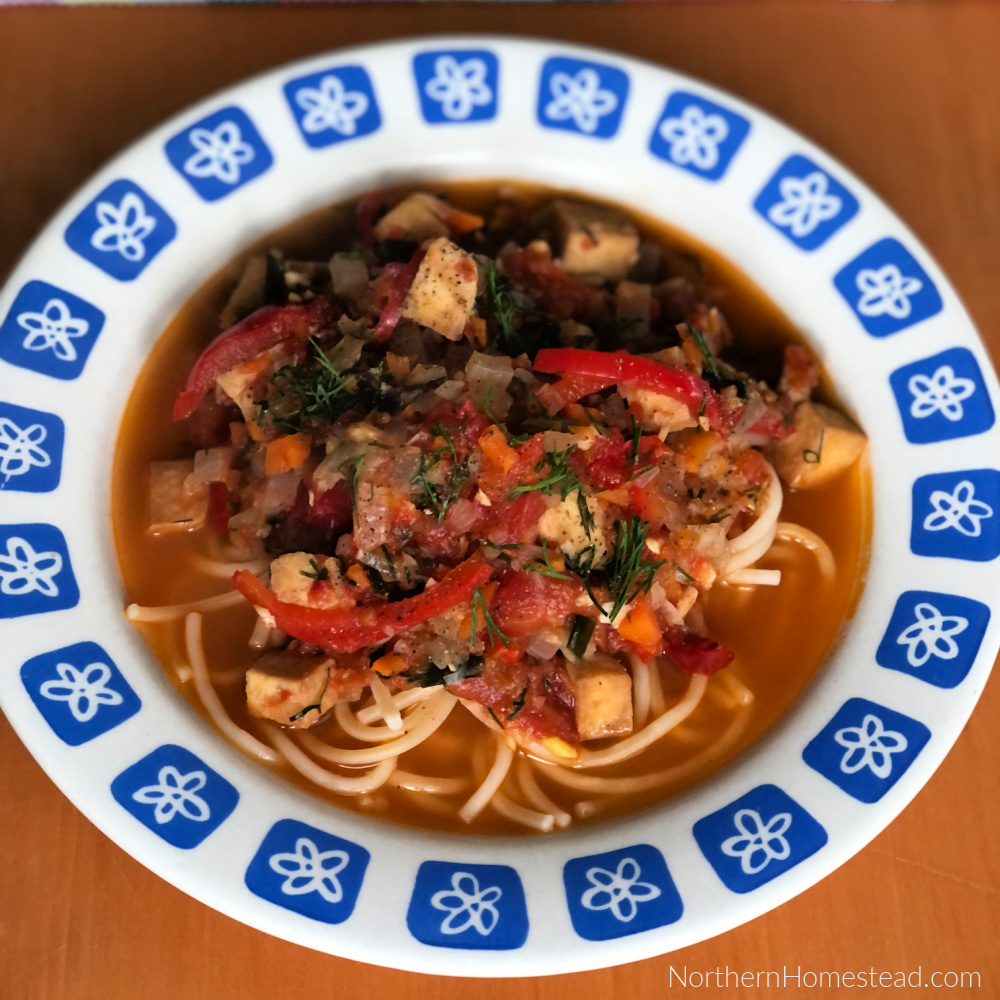 So you grew all those beautiful radishes and don't know what to do with them? Here is a flavourful Lagman veggie noodle soup recipe that uses radish and you might actually love it. 
Lagman is a yummy recipe that is present in many Asian ethnic groups. Apparently, it is a national dish of the Uyghur people, an ethnicity whose representatives live in China, Kazakhstan, Uzbekistan, Kyrgyzstan, etc. Let's give the Uyghur people their well-deserved credit for this amazing dish!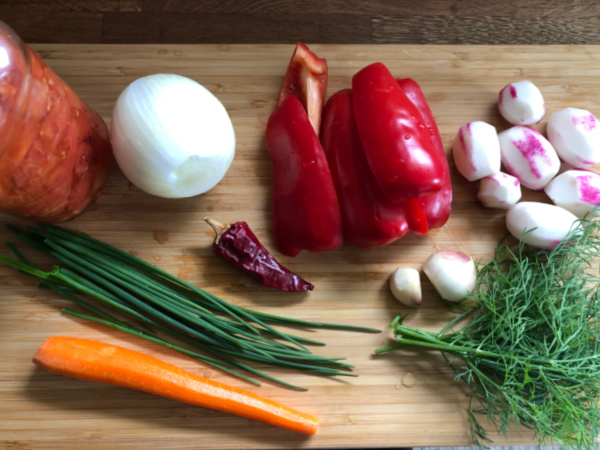 I have been wanting to share the recipe for a very long time, but there are two challenges with it. For one it's a traditional recipe and like all traditional recipes, it varies greatly. I'm sharing with you here the version I know from the Dungan(Hui) people that lived in the area we grew up in, with my own personal touch.  
For two, technically speaking what I am sharing here with you is not Lagman, just the soup/sauce of it. It goes well with any thin and long noodles available to you in the store. 
Lagman is for the Asians like spaghetti for Italiens. Spaghetti noodles are usually served with some sort of tomato sauce or spaghetti bolognese. But the main thing that makes a spaghetti meal a spaghetti meal is the noodles. Same with Lagman.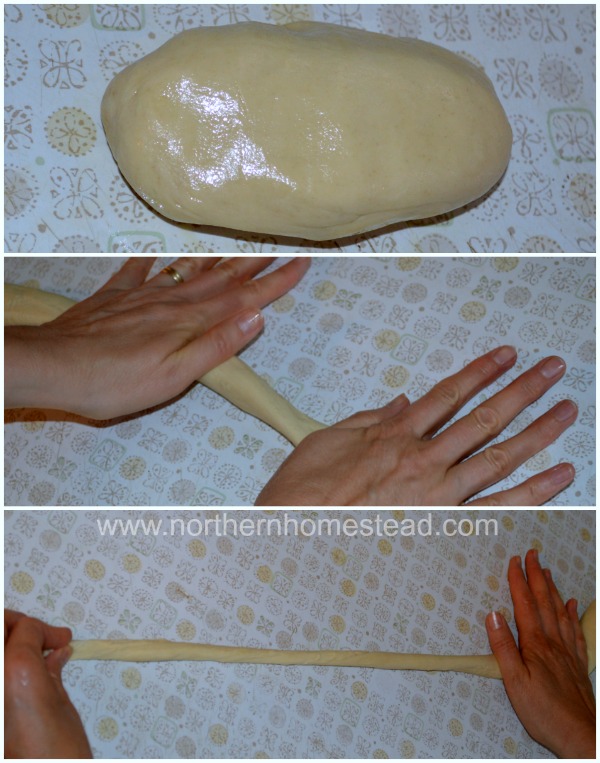 Lagman is a very thin, hand-pulled noodle that is served with vegetable soup. For the sake of sharing the recipe, I actually tried making those special noodles, but give up midways :(. So, once again we enjoyed the Lagman soup with spaghetti noodles. And we love that combination anyways.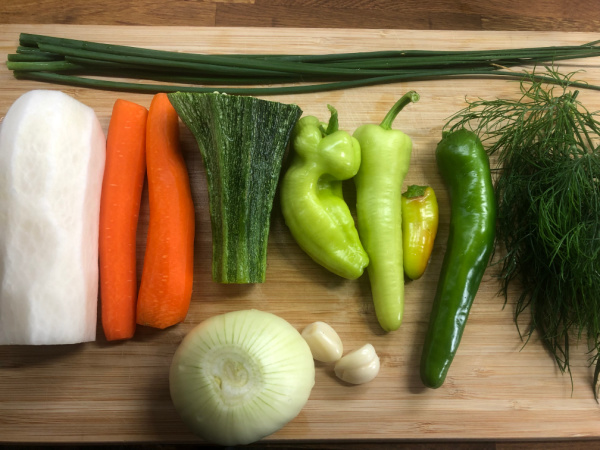 The vegetable varieties added to Lagman most likely depended on the region, and what kind of vegetables grew in the kitchen garden. Having a recipe and a shopping list is a very modern way to cook. Traditional recipes come from times when the ingredients grew in the garden.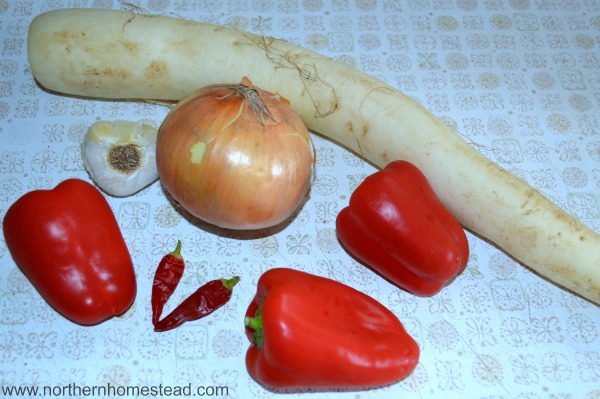 The Lagman we know and have always made uses daikon radish. It can be substituted with breakfast radish. But some kind of radish is a must-have ingredient. It turns out to be a spicy dish, we like it a lot. 
A daikon radish root is of course much bigger than you would need for one meal. I have found that it freezes well. I just grate or chop it all and freeze it in portions for more Lagman meals. The same is true for breakfast radish. If you grew too many, just prepare and freeze. As always grated, chopped or thinly sliced vegetables do not have to be blanched.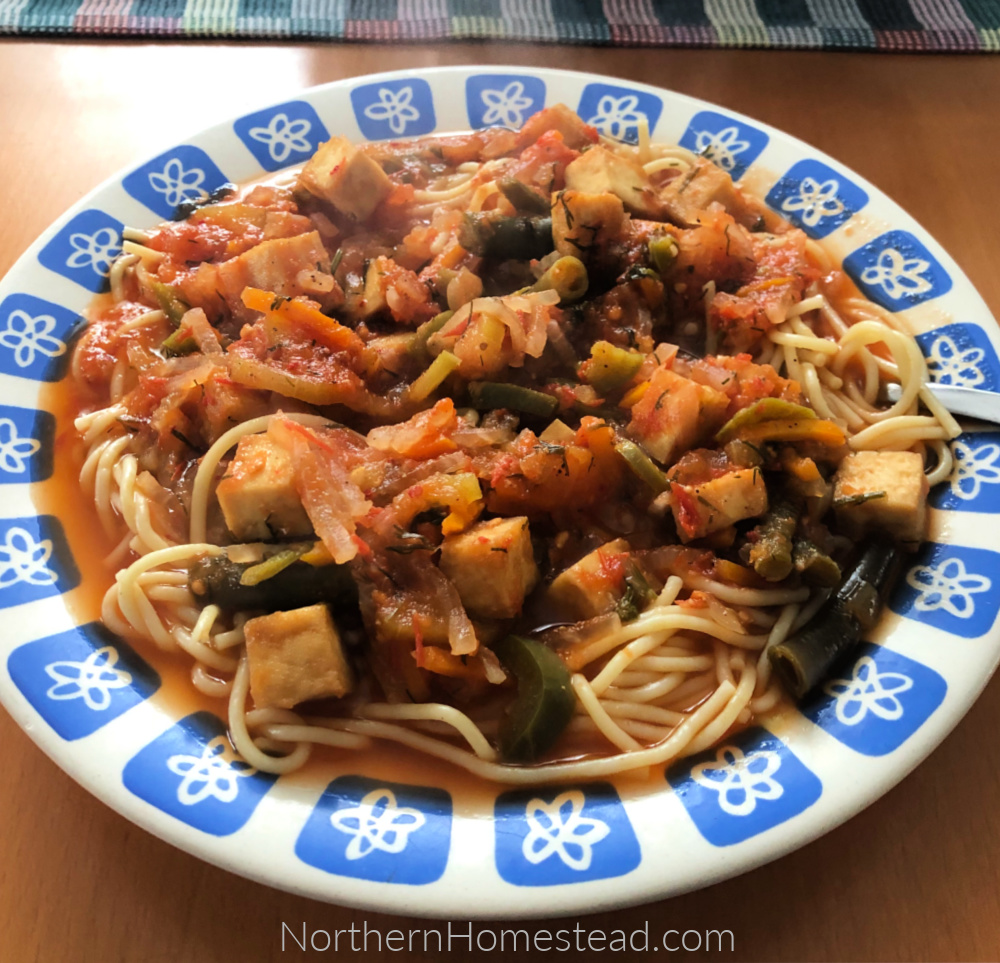 Searching for Lagman, I found that for some the use of string beans is a must instead of radish. It makes for a milder taste of Lagman. It's a great alternative if radish is a no-go or just simply, not available. 
I also have seen many recipes that did not use radishes or beans. But peppers (preferably hot) and tomatoes are the common ingredients for all.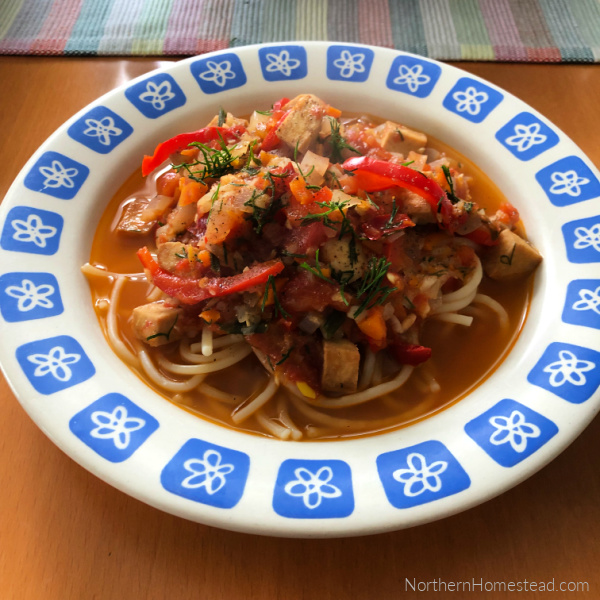 We have made Lagman soup/sauce in many different ways too, as you can see in the many pictures I included. Do not hesitate to use what grows in your garden in a freestyle cook fashion.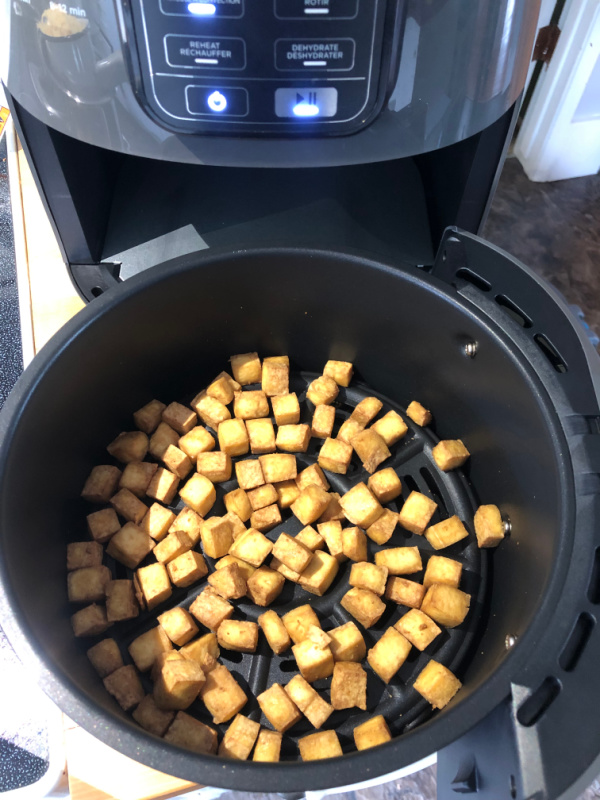 Is Lagman Vegan?
No, traditionally Lagman is made with thinly sliced or cubed lamb meat. We make it without meat. Instead, I air-fry tofu that is coated in Braggs liquid amino and some olive oil, for about 10-15 minutes. We like it a bit crispy, and add it to the soup at the end of the cooking time.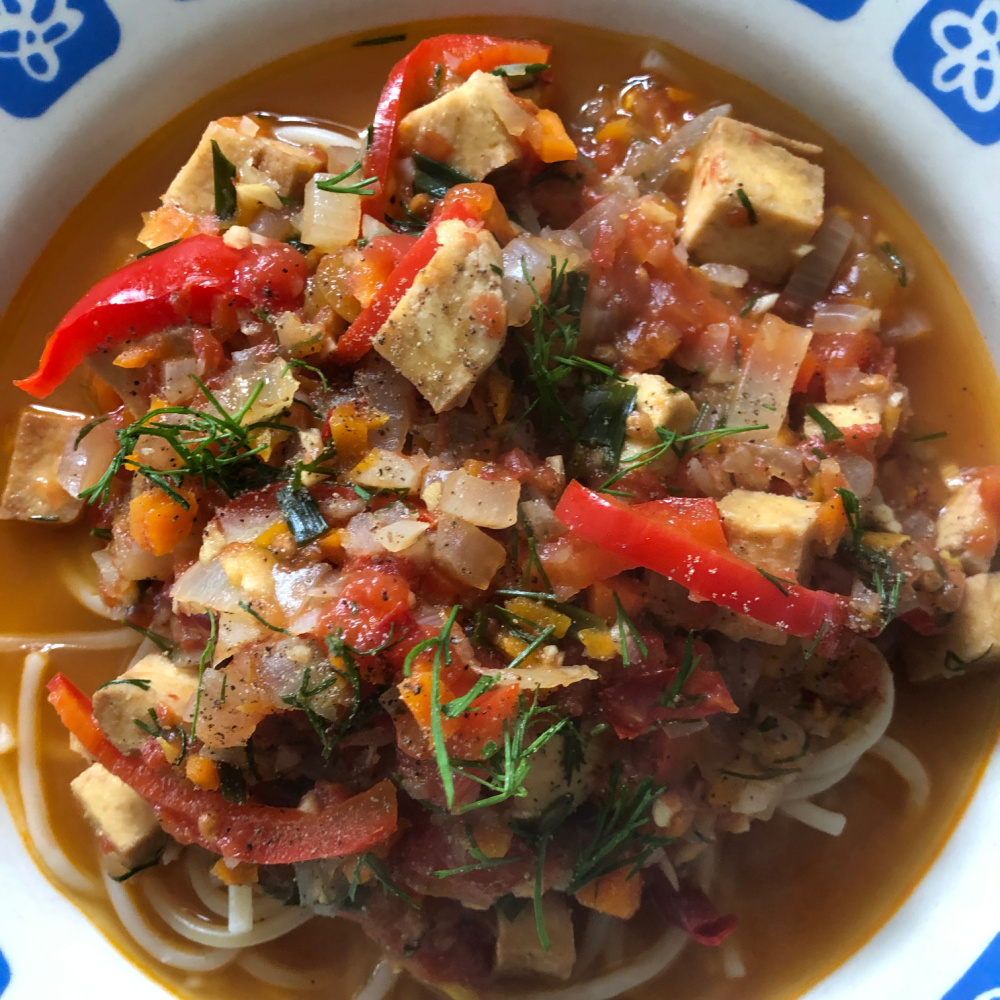 The result is a flavourful, vegan, veggie noodle soup. 

Lagman Recipe a Flavourful Veggie Noodle Soup
Author:
Anna @ Northern Homestead
Ingredients
1 cup diced onions
1-2 garlic cloves
1 cup grated daikon radish
1 cup red sliced pepper
1-2 hot pepper (to taste)
1 cup grated/diced zucchini, carrots, and/or potatoes (or a mix of all)
2-3 cups canned tomatoes (or 3 tablespoons tomato paste)
2 cups water or vegetable broth (add 2 more cups of water when using tomato paste)
350g extra firm tofu
Olive oil
soy sauce (I use Braggs liquid amino)
Salt and pepper to taste
Garlic chive
Dill
Instructions
In some oil or water sauté the onions till glassy,
Add garlic and all the vegetables, and sauté for another minute or two
mix in canned tomatoes or tomato paste in
ad vegetable broth or water
cook for 20 minutes or till done to your liking
Meanwhile cube the extra firm tofu
coat with some olive oil and soy sauce to your taste (about a teaspoon each)
Air fry or bake for 10-15 minutes
When the Lagman is done cooking add the tofu
sprinkle with herbs
add seasoning
Serve on hand-pulled noodles or spaghetti
Now if you have never had Lagman, and are willing to try it, please tell us how you like it.
We invite you to subscribe to Northern Homestead and follow us on Facebook, Instagram, or Pinterest for more great recipes.
More Recipes You Might Enjoy: