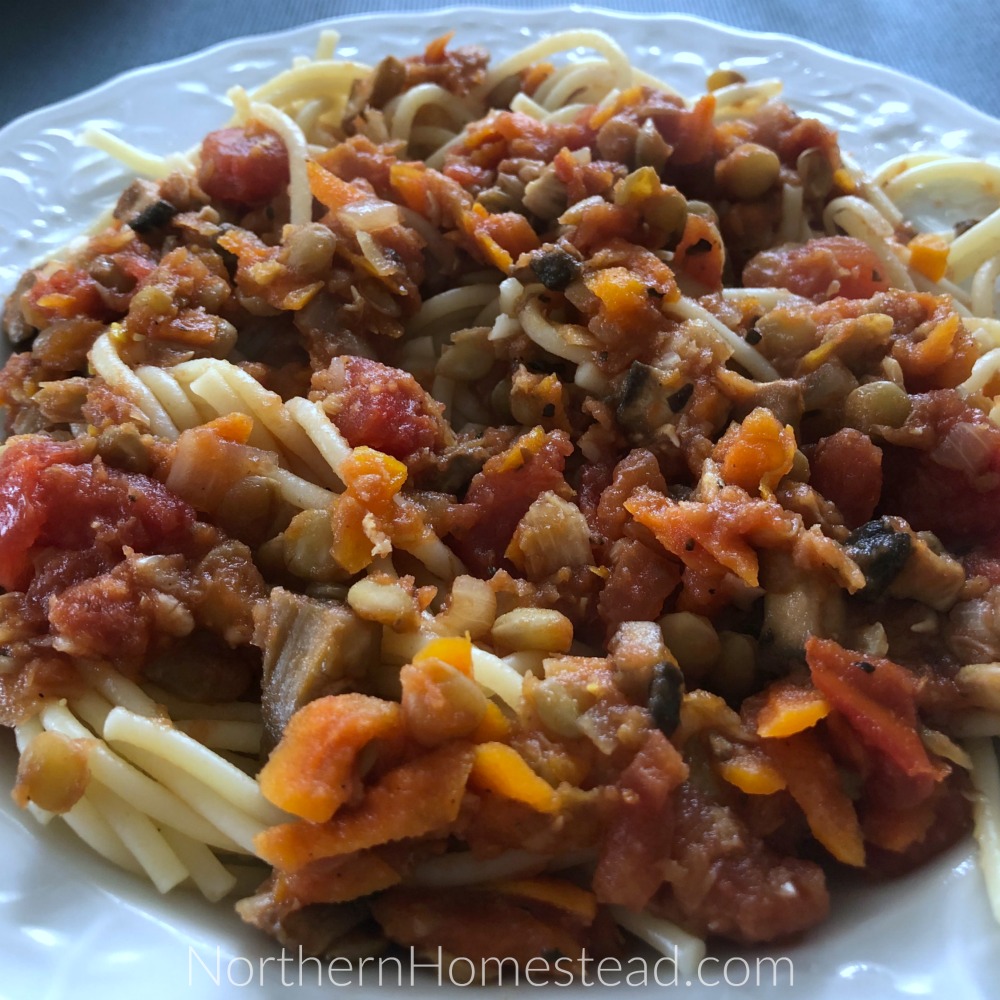 Spaghetti bolognese sauce from scratch has been a favourite simple meal of ours for years. Now we also make it plant-based and love it even more. It is a bit more work than to just opening a jar, but it's so worth it. After all, if you make it from scratch you know exactly what you get – all healthy and wholesome. By the way, the plant-based Spaghetti Bolognese Sauce tests great on mashed potatoes too. Try it out.
We like to use homegrown ingredients wherever we can. Fresh carrots taste just as good as frozen grated carrots. Crashed tomatoes can be replaced with the oven roasted tomato sauce, making the spaghetti bolognese even better. We like to serve it with fresh salad, and organic corn or a nut-based Parmesan cheese from the "How not to die cookbook". Yum!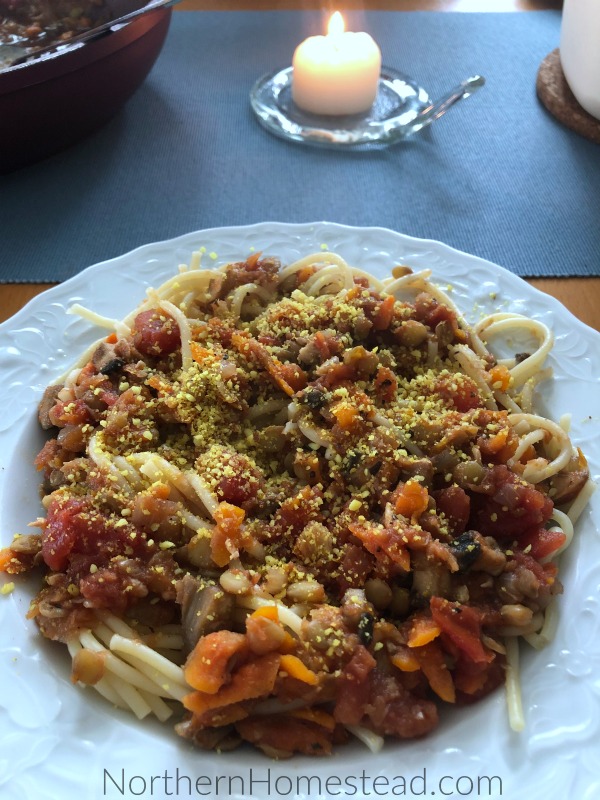 For years we have made spaghetti bolognese sauce from scratch with ground beef, preferably grass-fed and finished. If we are to eat meat, we want it to be from animals that have had a good life. Local trusted farmers are the best source for it.
Spaghetti bolognese sauce does not have to include meat, it's just as yummy plant-based and even better for you. Using precooked green, red or brown lentils, and chopped mushrooms it becomes a whole-food, plant-based healthy dish.

Spaghetti Bolognese Sauce From Scratch
Author:
Anna @ Northern Homestead
Ingredients
1 good sized onion (chopped)
1-2 garlic cloves
1 cup ground carrot (or finely grated)
1.5 cup chopped mushrooms
1.5 cup precooked lentils (Or 1lb ground beef)
700 ml - About 3 cups - crushed tomatoes
fresh or dried basil
salt and pepper/paprika to taste
Instructions
Saute on medium-high heat the chopped onions, add a tablespoon of olive oil or a few tablespoons of water.
When the onions are glassy add pressed garlic, carrots, and mushrooms.
Saute a bit, being careful not to burn it, and then add the tomatoes and pre-cooked or canned lentils or beans.
Add the herbs, and seasonings you like, cover the pan with a lid and let simmer on low heat for 10-15 minutes.
During that time cook your favorite spaghetti pasta.
We invite you to subscribe to Northern Homestead and follow us on Instagram, Facebook or Pinterest for more great recipes.
More Recipes You Might Enjoy: