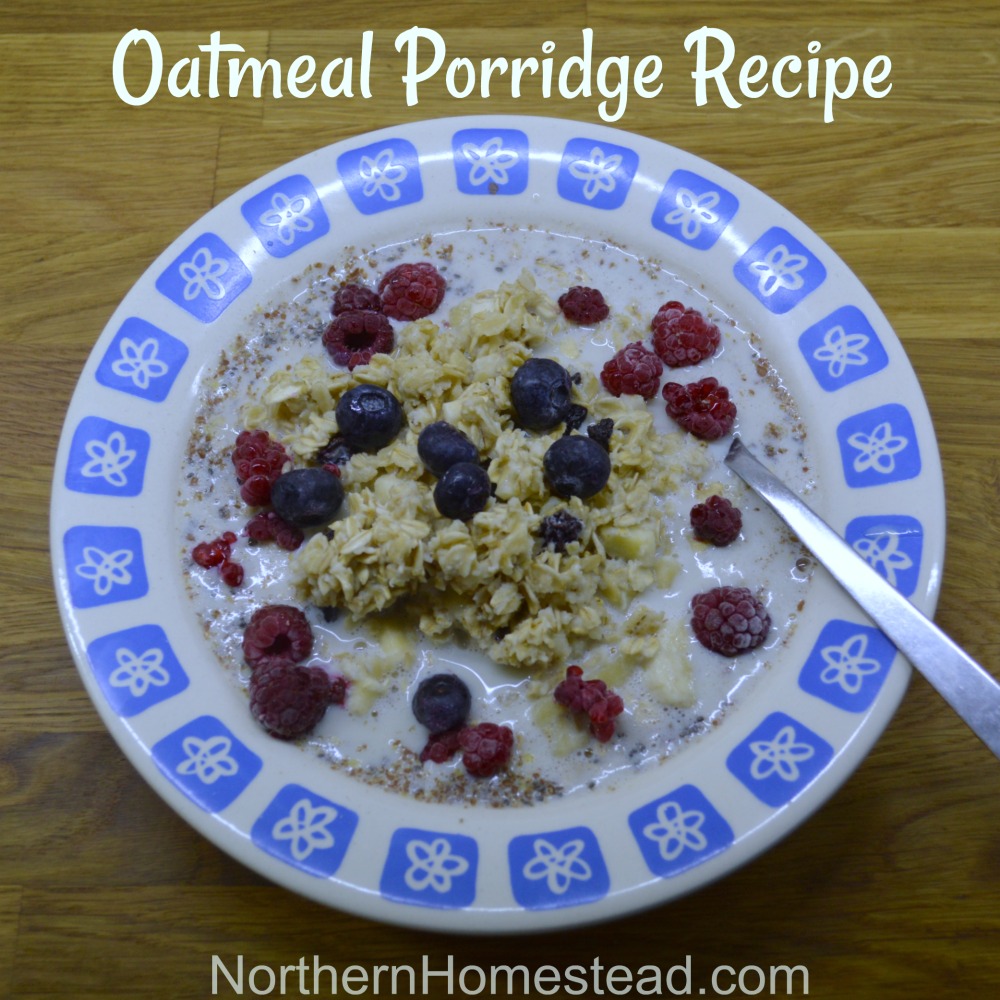 This oatmeal porridge recipe is my favorite breakfast recipe at the moment. It is yummy and healthy at the same time. You get whole grain, high on omega 3 seeds, nuts, fruit, and berries all in one meal.
I tend to find a recipe that I like and stick to it for months, sometimes years till I'm done with it. Then I move on to the next. Anyone with me on this?
For years I would make Dr. Budwig quark mixture breakfast almost every day. Then I noticed that dairy did not agree with me so well. I switched to organic dairy and made the quark for the recipe out of it. It did make a difference but still was not great.
My doctor suggested I would eat more oatmeal. So I started to experiment with oatmeal porridge but was not a fan of it. I do not care for mushy porridge, and the steel cut oat had not the right texture either.
Thankfully I didn't give up, because there is a great way to have an oatmeal porridge for every taste. This one even is reminding me tastewise of the quark mixture, but it's all just plant-based.
What oatmeal to choose
Oatmeal is a great grain that is worth including into your diet. It comes in different varieties and forms.
Steel cut oats are oat groats that have been cut into pieces. I use this for grinding into flour since I haven't yet been able to find oat groats in the store.
Next comes rolled oats. Rolled oats are just what the name says, flat-rolled oats. We actually own an oat roller and could make it our self, but since to find a good organic source of oat groats has been rather difficult, we just buy the rolled oats from the store.
The most processed of the three oat varieties are the instant oats also referred to as quick oats. They are pre-cooked, dried, and then rolled and pressed slightly thinner than rolled oats. They cook more quickly than steel-cut or rolled oats, but retain less of their texture, and often cook up mushy.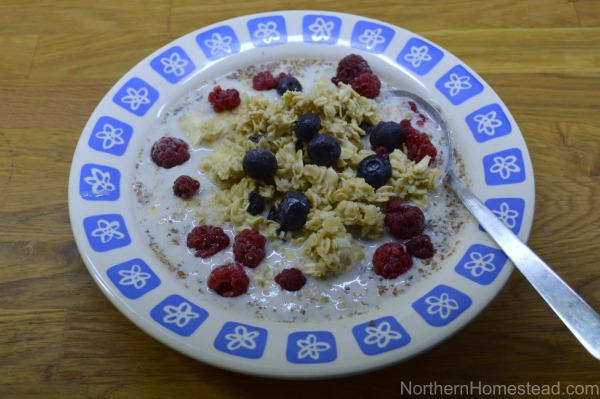 For this recipe, we use rolled oats that normally would take about 5 minutes to cook.
Oatmeal Porridge Recipe Ingredients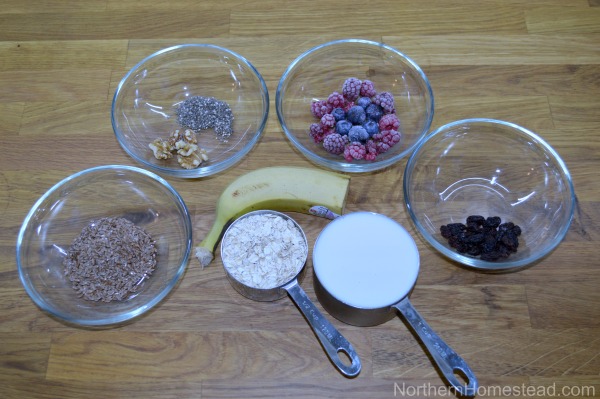 1 cup plant milk (we use unsweetened soy beverage)
1/2 cup rolled oats (loosely filled)
1/2 -1 ripe banana cut into pieces
1 tablespoon raisins
1 heaped tablespoon flax seeds freshly ground in a coffee grinder
1/2 tablespoon chia seeds
1-2 walnuts broken into pieces
1 hand full berries fresh or frozen.
Oatmeal Porridge Recipe Instructions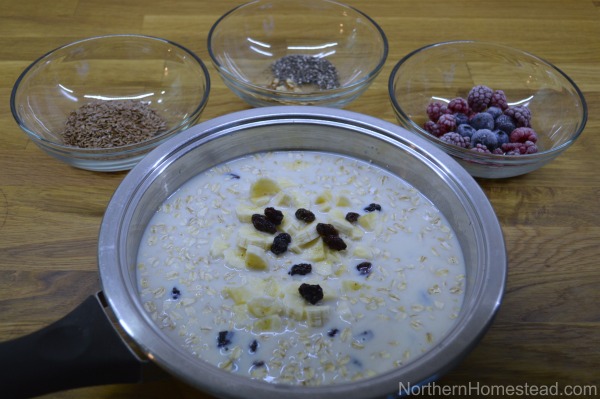 In a pan combine the plant milk, rolled oats, chopped into pieces banana and the raisins.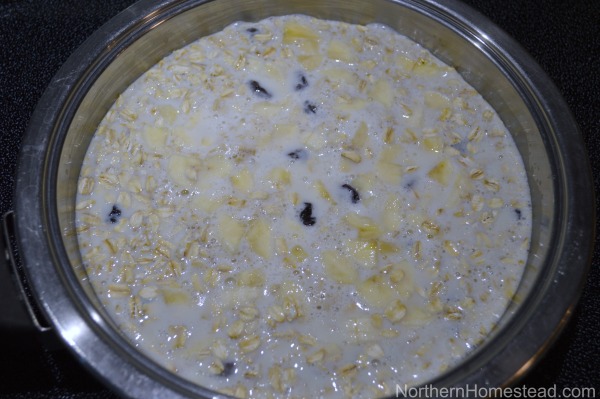 Bring all together to a boil and turn off the heat. I do not cook it so the oats are still intact. As I said above, mushy porridge is just not my thing. If you like your oats well cooked, by all means, cook it according to your liking.
Meanwhile, grind the flax seeds and crush the walnuts into pieces. Add the nuts and seeds to a plate. Mix them together. I often add the berries, fresh or frozen at this point too, but they can also be served on top.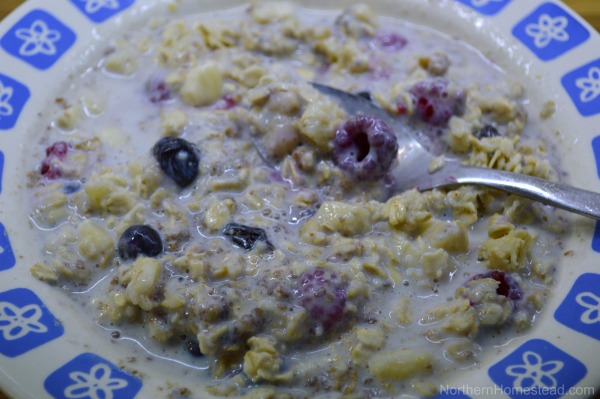 Add the hot oatmeal, mix and enjoy!
Here the printable version for the recipe:

I love this oatmeal porridge recipe and look forward to my breakfast every night. It's easy to make and often Jakob would make it for me, which is a special treat.
If you do not like the typical oatmeal porridge, try this recipe and let me know how you liked it in a comment below. It might become your favorite, too.
We invite you to subscribe to Northern Homestead and follow us on Facebook or Pinterest for more great recipes.
More Recipes You Might Enjoy: