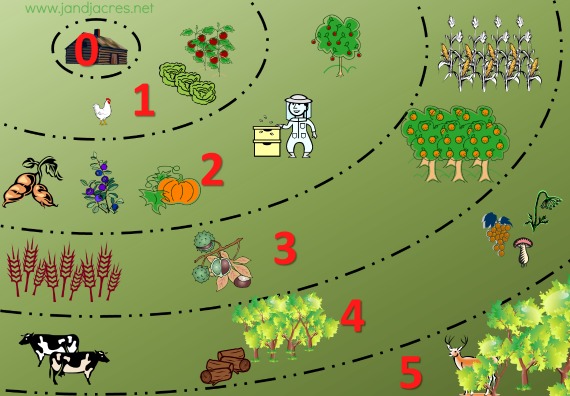 If you know just a little bit about permaculture, you have heard about permaculture zones. The zones help to design a property so it saves time and energy to care for the site and also makes it more efficient. Things that need the most care are closer to the house (zone 1), and things that you only need to visit or care for a few times a year are farther away (zone 3-5). It all totally makes sense, except what if you only have 1/8 of an acre?
We have pondered this question by making plans for our homestead. Can or should we squish in as many zones as possible? Or should we not care about zones at all.
What are the permaculture Zones?
Zone 1, or some start with 0 is the house and things that need the most care. The kitchen and herb garden, chickens, compost pile are all great to place into zone 1. Everything that needs attention on a daily basis.
Zone 2 could be the vegetable garden, berries, and other things that need attention on a weekly basis.
Zone 3 could be the fruit forest, and field crop. As a rule of thumb, things that need attention on a monthly basis.
Zone 4 could be the forest, where you gather food or wood for fire etc on a yearly basis.
Zone 5 is the so cold do nothing zone. just observe and enjoy.
The idea behind the permaculture zones is to make the chores simpler. The walking distance to and from is shorter if it needs more attention.
Can a place
be too small for permaculture zoning?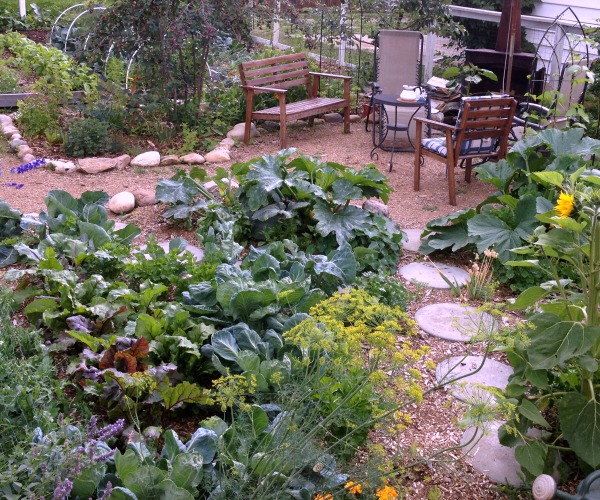 On our urban property, we can overlook our whole garden and a few neighbor gardens from our kitchen window. No corner in our yard is far away from our house. So with this in mind, we designed the garden more according to shade and sunshine than zones, as well as to what we can not outsource, like fruit trees, that according to permaculture zones would not be so close to the house. This way we could get the most use from the little space we have.
Permaculture zones do not have to be all on our own property
Still, even though we designed our property not according to zones, we still have the permaculture zones in mind and use them. Even though we have things from zone 1 -3 on our small property, we also outsourced things from zone 2 -5 outside our property.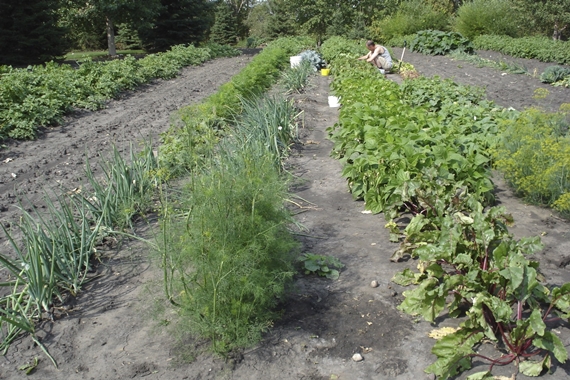 We grow a garden at the house and a nearby farm or community garden. Things that need more care are at home. Things that need less care and bring in a greater harvest, like potatoes and other root vegetables, are at the farm. We do not divide the garden into a kitchen and root vegetable garden. Instead, if we find farmland close by we can grow more tender plants there, if it is very far, we stick to simple crops.
We bring our wood from a forest and use "You Picks" for things we can't possibly grow ourselves.
Permaculture design makes sense and is applicable in almost all situations, just not everywhere the same. But isn't that permaculture in itself? Looking for solutions no matter what the situation.
Learn more about permaculture zones
Learn more about permaculture from Jared at J&J Acres. The main picture is from this video (thank you Jared for your permission to use it): Jared is taking a permacultural course and shares as he learns new things.
Books on permaculture: A Practical Guide to Small-Scale, Integrative Farming and Gardening by Sepp Holzer's; A Guide to Home-Scale Permaculture by Gaia's Garden.
We invite you to subscribe to our newsletter and follow us on Instagram, Facebook, or Pinterest so you do not miss a thing.
More permaculture posts you might enjoy