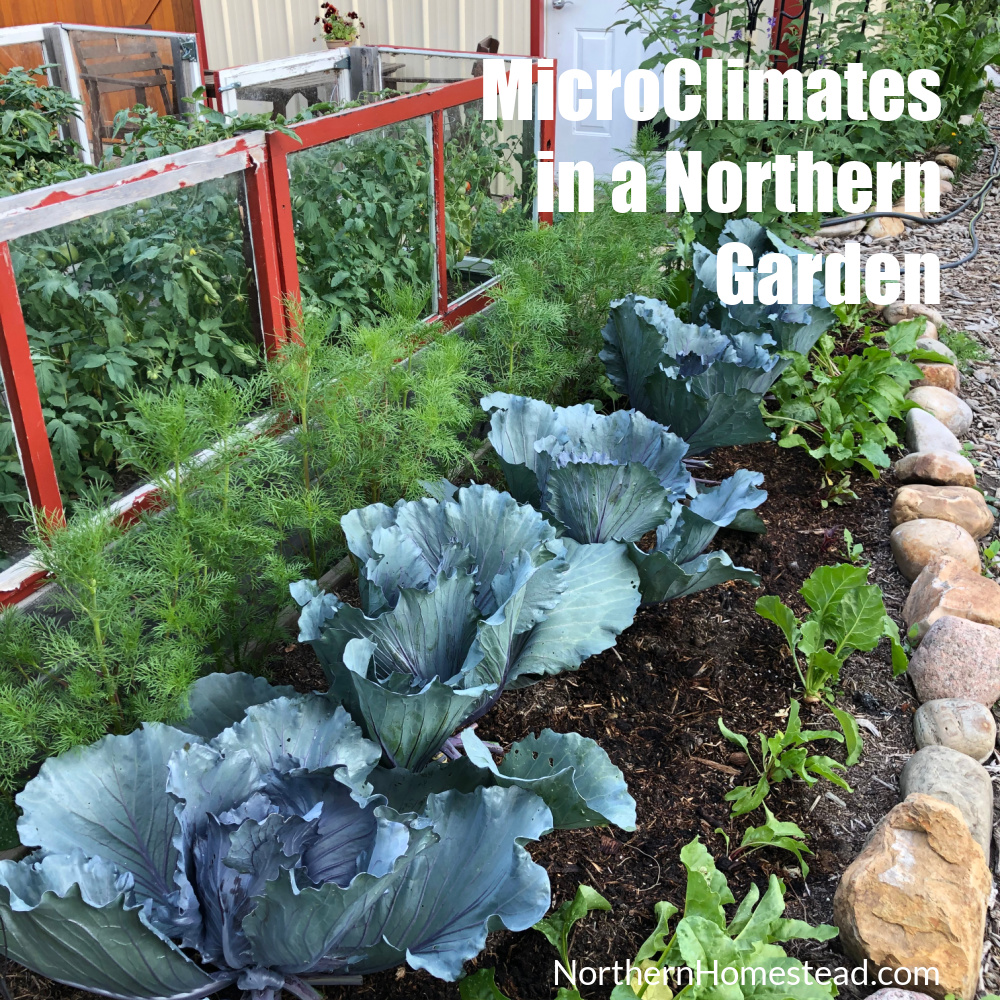 If you garden in a cold climate, a microclimate can make all the difference between no frost or frost damage, and ripe or green tomatoes in your garden. A few degrees colder or warmer can have a huge impact on what we can grow and how well the garden is producing. So let's take a closer look into microclimates in a northern garden!
A microclimate is a subject for any climate, but since we are in a cold climate, we will look at it from that perspective.
Know your climate
In order to create a microclimate, we first want to know our climate. How does the sun moves in the sky, will tell us how the shade impacts our property. On a small piece of land, or garden you can make a shade survey. We share here how we did it.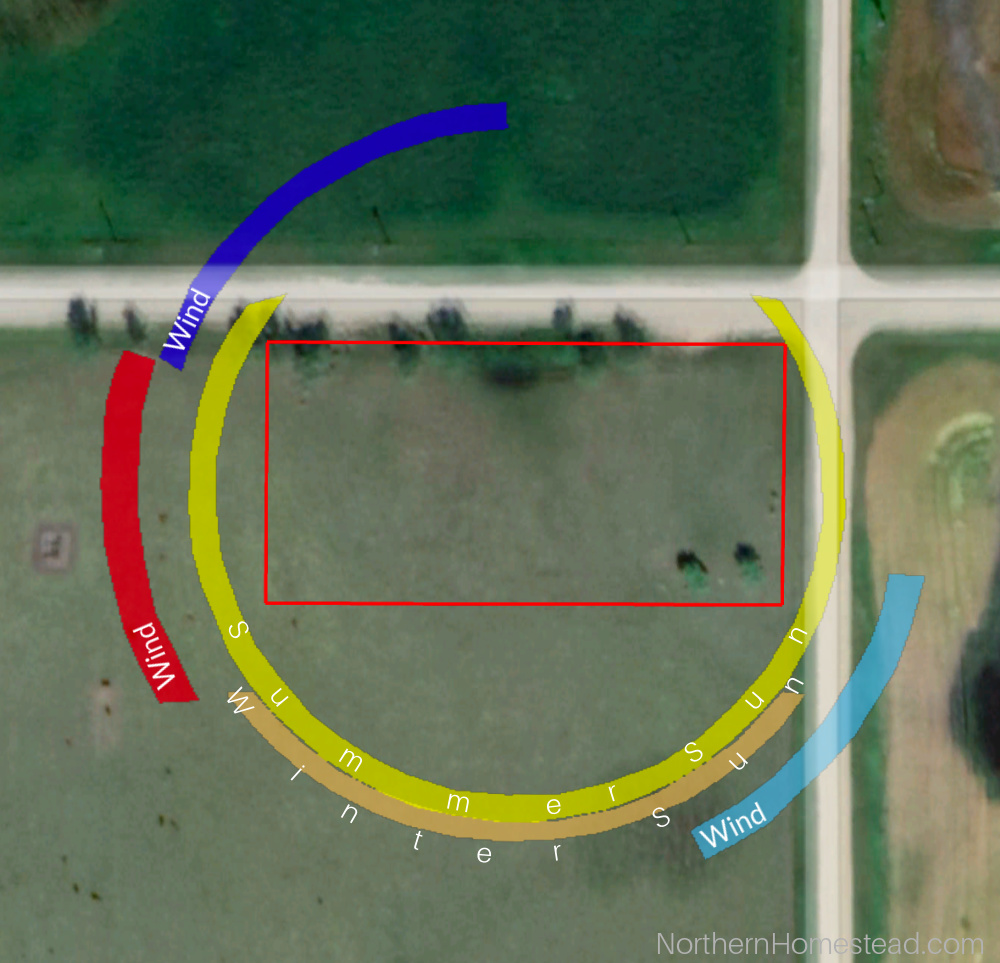 We also want to know where the prevailing wind comes from. Iowa state university offers great information on that. Just type in your location, and you can see what winds are you dealing with. I made the above wheel during my Contour Map Generator training which is included either with the Basic contour map or comprehensive map generator package.
Now let's take a look into some microclimates that we can use or create to our advantage.
Hill country microclimate
The most obvious and most noticeable microclimates are in the hill country. The slope to the sun is always warmer than the shaded side, and for that, you want to know the topography of the land.
In early spring roads in our area that are going east-west will have an already snow-free side and a snow-covered roadside. What is obvious on a steep hill is just as true on a slight slope in your garden, even if it is not as visible.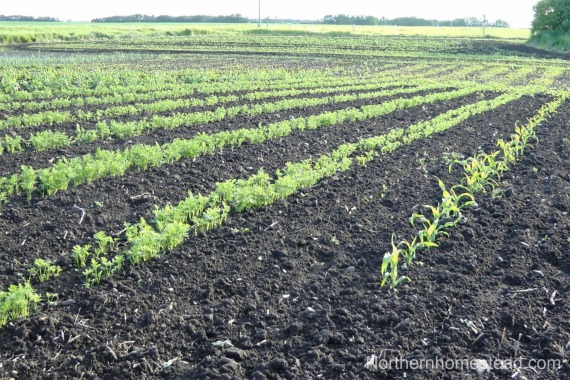 A slope against the sun will always be cooler. Our community garden had a northern (against the sun) slope. We could still grow all kinds of winter and root vegetables there. However, fellow gardeners who tried to grow tomatoes were not able to get ripe ones.
On a steeper hill, placing the garden halfway up the sunny side of the hill allows us to use the warmer microclimate there. Frost falls and flows like a river, especially in an old river bed with no water, avoiding those lower points. The hilltop will get a lot more cold wind. The sunny hillside is the warmest place to garden.
The end of winter is a great time to take a walk around the property. Where there is no snow (blown away) you know it is a windy spot. Where the snow accumulates, it could be a low spot.
Urban microclimate
One of the reasons we love our garden in town is the urban microclimate. Our lot might be small, but we can grow many of those crops that our friends on farmland can't. There is something that is called the urban heat island, if you want you can learn more about it in the video below.
Even though we are in a small town, we still are usually a few degrees warmer than the surrounding fields. Since we have grown many gardens out of town and a home garden in town, we notice this very much. In our case we simply adjust the plant varieties we grow where. Root vegetables and winter crops do well in the open fields, in fact actually much better than in our urban garden. Heat-loving plants, however, are better in the sheltered urban garden. This brings us to the next point. Even if you are out of town, you can create a microclimate for yourself.
Windbreak microclimate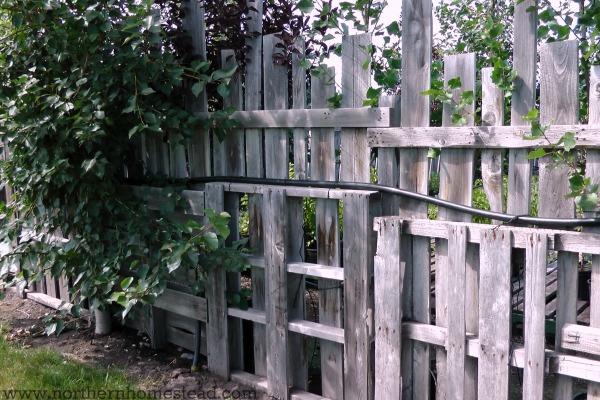 Planting a shelter belt is a great investment in a property. A windbreak can make a huge difference in what the microclimate might be, it is great for a home side, field, or orchard.
For a garden plot though, trees might not be the best option. So many great gardens have been ruined by the roots of the trees. Especially shallow-rooted trees like birch, poplar, and several types of maple will ruin your garden rather quickly.
You get a good 10 times the wind shelter from a windbreak, (up to 20 partial protection). A 4-foot-high wind barrier will protect 40 feet (ca. 12 m) of gardening space.
Grow hedgerows with nitrogen-fixing plants, or edible berries and pretty flowers that host beneficial insects and birds in your garden to get even more benefit from them.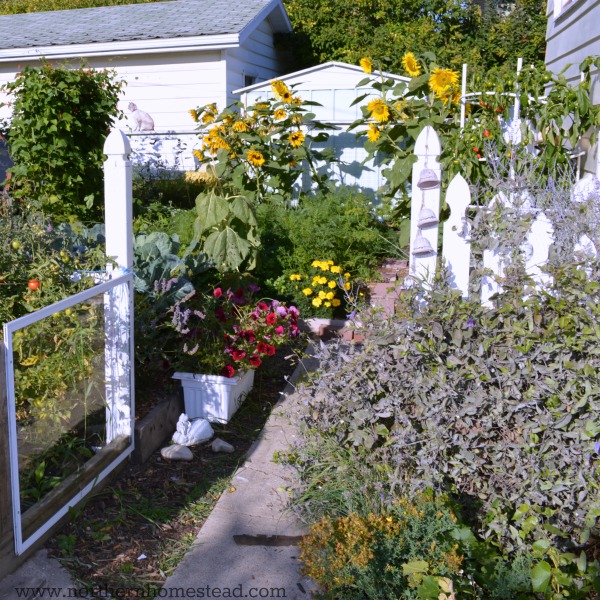 Building a fence, a stone wall, a glass wall… we are talking about a cold climate here, where we want to keep the wind out and create hot spots.
I still remember a very frustrated coworker who tried to grow tomatoes in an open field and was not able to harvest any ripe ones. She also had a south-facing deck at her country home. Following the advice that her deck would be too hot, she did not plant anything there. Sadly, she could have had the best tomatoes in the area, if she only observed the microclimate she already had. Things in a cold climate are different.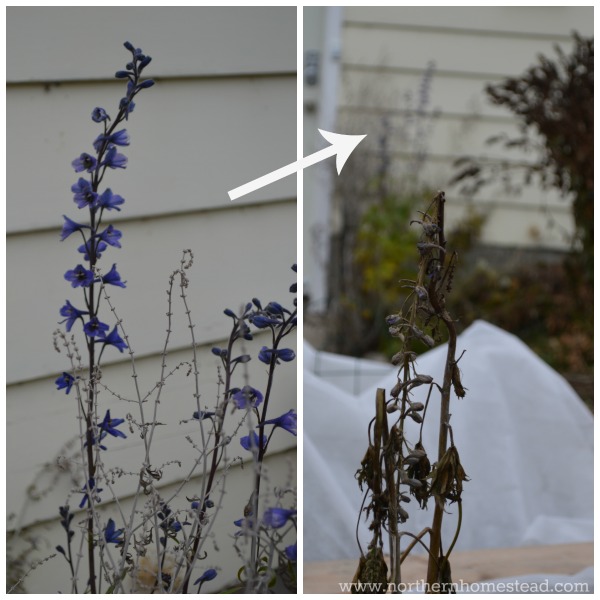 The picture is showing two delphinium plants about 20 feet (ca. 6 m) apart, one is blooming even after some real frost, temperatures dropped as low as -9C (15.8F)., and the other one is completely frozen and gone. That's how much difference a south-facing wall makes.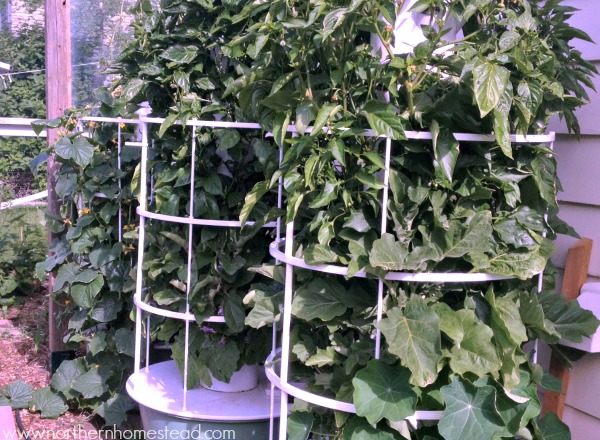 For our tower gardens at a south-facing wall, we also built a glass wind barrier (you can see some of it on the left side of the picture). We want the heat to be trapped there. This way we grow peppers, eggplants, and cucumbers successfully without a greenhouse. By the way, eggplants and peppers are very challenging to grow in a greenhouse because they attract bugs so much. A sheltered outdoor location is a great alternative.
Using snow in the winter
A good snow cover during the winter is very beneficial for the soil. A snow cover allows the soil to stay unfrozen for longer. The deeper the cover, the less freeze will the soil have.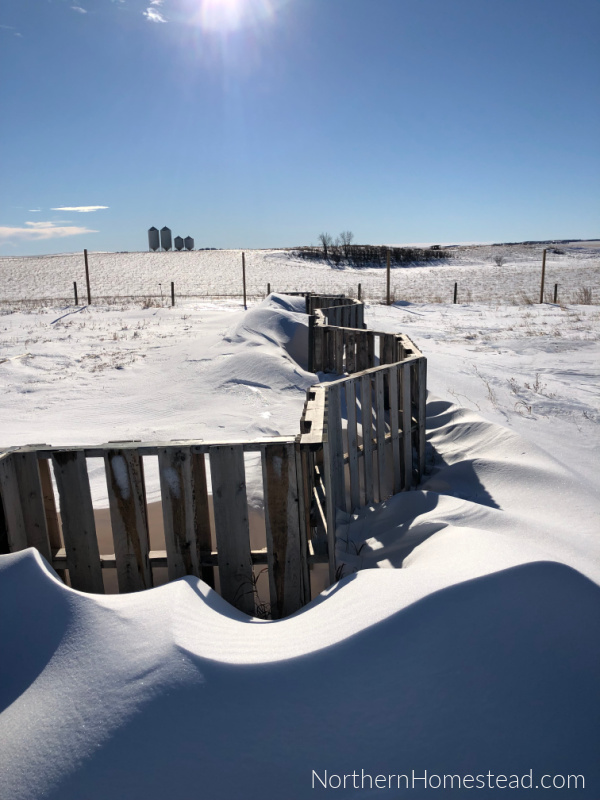 A windbreak or snow fence (here a simple pallet fence) helps accumulate the snow right where we want it to be. Snow fences can be used to protect tender perennial plants as well. The accumulated snow will also provide much-needed moisture in spring.
A row of edible shrubs serves a double function. It will act just like a fence for accumulating snow, but also provides food. Just make sure to plant non-suckering shrubs if planting them close to the garden.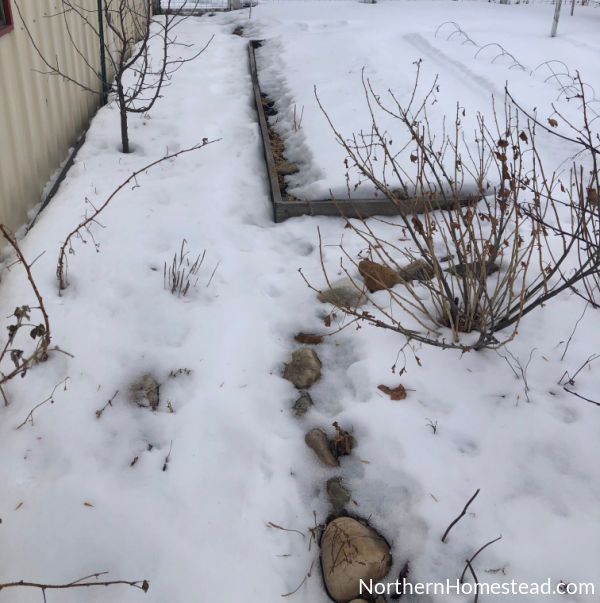 On the other hand, raised beds, walls from a building, and rock borders will help to melt the snow and the soil to warm up quicker in spring. It might be beneficial for early, hardy shrubs. Or to grow some early greens in those raised beds.
Observing the snow in our garden can help us to use it for our benefit.
Water affected microclimate
This one is huge, however all I can do is point you to some information, we have no experiences ourselves yet. But I know that by using water we can create amazing microclimates, especially combined with hill country, Stepp Holzer grows many heat-loving plants in the mountains of Austria. Get inspired here:
The book Sepp Holzer's Permaculture: A Practical Guide to Small-Scale, Integrative Farming and Gardening is worth reading.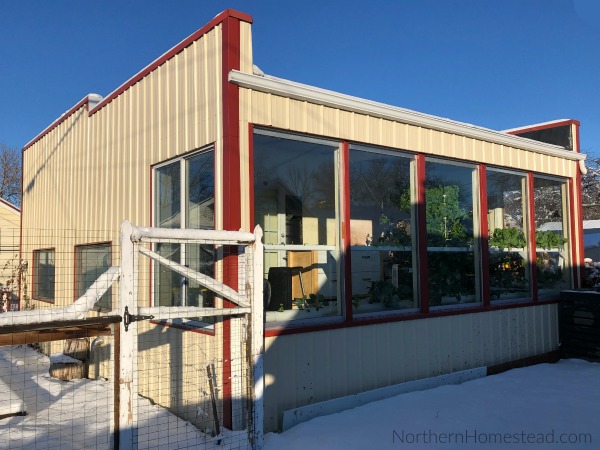 Windows can have a similar reflecting effect as water. Outside the windows of our indoor garden, we grow heat-loving plants. This way the big windows have a double function, indoors and outdoors.
How to find your best microclimate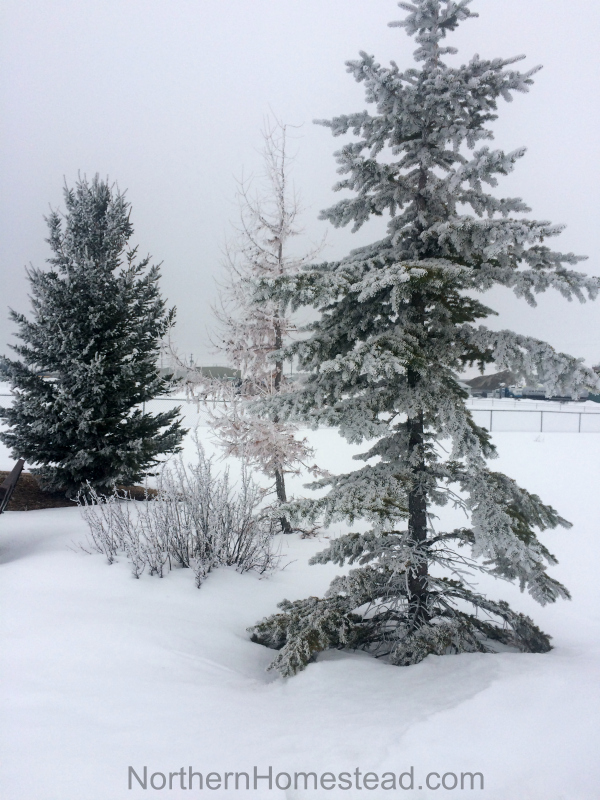 Observe your land especially in early spring: where does the snow melt first, where does the grass green first, where do late frost and early frost fall… Where the snow is blown away, you know it is a windy spot. Where the snow accumulates, it could be a low spot. Also, bare spots close to trees are cold spots with often poor soil, because soil life cannot develop as well as under a snow cover.
Make a shade survey in your garden. In April the day length is the same as in September, take notes to know your garden. In a northern garden, you want to catch all the sun you can for your vegetable garden.
The shady areas can also be used. Some fruit trees like apricots are a great choice for a shady spot where the snow accumulates. They will be better protected and not bloom too early. Read more about growing fruit trees in a cold climate here.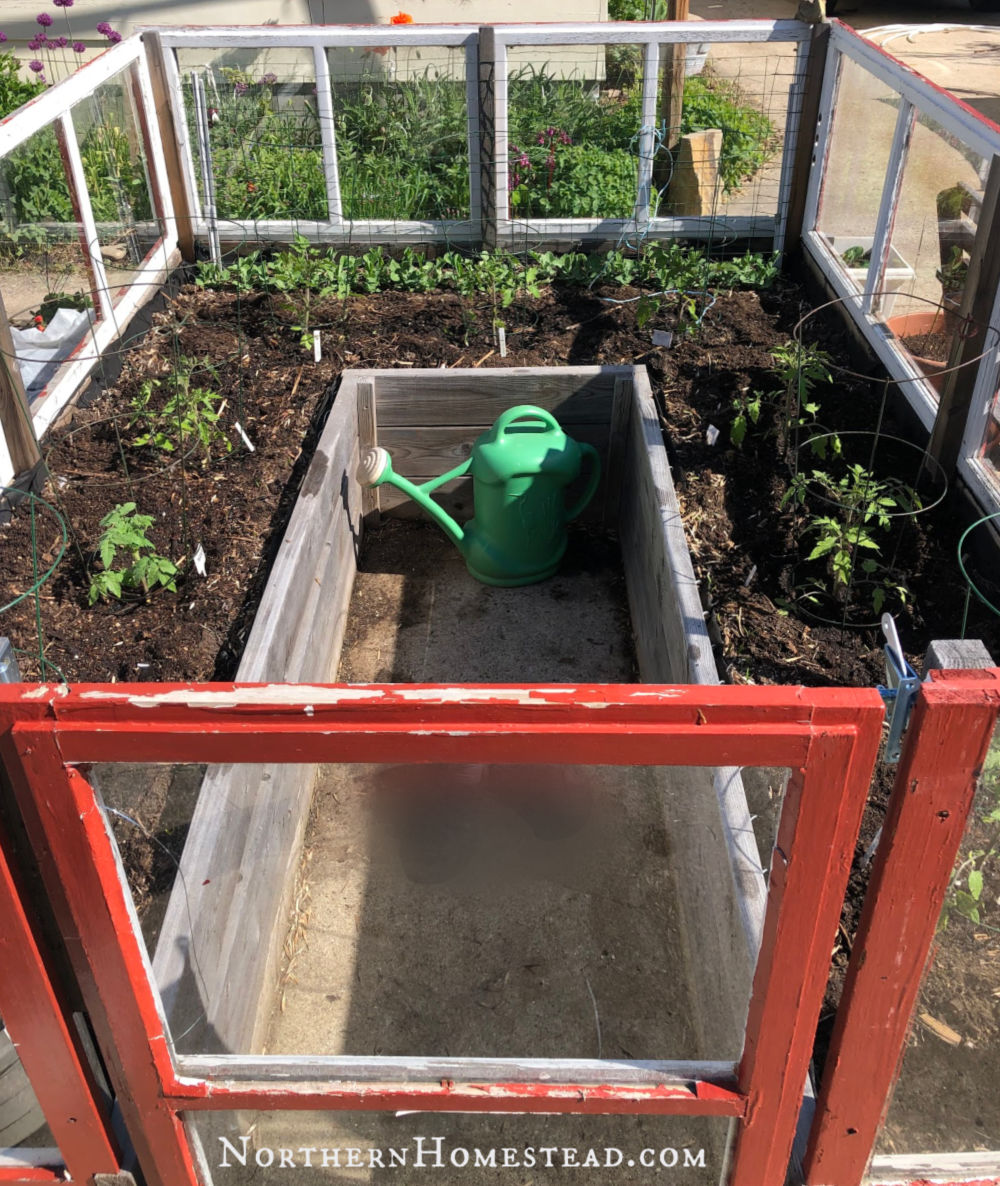 Build wind barriers to increase heat storage even more. A simple pallet fence or old window frames can do wonders. See also the raised window-protected garden bed.
If you have steep slopes or a mountainside, you might want to get more aggressive and build terraces and water ponds to be able to grow more.
Last but not least, keep trying. A lot is possible with microclimates. If you always dreamed to have that sun-ripe tomato in July, it can be done.
There is much more to this subject. Please share your knowledge and experience in a comment below, so we all learn more and can grow more.
We invite you to subscribe to Northern Homestead and follow us on Instagram, Facebook, or Pinterest for the latest updates.
More Gardening Posts You Might Enjoy: