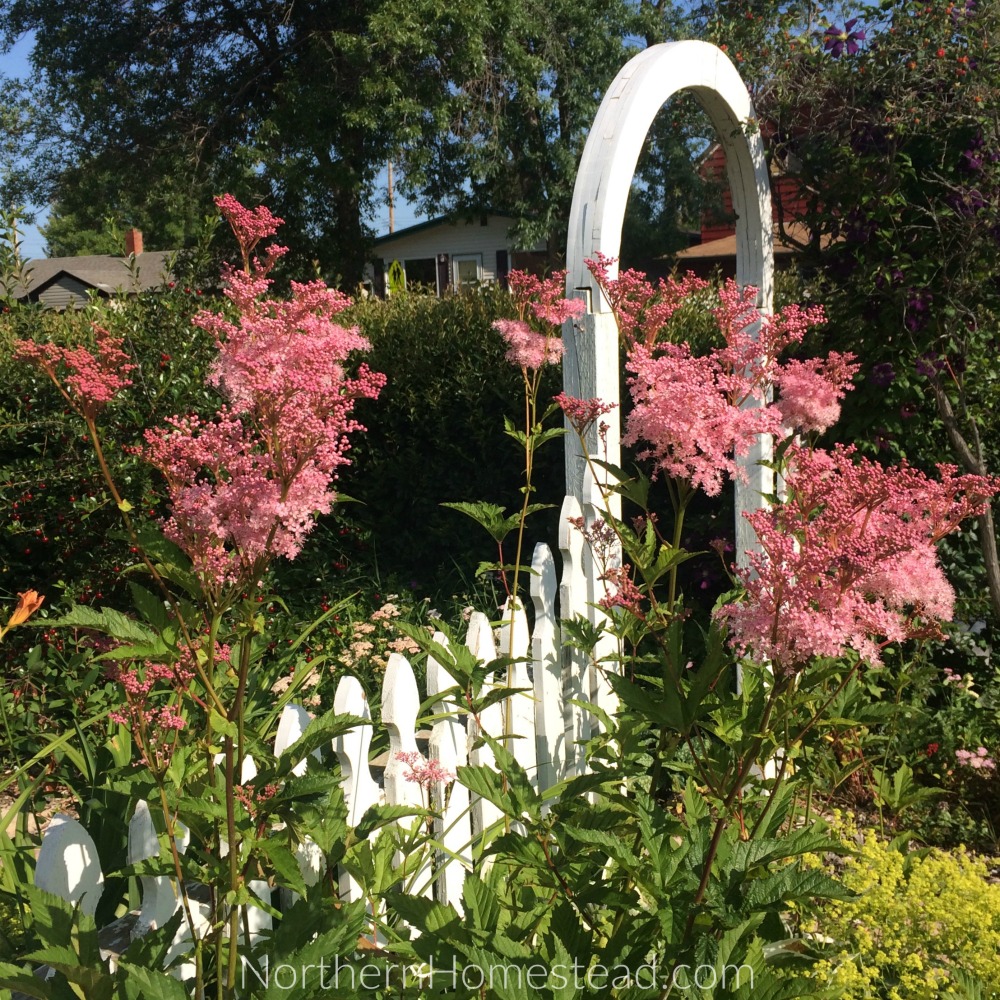 Living in a town or city house, either owning or renting you might not consider that you are able to grow a big portion of your own food in a healthy, organic way. However, that is possible. We want to encourage everyone to turn a common yard into a bountiful edible garden. In this post, we share our yard with you, to give you some ideas and inspiration.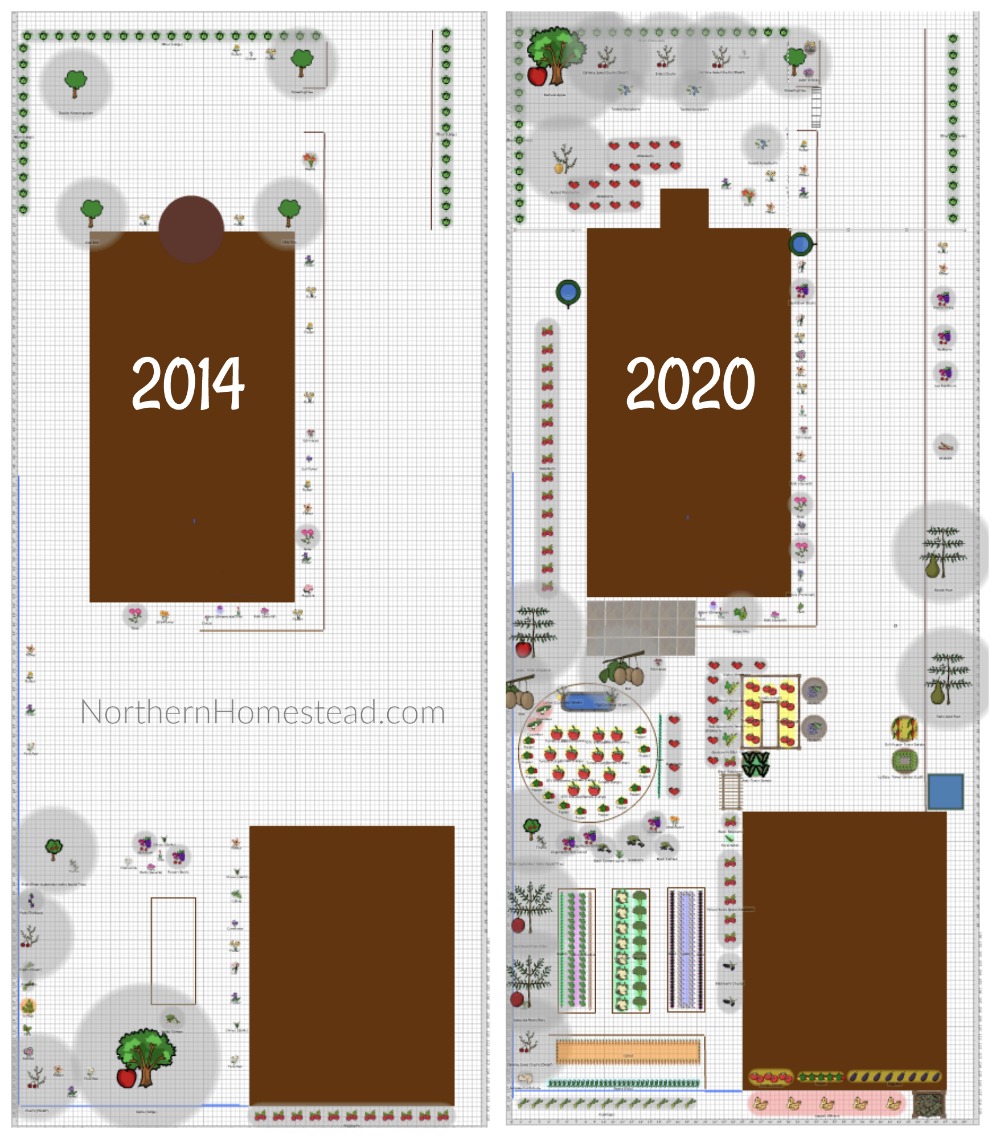 In the fall of 2013, we bought a simple house in a small town in Alberta. The size of the lot is 50 x 120 feet (ca. 15 x 37 meters), with a house and a garage. Also, both neighboring houses basically line up with the property line, making more shade. Here we share our first site survey. In the last couple of years, we have been turning the yard front, back, driveway, and even part of the garage into a productive garden.
Why turn a yard into a garden
Turn a yard into a garden so you do not have to mow, water, fertilize and keep weed-free the lawn. A lawn is work, work, work with little to no return. Only if you need an area to play, the lawn is a great option, other than that we do not see any need for a lawn. We don't have any lawn in our yard.
Once established, the garden, perennial or vegetable garden is little work with a lot of return.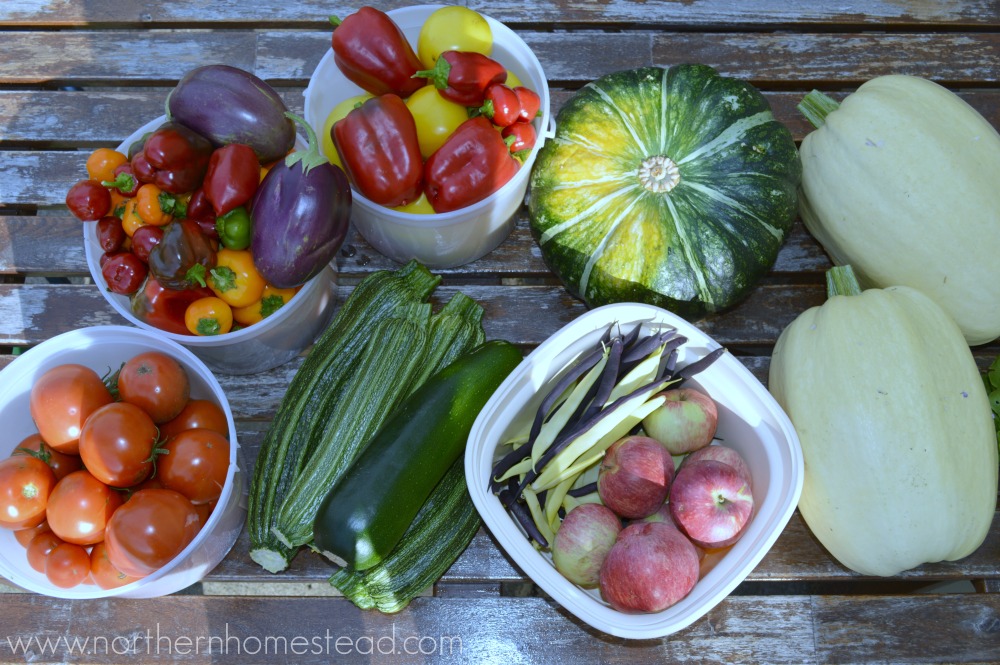 Every year we grow and preserve a lot of food from areas that were useless lawns just a few years ago.
And even if there is no lawn, and no good soil, you can still grow a garden, we share with you how we grow food in our driveway.
The food that we grow right in our yard is fresh, delicious, and healthy. Money cannot buy what we grow at home. Simply because we grow it ourselves for ourselves. We care for the plants with love, and in return, they give us the nutrients that we need.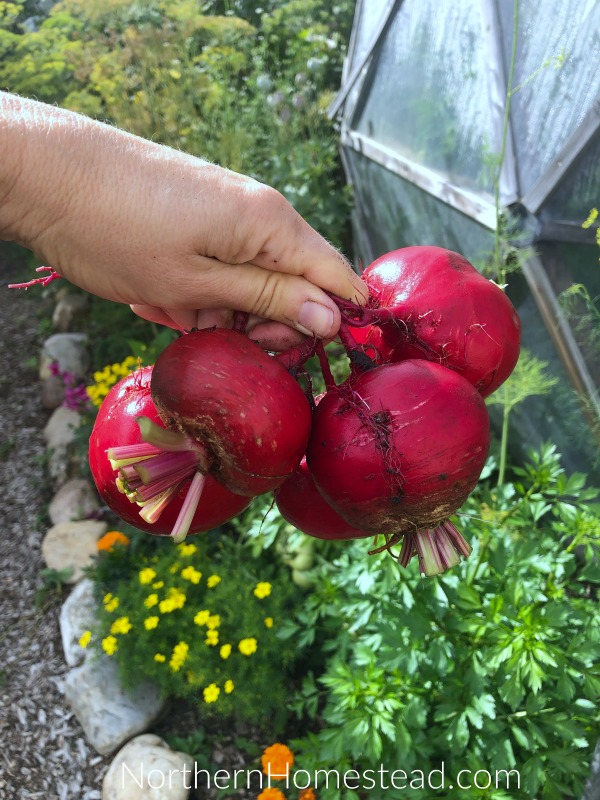 Nothing tastes as good as homegrown produce.
Homegrown food is available at home. No matter what is happening in the world economy, the garden is always there for you. It is so worth it to start and grow a garden, even if all you have is just a common yard.
The Front Yard
Our front yard is small and shady from the house. It is surrounded by a hedge. We had 3 cherry trees, that were not much more than just seedlings, that we planted right in the first spring. In the fall we covered the lawn with cardboard and a thick layer of wood chips.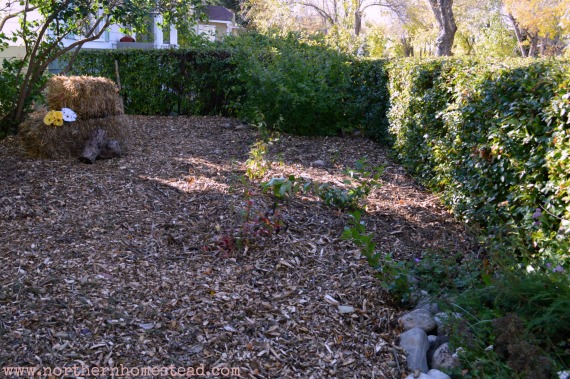 Soon the cherry trees grew and the lilac trees that were too close to the house anyway had to go. We added more and more edible trees and shrubs.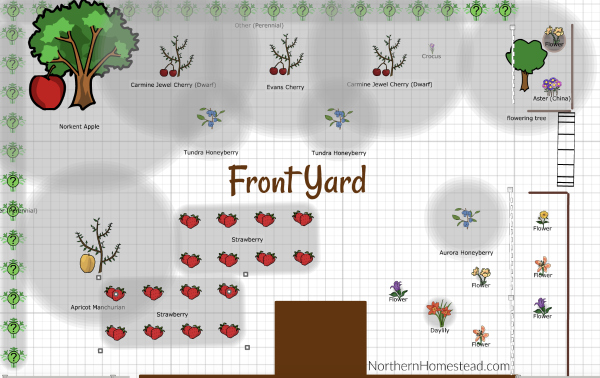 Cherries, honeyberries, and strawberries are producing. The apple tree had its first apple last year. The apricot tree is still very small and as it grows it will need a graft-in for pollination.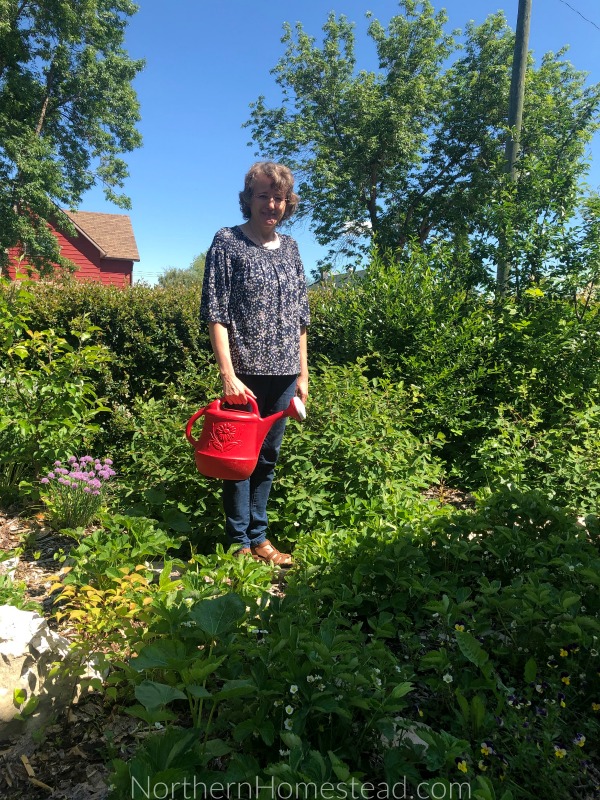 Having no lawn to mow, instead, strawberries to pick is great. Once plants are established they do not need much care or watering. Last fall (2019) we added in a new layer of wood chips to keep weeds down and naturally select the strongest strawberry plants without transplanting them. A cover should do the trick.
The Back yard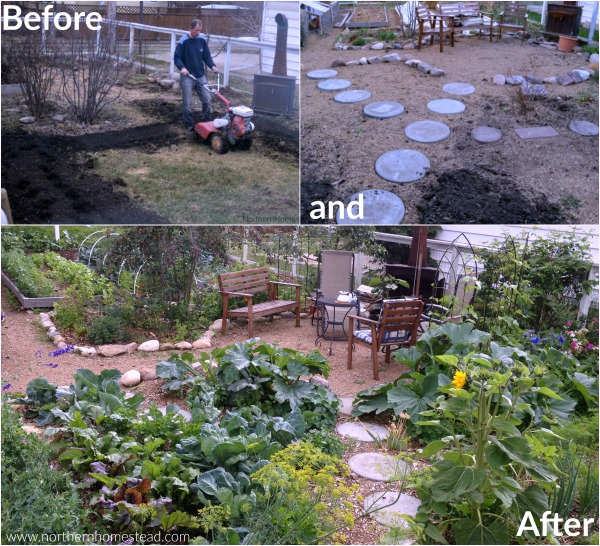 The backyard is a work-in-progress. There were already many flowers, berries, and a good apple tree as we moved in. The lawn that was there was very uneven, so we just tilled the whole yard and covered it with wood chips. You can read about it here.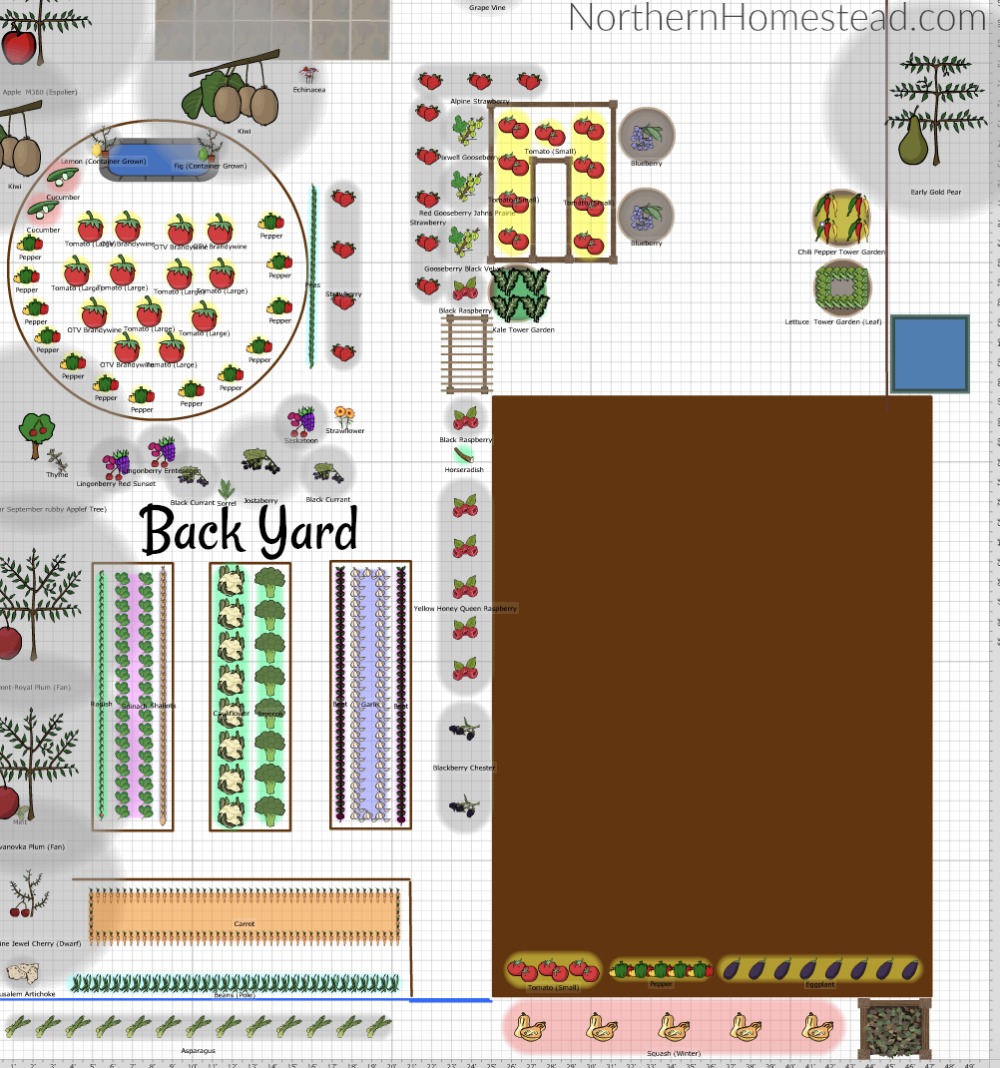 While building a Geodesic Dome greenhouse in our back yard and digging out the water tank we noticed what amazing soil we have. There were two feet of good, black soil. We are aware that this is not common in a town yard. But it does look like that this yard has been gardened for many years.
The house was build in the 1940s. We have had children and grandchildren from the previous owner stopping by to see the yard and cherish the memories they had. What a legacy those people left to their family, but also to us, who enjoy the fruit of their labor.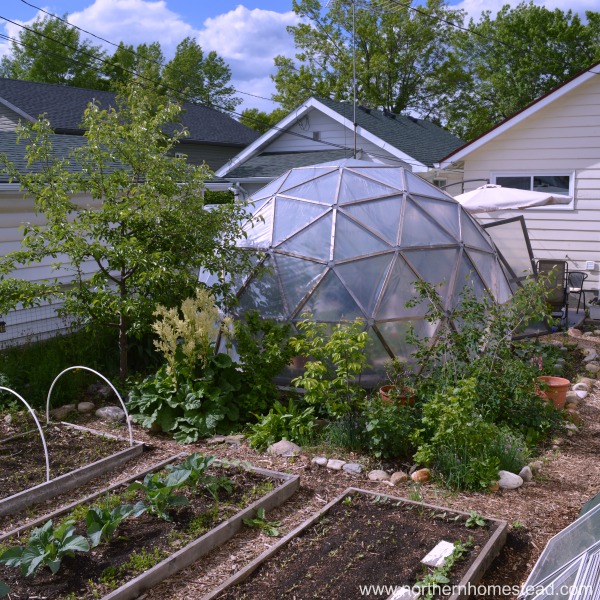 Plant a garden, future generations will thank you for it.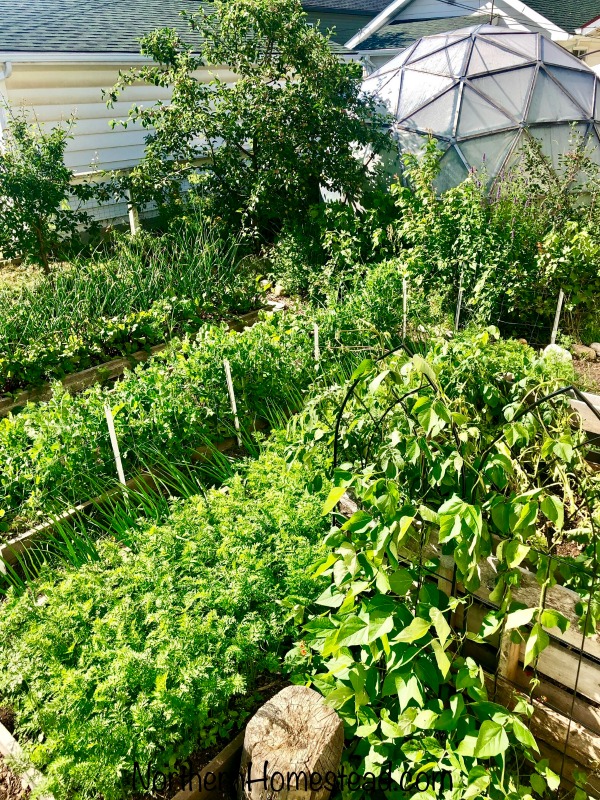 Good soil is not built overnight. We share 3 great no-till gardening methods to get started no matter what soil you have.
The raspberries from the back of the garage were transplanted between the houses, it is quite shady there. This area was of no use, we only went there to mow the lawn and get bitten by mosquitos in the process.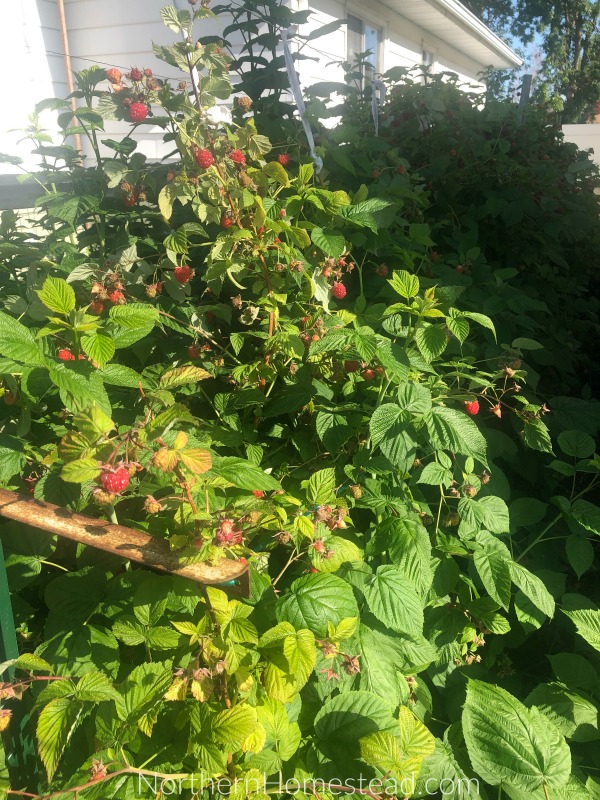 Again, we first covered the lawn with cardboard and wood chips, then next spring we planted the raspberries. Honestly, I did not expect much, but the raspberries have outproduced all our expectations. We enjoy raspberries from this unused area almost every day of the year, fresh or frozen. It is so worth it to plant!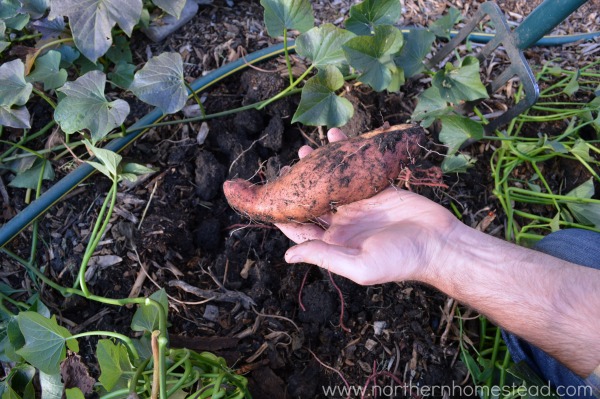 The sunny location in the back of the garage is used now for heat-loving plants. We even have grown sweet potatoes there.
The driveway
Our fairly small lot also has a long driveway. We could easily park half a dozen cars there. Instead, we want to grow food!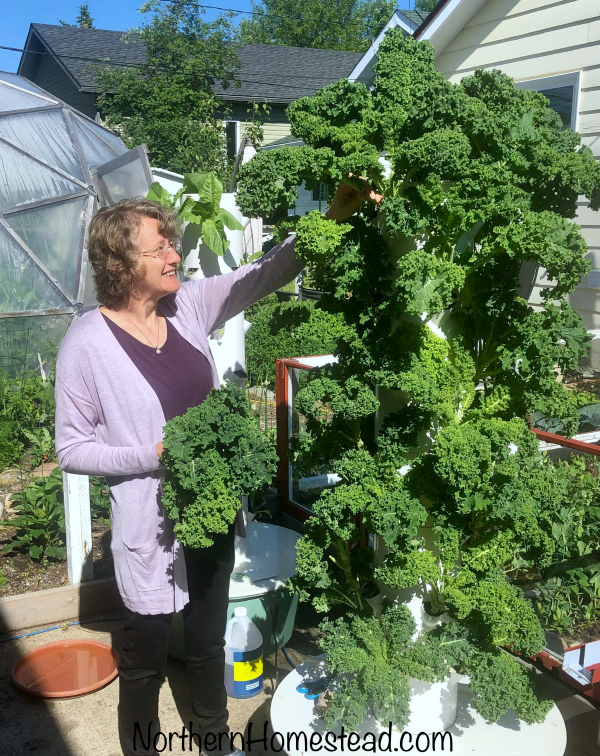 Container and hydroponic gardens can be easily grown on a driveway. We love the Tower Gardens and grow kale for the year on them.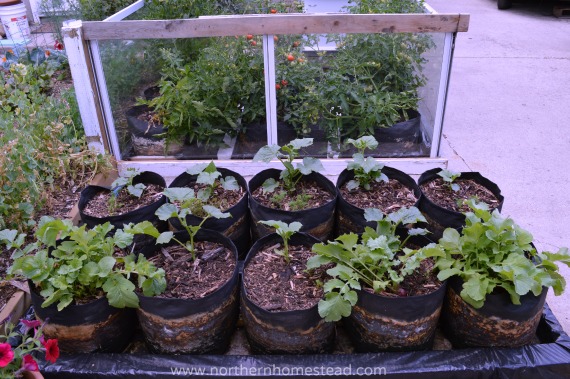 We have also used grow bags that we made ourselves to grow food on a driveway.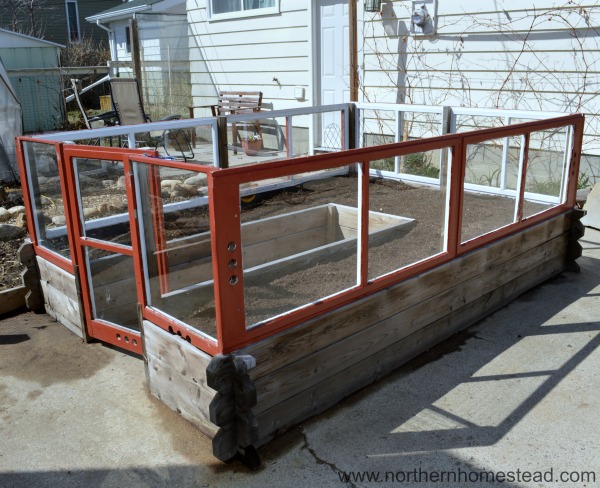 Then we built a more permanent raised window-protected bed, see how here. The windows create a microclimate and allow us to harvest ripe tomatoes earlier.
Along the driveway we have many beautiful flowers growing, but also we planted edible bushes and trees.
The greenhouse
We built a geodesic greenhouse that looks unique in a small yard and is an amazing place to grow heat-loving plants. From early spring to late fall, we grow a garden in there.
Check out all the Dome Greenhouse blog posts, from building to growing, we cover it all.
In a cold climate, and short growing season a geodesic dome greenhouse is really awesome.
The indoor garden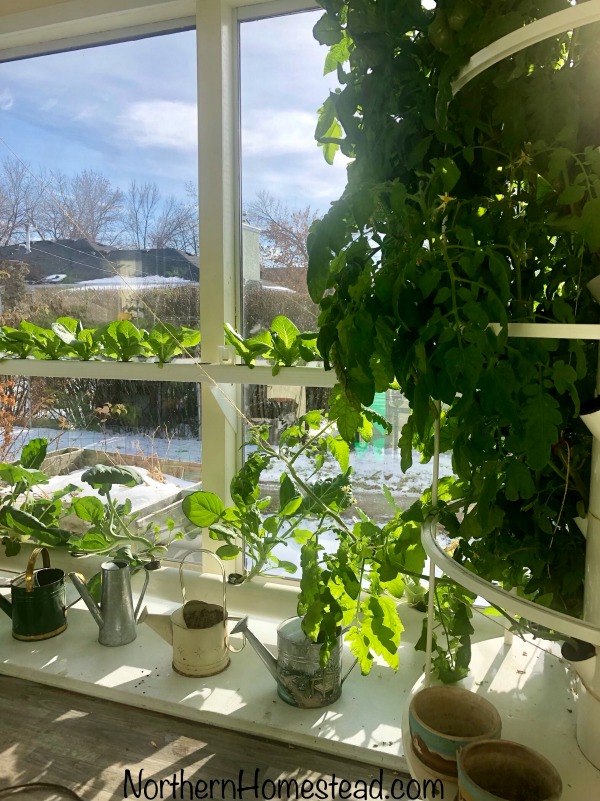 Living in Alberta Canada we are dealing with long winters. However, even though our winters are cold, they are usually very bright and sunny. We took advantage of it and converted the back of our old garage into an all-season indoor garden.
In the summer we grow heat-loving plants, in the winter mainly greens and cabbage family plants like kohlrabi and Chinese kale.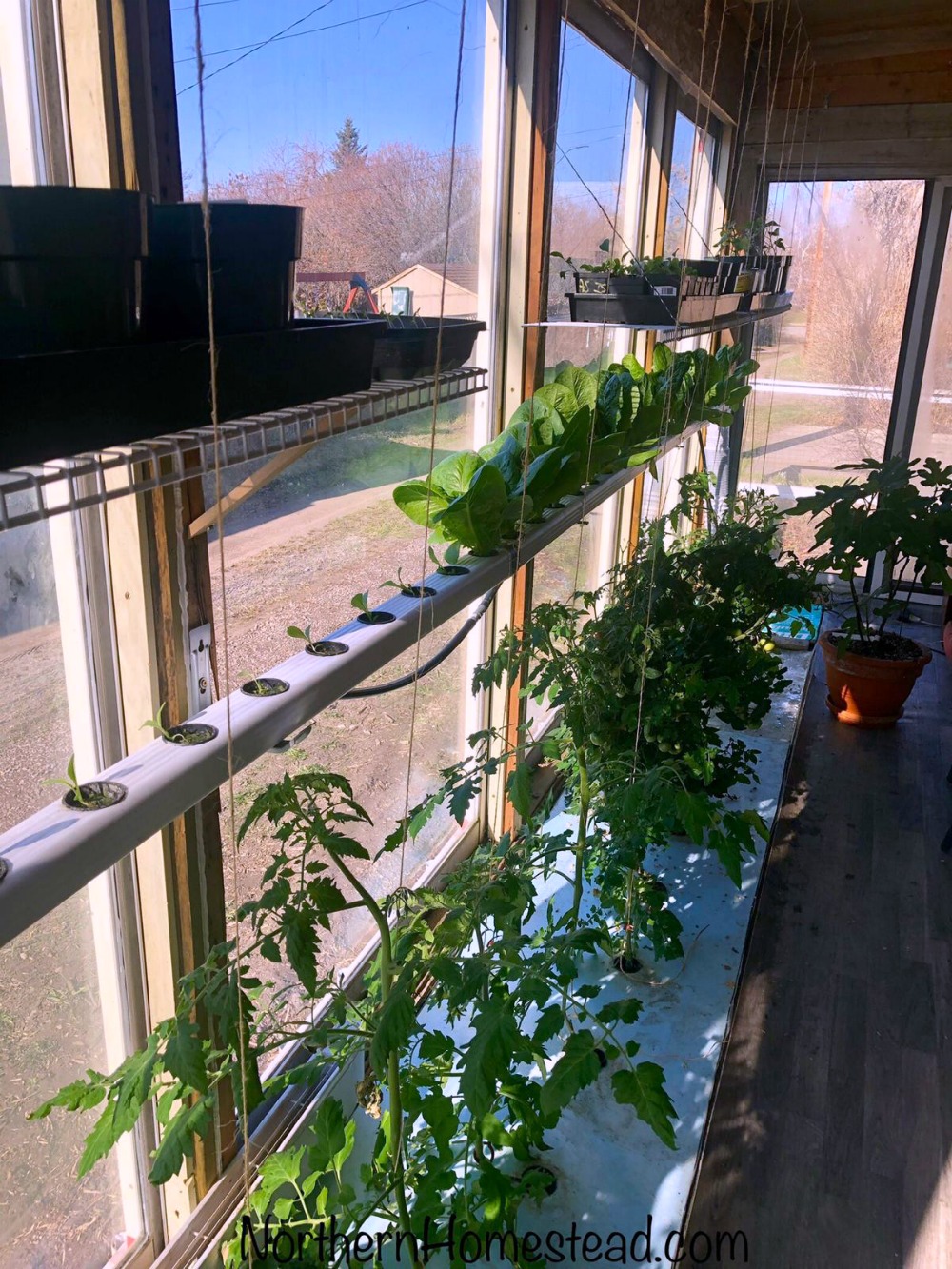 After experimenting with growing indoors in soil, we grow indoors mostly in hydroponics. We share how to set up an easy Kratky method, NFT downspout hydroponic, an upgrade of NFT, and also high-pressure aeroponics.
To have a room to grow and also enjoy the garden year-round is priceless. Read more on how to turn a garage into a food production place.
I hope we could encourage you to turn a yard, front and back, driveway, and even garage into a garden. Start small with one thing and then do it all and more.
We would love to hear from you, where and how do you grow food.
We invite you to subscribe to Northern Homestead and follow us on Instagram, Facebook, or Pinterest for the latest updates.
More Posts You Might Enjoy