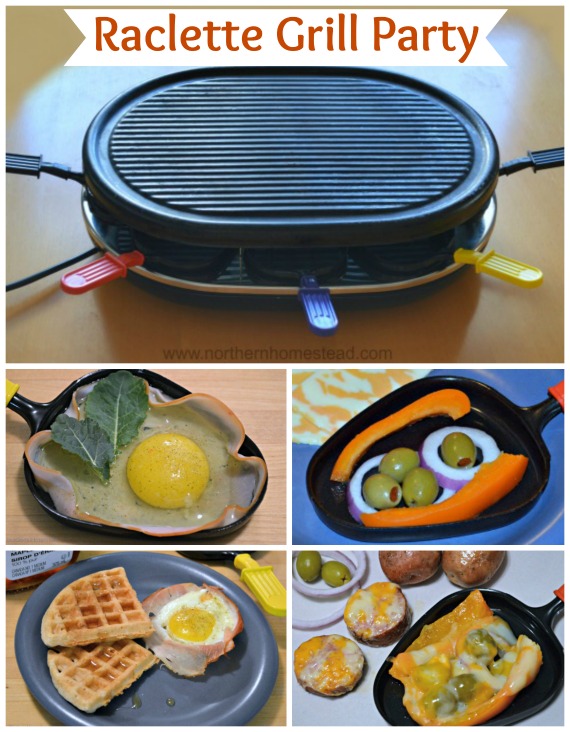 Note: This is an older recipe. We have since changed to a plant-based diet and love it. It's better for our health, all living and the planet.
If melted cheese on top of grilled vegetables and meat sounds yummy to you, than a Raclette grill party might be something for you. We have been enjoying Raclette dinners for years on many different occasions. It is great for any party. Oh, you do not know what Raclette is, here is a 101 on Raclette.
What is Raclette
Raclette is actually a cheese that in Switzerland and France was melted in front of a fire and then scraped onto dinner plates accompanied by potatoes, pickles, and dried meat. To be able to have a similar dish in modern day there is a Raclette Party Grill
with small pans.
How to serve Raclette
For a Raclette grill party dinner you need a Raclette Party Grill
with small pans. You will need as many pans as you have people. So everyone is able to fill their own pan with yummynes and melt it under the grill.
On top of the grill you can grill meat and vegetables as desired.
For the food the ideas are almost endless; choose whatever you or your company would like grilled and topped with cheese.  The picture is showing a lady group party. Here are some ideas:
Tomatoes
Olives
Peppers
Corn
Pickles
Onions
Mushrooms
Pickled beets
Pineapples
Broccoli and cauliflower
Sausage
Mini smokies
Meatballs
Eggs
It can be served with potatoes or toast.
For cheese you can go for the real Raclette cheese
. I usually use Gouda, Marble, or Mozzarella. Cheese is by far the main ingredient, so you will need lots!
When to serve Raclette
Raclette grill party is a great meal for the cold season because it will get warm and cozy in your dining area. Since there is little preparation and lots of fun, it is perfect for
Dinner with friends and family
Special breakfast or brunch
New Year's Eve
Birthday
Any Holiday
Plan lots of time for a Raclette dinner. It is not just about the food, it is about the whole experience of preparing it, enjoying the smell and sound of grilled food and melted cheese.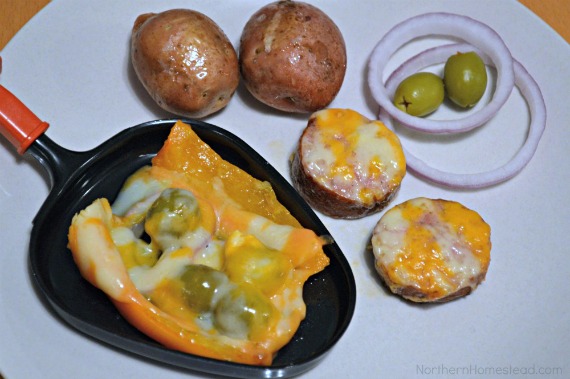 A Raclette grill party with friends and family is a fun experience. Hope this post made you want to try it. And remember: Once Raclette, always Raclette! Hmm, yummy!
We invite you to subscribe to NorthernHomestead and follow us on Facebook or Pinterest for more yummy recipes.


More Recipes You Might Enjoy: