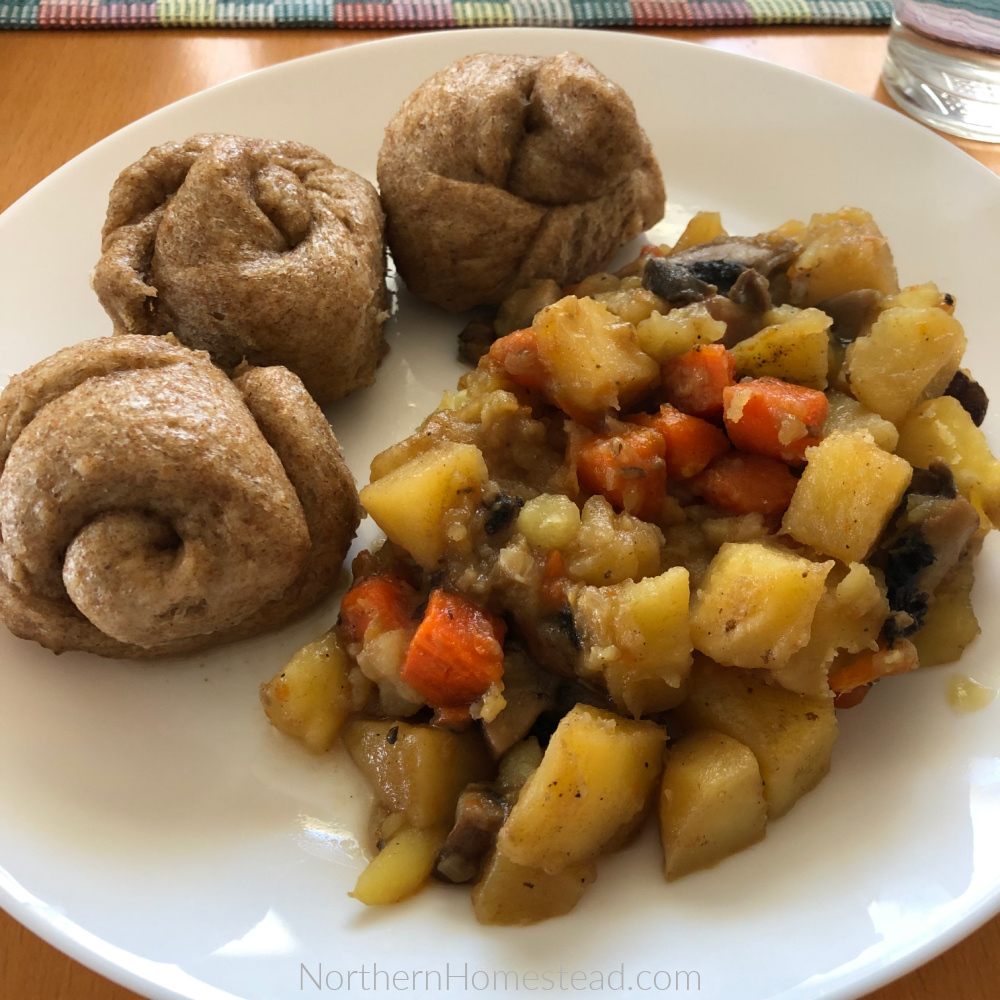 Traditional dishes that we grew up with have a special place in our memories. Today I'm sharing with you one of my favorite childhood meals. My mom always called it strudeln, not the same as german apple strudels though. The strudelln I'm talking about are steamed buns, however again not the same as is the Japanese Nikuman or Chinese baozi.
Doing some research I found it under the name strudli. Strudli or strudeln are steamed buns in a stew. A whole one-pot meal. Very delicious. 
Even though the whole recipe is surprisingly simple, the dish is nothing short of a feast. Surprise your loved ones and see how they like it. Warning, you might get a request to make it again and again. 
The buns for the stew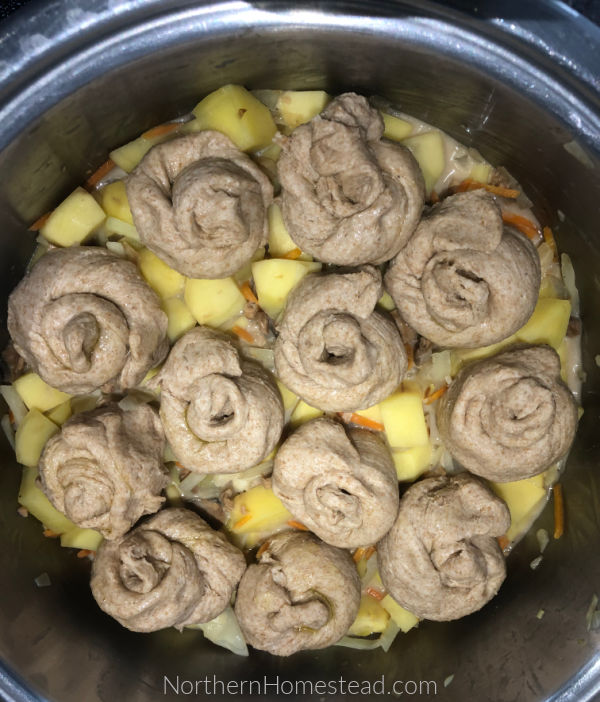 For the buns, you can use your favorite bun or sandwich bread dough recipe. You want to choose a dough that is low in fat since we use oil to form the buns.
It might also work with frozen dinner rolls dough from the grocery store. I have never done it, but can't see why not.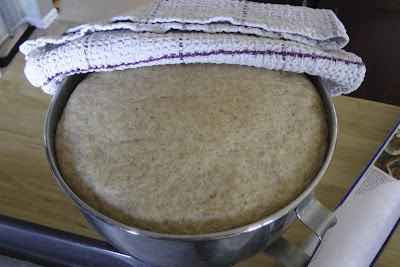 Personally, I always make the dough from scratch, starting with whole grain berries, grinding it into flour, and making the dough. Our favorite recipe that I use is here. 
Start with the dough a good 2 hours prior to dinner time. You want to leave enough time for the dough to rise and steam. 
Once the dough has been made and is rising in a warm spot in your kitchen, we can turn to the stew. 
Stew varieties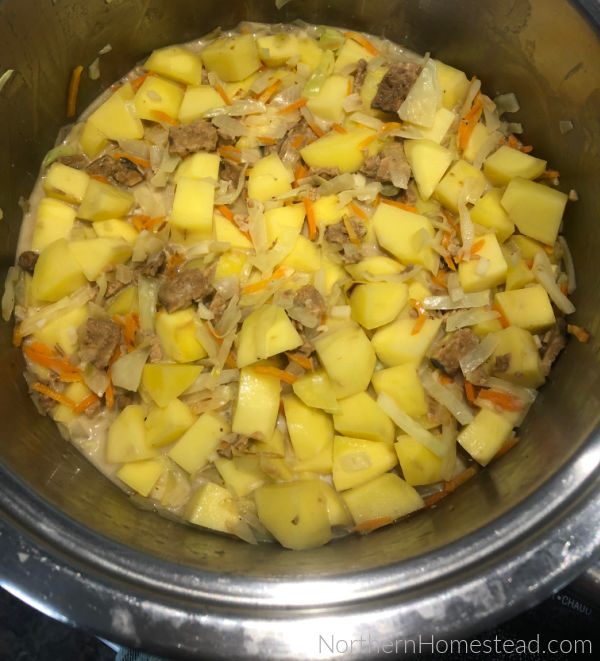 As with most traditional recipes, it seems that every family had their own favorite version. This fits very well with my overall freestyle cooking. 
My mom made the stew for the strudeln, using meat, onions, and potatoes. She would use very little water and add cream to the stew once the buns were done. Coating everything in cream sauce. 
Since we eat plant-based I use vegetables. For example onions, mushrooms, carrots, cabbage, and potatoes. See one of our simple versions below in a recipe.
Traditionally also sauerkraut is used, it makes for a unique Eastern European taste.
I have also seen tomato-based stews being used. 
As you see, there is lots of room to make the recipe yours. 
Important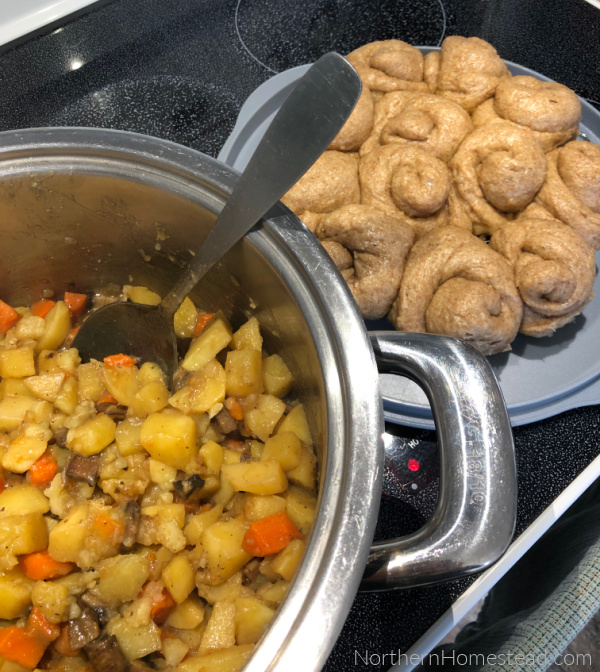 The only important factor is that the stew is thick. Go light on liquid and use lots of potatoes, so you get a dry surface. The buns should not be in liquid but on top of the vegetables. 
If you prefer a more liquid stew, you can save some of it to add when the buns are done, as my mom did with cream. Once you remove the buns, add the liquid, bring to a boil again, adjust the seasoning, and there you have your stew to your liking.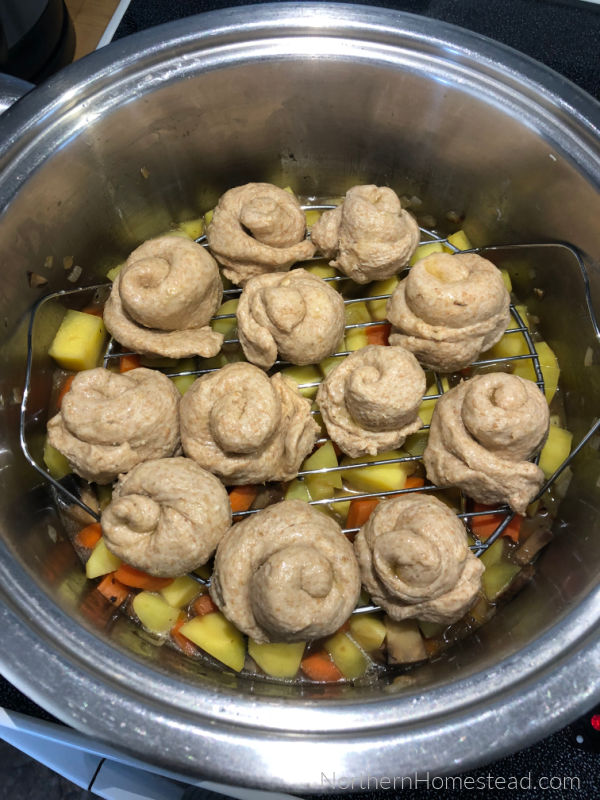 You can also use a divider, it makes it a bit easier to separate the buns from the stew once it is all cooked. But it is by no means needed. 
Using a steamer basket is also not required. The buns should be able to take in some of the stew aroma and taste.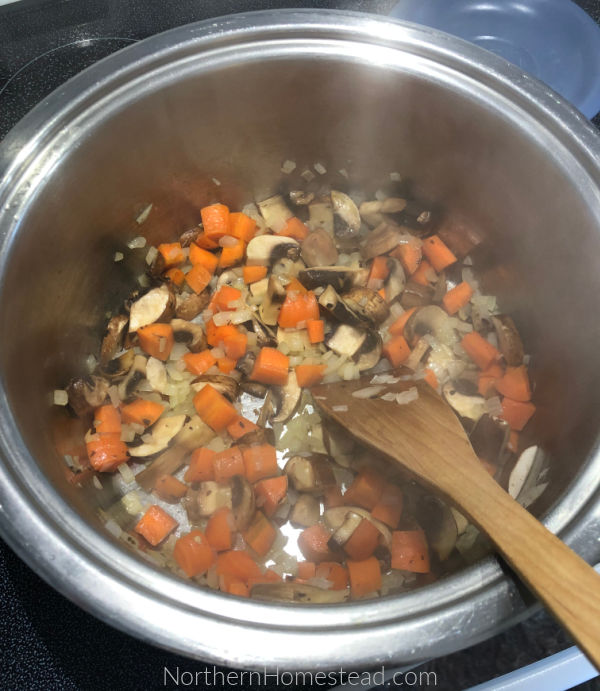 Just choose a big enough saucepan or pot, so the buns can rise with a closed lid. If you have a lid with a hole, plug it up with some dough. You want to keep all the steam in the pot. 
Forming the buns
I think here the buns got their relations to strudels, in the rolled dough, similar to cinnamon buns.
Roll out the dough, brush with butter or oil, roll and cut into buns.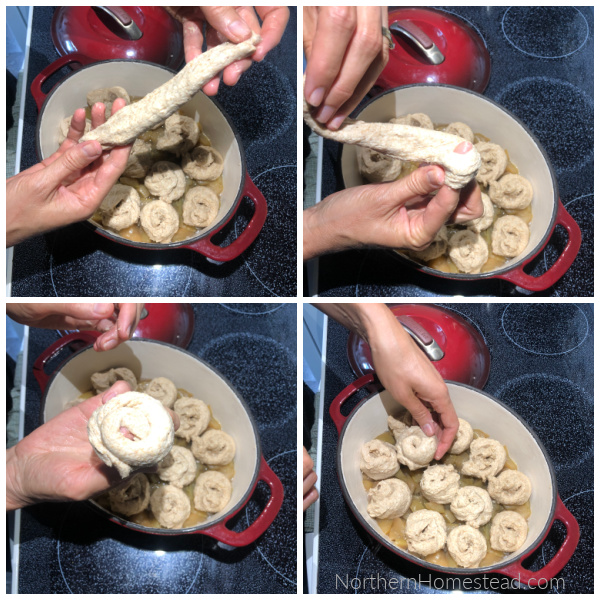 I usually do not do that. Instead, I take an egg-size piece of dough into my hands, pull it apart, dip it into oil or butter and roll the dough around my pointer finger. In seconds I have about the same look as a cinnamon bun. 
Steamed Buns in Stew Recipe
Steamed Buns in Stew
Author:
Anna @ Northern Homestead
Ingredients
For the buns:
50 gram oat bran or rolled oats (1/4 cup)
25 gram earth balance, or any fat of your choice
½ cup (120ml) boiled water (let the butter melt)
½ cup (120ml) cold water
½ teaspoon maple syrup
½ teaspoons salt
½ tablespoon instant yeast
225 grams = 10 ounces flour
Oil or melted butter to brush the dough when forming the buns.
For the vegetable base:
1 onion chopped
2 carrot diced
4 mushrooms diced
1 tablespoon coconut oil or butter (optional)
6-8 yellow-fleshed potatoes cubed
1 cup vegetable broth
Salt and pepper to season
Instructions
Start with the dough 2 hours prior to mealtime.
In a KitchenAid Stand Mixer bowl (if you have one) whisk the oat, fat, and boiled water till the butter melts. Let soak for at least 15 minutes.
Then add cold water, maple syrup, salt, and yeast, whisk it all together.
Add the flour.
Knead the dough for 5 minutes (it can also be done by hand).
Let the dough rest for 5 minutes.
Knead for another 5 minutes (if kneading by hand, it might take longer, kneed till the dough is ready).
Cover the dough and let it rise till it is about double. (ca. 1 hour).
In a large saucepan or pot sautee the onions, carrots, and mushrooms in oil or water till golden.
Turn off the heat.
Add the cubed potatoes and season to your liking. Cover with vegetable broth. The liquid should be below the top of the potatoes. If it is not, add one more potato. Mix everything so it is coated and ready to be steamed.
Form the buns, either by rolling out the dough, brush with oil or melted butter, and roll together cutting into 12 buns.
Or use my simple finger method explained and shown in the blog article. Again, make 12 buns.
Place the buns evenly on top of the stew, leaving room to rise.
Close the lid and set the timer for 15 minutes. Do not open the lid at any point, till all is done.
When time(15 min) is up, turn on the range on medium. Wait till you hear the broth boiling, and the lid is very hot to touch.
Turn down the heat to low and let it steam for 30-45 minutes. Since I use whole grain and like my stew well done, I always go for 45 minutes.
Carefully open the lid, and remove the steamed buns.
Serve the buns and stew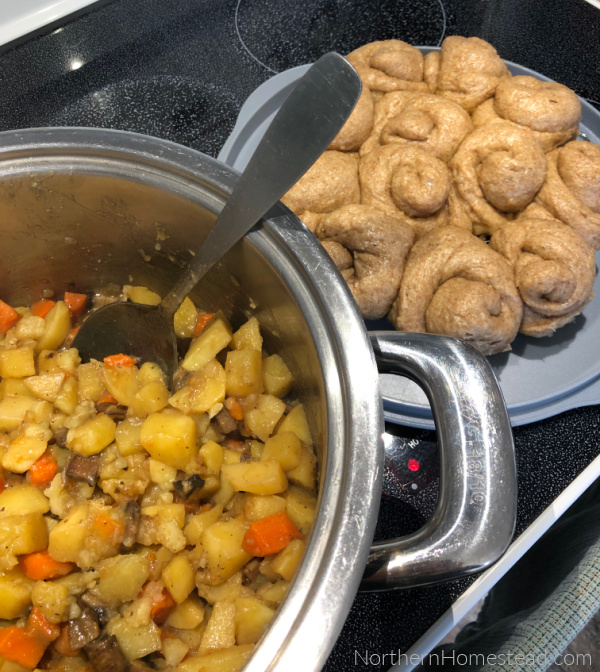 We invite you to subscribe to Northern Homestead and follow us on Instagram, Facebook, or Pinterest for more yummy recipes.
More Recipes You Might Enjoy: