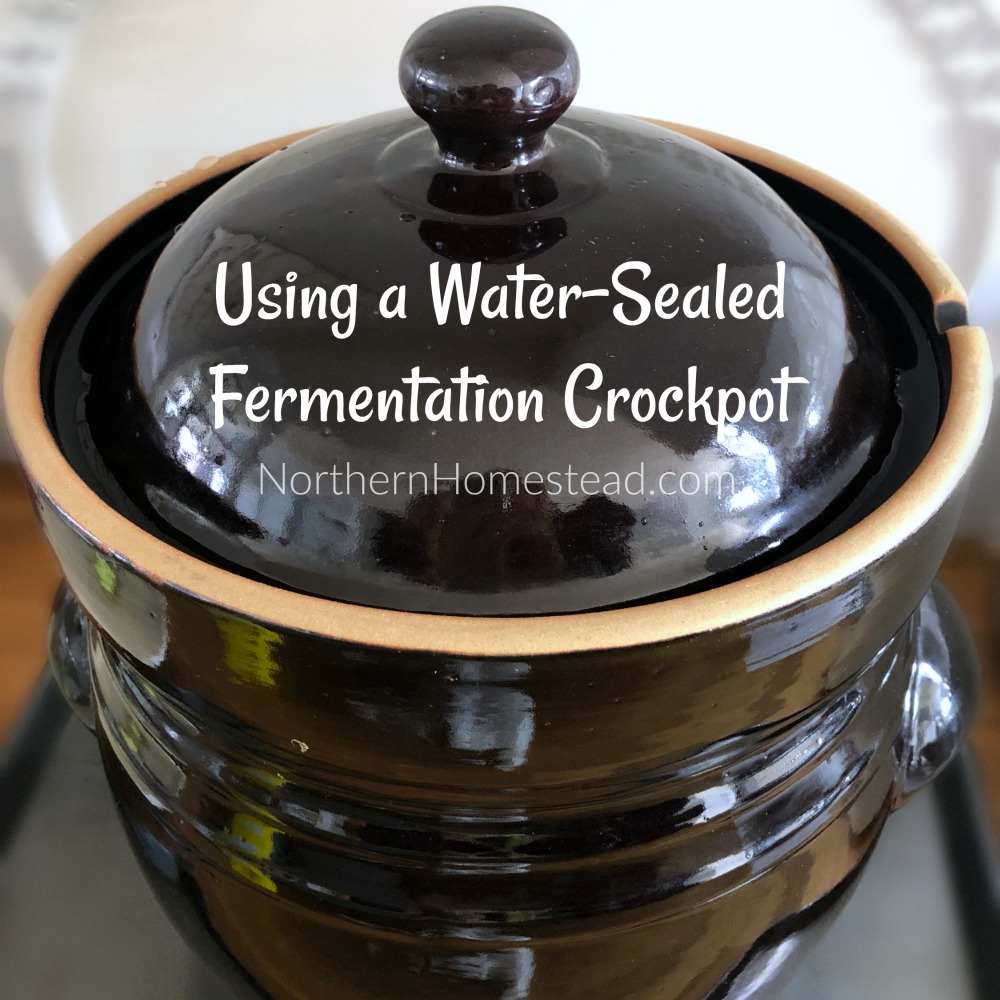 If you have followed our blog for any length of time you will know that we love fermented food. If you are new here, welcome! I would assume that you came here to learn about using a water-sealed fermentation crockpot.
We have been huge advocates for simple fermenting using whatever pots, containers, jars you have. You can read more about it in our fermenting posts:
For beginners and small batches, this still is a great way to ferment.
There is a time though to upgrade to a water-sealed fermentation crockpot.
The story
Personally I did not think that the difference in taste and texture of the end product between an open crock (container, pot, jar, etc) and a water-sealed fermentation crockpot would be so significant.
I wasn't even looking for a water-sealed fermentation crockpot, as a fellow homesteader posted a crock for sale. I'm not sure if I was more eager to support her or to finally own a water-sealed fermentation crockpot, but I jumped at the opportunity.
It is a 10-liter crock, and I was a bit surprised how much cabbage was needed to fill the pot. Do we really need that much sauerkraut?
After tasting it, I knew: Yes, We Do!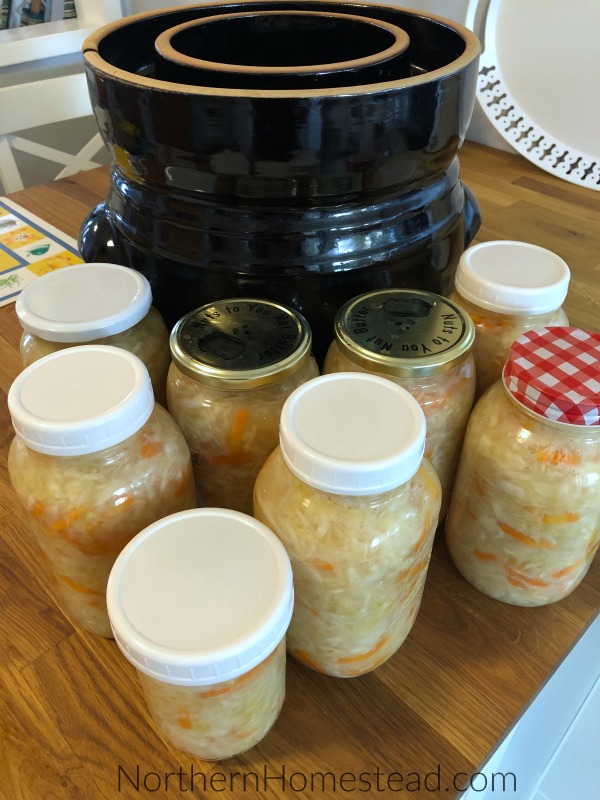 We got 8 jars out of our first batch. I still had some red kraut that I made in an open crock left in the fridge from a previous ferment. Let me tell you, we still have a jar of red kraut, but running low on the sauerkraut from the last batch and need to make more.
What is a fermentation crock
Fermentation crocks are stoneware pots to hold vegetables to ferment. They usually come in two shapes, the open crock and the water-sealed crock.
Any container can be an open fermentation crock, I have used an old slow cooker for years, it worked great.
You can also buy open fermenting crocks, but since any pot or jar can be used, I would not recommend it. If you are going to spend money, get a water-sealed fermentation crock.
What is a water-sealed fermentation crockpot
A water-sealed fermentation crock or a sauerkraut crock is a stoneware pot that is used to prepare fermented food. It holds cabbages and vegetables in a brine solution and comes with a sealed top. The difference from a sealed crockpot to an open one is a moat around the opening where the lid fits on. This moat has to be filled with water at all times when used for fermentation.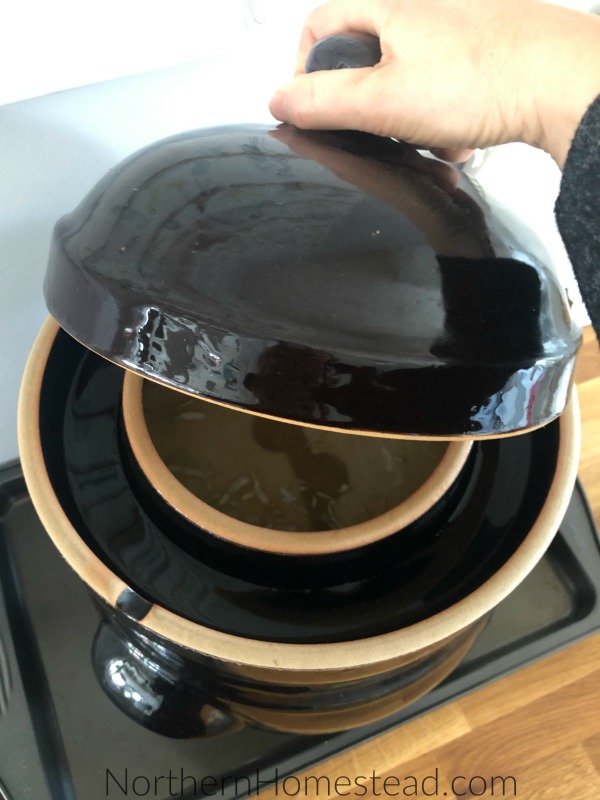 The water in the moat allows the CO2 gasses that build up in the crock through the fermentation process to escape, but no air to come in. It is essentially an airlock like for making wine. This prevents aerobic organisms like yeasts and mold from entering and developing on the surface. The end product is tastier and of higher quality than when using an open pot.
If you only want to ferment small batches, you can achieve similar results with various fermentation lids for jars. But it also seems to make a difference if bigger batches are fermented at once. And the ceramic holds a consistent temperature better than a jar does.
Personally we do both, fermenting in jars and pots, depending on what it is.
How to use a water-sealed fermentation crockpot
After using an open pot for so long, it took me some time to get used to the water-sealed crock. The ceramic pot is heavier and the opening is smaller, but worth the little inconvenience it creates, because the end product is so much better.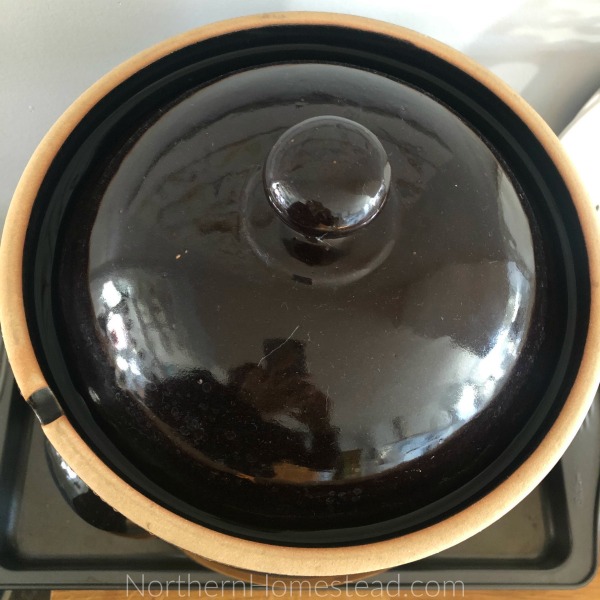 Otherwise, using the water-sealed fermentation crock is a no-brainer. The only thing that is different from an open pot is the lid that sits in a water-filled moat around the opening. You have to make sure there is always water to seal the lid during the fermentation process.
Some fermenting crocks already come with weighing stones, sometimes they are extra. In an open crock I never used them, but in a sealed pot they are almost a must-have. Since the opening is smaller than the pot, you can't just use whatever to weigh down the ferment and make sure the food is submerged in the brine at all times.
The weighing stones are made to fit into a crockpot, hence they are split in half.
Now let's see step by step how to make sauerkraut using a water-sealed fermentation crockpot.
How to make sauerkraut using a water-sealed fermentation crockpot
For making sauerkraut you need cabbage and salt, that's it. For those who need a precise recipe, here it is:
2.20 pound (1 kg) cabbage
1 tablespoon (20gram) of non-iodine salt
To this base recipe, you can add carrots, apples, beets, ginger, turmeric, garlic, onions and all kind of spices you love.
In this case, we used cabbage and carrots.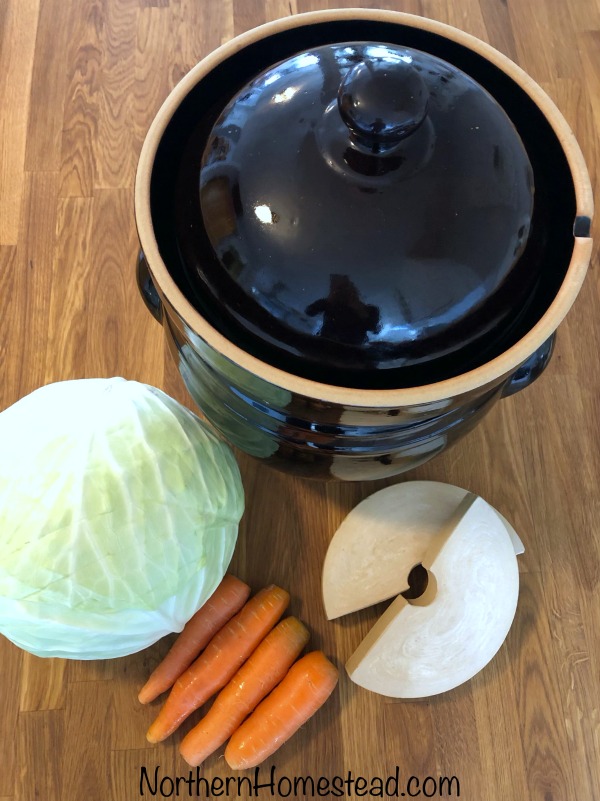 We recommend weighing the cabbage to have an idea of how much kraut you get, and thus how much salt you will need.
Take the outer leaves off of the cabbage so that it is nice and clean. Then take two or three more leaves off to cover the sauerkraut for the fermenting process, and put them aside.
You want to thinly slice the cabbage and other vegetables if used. It is easy to slice all of it by hand, as I show in this recipe, or use a mandolin slicer. With a mandolin slicer, the process is quicker and more homogeneous. We use the Starfrit mandolin, it works well for us. You want to wear protective gloves when using a mandolin slicer.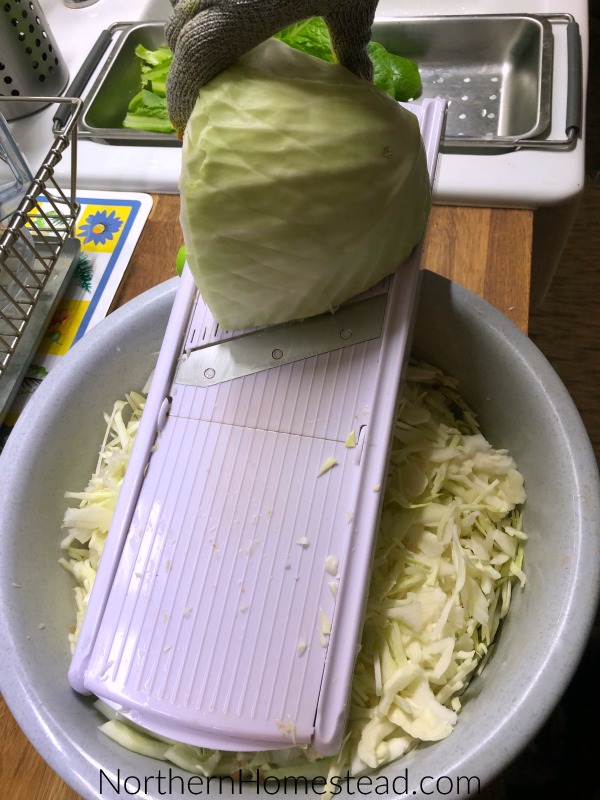 After all the vegetables are cut, mix them together with the salt. We recommend using less salt to start with and then taste the mixture. You want it to be salty, but not overly salty. If you weighed the cabbage and did the math, it should be just right.
Now, many recipes will recommend massaging the cabbage till moisture comes out. We do not. Just mix well, massaging it a bit so all is well mixed and let it rest for about an hour. The salt will draw the moisture out of the vegetables for you.
Save yourself some work.
While you are waiting make sure the crock and the weighing stones are clean and dry. You don't have to sterilize it, just a good wash is enough. We like to use vinegar instead of soap. Soap tends to leave traces, and we do not want it in our food.
Now fill the pot with the mixture, pressing it down.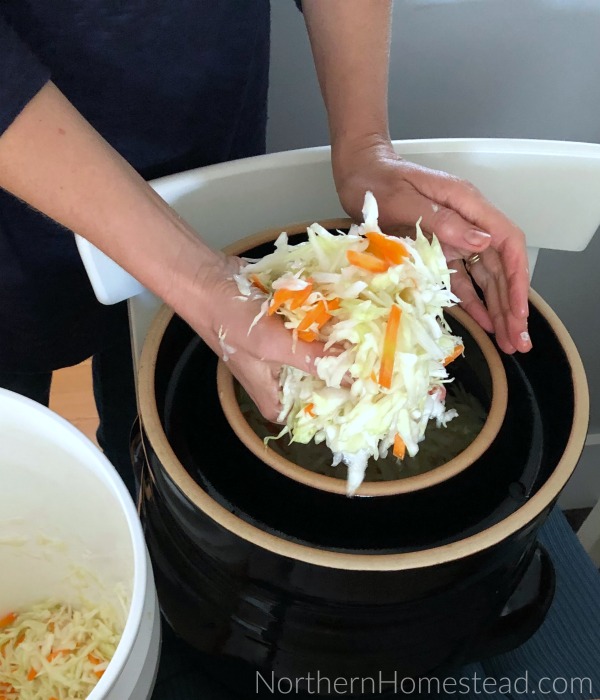 A sauerkraut pounder is a helpful tool for this process. Tamping or pushing down the kraut is important so that the brine comes up.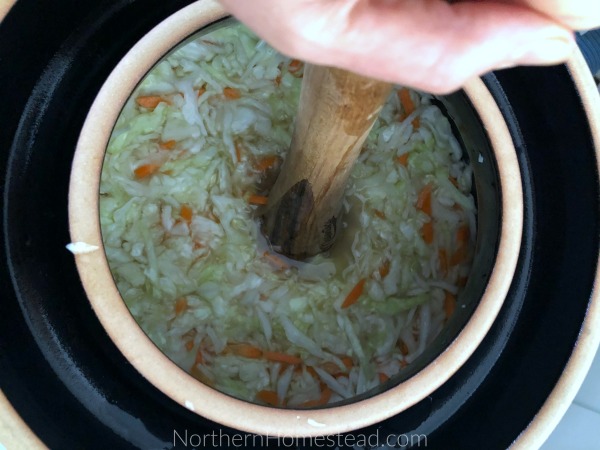 Cover the sauerkraut with the leaves you put aside for it.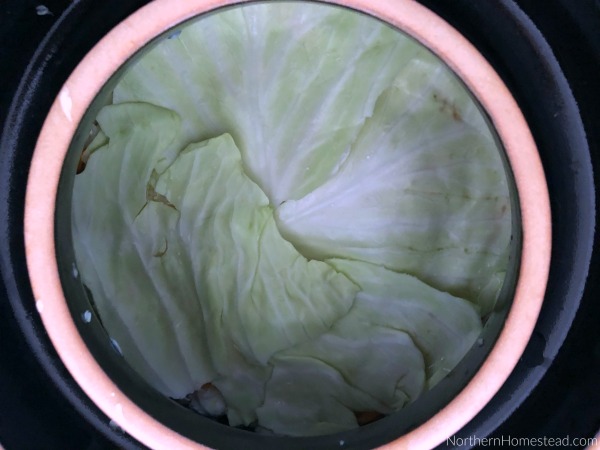 Now place the weighing stones on top, pressing it all down. You really want to make sure there is liquid covering the cabbage mixture.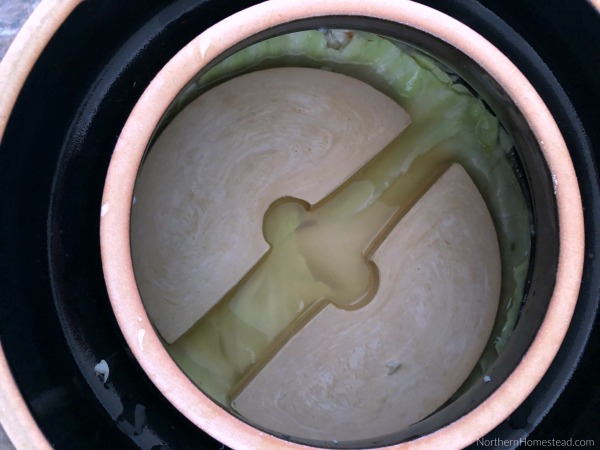 Now fill the moat with water and place the lid on top.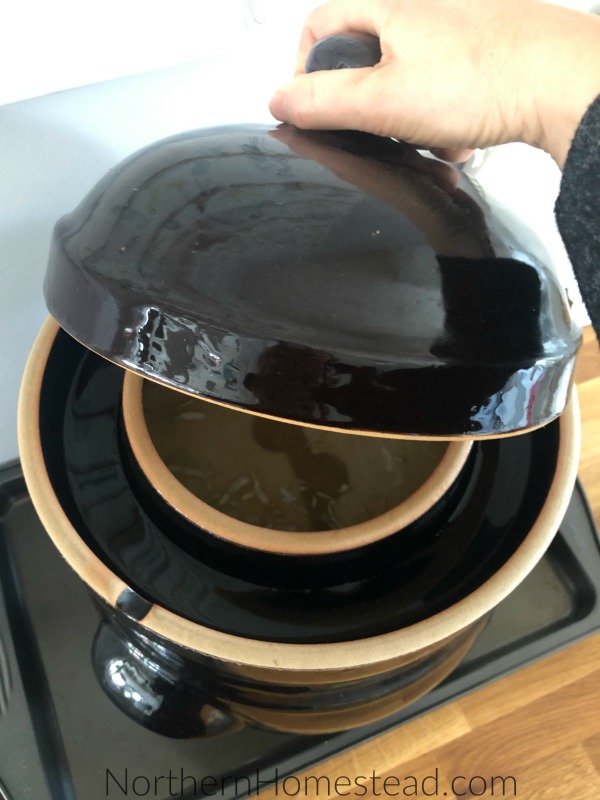 Keep the fermenting crock at room temperature somewhere where you can still monitor it. After about 18-24 hours you will start hearing a burping sound. The gases that build up in the pot will start to escape through the airlock.
The burping will get louder and more intense in the next couple days, it's supposed to be that way, enjoy it.
After about a week it will slow down, now is a good time to taste your sauerkraut. If you like it, it's done, if you want it to be sourer you can leave it up to 21 days.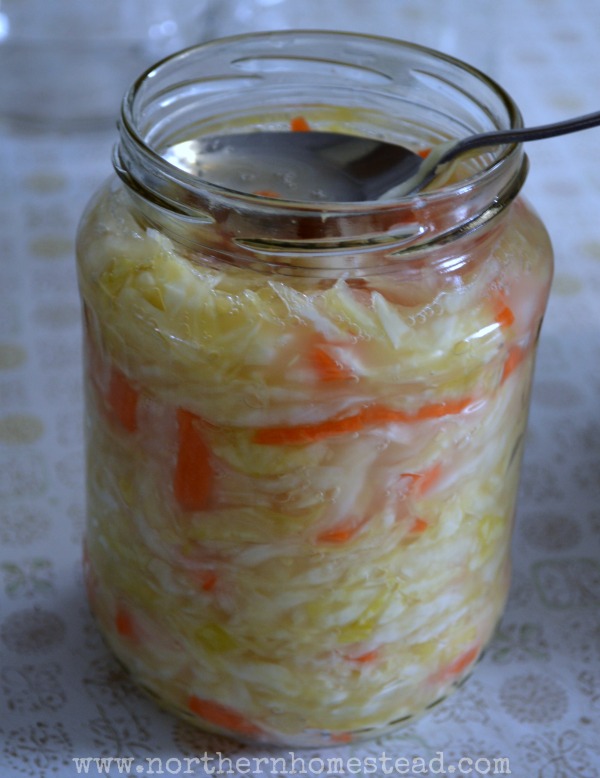 Move the finished sauerkraut into jars, pushing it down so it is covered with liquid (very important!), close the jars tightly and keep them in the fridge. It is good for several months, but it doesn't last long in our house.
To learn more about fermented vegetables we would recommend the book: Fermented Vegetables: Creative Recipes for Fermenting 64 Vegetables & Herbs in Krauts, Kimchis, Brined Pickles, Chutneys, Relishes & Pastes.
We invite you to subscribe to Northern Homestead and follow us on Instagram, Facebook or Pinterest for more yummy recipes.
More Recipes You Might Enjoy: