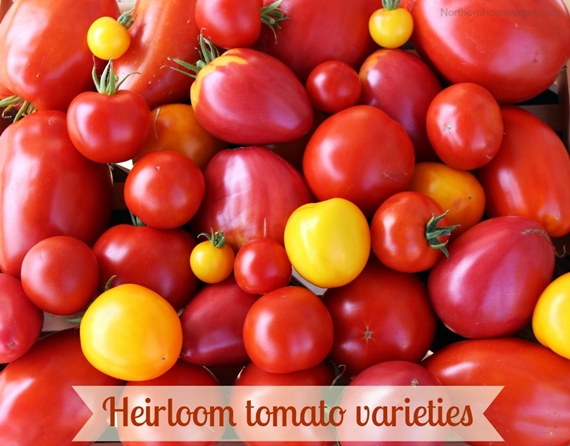 Growing tomatoes in cool climate is a challenging and fun thing to do. We grow mainly heirloom tomatoes. Every year we try some new varieties and chose from those that have proven to be great for our garden. And there are so many to choose from.
Cuor di Bue or Bull's Heart surprised us with a 2 lb 4 oz tomato! That is lots of tomato in one fruit, and it was all good and yummy!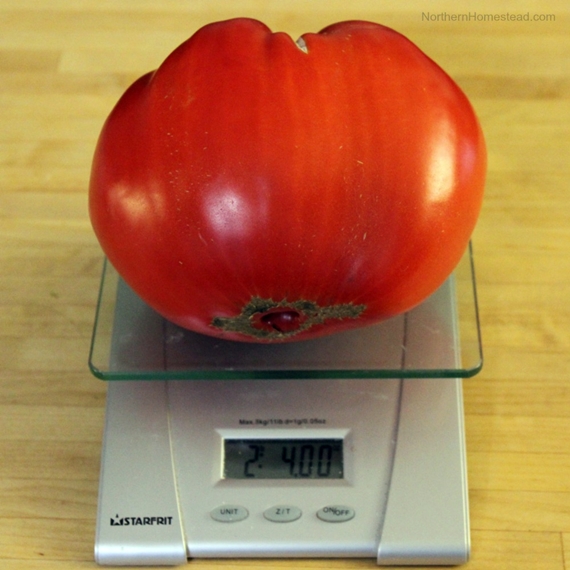 I star all our seedlings from seeds and transplant them into the ground as soon as the weather permits.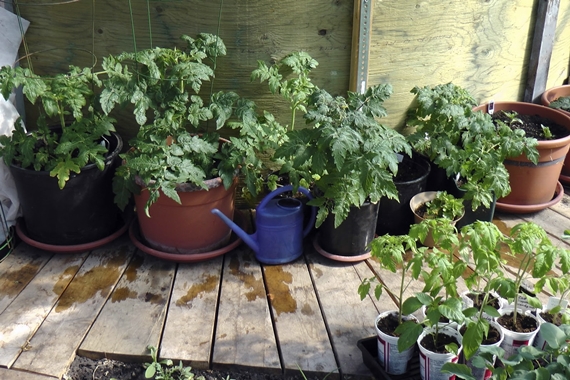 Heirloom tomato varieties we grow in a northern garden
This is a list of tomatoes we have grown over the years. Some we still grow every year, others even though good too, but we can't possible grow all of them in one year. There are so many great tomatoes to try, too.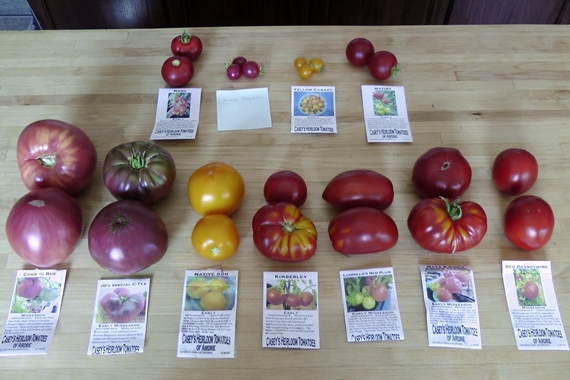 Manitoba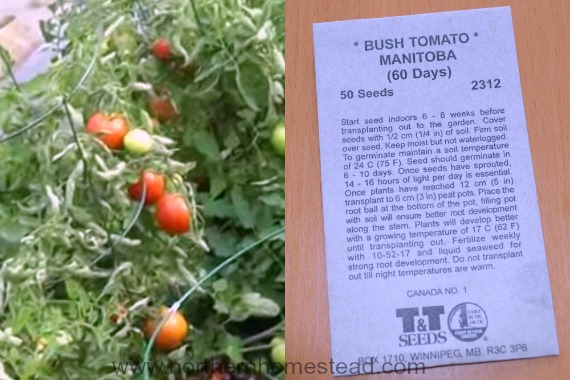 This bush type variety was developed for the prairies of Canada. It is a hearty northern tomato that thrives in cool season. It produces well and early in the season and has a tangy taste that is great for cunning and preserving. (6o days from transplant)
Anna Russian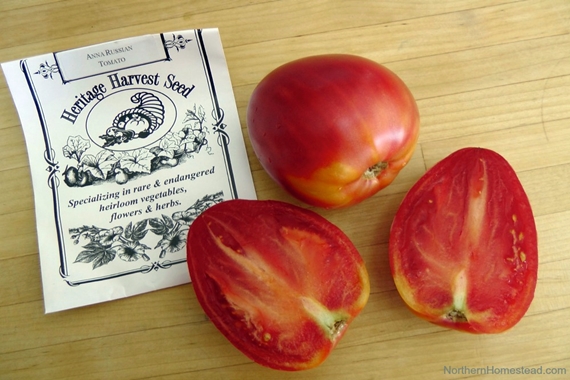 Anna Russian – I ordered the seeds just because I could not resist the name ;). A wonderful heirloom from Brenda Hillenius of Oregon who's grandfather had obtained seeds from a Russian immigrant. The heart shaped fruit are pinkish red. The flesh is sweet and juicy. Very high yields and also very early. Indeterminate, regular leaf foliage. (65 days from transplant).
Latah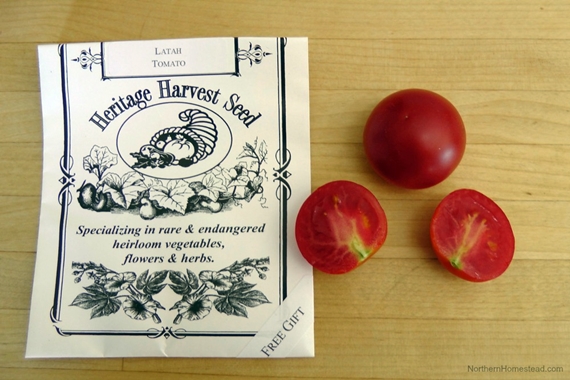 This was a gift seed package from Heritage Harvest Seeds. Developed at Latah County at the University of Idaho and named by Dr. Boe. Very early bright red tomato that average about 2 inches across. The flavor is good (very sweet) and better than many of the super early varieties. Indeterminate, regular leaf foliage. (50 days from transplant)
Cuor di Bue or Bull's Heart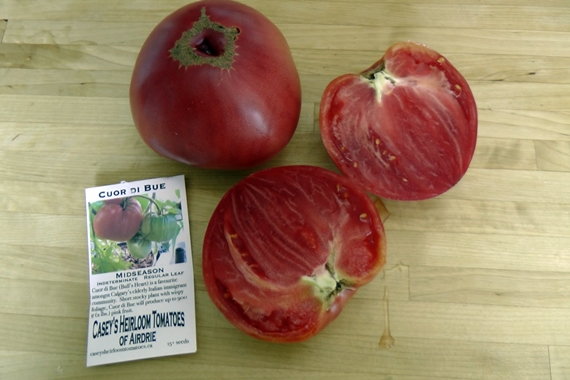 Bull's Heart is a tomato I grew up with; I was thrilled to find it here. It also is a favorite amongst Calgary's elderly Italian immigrant community.  Many grow only one tomato and this is it- Bull's Heart.  It will produce up to 900 g (2 lbs.) of pink fruit. A great tomato for making salsa, it is meaty and tasty. And did I mention its huge fruits ;). A favorite!
Native Sun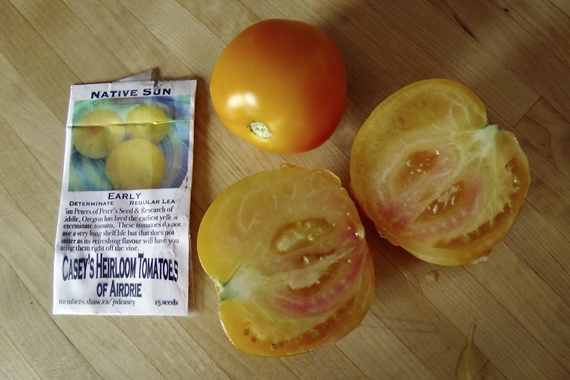 The earliest yellow determinate tomato. Yum-yum, lots of delicious tomatoes. Seldom they have reached our dinner table though, we just eat them right from the plant. Its supposed to be a poor keeper. I could not tell ;). It also looks and tastes great in a salad with dark greens like kale. Even though we like it so much I only grow one plant because there are so many fruits that we do not need more. It also grows well outside the greenhouse. A favorite!
Mano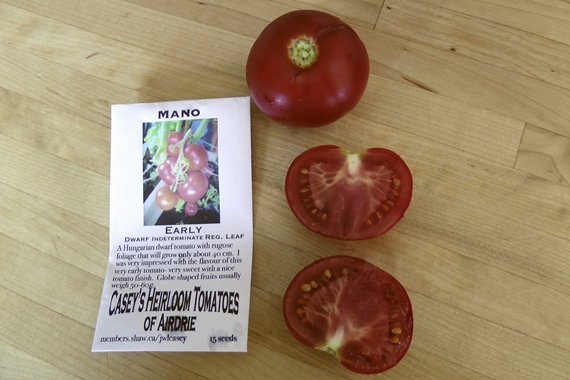 A Hungarian dwarf tomato that will grow only about 40 cm. Very flavorful and early tomato- very sweet with a nice tomato finish.  Globe shaped fruits usually weigh 50-60g. Grows well in containers and even better in the ground. Can be outside the greenhouse. A favorite!
Matina (aka Tamina)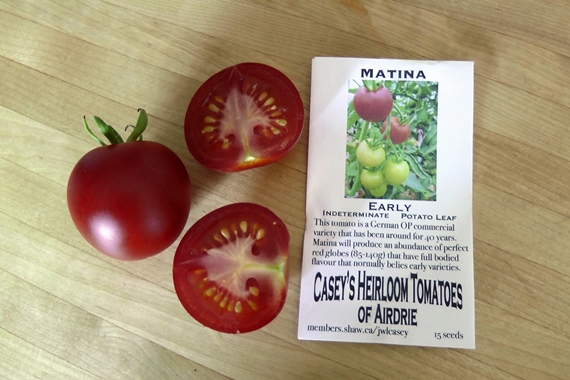 This tomato is a German OP commercial variety that has been around for 40 years.  Huge plant, full of tasty little tomatoes. Definitely an early variety! I think in mid July the first ones were ripe. Certainly worth it to grow. If you are into fermenting tomatoes, this one works very well because of the more firm skin. It also grows well outside the greenhouse in our northern climate.
Red Brandywine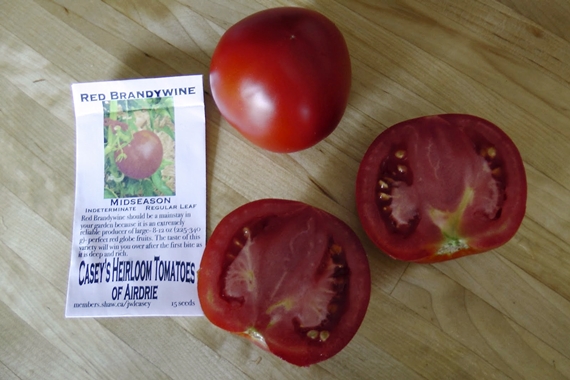 Red Brandywine is an extremely reliable producer of large- 8-12 oz (225-340 g)- perfect red globe fruits. The taste is deep and rich. A favorite!
Yellow Canary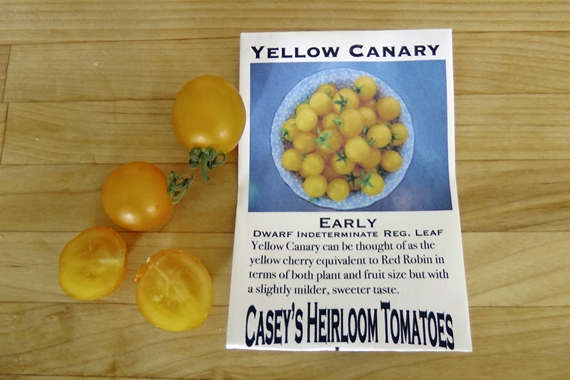 A dwarf variety for growing in a pot or hanging basket. 1 oz. cherry type golden yellow,  ornamental fruits (not sure if this one is heirloom).
Sweet Tumbler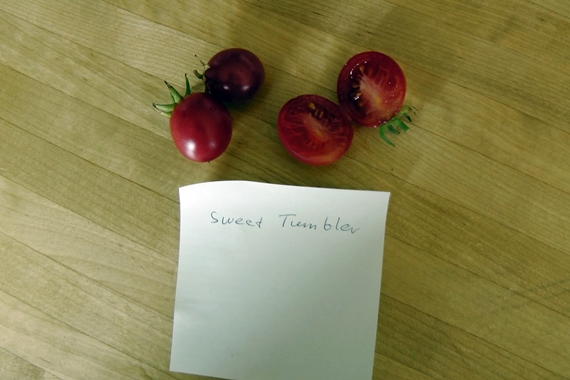 An Australian open-pollinated tumbler type, mid season, pink cherry tomato that will only grow 6" to 8" tall.  At times it seem that this plant will produce more flowers than leaves. However, my plant this year was not healthy.
JD's Special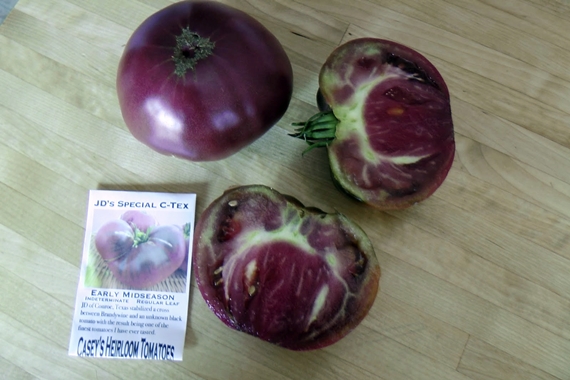 JD of Conroe, Texas, stabilized a cross between Brandywine and an unknown black tomato.  A red/black early and tasty tomato. I have been successful growing this one outside the greenhouse too.
Kimberley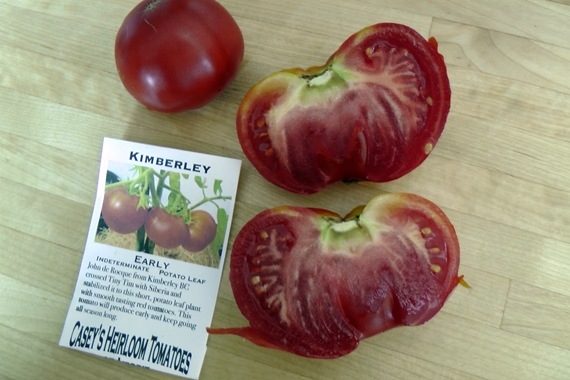 John de Rocque from Kimberley BC crossed Tiny Tim with Siberia and stabilized it to this short, potato leaf plant with smooth tasting red tomatoes. This tomato will produce early and keep going all season long.
Ludmilla's Red Plum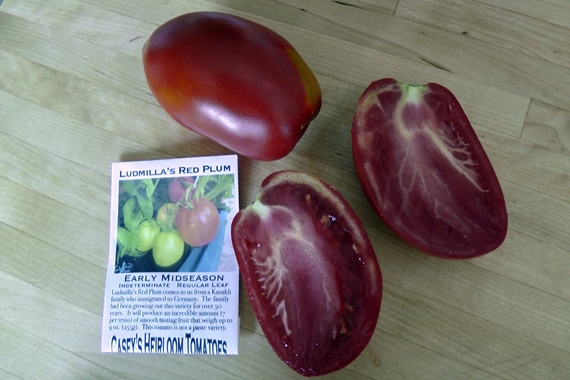 Ludmilla's Red Plum comes from a Kazakh family who immigrated to Germany.  The family had been growing out this variety for over 50 years.  It will produce an incredible amount (7 per truss) of smooth tasting fruit that weigh up to 9 oz. (255g).  This tomato is not a paste variety. Every year I think that I will not grow it again, but then I still do, hmm.
Maya & Sion's Airdrie Classic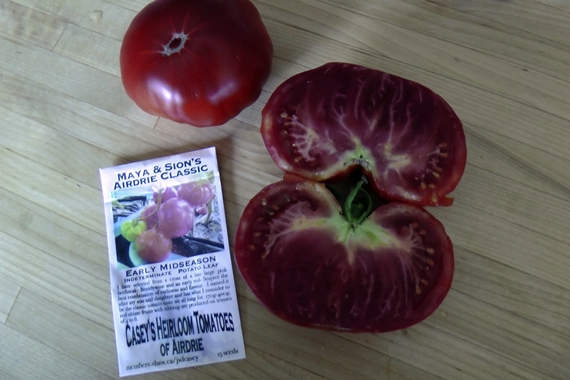 A cross of a late large pink beefsteak- Brandywine, and an early red- Stupice, the best combination of earliness and flavor.  It is named after Caseys heirloom tomatoes son and daughter. 170g-400g, red oblate fruits with ribbing are produced on trusses of 4 to 8.
If we had to chose just one variety, we would not be able to. But we could stick to four favorites. But than again, I would miss fermenting the Matina and the beautiful Yellow Canary, hmm.
We invite you to subscribe to Northern Homestead and follow us on Facebook or Pinterest for the latest updates.
More Growing Tomatoes Posts You Might Enjoy: