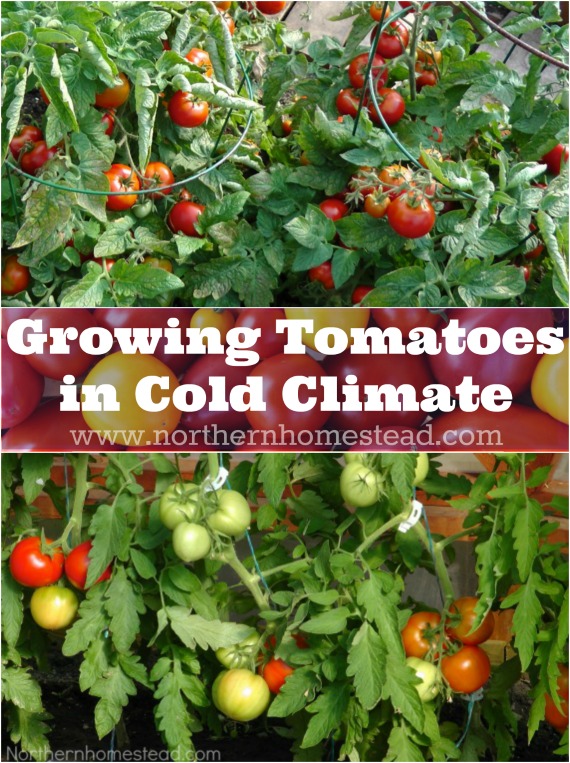 Nothing says summer like a freshly picked, ripe tomato from the vine. However, in a cold climate and short growing season, it does not happen very often, if at all. Most tomato growers around here pick green tomatoes in the fall and after ripen them indoors. Our summer seems to be just too short and too cool to ripen tomatoes.
We have good news for you today: With these 9 simple tips you too can harvest ripe tomatoes in the summer.
Tomatoes are a summer crop.  They die when freezing weather occurs, but they also do not like it cold, windy, and wet. In order to grow tomatoes and get them to ripen, they need a warm, dry spot. However, with summer night temperatures dropping under 10C (50F) tomatoes will be shivering. What to do? Here are some simple tips for growing tomatoes in cold climate and harvest ripe tomatoes in the summer.
Note: To achieve ripe tomatoes in a greenhouse is much easier than it is outdoors, and I think it is the best way to go for us northern growers. Still, in this post, I will concentrate on outdoor growing and just give some tips on greenhouse growing.
1. Choose an early tomato variety
Not all tomatoes are the same. Some ripen faster and tolerate cool weather better than others. Generally determinate or dwarf tomatoes are earlier and better suited for outdoor growing. Casey's heirloom tomatoes catalog has a guide to the best (non-cherry) tomatoes to grow outdoors in Calgary (zone 3) and also a guide to the best tomatoes to grow in pots. You might find your favorite variety on that list.
Other seed suppliers have great tomatoes for a short and cool season, too. Just make sure they are early. It is best to get seeds from local growers, or a climate similar to yours. Those tomato plants have already been adjusted to the weather and will grow and produce better.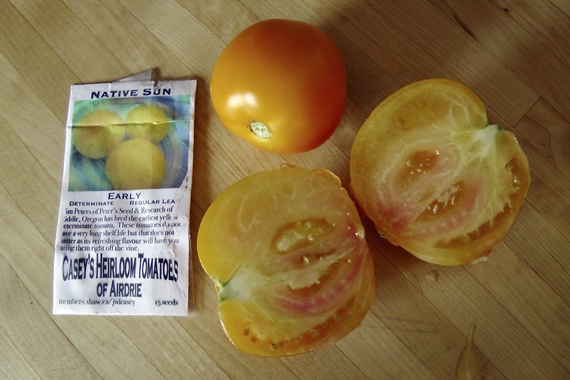 2. Start tomatoes about 6 – 8 weeks prior to planting them out
You want the seedling to be just about setting out buds. Not bloomed yet. In our area, our last frost date is May 26. Since tomatoes do not tolerate any frost, you might have to wait till June 1 to plant them outdoors. Start the seeds indoors end of March to mid-April. If you have grow lights or a very sunny window, the seedlings will grow faster so plant them later.
In most cases, it does not work to start seedlings earlier to get ripe tomatoes earlier. If the seedling is overgrown, it will suffer, and you will get ripe tomatoes later. Read all about starting tomatoes from seeds here.
If you do have a greenhouse, and or use protection (see below) you might be able to plant them a few weeks earlier.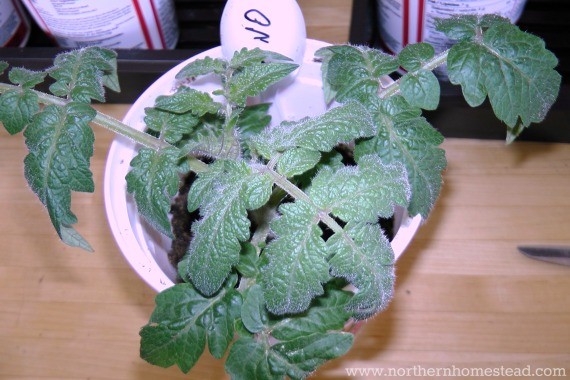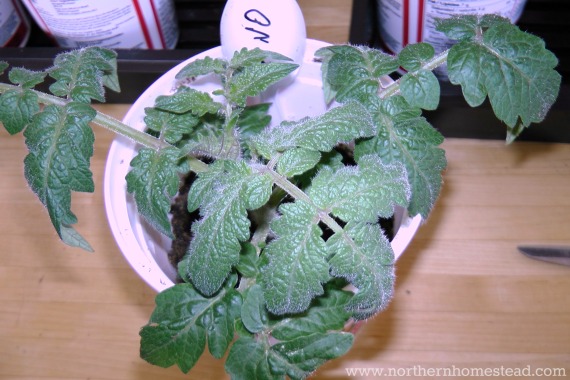 3. Choose a sheltered location
Location is everything when it comes to growing tomatoes. If you have a spot in your garden that is too hot for most crops, it might be just right for tomatoes. If you do not have a warm spot in your garden, but on your deck, tomatoes can be grown in pots or grow bags. We grow ours in grow bags on our driveway. The heat from the concrete and the black bags will help to keep the heat-loving plants warm. See how to grow in grow bags.
Note, if you are in a warm climate, tomatoes might be too hot in containers on yurt driveway. We are speaking here about a cool climate.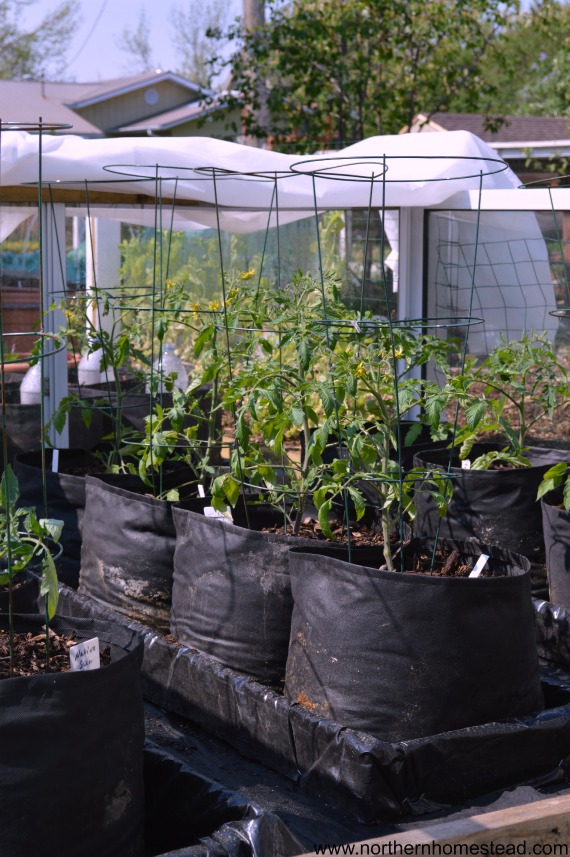 4. Add manure to the soil while planting
Manure has the tendency to warm up the soil. Especially horse manure is known for that. Just make sure the manure is composted. Later in the season, water with compost tea. The boost will help the plants to grow better and mature earlier.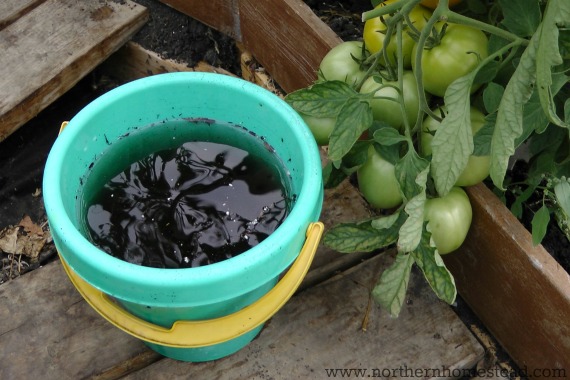 A tip that I just learned from a Russian grower is interesting enough to share. He uses freshly cat grass (hey) and piles it up so that the hey starts to compost, get warm. At this point, he layers the hot compost around the tomato plants. It is not hot enough to harm the plant but does give additional heat to the plants.
5. Protect young tomato plants
You get what you pay for, or in this case what you invest in. To plant tomatoes in an open field, and leave them to the elements, will not lead to early ripe tomatoes. Give them as much protection as you can give outdoors. I like the Plant Protection Blanket
, it is light weighted and can be left on for days, as needed. You can cover a tomato bed with it, or wrap an individual plant.
Built a wind barrier for the tomatoes out of recycled windows. This simple frame works very well in creating a micro-climate.
You can also use a Kozy Coats Water Filled Garden Teepee
, add water, and place the filled teepees over the plants. The Kozy Coat becomes an igloo, keeping in the heat and warmth from the soil.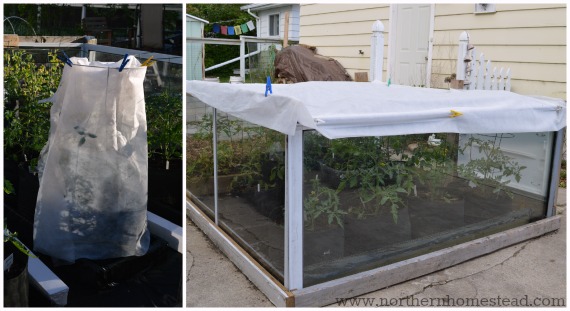 6. Add thermal mass
The Kozy Coat already works as protection and thermal mass, or you can simply put a milk jar filled with water next to the plant. Rocks work the same way, build a little wall behind your plants, the rocks will heat up during the day and give the heat back at night, giving some wind protection as well.
Thermal mass seems to be even more important in a greenhouse (See water tank in a greenhouse). A plastic covered greenhouse gives you only about 3 degrees at night but heats up the place beyond comfortable during the day. The fluctuation  in temperatureis very hard on plants. Thermal mass helps to regulate it.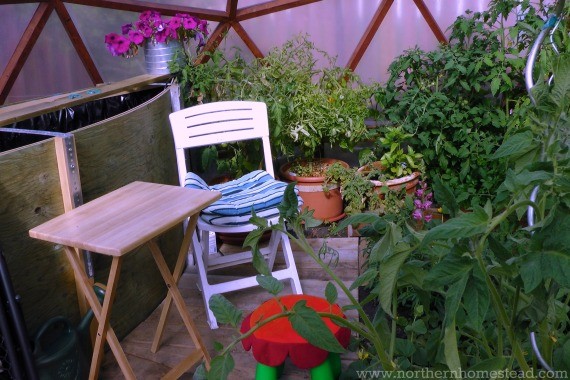 7. Hand pollinate
Pollinating tomato plants is very easy, just shake the plants, or the flower cluster a bit, that's it. Sure, wind or insects can do it for you, but while waiting for them you might lose some precious ripening time.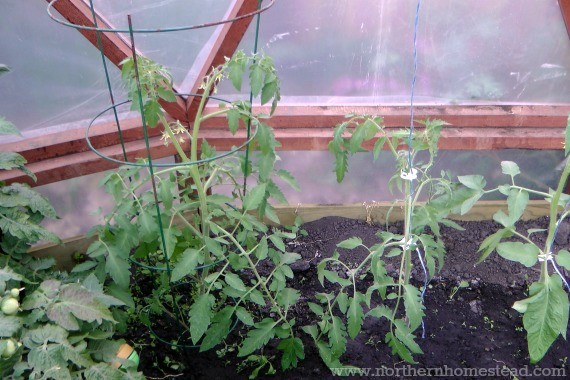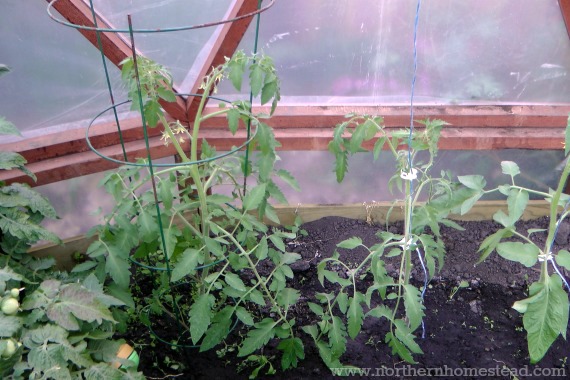 8. Water with stagnant water
Watering plants with tap water may or may not harm beneficial bacteria in the soil, but it sure is to cold for heat loving plants. It is better to use stagnant water that is warmed up from the sun. That way the plants will not go into shock every time you water.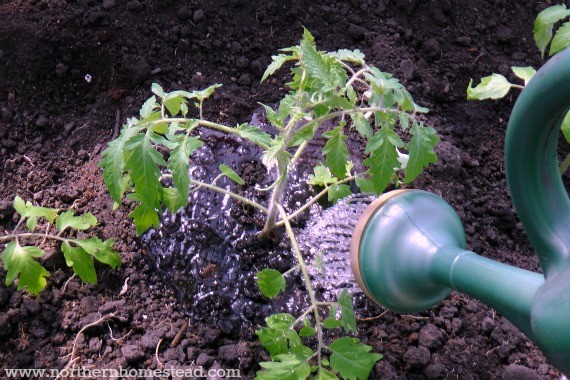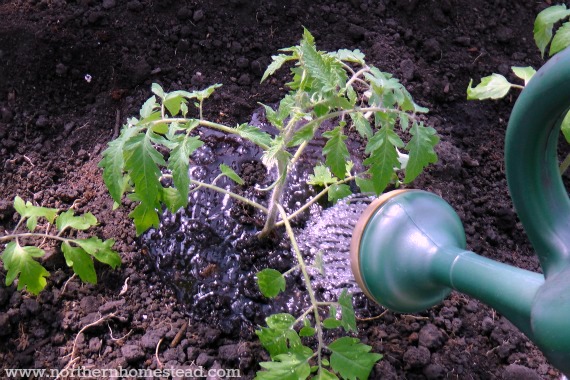 9. Prune your plant
Most determinate plants do not need pruning. Still, if you have very big tomato clusters, cut them back some, they will ripen faster. If the plant is indeterminate, definitely prune it back. See whether to prune or not to prune tomato plants. Outdoors you want to prune the plants even more than in a greenhouse. You will get less fruit, but they will be bigger and ripen faster. It's the better choice.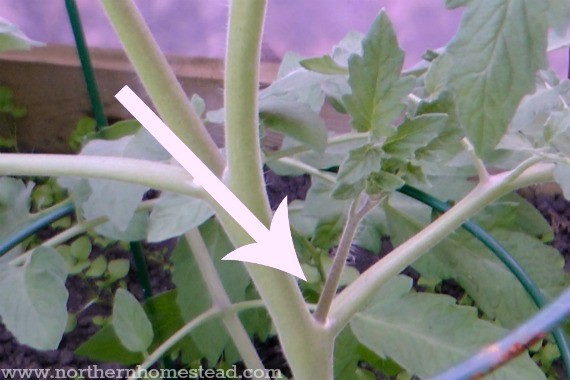 Here you have it, 9 simple tips to grow tomatoes successfully in cold climate and harvest ripe tomatoes in the summer. The more protection, love, and care you give, the earlier the plant will grow and ripen.
However, for growing ripe tomatoes around here some summers are better than others. If the weather is just too cool, and it snows in between, do not beat yourself up about it. Tomatoes do ripen nicely indoors.
Happy tomato growing!
If you like this post don't forget to subscribe to Northern Homestead and follow us on Instagram, Facebook, or Pinterest for the latest updates.
More Growing Tomatoes Posts You Might Enjoy: