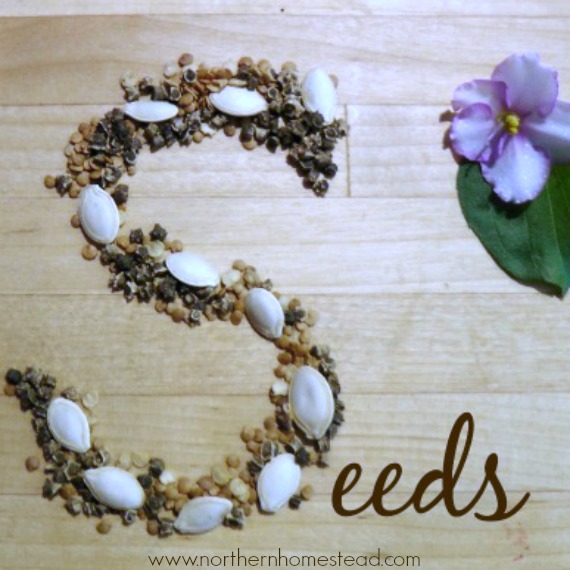 It's winter, it's snowy, it's cold here – a great time to snuggle up in a blanket and dream about the summer garden. In this blog post, we cover getting annual vegetable seeds for the new growing season.
Personally, we start with organizing seeds that we already have and then getting seeds for the new growing season, to be ready for spring planting.
Getting seeds for the new growing season is best by saving them. Only open-pollinated seeds can be saved. The second best is to buy heirloom, open-pollinated, naturally, or organically grown seeds from local growers. Look for a seed company in a climate that is similar to yours.
What annual vegetable seeds to choose
Know your frost-free days. Before getting seeds we want to know our frost-free days. The time period from our last frost in spring to our first frost in fall. To find the info about the frost dates in your region use this link for Canada and this one for the USA. In our region, it is 106 days, which means that all my seeds, no matter where I get them from, should have less than 106 days to maturity to be able to mature and bear fruit here.
What do those days to maturity mean? It's the optimal growing condition time counted from seedling to harvest. For example, if a carrot seed package says 15-20 days to germinate and 80 days to maturity, we will need 100 growing days from seed to harvest that are optimal for growing carrots. Since carrots are a cold-weather crop, we will easily have 100 days during our short summer.
However, if we want to grow heat-loving plants, but most of our 106 frost-free days are cool, they do not count for the heat-loving plant. Simple because the plant will not grow during those days. Look for varieties that mature faster.
If it is a continuous fruit-bearing plant like tomatoes, beans, cucumbers, etc., the days to maturity are best to be at least 30 days less than the optimal growing condition days. That would allow the plant to produce for about a month. I usually try to stay within the 50-70 days range.
Grow what you eat. Looking through a beautiful seed catalog can be misleading. It is better to think about what you actually want to eat. I still remember how strange our garage smelled after we had grown too many rutabagas and didn't know what to do with them. We put them into the garage and forgot about them. No one was missing them at our house. After a while we noticed a strange smell, it took us some time to find out where it came from. We learned the lesson: If you do not want to eat it, don't grow it! And if you don't grow it, you sure do not need the seeds.
Where to get seeds
Seeds can be ordered from a seed catalog or online as well as bought at a local seed supplier. A locally Seedy Saturday event is also a great place to get seeds. The advantage of a catalog/online order is that I can take the time to see what is available, compare varieties, and decide what we really want. Getting seeds locally can be favorable in price especially if using special sales, and there are no shipping costs.
Remember it is good to choose a seed grower close to you or at least similar in climate. Take note of where seed companies get their seeds from.
Below we list seed suppliers in Canada sorted by provinces, to make it easier to find seeds adjusted to your growing conditions. The more unique your climate is, the more important that can be. It does not mean that seeds ordered from the west coast will not grow in our prairie climate, they most likely will. But if I can get the same variety locally I will have better results.
I'm aware that our readers come from all over the world. But since we are in Canada, we have the most comprehensive list from Canada.
Canada
Caseys Heirloom Tomatoes in Alberta (Our favorite for tomatoes)
Harmonic Herbs in Alberta
Seed Potatoes in Alberta
A'bunadh Seeds in Alberta
Wild Rose Heritage Seed in Alberta
Bright Bush Farm in Alberta
Green Witch Seed in Alberta
Heirloom Seed Vault in Alberta
Heritage Farm in Alberta
West Coast Seeds in British Columbia
BC Eco Seed in British Columbia
Brother Nature in British Columbia
Eagle Ridge Seeds in British Columbia
Eternal Seed in British Columbia
Full Circle Seeds in British Columbia
Metchosin Farm in British Columbia
Saanich Organics in British Columbia
Salt Spring Seeds in British Columbia
Prairie Garden Seeds in Saskatchewan
Early's In Saskatchewan
Mumm's Sprouting Seeds in Saskatchewan
Sage North Seeds in Yukon
USA
For seed companies in the USA, I asked my friends at Homestead Bloggers Network. Here are some great seed companies they recommended:
We invite you to subscribe to Northern Homestead and follow us on Instagram, Facebook, or Pinterest for more great tips.
More Seed Related Posts You Might Enjoy