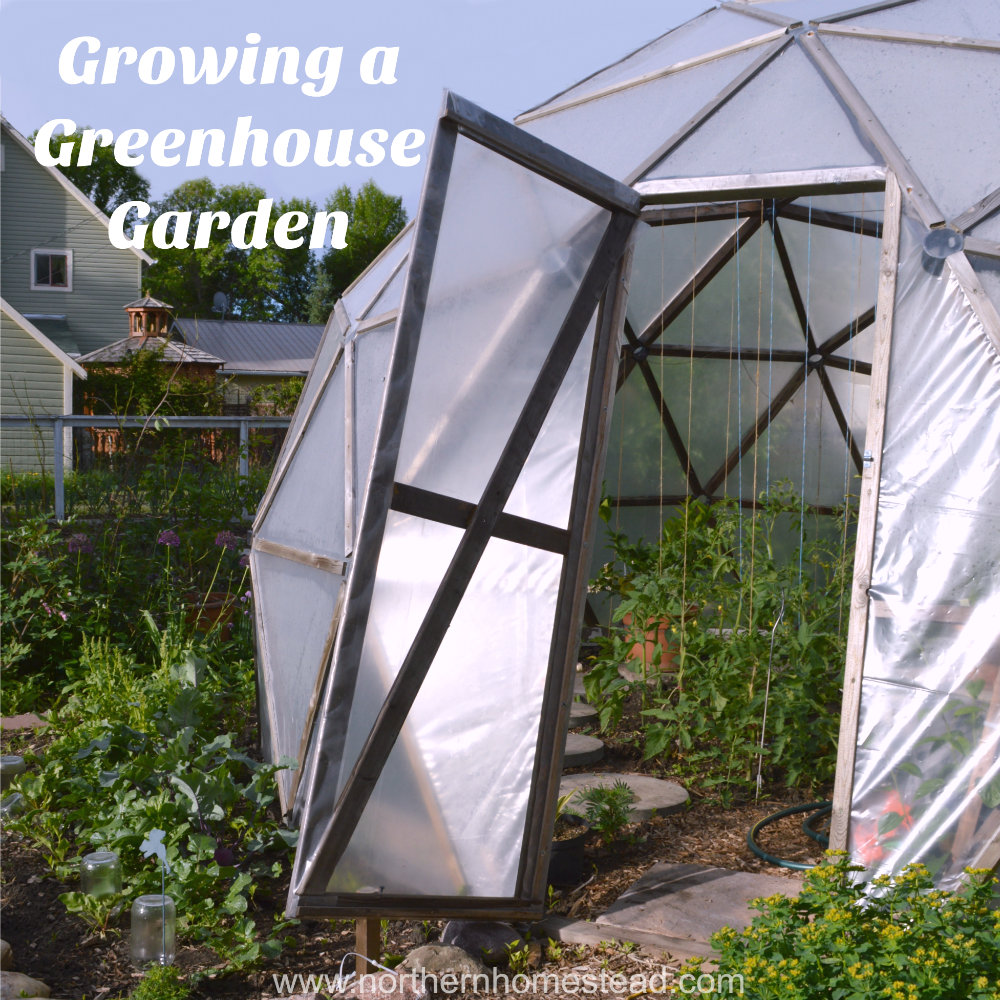 Growing a greenhouse garden in a cold climate is like moving a portion of your garden south. There are many greenhouses to choose from for different uses.
A greenhouse garden is a busy and fun place. If you only used your greenhouse to start plants in the spring, consider extending the use to a greenhouse garden.
Here are a few things to consider for growing a greenhouse garden.
The location for growing a greenhouse garden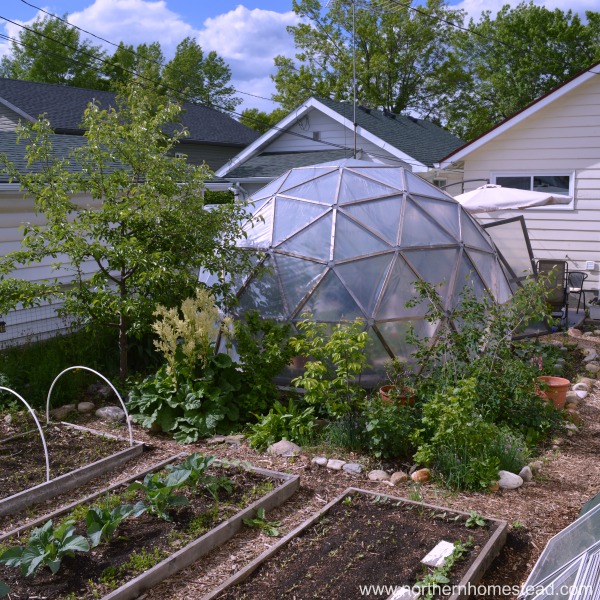 Just like with an outdoor garden, a greenhouse should have a great gardening location. You want to have lots of sunshine, especially for morning sun. Depending on your climate some shade in the afternoon might be helpful.
The greenhouse should not be too close to shallow-rooted trees like Willow, Aspen, Pin Oak, and Beech. Those will suck all the moisture out of your soil.
The greenhouse garden also should be well accessible, you want to be able to keep an eye on it and enjoy it all summer long.
The soil for growing a greenhouse garden
Just like with an outdoor garden, the soil is the heart of your greenhouse garden. Good soil equals to a good garden. If you can, build your greenhouse on good soil. The good soil, covered with a greenhouse will warm up quickly in spring and provide a great place to grow a garden.
To keep that good soil in your greenhouse garden for many years to come, you will need to put some effort into it. Since a greenhouse is an enclosed environment, the soil will not recover as quickly as in an outdoor garden. There is no wind to blow bugs away, nor is there a good rain to wash excess minerals build up off. You will have to do this yourself.
We like to end the growing season in our greenhouse with a good wash for the entire greenhouse from top to bottom. This way bugs are discouraged to stay over the winter, and we can have a fresh start in the spring.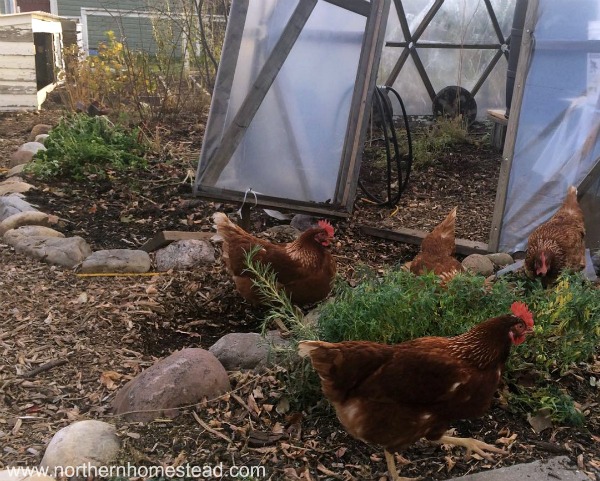 If you have chickens, let them scratch in the greenhouse at the end of the season. Remove all the plants and pathways, to ensure there aren't any nesting insects.
In spring we start with a good soak for the soil. We wash off the soil so to speak.
Add a new layer ( 1- 2 inches) of compost on top of the soil. This can be done in the fall or in early spring. WE do a no-tig garden in the greenhouse as well as in the whole garden. The compost feeds the soil and builds it up for a new garden season.
If your greenhouse doesn't have soil, you can still grow a greenhouse garden, but you would have to build good soil.
Check out our posts on grow bags, wicking beds, and raised window protected garden. All of these are great ways to build a garden where there is no soil.
And last but not least consider hydroponic as a way to grow a greenhouse garden. In our garage greenhouse, we grow mostly hydroponically. It is a very clean way to grow a garden if there is no soil to start with.
The temperature in the greenhouse garden
Temperature control is one of the most important factors for a successful greenhouse garden. We mostly grow heat-loving plants in the greenhouse, however, there are times when it's still too hot for those plants.
We find that the best way to control temperature is by having a decent size greenhouse and a thermal mass. The smaller the greenhouse the harder it is to regulate the temperature.
Check out the water tank post and the cooling and heating a greenhouse post. In our current geodesic dome greenhouse, this is all we use to regulate the temperature. We have no window openings, just a door.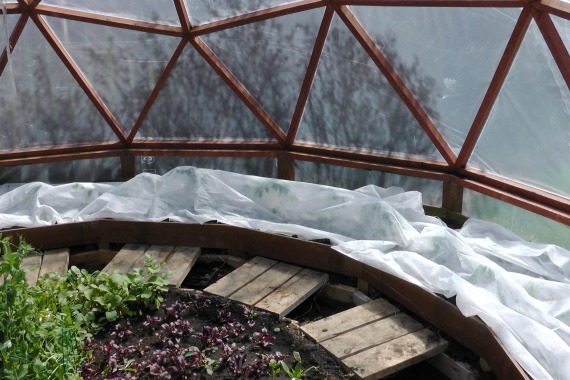 Temperature regulation is also important during cold and frosty nights. One might think that a greenhouse will protect from frost, well, it might not.
A plastic-covered greenhouse gives you only about 3-5 degrees at night. Meaning if there are 28F degrees outside, it might freeze in your greenhouse, too. You can use active or passive heating and/or cover plants with a frost blanket. Since there is no wind in a greenhouse, using a protective blanket is very easy. I have used up to 3 layers in our greenhouse, and each layer gives you about 3 degrees more.
The Water for growing a greenhouse garden

Water supply is another major factor for a successful greenhouse garden. Since we already have a water tank for temperature regulation, it also serves the purpose of watering plants. This combination and the cooling and heating system work great because the water in the tank is always warm.
You can't irrigate a warm greenhouse filled with heat-loving plants with well or tap water. It's too cold. The plants will have a shock every time watered.
Greenhouse plants need a lot of water. To ensure your greenhouse garden grows well, take caution on how you water. Read more on how to water your vegetable garden.
The plants in a greenhouse garden
What plants to grow in a greenhouse garden? Remember the greenhouse garden is like moving your garden south. It will be always at least a bit warmer in your greenhouse than it is outside, even in the winter.
In a greenhouse garden, you can grow things earlier than in your outdoor garden. It also means that you can keep plants growing longer in the fall. You can choose varieties that need a longer growing season. And also grow plants that like it warmer than your local weather can offer.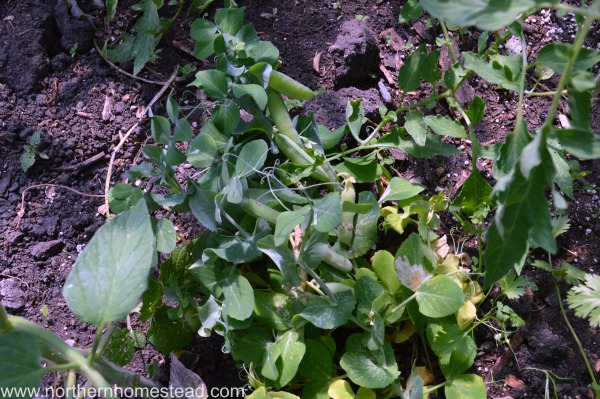 In early spring we like to grow cool-weather crops in our greenhouse. Peas are the first thing that can be planted. Also, greens and even plants from the cabbage family can be grown.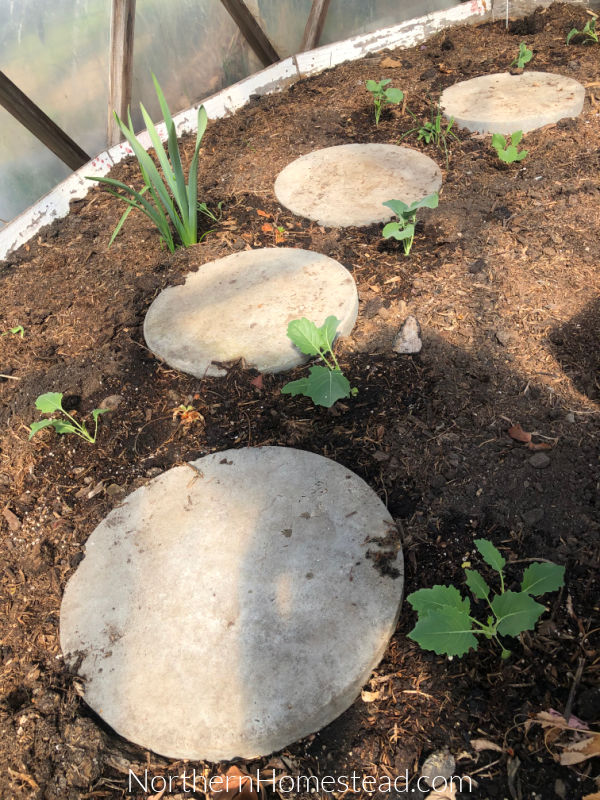 We like to plant the cool weather crop in a way that leaves space for the main crop. Like along pathways, or in between raws. Cabbage family plants like it cooler, those are not good for a summer greenhouse garden. We only grow them in early spring till early summer. Choose varieties that grow fast and mature in less than 50 days if possible.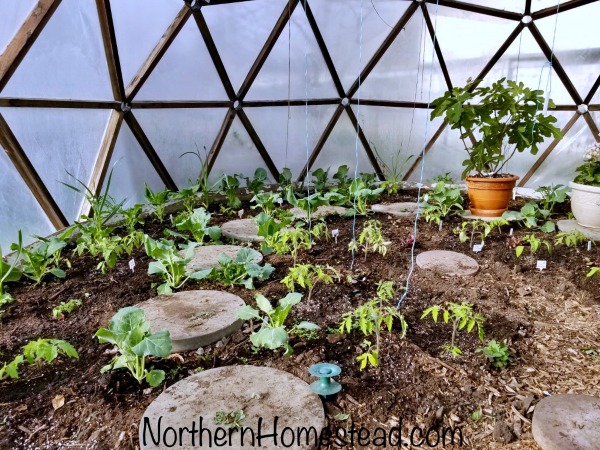 Closer to the last frost day we replant, or interplant heat-loving plants like tomatoes, peppers, cucumbers, and eggplants. By the time the heat-loving plants need the space, the cool weather crop will be done.
Herbs are a must for the greenhouse garden. Not just because so many great herbs need it warm, but also to add smell and flair to the garden. Grow basil, ginger, stevia, and lemongrass.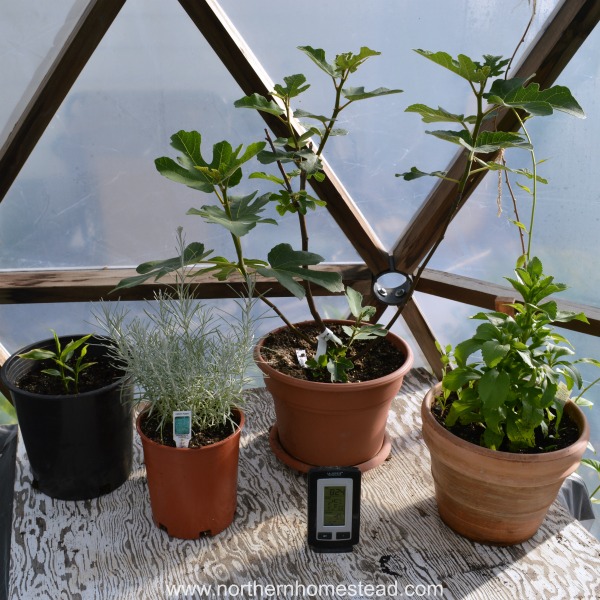 Another great plant for the greenhouse garden is day-neutral strawberries. This will start producing much earlier than anything outdoors and continue till late into fall.
Dwarf tropical trees like figs and lemons are also a great addition to your greenhouse garden. Depending on your winter weather they will need to be moved indoors for the cold months.
We also grow some grapes and kiwi in our greenhouse, we have yet to experiment more with these plants to see how they do.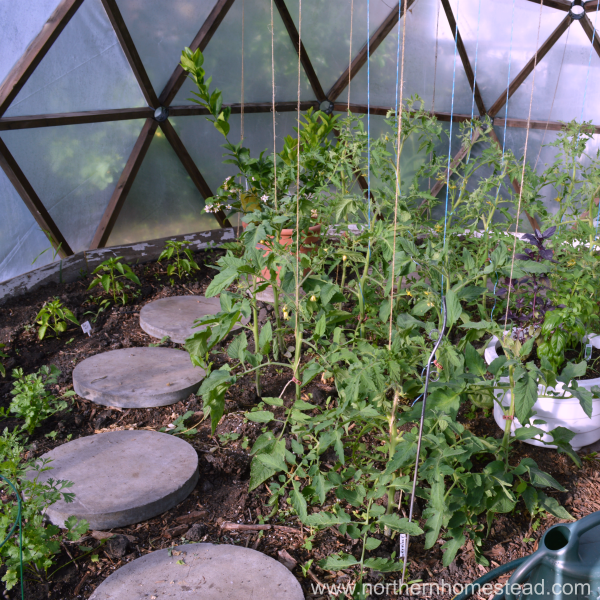 We would love to hear about your experience with a greenhouse garden. What would be your best tips and must-grow plants?
If you like this post don't forget to subscribe to Northern Homestead and follow us on Instagram, Facebook, or Pinterest for the latest updates.
More Gardening Posts You Might Enjoy: