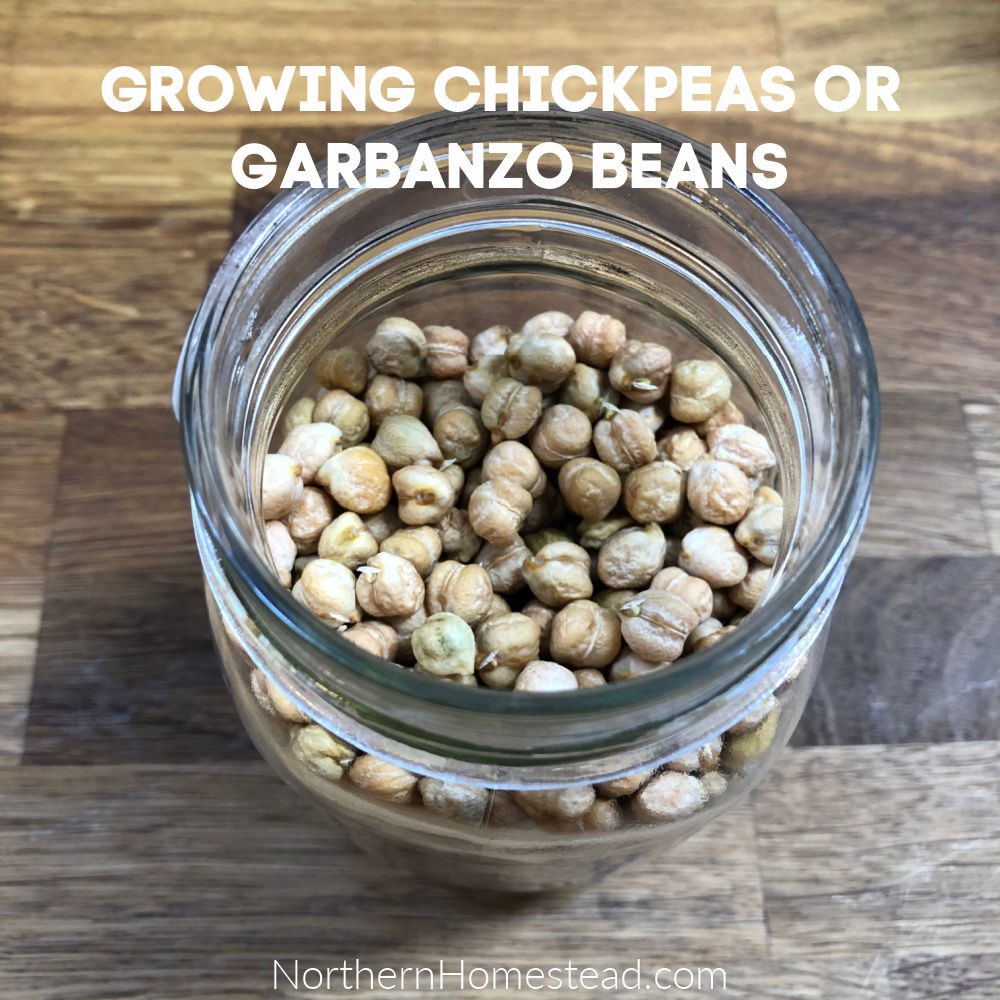 Growing chickpeas or garbanzo beans is part of my growing legumes project. I have been curious about what legumes can we grow in our cold climate and short growing season. In an urban garden, we do not have space to grow all our legumes, and that was not the goal. I wanted to see what can be grown and what would it take to grow.
This year we grew in our home garden beside the usual peas and runner beans also soybeans, tiger eye beans, mung beans, broad beans, and chickpeas.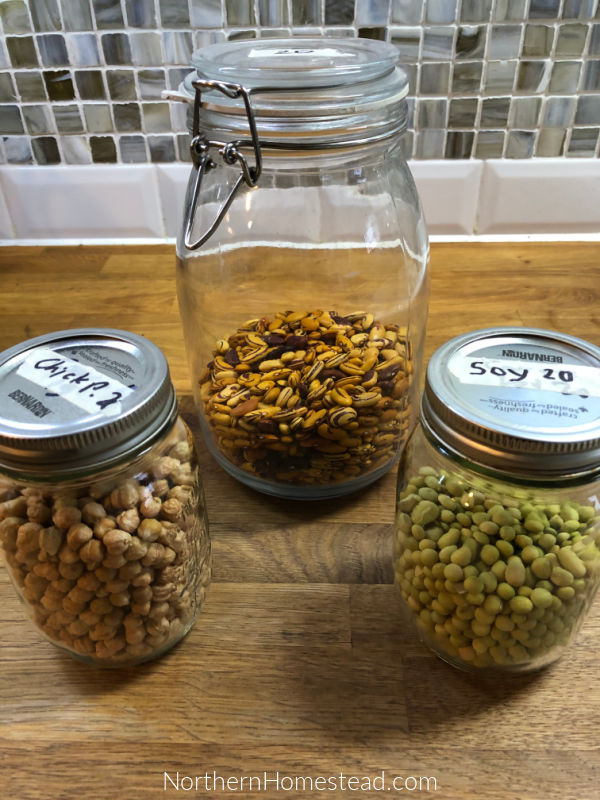 You might be wondering how we can possibly grow so much in a small space?
How to grow legumes in a small space
Legumes are nitrogen fixers, meaning they add nitrogen to the soil. "Nitrogen fixation is a process by which molecular nitrogen in the air is converted into ammonia or related nitrogenous compounds in soil.". Wikipedia
Practically, that means legumes are great companion plants. The exceptions are plants from the onion family, and beets.
Most legumes are also either small bushy plants or tall pole plants – either way not taking up a lot of ground space.
We grow legumes along fences, and edges of beds. That way they do not take much space up at all.
This year I also planted some dry beans under indeterminate tomatoes in the greenhouse. It has been a great experience. I waited till the tomato plants grew taller, and we started pruning off the lover leaves. The tomatoes did very well all summer, not needing any fertilizing, and we got a bean harvest also. A win-win.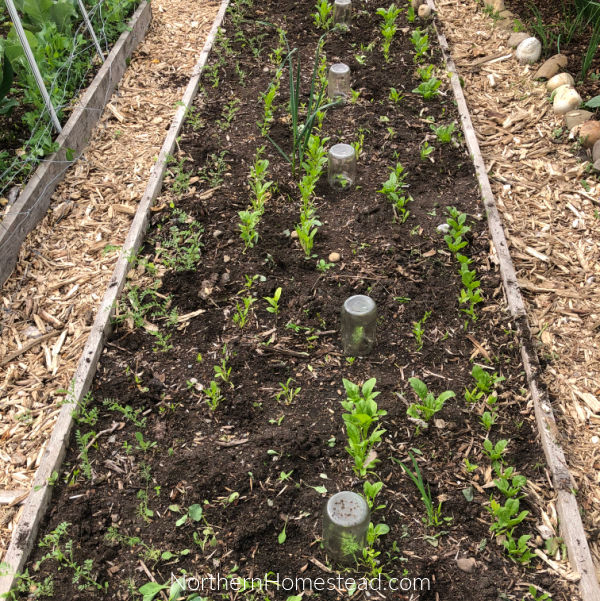 Chickpeas are bush plants. I planted them along the edge of the cucumber bed. The same bed where the overwintering spinach was still growing.
Planting chickpeas
I planted the chickpeas from a bag of dry chickpeas from a store, not a seed package.
I planted them directly into loose soil at the end of May, just before our official last frost day. Chickpeas are a cold-weather crop and need about 100 days to mature. They can be started indoors, but apparently do not transplant well. Personally, I would say planting them directly and covering with a frost blanket a few weeks before the last frost day would be good.
I planted them in a double row about 4 plants per square foot. As with most seeds, I planted them about triple their size deep.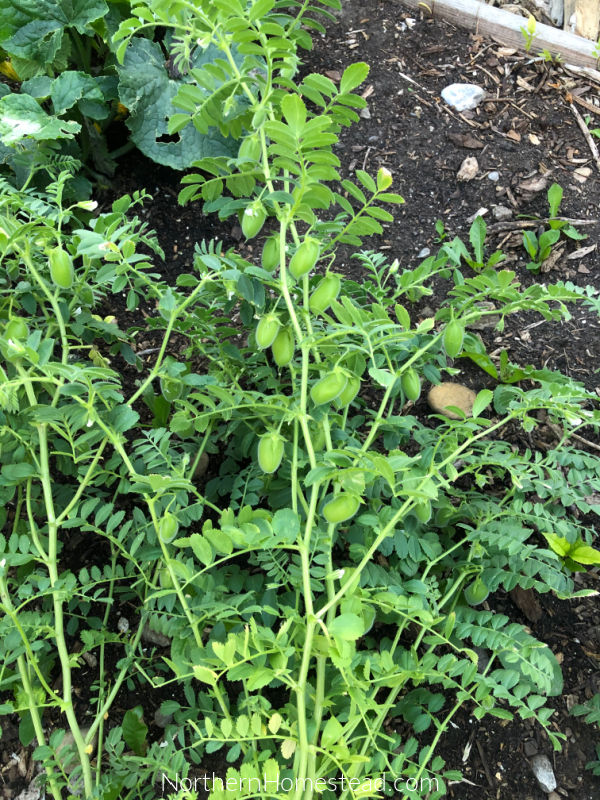 Chickpeas grow best in full sun. I found the plants to be quite ornamental with their showy little pods, and think they would make a great companion in a flower garden as well.
Care for chickpeas
Keep the soil moist till the plants are well established. Add mulch as the plant grow, if you haven't already. We use a no-till gardening method, so our beds are always mulched.
Chickpeas can tolerate some frost but grow best in 21-26ºC (70-80ºF) during the day and above 18ºC (65ºF) at night. We do not have that except maybe for a week or two at the hottest time of the year. Adding a frost blanket or hoop would have benefited them greatly. But in my growing experience, I did not pamper them at all.
The plants grew to about 24 inches (45-61 cm) and started to fall over. We added support for them, also to keep them from shading the cucumbers next to them. Otherwise, the support did not seem to be essential.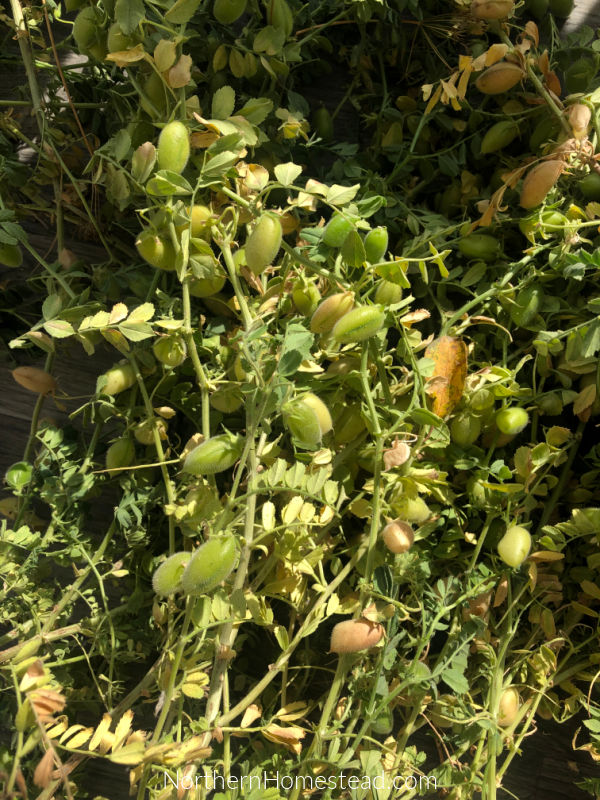 We harvested the chickpeas before the killer frost. This year frost came unusually in late September. Still, many pods were not mature yet.
Harvesting chickpeas
Growing and caring for chickpeas is a piece of cake comparing to the harvest. It's one of those plants that you grow and wonder – "Now what?"
We cut the plants at the soil level, leaving the roots in the ground to keep the nitrogen-fixing component.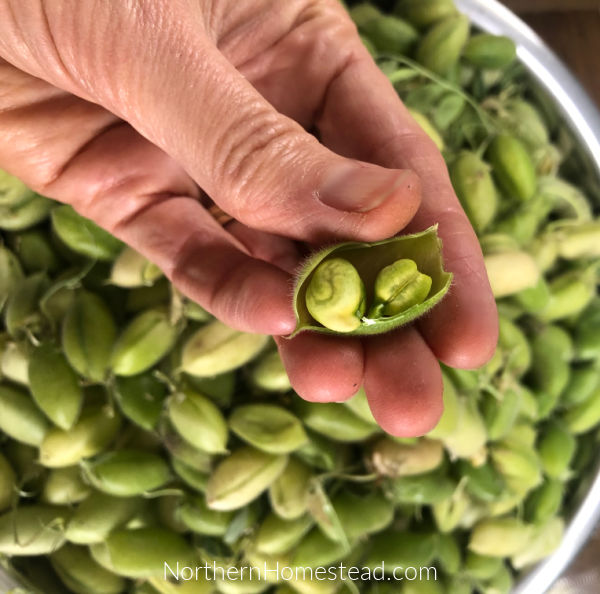 Then I picked the green pods off of the plants and placed the rest down to dry. It was a lot of work, to be honest. Good thing one can always listen to a good book while doing boring tasks.
The green chickpeas can be used like green peas and are tasty.
The rest of the chickpeas were drying on the plant for several weeks in our garage grow room. We waited till the pods were crispy dry.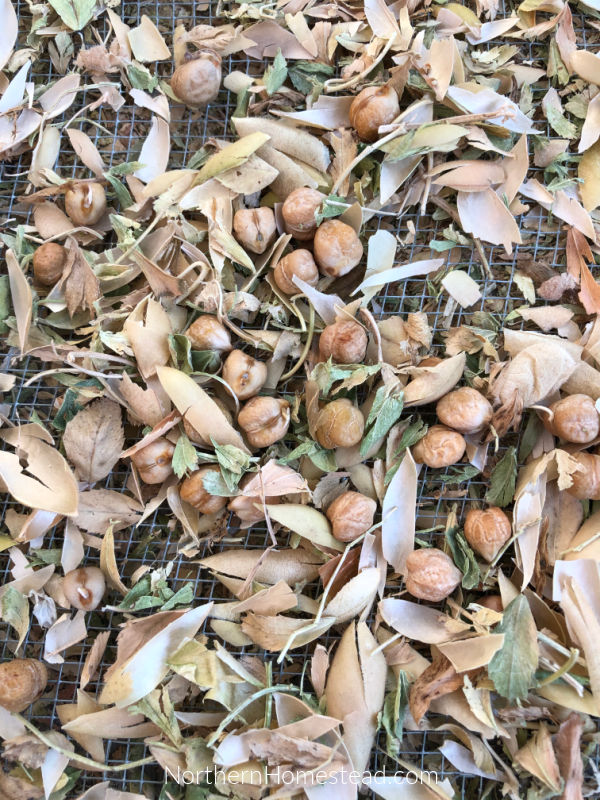 Stepping on them opened up the pods and I could gather the dry chickpeas. A ventilator helped to get all the small pieces out. The wind would do it too. I just shifted them from one box to another to get clean peas.
Using and storing chickpeas
Chickpeas are one of our favorite legumes. Roasted, or added to a dish, on a sandwich, or as hummus, chickpeas are always tasty.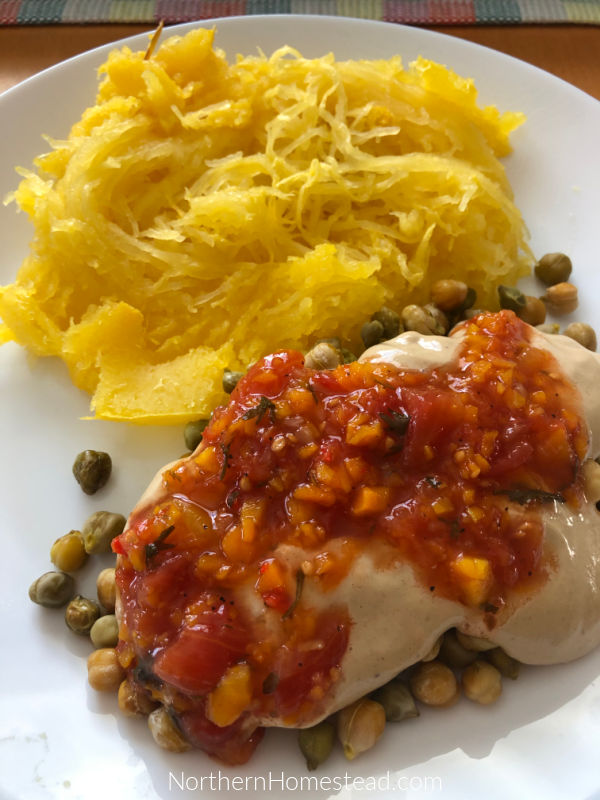 New to us were the green chickpeas. We got about two meals of green chickpeas for two, out of that one row. Here we used them just the same as mature chickpeas, (precooked) roasted and topped with cream cheese and carrot salsa. Great with roasted veggies or in this case with spaghetti squash. Yum!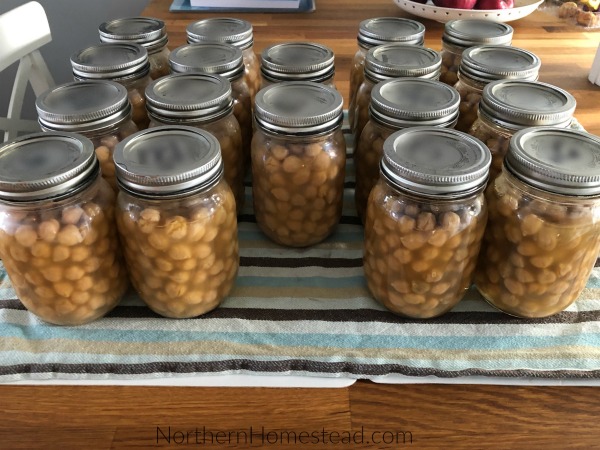 Dry chickpeas we like to can, read here how to can dry beans. Canned they are ready to be added to any dish we want.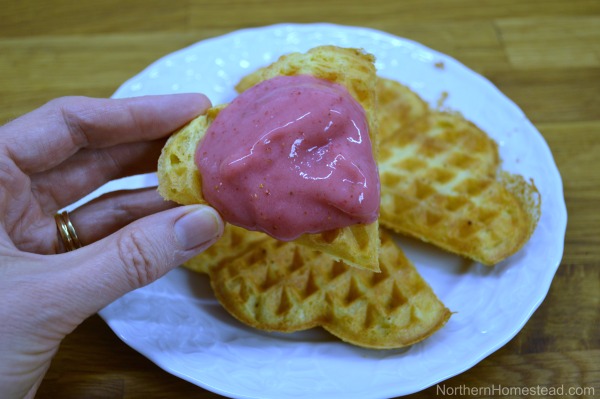 Dry chickpeas also make great flour for chickpea flour pancakes and waffles. Follow the links for recipes.
Summary
Growing chickpeas or garbanzo beans was a great experience and I'm glad we did it.
The yield was about 3 cups of chickpeas green and dry from about 14 feet of the double row. That's about 6 meals for the two of us. If we wanted a meal each week we would have to grow 10 times as much. In our case that would be 2 and a half of our raised beds. That would really be feasible if we had room for more raised beds.
The challenge was that about half of the pods were still green at harvest time. The green peas were tasty, but a lot of work to pick and peel. I am wondering if we could have pruned the plant back at the end of summer to prevent that from happening and also allow more pods to mature. No experience, just a thought.
I also think that saving seeds from our experiment and replanting them would give us much better results since the plants are already somehow acclimated to cooler temperatures.
Would we do it again?
Maybe, it's a beautiful and beneficial companion plant. To grow a year's supply would not be our goal at this time. But it is nice to know that we could if we had to.
Do you grow chickpeas or garbanzo beans? What is your best-growing tip?
If you like this post don't forget to subscribe to Northern Homestead and follow us on Instagram, Facebook, or Pinterest for the latest updates.
More Growing Food Posts You Might Enjoy: