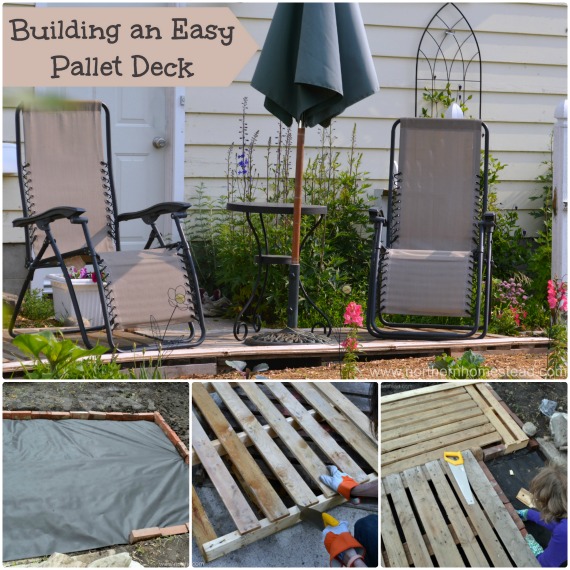 We moved into our house in late fall and were not so sure what to do about a sitting area. Since the house had no deck or patio, and we were still busy with other projects, we needed something DIY, easy, and free.
Building, in our house, is Jakob's job. He is great in it and builds amazing things like a GeoDome greenhouse. But sometimes he is so busy with his great projects that there is no time left for simpler things. That is when the kids and I take over. This way we built our temporary little greenhouse and the easy pallet deck. We are a great team ;).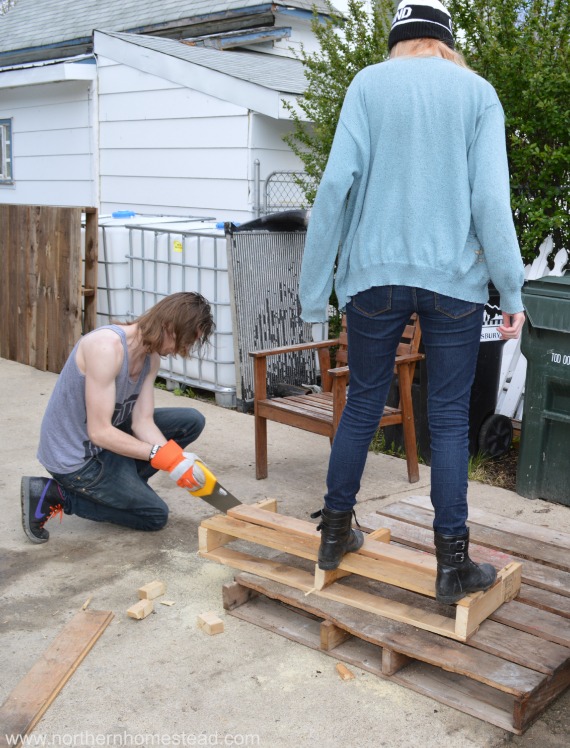 If you need a deck but have no means to spend money on it and basically no skills to build one, you came to the right place: building an easy pallet deck.
1. Get your measurements and pallets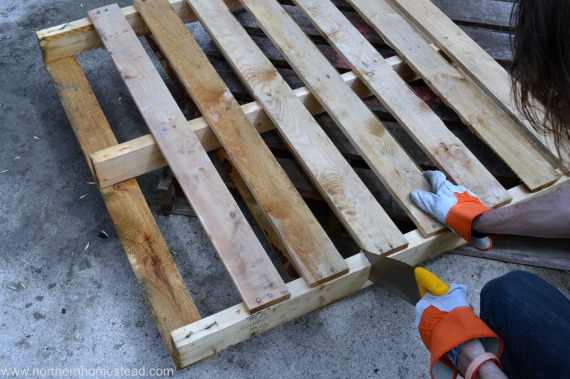 There are different kinds of pallets. Some have better quality wood than others. Some have the wood far apart. Those are great for a pallet garden, but not as suited for a pallet deck. If you can, find some with more wood. Often one side has the wood closer together, use this site as your top. Also the height, length, and width are important, have them all as similar as you can. If you have access to pallets that are all the same, that would be perfect. But free pallets often are not the same. That's ok, ours were not the same either, but worked well together.
It is better to get the pallets first and then construct the exact size of the deck than the other way around. You will need less sawing.
2. Clean up and level the ground for the deck
Depending on how long you want to use the easy pallet deck, put more or less work into this step. We wanted our deck to be temporary so we simply cleaned up the space and levelled it without using any sand or gravel. This way the garden soil in this area stayed intact and if we decide, down the road, that this place could be a beautiful flower garden, it can.
3. Cover the area with weed control fabric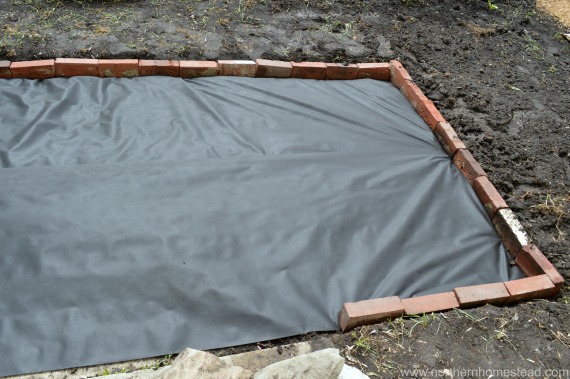 Weed Control Fabric is not good for the garden, but very useful in projects like this. It prevents weeds from growing and ruining your simple deck.  Since the pallets will hold the fabric in place, you do not need to fix it much, just so that you can put the pallets on it.  Use little rocks if the weather is windy. Since we made a brick border around the deck, we hold the fabric in place with the bricks. I cut the rest of the fabric after we placed the palettes on it.
4. Place the palettes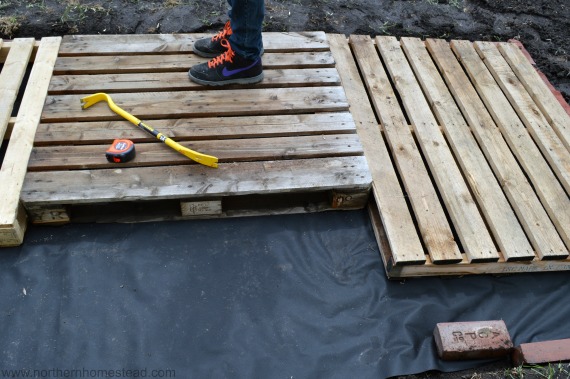 Pallets are not perfect, neither will the pallet deck be. But try to get it as good as you can. You might need some scrap wood to level the palettes to get a nice even area. Also some sawing might be needed. I was impressed by how my kids used the saw, both are quite talented. Must be dad's genes :).
5. Give it a finishing touch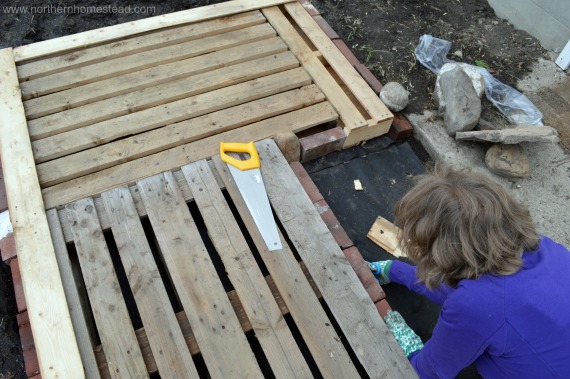 Since the easy pallet deck is right next to our back door, we wanted it to look neat. This is totally optional, but we found it added not just to the look, but also to the stability. We used some boards from Jakob's projects (one could call it stealing, but we are one, right!), and made a border. A few screws hold the board in place and the pallets together. And we also finished the brick border around the deck.
Finished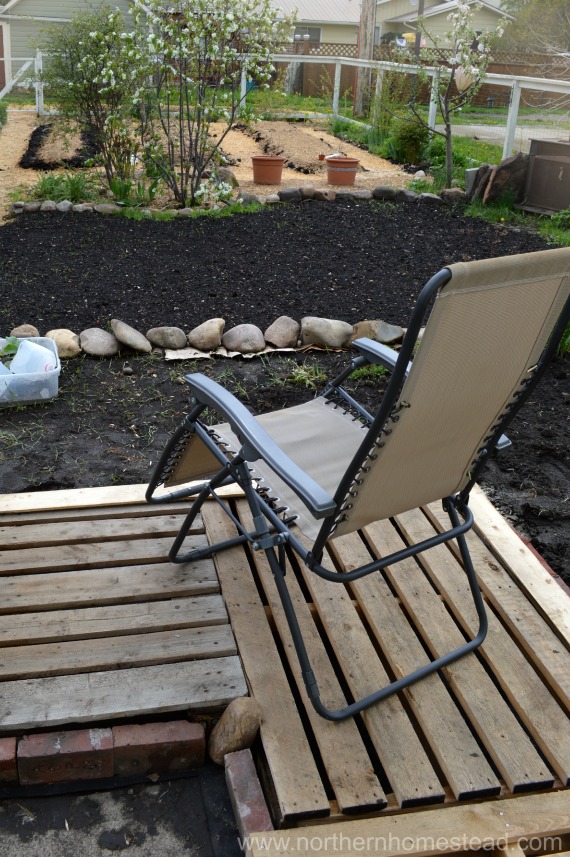 It took the 3 of us 3 hours at the most. And it was a fun DIY project. We used the deck all summer long as a sitting area and in the fall we piled the wood for the wood stove on it. Another great use for an easy pallet deck.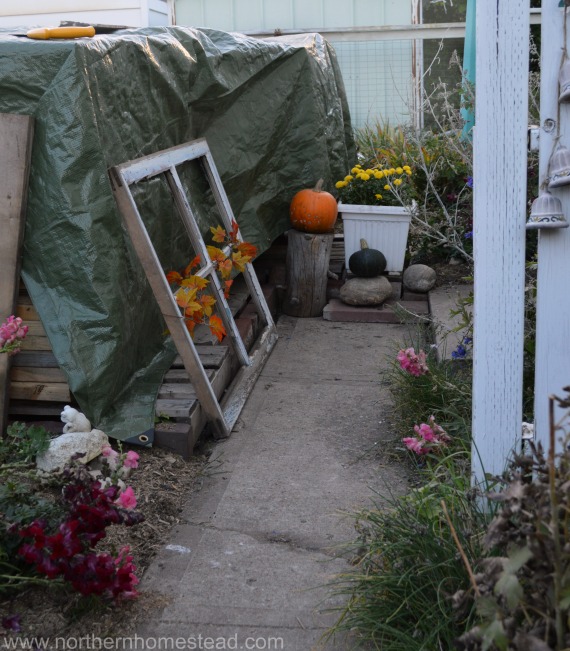 Hope you enjoyed our little project. We invite you to subscribe to Northern Homestead and follow us on Facebook or Pinterest for the latest updates.
More posts you might enjoy