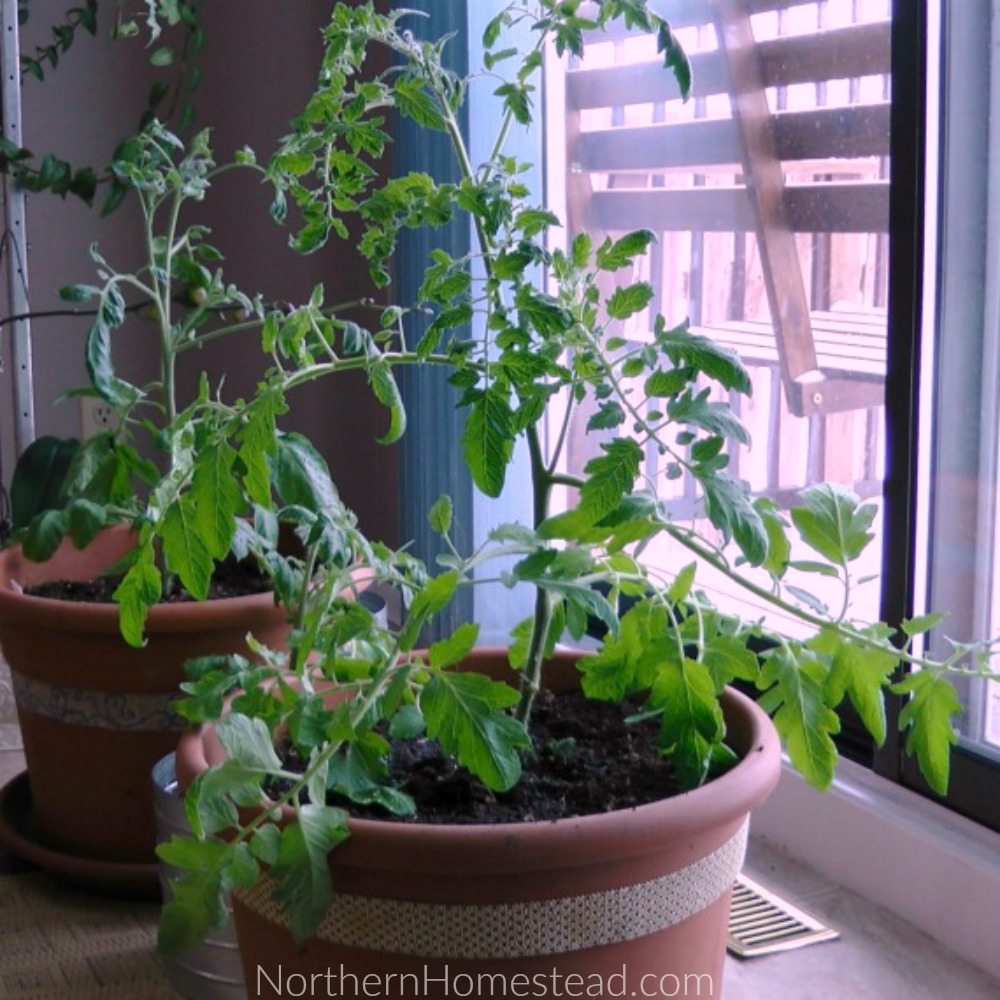 In this post, we wanted to address the soil for container gardening and raised beds. With raised beds we mean those that are not attached to the topsoil, they could also be called garden bed containers. What soils to use, how to plant it, so that you get the most benefits and how to re-use container soil.
Soil for container gardening
Soil for container gardening is different from the soil in the garden or even a raised garden bed connected to the topsoil. In nature worms and soil fungi loosen the soil and enrich it, in a container you have to build or use loose and light soil yourself.
Container soil usually has 3 components, a light growing medium, a moisture keeper and a fertilizer (compost). Of course, they are also exchangeable.
Common growing mediums that lighten the soil and add volume are Peat Moss, Coco Coir, leaves, straw, sand etc.
Vermiculite, perlite, or wood (as sawdust, small twigs, wood chips) is used to absorb and release moisture.
Natural compost, composted manure, or chemical fertilizers are used to add nutrients to the soil to feed the plants.
You can buy ready-made soil from a garden center, however, you most likely will not know what was used in that soil. Plus the ready-made soil is often quite expensive. We prefer to mix our own.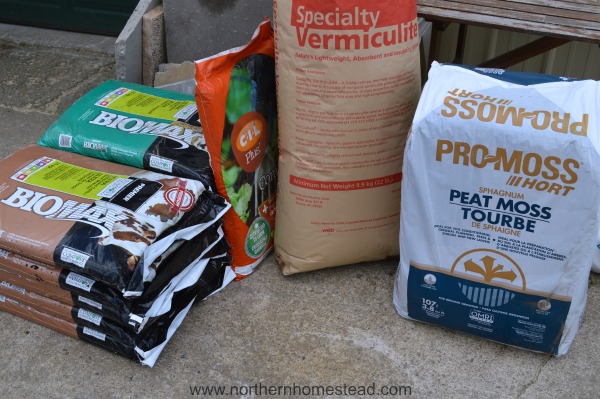 The All new Square Foot Garden book teaches how to make your own Mel's Mix. You will need
1/3 compost
1/3 vermiculite
1/3 peat moss
All of these are measured by volume, not by weight. You can find these ingredients in a garden center or Home Depot. All the needed info is in Mel's informative books. We have used and still make this mix with great results.
Containers can also be filled with all-natural materials from your garden, very much like you would build a Lasagna Garden. For example, layer some twigs at the bottom for drainage, followed by some smaller twigs or wood chips to absorb moisture. Follow by leaves or straw, to make the soil light. Then add some garden soil or unfinished compost, You can repeat the layers as many times as you need to fill the container. Top up with good fine compost to plant in.
Plant companions and rotation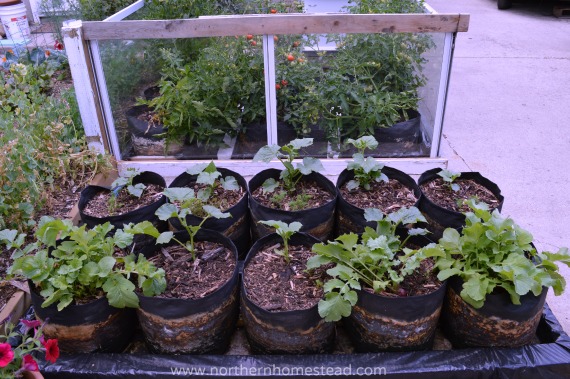 Not all plants need the same amount of nutrients. There are those that are heavy feeders.
Heavy feeders are plants that have a particularly high nitrogen requirement. These are plants like artichoke, broccoli, cucumber, potatoes, cabbage, corn, pumpkin, tomatoes, zucchini. If you want to grow them, you have to make sure there is enough compost or fertilizer in the soil. When using Mell's Mix we add at least 1/3 of compost into the mix, and also some more into the individual hole at planting times.
Then there are those plants that are nitrogen fixers. The most common once in the vegetable garden are the legumes. They can be planted together with the heavy feeders. For example corn with beans, or cucumber and peas. In these combinations, the nitrogen fixers aid the need of the heavy feeder.
Companion planting in containers does not just look good but plants can help each other to grow and avoid problems. Basil and tomatoes, dill and cabbage, garlic and potatoes, and cucumbers and radish are great examples.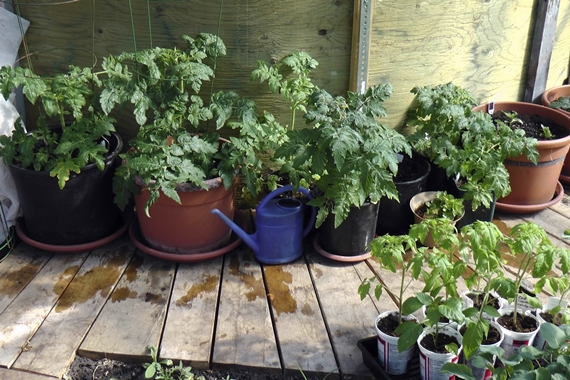 West Coast Seeds has a good list for companion planting. Find the plant you want to grow and see what does well with that plant. Note that companion planting is based on experience. Sometimes they are true also in your garden, sometimes they are not. Conduct your own experiments.
Plant rotation is used for two reasons: to ensure there are enough nutrients in the soil for the plants used, and to avoid diseases. Personally we only care about diseases. For example, if you grew some cucumbers, and they had a lot of mildew, do not grow zucchini in the following year, because most likely the disease is still in the soil. Grow tomatoes instead.
How to reuse container soil
You do not need new soil for container gardening year after year. Depending on the plants and the size of the container or raised bed, you want to use different methods, but you can grow in the same soil for several years.
Let's go through three scenarios, here we share our experience. As we said above, we use the Mell's mix as a base.
Raised garden bed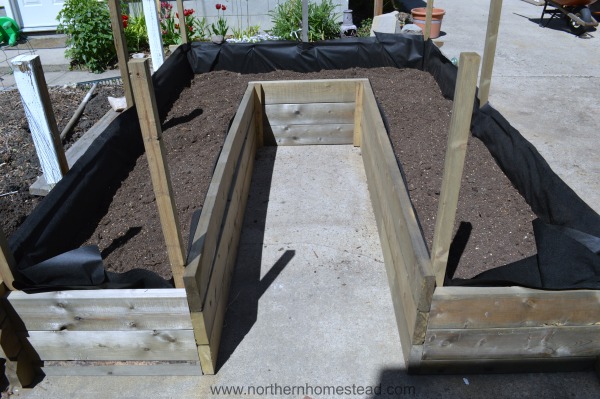 In our raised garden bed we mostly grow tomatoes, so at planting time we add a bit of manure or worm casting to the hole before planting. We might also mulch the bed with wood chips, so we do not have to water as much. In the fall we take out the roots when plants are done and add a layer of compost if we had not mulched it during the summer. The idea is to add some new organic material every year. Since our tomatoes are usually healthy, we grow them in the same bed year after year.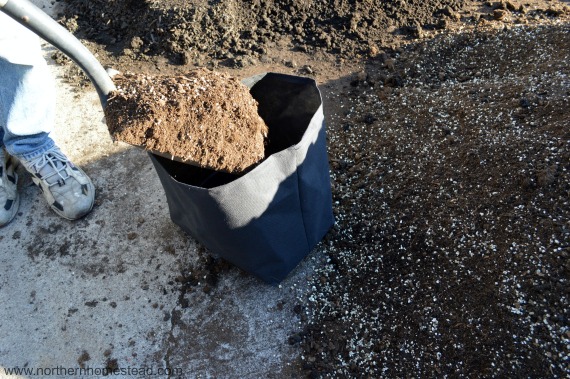 The soil for grow bags and bigger containers get mixed new every year. We found it easiest to deal with container soil to just empty all the containers or grow bags, add a good amount of compost, and mix it thoroughly. It does not have to be 1/3 compost to the volume of the soil, depending on what you grow you might want to add more or less. But mixing it anew loosens the soil and it's just like the first year.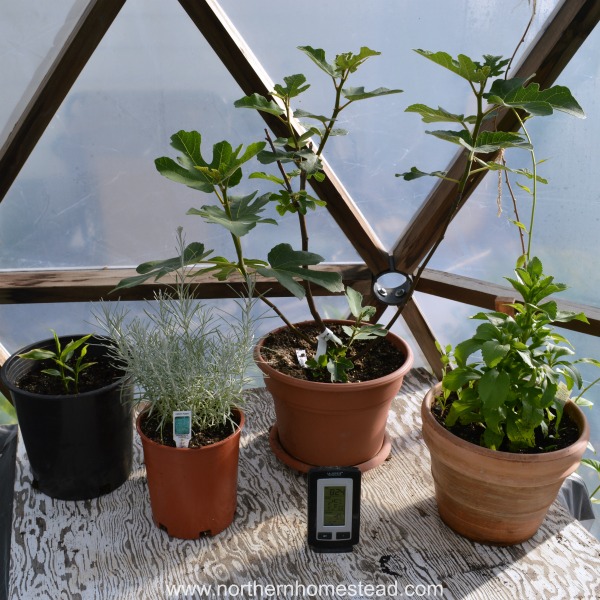 The soil from smaller containers might be done after one year of growing. Just use common sense. If the soil is completely full of roots, it is better to add it to the compost pile. This way it stays in your garden, only that the roots decompose before you use it again.
If you used all-natural material for your container garden, it would be similar as in a raised bed. But you would have to watch it more closely to make sure the soil stays light and loose. When the straw and leaves are completely decomposed and the soil becomes too compacted, then I'd advise to layer it again, using some new leaves, twigs or straw. Smaller containers can be layered with additional organic matter every year.
Don't forget to subscribe to Northern Homestead and follow us on Instagram, Facebook or Pinterest for the latest updates.
More posts you might enjoy