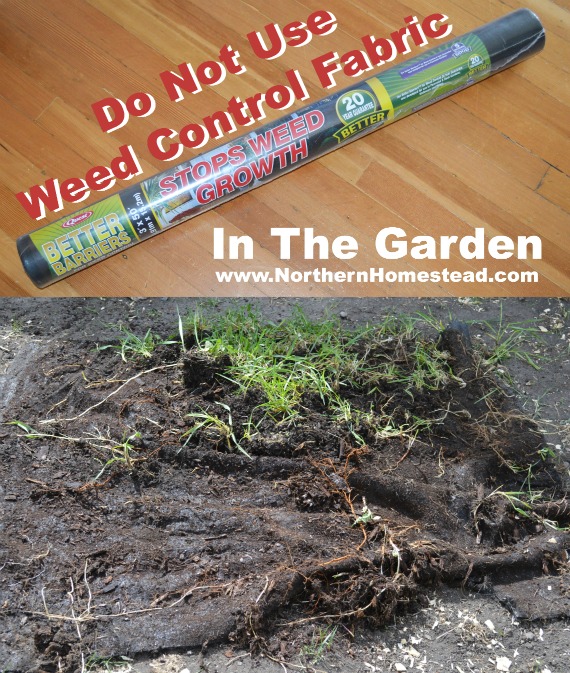 Just rolling some Weed Control Fabric (a.k.a. landscape fabric) out in your garden and not worrying about weeding anymore sounds good. Stopping weeds without dangerous chemicals, and doing it for many years – some give a 25 years guarantee, wow! But is this true, does it work as promised? Here are 4 reasons why we do not use weed control fabric in the garden as a long-term solution, along with some good uses for weed control fabric.
1. It is unnatural
Even though it is true that weed control fabric is not a questionable chemical, it still is far from being natural.
When used under mulch, rocks, or even soil, it traps earthworms and other creatures in the ground. These living beings live in the soil and are very beneficial to the soil and our food. Whatever happened to be below the landscape fabric has to stay there, and whatever happened to be above it can not go down anymore. Not a healthy situation. Well, you might not care so much about those thousands of creatures living in our soil, but this is just one of the reasons not to use a weed cloth. Even though I would encourage you to care, these creatures make our soil alive and nutritious.
Weed Control Fabric is also not biodegradable. Once in, it stays there for many years, creating more and more problems. Over time, it will deteriorate so that removing the fabric in one piece becomes almost impossible.
2. It does not work
Even though weed control fabric sounds like the perfect solution against weeds, it does not work as good as one would think. I was weeding the back of our garden the other day. I started in the corner and went towards the pathway. It was a very weedy area.
I had let the weeds grow, so we could see what comes up since the garden was new to us. While weeding, I was happy to learn that even though there were many weeds, they came out very easily. A previous owner had put wood chips there. It really encouraged me to see how mulch with wood chips really works for the good in a garden.
Right next to the pathway, however, there were especially many weeds, more than anywhere else. I also had more trouble pulling them. Since it was getting late and I was tired, I blamed it on myself.
The next morning we discovered that this higher weed-infested area had weed cloth beneath it. Oops! We have no idea how long that weed control fabric had been there, but we could clearly see that it did not work well. Here's a picture of the fabric, see how weeds grow right out of it.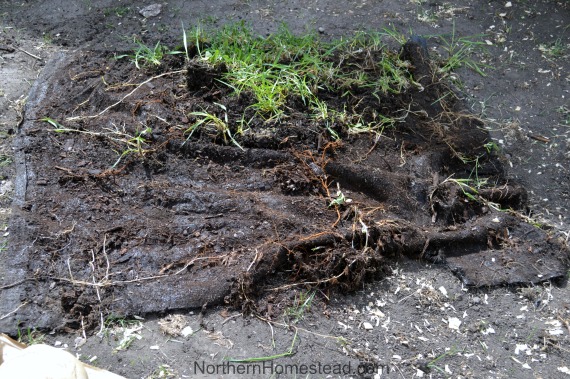 Every time you put something on top of the weed fabric that turns over time into soil, weeds will grow. Even with rocks, it will take longer, but eventually, enough soil will build up between the rocks, so that weeds will grow.
3 Makes pulling weeds impossible
The bigger problem with Weed Control Fabric is the fact that weeds grow through it. This makes pulling those weeds impossible. Once in there, you will have to replace the landscaping. Here's a picture of what the weed cloth looked like underneath. Hard to believe, is it? This was very eye-opening for us, and I wanted to share it with you.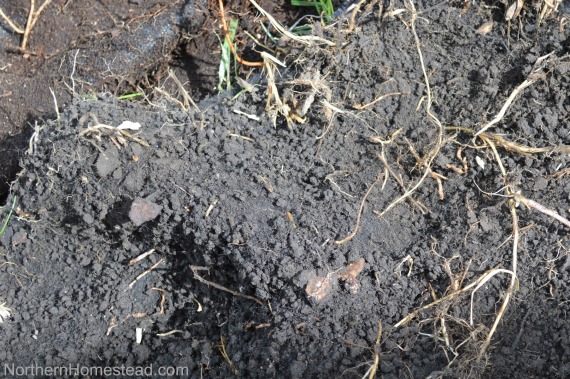 You see roots everywhere, strong roots that grow right through the fabric. You can not pull those weeds, since the root is under the fabric, the plant above. There is no other way to deal with it than to remove the weed control fabric altogether.
4. It's a bad gift for future generations
Weed control fabric is a bad gift that will stay in the soil for future generations. As you know soil in an urban setting always accumulates over time. That's why an archaeologist has to dig for treasures. On a smaller scale that also happens with weed control fabric. Weed control fabric that you put into the garden just under some mulch or rocks will stay there and go deeper and deeper into the soil.
We live in an older house, the garden has been landscaped for many, many decades. In some areas, while digging, we would discover old weed control fabric buried deep in the soil.
Imagine you plant a tree, and just an inch below the hole you dig is the fabric. You will never know why that tree will not grow healthy roots.
We want to create a better world for the future generation, so do not use weed-control fabric in your garden.
Natural weed control
We certainly prefer a more natural way of dealing with weeds. If a weed barrier is needed, newspapers or cardboard work great. They will compost and actually feed worms rather than trap them.
Adding heavy mulch is the best solution. Some weeds do grow in mulch too but are so easy to pull.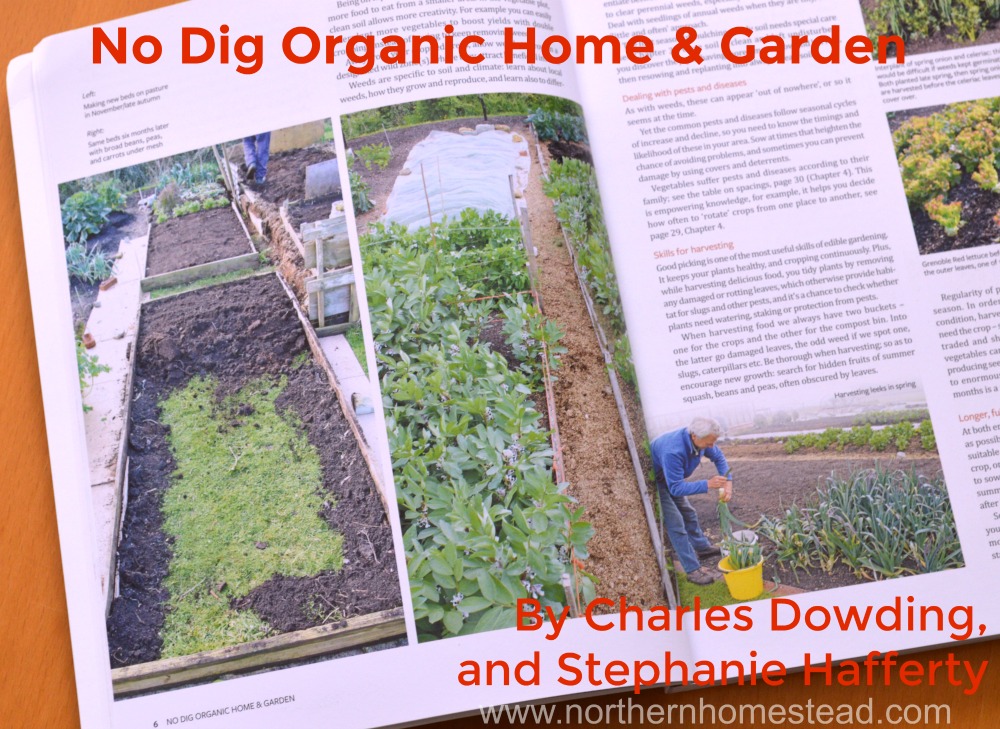 In the award-winning book, No Dig Organic Home & Garden Charles Dowding and Stephanie Hafferty explain how to set up a no-dig garden. An annual dressing of compost helps to improve the soil structure and leads to higher fertility and fewer weeds. No-dig organic gardening saves time and work and is a great natural way to do landscaping.
Uses for Weed Control Fabric
Weed Control Fabric can be used under walking paths and decks. Places where dust and dirt will not find their way between the weed barrier and the surface, so weeds can not grow.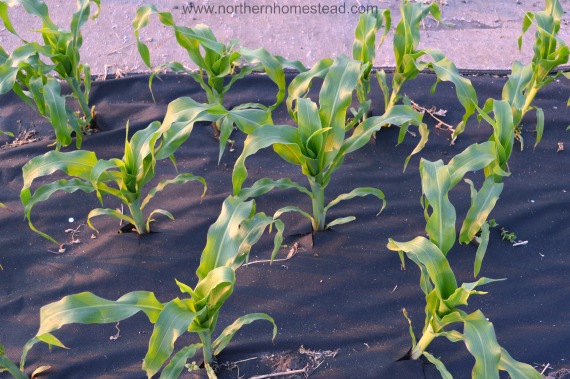 Weed control fabric is also great as a cover in the garden if you do not use mulch. Cover the garden bed in the fall, so weeds do not grow during the winter (not happening here, but in warmer areas). Or cover in spring, to warm up the soil. Also, warm-season crops like to have the soil warm. Again, weed control fabric can be used here. Just remember not to cover the fabric, so weeds grow, but to use the fabric as a cover. Do not use plastic for this, it will kill all soil life.
Last but not least this durable fabric is an excellent material to make grow bags and beds. Learn how to sew a grow bag here. We used it in the wicking bed and the raised window-protected garden.
Note that we only recommend using weed control fabric in raised beds that are not connected to the soil. If you build a raised bed in your garden, leave the bottom open, so all the beneficial soil life can move up into your grow bed. Read more in Raised Beds vs Container Gardens.
I hope this helps you to utilize weed control fabric wisely.
Don't forget to subscribe to Northern Homestead and follow us on Facebook, Instagram, or Pinterest for the latest updates.

More posts you might enjoy