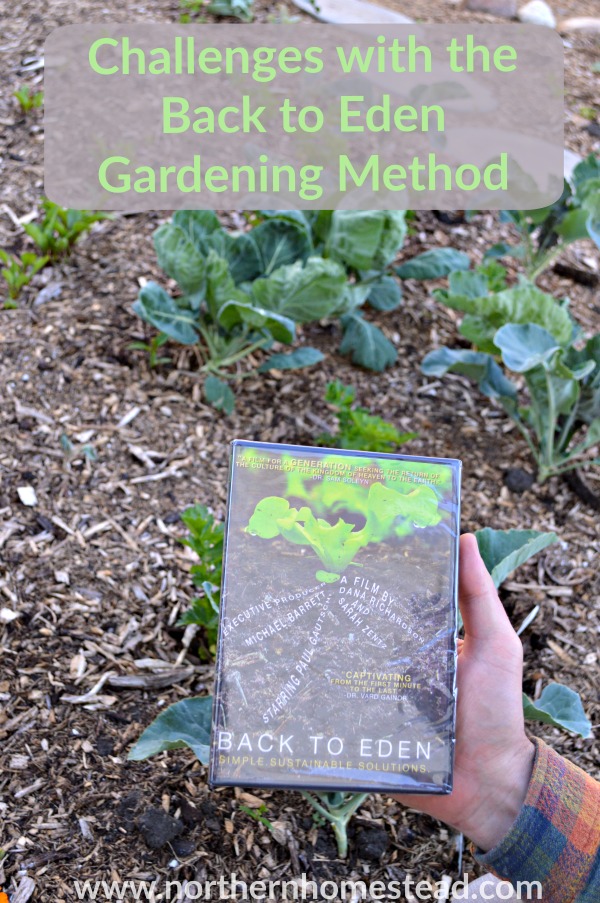 We are big fans of no-till gardening methods. We got into it through the Back to Eden film, a documentary of a sheet mulch gardening method using wood chips or other natural mulch material. Mulching is just the best thing one can do for a garden. There is no tilling or digging needed any longer.
Our whole garden is covered, and we love it. It is our third summer of growing a no-till mulched garden, so it's time for an honest review.
Even though we love the no-till gardening method, we do see that there are some challenges that come with using wood chips. So let's get started.
Not all wood chips are good for the garden
I do not want to counter the founder of the Back to Eden garden method, he is right in saying that any coverage is better than none. However, wrong wood chips might not be the best "any covering". Maybe you are better off with grass clippings or straw, instead of bark mulch or wood shavings.
We have used 3 sources for getting wood chips. It is not as easy as it sounds,  mainly because people do not understand what we mean by saying we want wood chips for the garden. Since most customers are using mulch for a nice look, suppliers try to offer wood chips that look good, like bark or woody mulch. And I agree, those do look good in a flower bed, but they aren't really suitable for the garden.
Great wood chips for a mulched garden method should be from thin tree branches, preferably with leaves, shredded and composted. It will look like wood chips with compost in between. In fact, those are compost wood chips.
Fresh wood chips that are just shredded can also be used. Again, make sure it comes from branches with leaves. This kind will decompose in the garden, though it does take time. We have used fresh wood chips under trees and shrubs. To plant a vegetable garden into the freshly cut wood chips is not a good idea, but over time they will make great composted wood chips.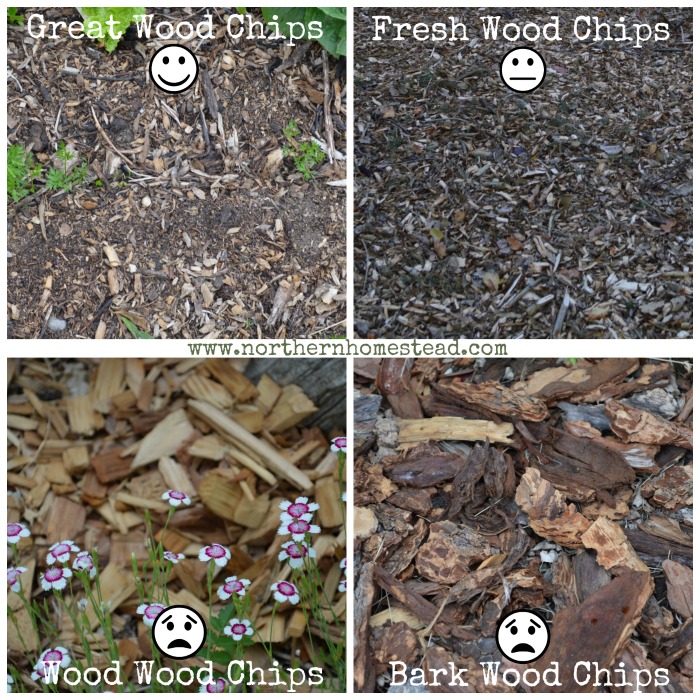 If all you see are chunks of wood or shredded wood, those are wood chips that are not good for the garden. Also, bark mulch that looks so nice in ornamental gardens is not suitable for a vegetable garden.
Ask your local tree care service. Explain to him what you want. Most likely the kind of wood chips you are looking for is the kind that is of no value to him. We get all the great wood chips for our garden for free.
Good soil does not happen overnight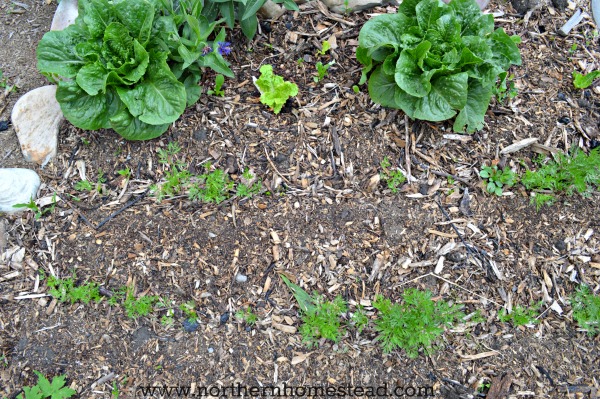 Covering the soil with mulch is a great idea in any situation. However, if you cover good soil you will have even better soil under a mulch covering. If you cover poor soil, you will be on your way to improving your soil, but it will not happen overnight. If you do have poor soil, please note that adding compost will improve it greatly. Read how we converted a hay field into a garden.
A good start for a sheet mulched garden is to cover the soil with cardboard or newspapers to prevent weeds from growing. Add good compost, then cover the compost with good wood chips. Over the years the wood chips will decompose, and the added moisture and protection will encourage worms and beneficial bacteria to move into your soil. Your soil will build up and become a great soil – but it does take time.
For the first few years make sure that there is a good layer of mulch on top of your soil. If you just add it once you might find out in 3 years not much has happened. Especially with poor soil, you have to add mulch and additional compost regularly. Over time, you will need less and less and your efforts will be rewarded.
Germination and planting is more challenging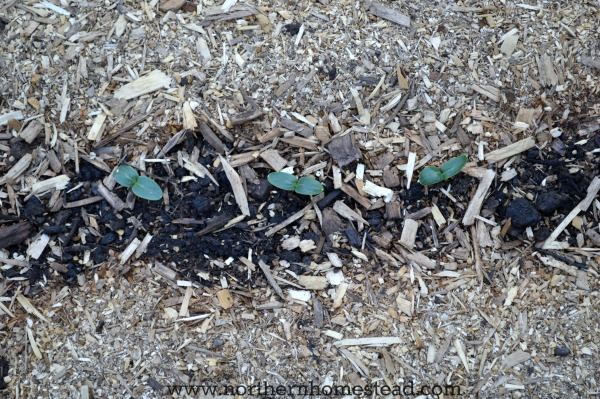 In a wood chips mulched garden, weeds do not grow as much as they do in a normal garden. This is partially because seeds that land on wood chips will not germinate. We love it. Weeding has become so easy. However, the same is also true for our seeds that we plant.
It is important to move the layer of wood chips away and to plant the seeds into the soil, not into the wood chips. Just to clarify, you can cover the seeds with wood chips, but seeds should be planted in soil. Sometimes it still happens through the wind, rain, and other circumstances that the seeds land in the wood chips resulting in poor germination.
To avoid this problem you can start planting earlier and deeper. The seeds will need longer to come up, but they will be sturdy and healthy plants. Also, for small seeds you can use good planting soil or compost to cover the seeds with and keep them watered and moist. Once the seeds are up, you will not regret the effort it took to get them started. Even if you do have gaps, your yield should still be great. You can also use just compost to mulch areas where you plant small seeds (see below).
The wood chips also do get in the way of planting new plants or moving and dividing plants. It takes a bit of practice to deal with that.
The slug problem
Wood chips can introduce and multiply a slug problem in your garden. This is a more serious challenge for areas that get a lot of rain. Here in Alberta, Canada we often have dry summers, so the wood chips work for us. However, we still noticed that there are more slugs in our mulched garden than there would normally be in our area. For us though the benefits of wood chips still outweigh the challenge with the slugs.
To avoid this problem make sure to use composted wood chips that really look more like compost and less like wood chips. Also, you can get basically the same results using just compost without the wood.
Note, the important part is that the soil is covered. Covering with wood chip mulch gives you the benefit of keeping moisture in. But if you are in a rainy moist climate, compost is all you need.
Charles Dowding from England has had a great experience with it and shares it in his books and YouTube Channel. If slugs are a problem in your garden, take advice from him.
We hope this will help you to a good start with a natural no-dig gardening method.
We invite you to subscribe to Northern Homestead and follow us on Facebook or Pinterest for the latest updates.
More posts you might enjoy