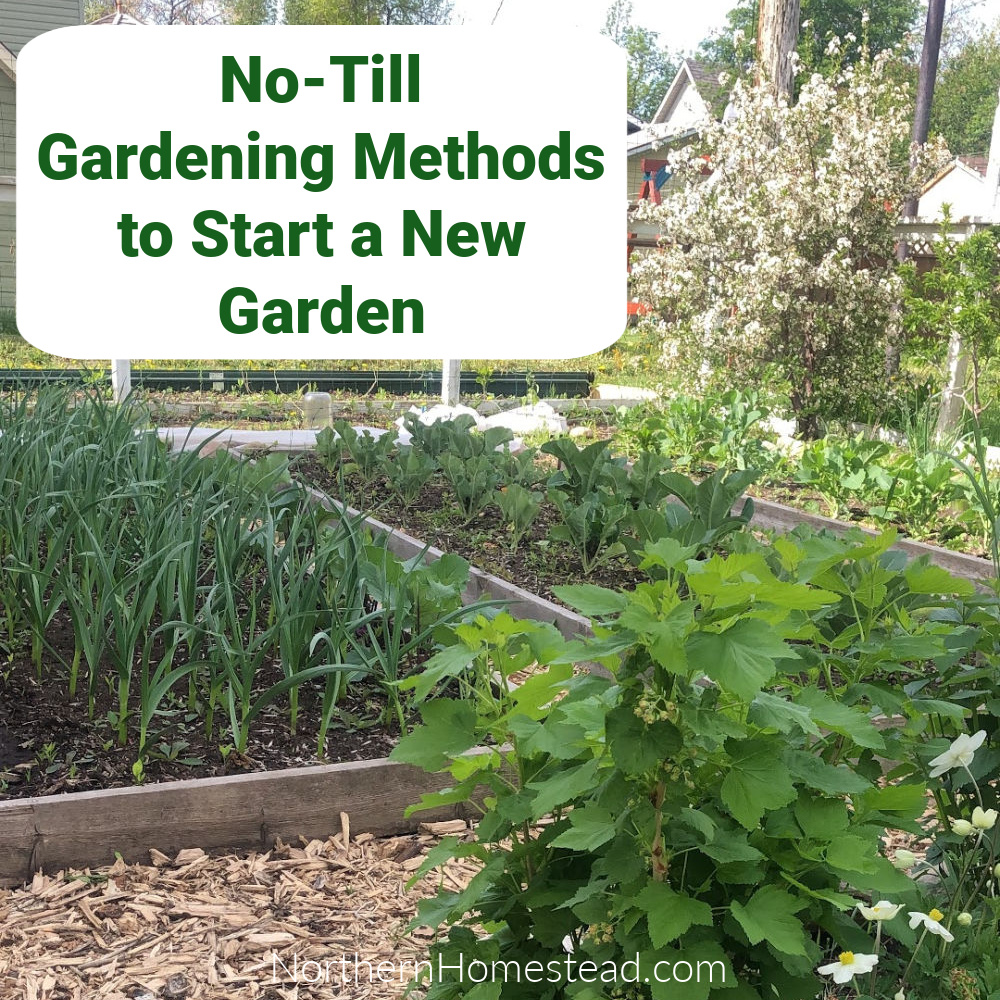 No-till or no-dig gardening methods are on the rise in popularity. The idea of starting an instant garden without the back-breaking work of digging sounds very appealing to an instant culture. To be honest with you, it took me a while to understand the no-till methods. Not because they are complicated, they are not, but like any instant product, they do have their price.
In this blog article, we are talking about no-till gardening methods to create a new garden. If you already have a garden and want to convert it into a no-till garden, the article To till or not to till the garden is for you.
Here we are covering 3 no-till gardening methods to start a new garden: sheet mulch, instant compost topsoil, and square-foot gardening.
All three have their place. Use sheet mulching if you have a lot of free natural material and time to build good soil. Use compost soil mix if you want an instant garden, and square-foot gardening if you want to build a garden with no soil to start with.
1. Sheet Mulch No-Till gardening method
With sheet mulching, you can build a productive garden no matter what the soil underneath is like. It's a great method to convert a hay or grass field into a garden. Also if you have rocks, sand, or clay soil, sheet mulching is the way to go.
Sheet mulch is also called lasagne gardening, just like with the yummy dish, you layer natural material to create good soil. You will benefit from more layers if the soil you are covering is of very poor quality.
As we said before, sheet mulching is especially attractive if you have access to natural material for free, and want to build a great garden with little to no cost. However, it will take some time for the garden soil to become great.
There are many ways to do a sheet mulched garden. You can hardly do it wrong, as long as you use natural materials. Hay, straw, compost, manure, wood chips, leaves, and twigs can all be used.
The different layers will compost and blend over time creating a very loose, rich soil.
Here is an example of a sheet mulched garden: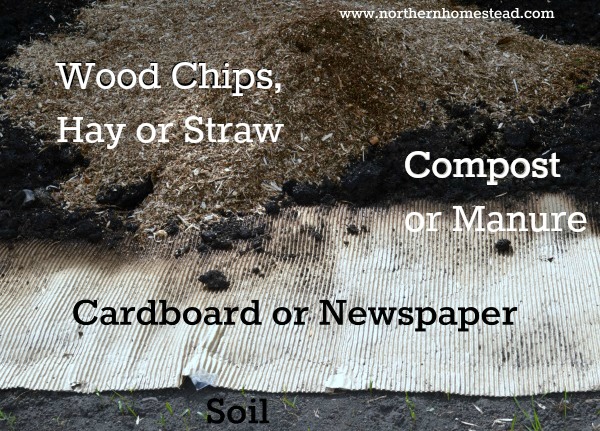 1. Begin with a cardboard or newspaper layer. Some like one more than the other, some use both. Brown cardboard is what we used. It is easy to get and simple to work with. The cardboard will prevent weeds from growing, and feed the worms in the process.
After we have done it so many times, we would not insist that this step is crucial. It works without cardboard or newspaper too if you add a good layer of everything else. See how we converted a hey field into a garden.
2. Layer a good amount of natural material. For example, in our raised garden beds we started with old hay.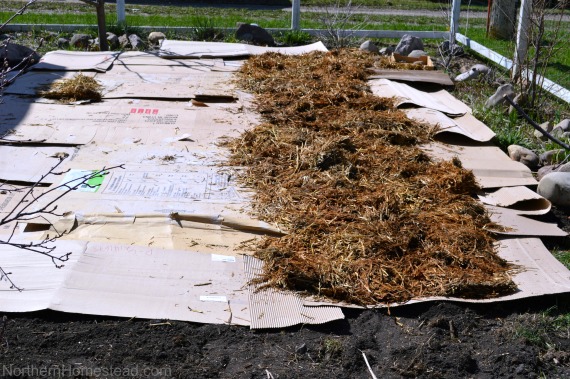 You can also use wood chips, or straw as a base for the garden instead. The looser the material, the more you will need.
Cover the straw, wood chips, or hay with a layer of compost. At this point, the compost does not have to be of good quality. Composted manure is a good choice if you used wood chips. It helps to balance the carbon-nitrogen in the mix.
Repeat this layering as many times as you want or have materials available. Sheet mulching is called lasagne gardening for a reason.
3. Top with a good finished compost about 1 inch (ca. 2-3 cm) as your growing layer. Now you are ready to plant.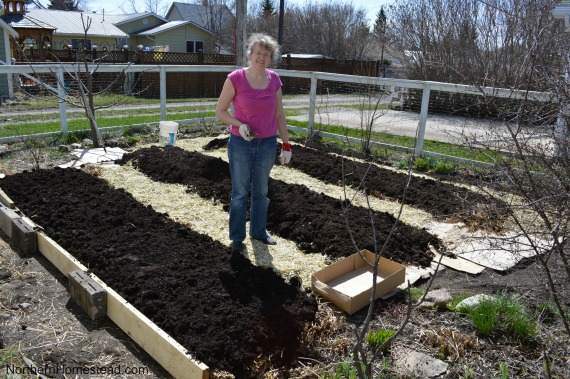 The pictures show how we build our main raised beds in the spring of 2014. We still use these beds and the soil gets better year after year.
To maintain a sheet mulched garden you will have to mulch annually with the natural material of your choice. It can be compost as well as hay, straw, or wood chips. We usually use whatever is available to us for free.
2. Instant soil No-Till Gardening Method
The instant compost topsoil garden is what the no-dig gardening gurus are using most often. It is the fastest way to build a productive garden that will serve you well for many years.
As with the sheet mulch garden, you can start with cardboard or newspapers. Again, this is to prevent the weeds from growing.
You will need about 6 inches (ca. 15 cm) of compost, which can be less finished. Topsoil can also be used. Since this method is coming from the UK it is not always clear what they use, since the soil there is called compost.
The idea is that you build beds with soil that is ready for plants, not like in the lasagne garden, which will take time to develop. Here you bring in the soil, cover, and grow.
Again as in the sheet mulch garden, you finish the beds with fine material. If you used compost for the base, use good-quality topsoil now. If you used topsoil for the base, using good finished compost to top with is a good idea.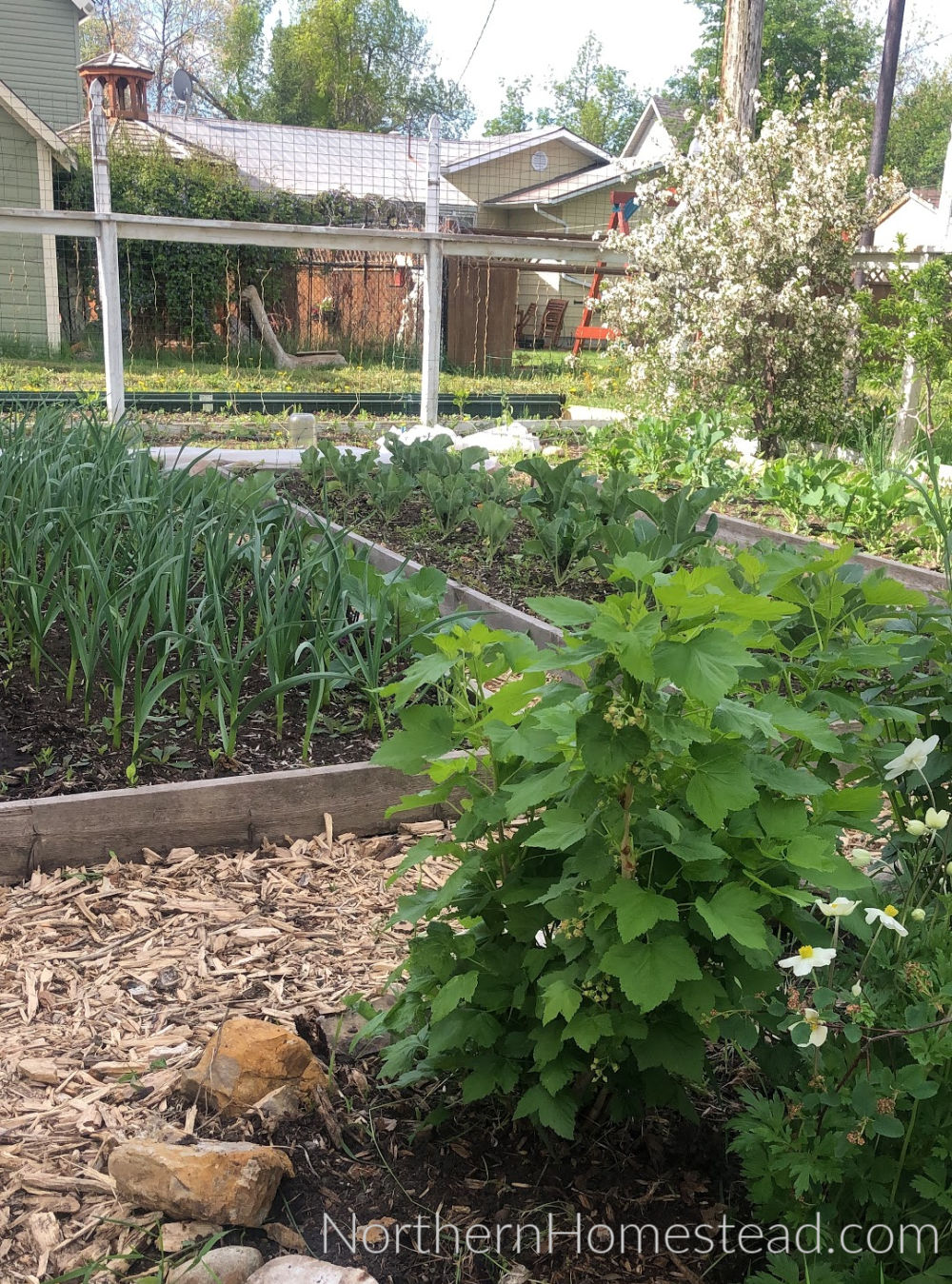 And as with any No-Till garden, an annual cover of mulch is needed to retain the effect of no-tilling. Over the years you might need less and less mulch, but keeping the soil covered will always be important.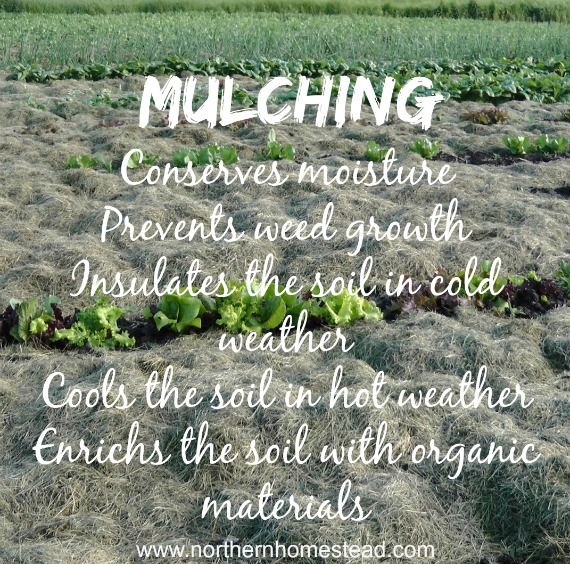 Read more about maintaining a no-till garden here.
Here is more info on these methods: Lasagna Garden, Back to Eden, or No-Dig,
3. Square Foot Gardening method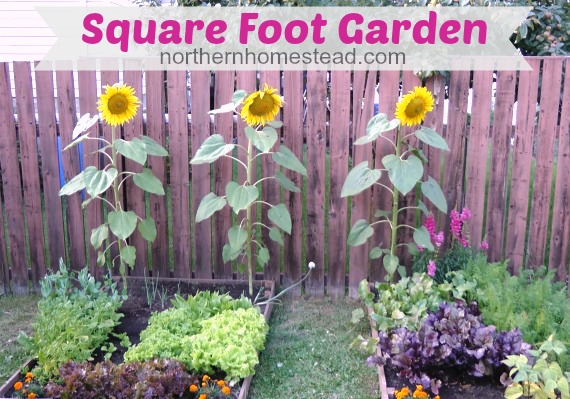 I still remember when a guest told me about the square-foot garden method. I looked at her in disbelief, not even grasping what she was talking about. Gardens come in rows, right? That's all I knew at the time. It made me curious though, and I started looking up info on the square-foot garden, that she was so enthusiastic about.
There are two sides to the square-foot garden. For one, it is a way of planting and this is how Mel Bartholomew started it. Instead of planting a garden in long rows with lots of space in between, you plant the garden by using every square foot – hence the name. Any garden that has fertile soil can be planted this way. You can have a sheet mulched square foot garden just as well as any garden.

Instead of planting in rows, you plant in squares following a Seed-Sowing Template giving each plant just enough room to grow. This can easily be done by hand, planting 1, 2, 4, and up to 16 plants into one square foot, depending on what you are growing.
Note, for cold climate gardening, we have found that planting too densely does not work so well. Cold plus shade works against each other. I still use the method but leave a bit more space between the squares, like a square row, or just make a bit more generous squares.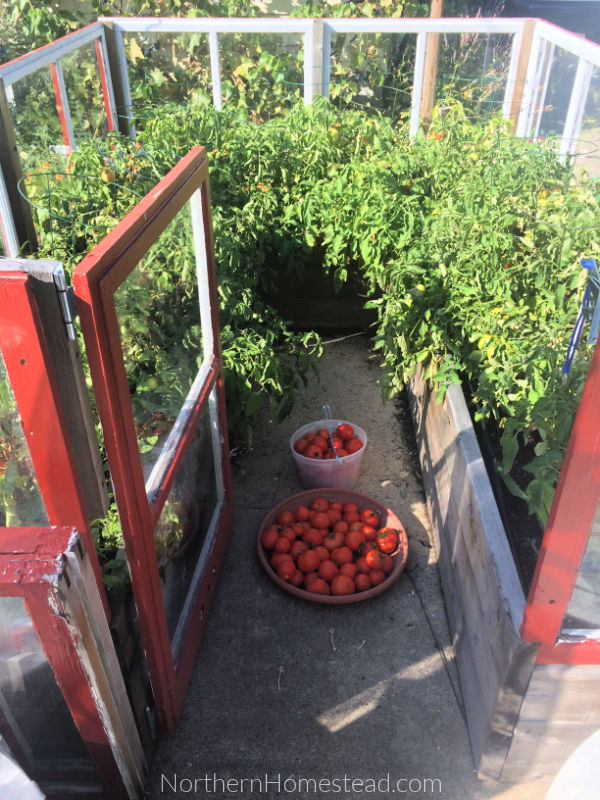 Second the All New Square Foot Garden – is a great method if you want to build a garden where there is no soil. Here you build some raised beds with new soil. A square-foot garden can be built just about anywhere – on driveways, balconies, or small yards. We use Mel's Mix in our raised garden bed and grow bags.
To make the soil for a square foot garden combine the ingredients of Mel's Mix:
1/3 compost
1/3 vermiculite
1/3 peat moss
You can find all of these ingredients in a garden center or Home Depot. The measurements are by volume, not weight. You will find all the needed info in Mel's informative books. These books are great for any beginner gardener because as we said above any garden can be a square foot garden.
Maintaining a square-foot garden is different from other no-till gardening methods. Since we plant so densely, the garden is not mulched. Inted every year a bit of compost is added to each square foot and worked in.
Even though all 3 No-Till gardening methods are different, they are all great and successful. If you have experience with one of these or another no-till garden method, please share in a comment.
Don't forget to subscribe to Northern Homestead and follow us on Instagram, Facebook, or Pinterest for the latest updates.
More articles you might enjoy