Note: This is an older recipe. We have since changed to a plant-based diet and love it. It's better for our health, all living and the planet. The recipe can easily be made plant-based without the eggs, instead, add some sliced, or scrambled tofu.
Fall is here, and with it our love for soups. The sorrel soup with poached eggs recipe makes a light and delicious dish. Growing up we called it summer borscht. The reason is that sorrel grows in the summer, hence it was made in summer. Our summers here in Canada are so short that I like to save all soup recipes for the cold months, including sorrel soup with poached eggs.
Sorrel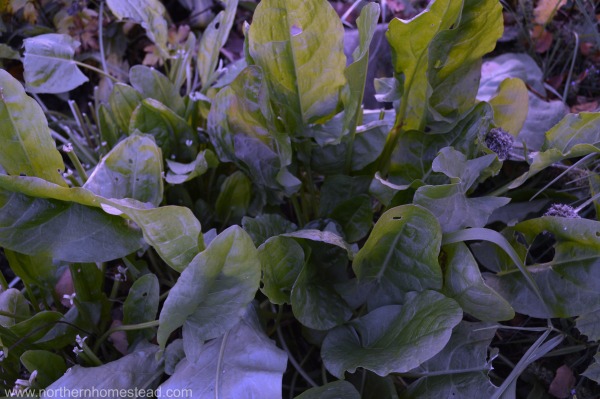 Sorrel is one of the first perennial plants to come up in spring, and if harvested continually, especially in cold climate, will grow all summer till late into fall. The leaves remind me a bit of spinach, but sorrel leaves have more taste to them; they are sour. There are many varieties of sorrel, the most common is French sorrel. You will have to plant sorrel once, and it will come back every year even in our Zone 3 garden.
Use and preserve sorrel
Sorrel makes a great addition to a salad. But the best way to use sorrel is in sorrel soup. To be able to make the yummy soup in winter, I simply freeze the sorrel leaves cut and ready to be added to a soup. I do not blanch them.
Sorrel Soup with Poached Eggs Recipe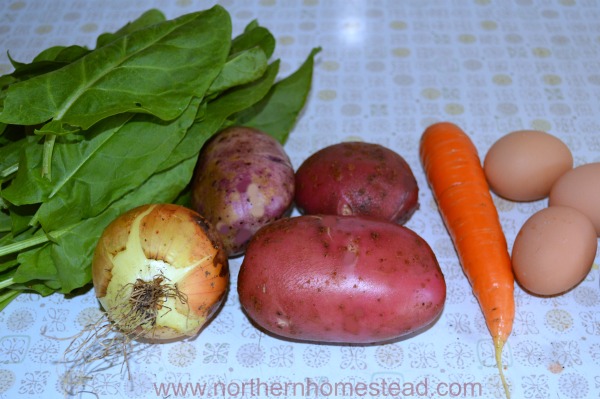 We love to grow what we eat  and eat what we grow, this recipe is a great way to do just that – it can be made with all homegrown ingredients.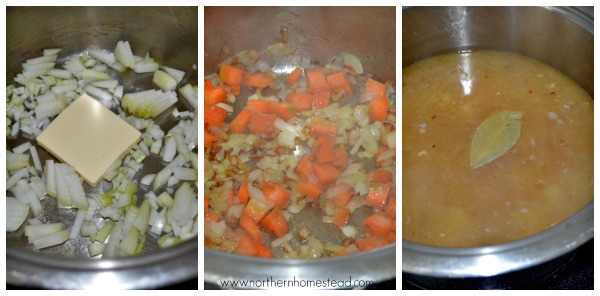 Veggies fried in butter and topped with homemade broth make the soup delicious.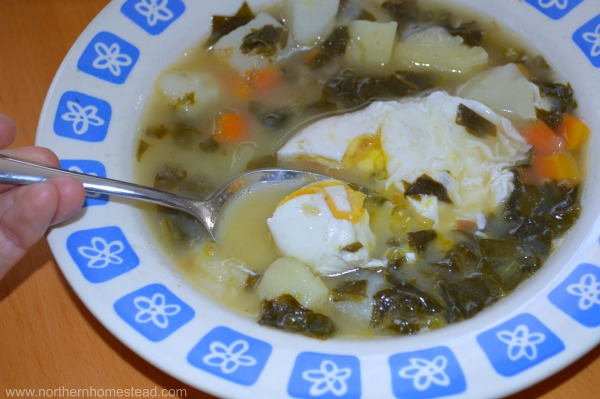 To make poached eggs is really simple. Here we made a video to show you how, if you haven't done it before. Poached eggs can be enjoyed in many dishes, but the sorrel soup seems to be the perfect fit. The natural acidity in the soup is perfect for poached eggs. Yum! If you have trouble to see the video below, go here.
Sorrel Soup with Poached Eggs Recipe
Author:
Anna @ Northern Homestead
Ingredients
3 tablespoons butter
1 onion chopped
1 carrot chopped
3-6 potatoes cubed
1 bay leaf
4 - 6 cup broth
1 bunch sorrel leaves cut
4 eggs
Salt and pepper to taste
Instructions
Fry the onions and carrots in butter till browned
Add broth
Add bay leaf and salt
Add potatoes and cook till potatoes are done (about 20 minutes)
Season
Add sorrel and cook for 2 minutes
Add eggs and cook for 2-3 minutes
Serve immediately
We invite you to subscribe to Northern Homestead and follow us on Facebook or Pinterest for more yummy recipes.
More Recipes You Might Enjoy: