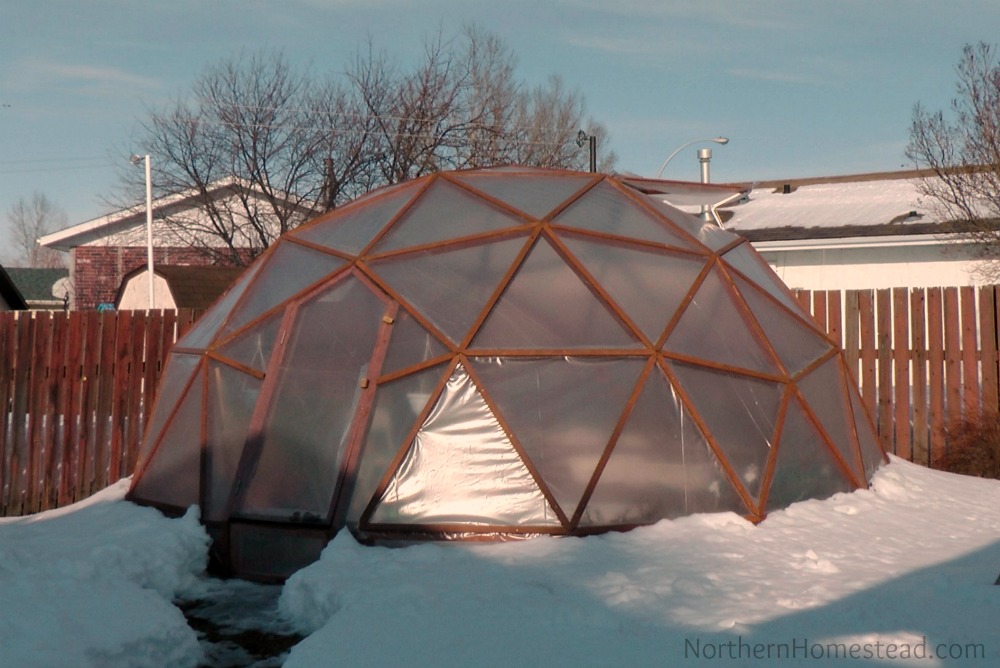 The covering of the geodome greenhouse makes all the difference on how much protection you will have. A single layer of greenhouse plastic poly keeps a greenhouse around 4 degrees warmer at night than the outside temperature. Adding another layer of plastic poly filled with air in between would more than double the protection. Also, double walled polycarbonate panels would significantly increase the protection. Depending on how much protection you want, get creative with the cover.
Because of the shape of the dome covering can be tricky. The Acidome calculator calculates nicely the size of the facets, which is especially important for pricier coverings.
We covered our first dome with used greenhouse plastic poly that was given to us from a commercial greenhouse. It still had plenty of life left. With our free plastic cover, we simply laid the struts on the plastic and cut the 2-3 facets approximately. Cutting the plastic for 3 facets in a row worked the best. Any overlaps we trimmed with a utility knife.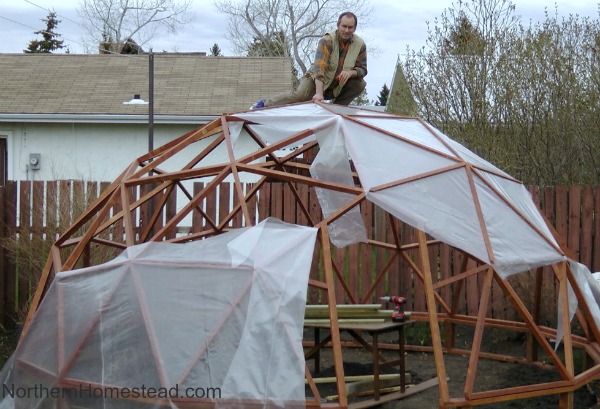 Make sure the overlapping is done downwards, so the water can flow up instead of into the greenhouse. Just the same way shingles are done.
We stapled the plastic to the struts and then used 1 cm planks to hold it in place which also pointed out the structure of the GeoDome even more. We like it :).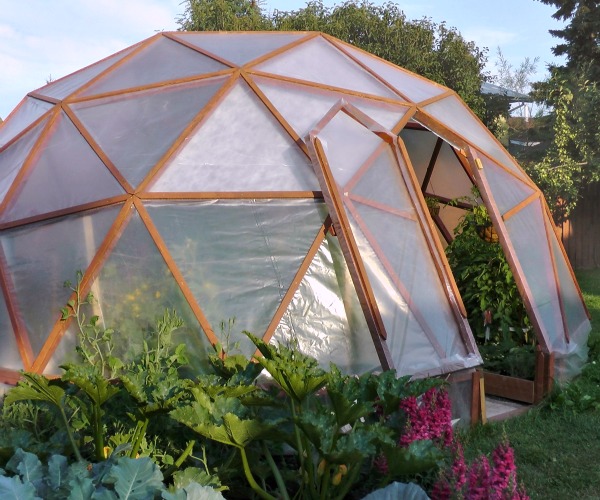 Covering the GeoDome Greenhouse with Shrink Film

Shrink film comes in different colors as well as transparent. Because of the dome shape, it makes sense to use shrink film. With our second dome, we went for a shrink film cover.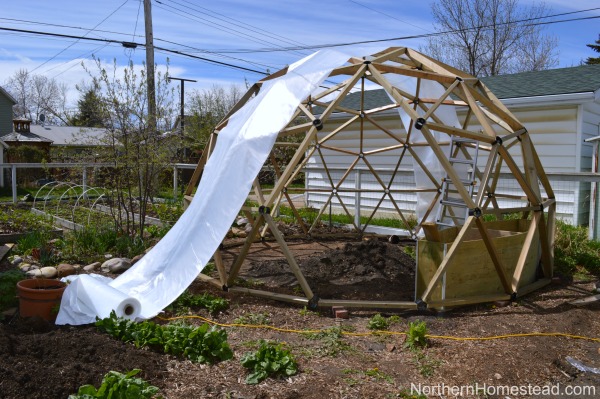 It was fairly easy to pull it over, however, the shrinking was not so easy. But that wasn't the biggest problem. The foil when shrunk looses some of its transparency. It becomes slightly opaque. In a greenhouse, however, we want all the light we can have. So we gave up on shrinking the foil and folded the overlaps and stapled the plastic to the struts and then used 1 cm planks to hold it in place as we did with our first dome.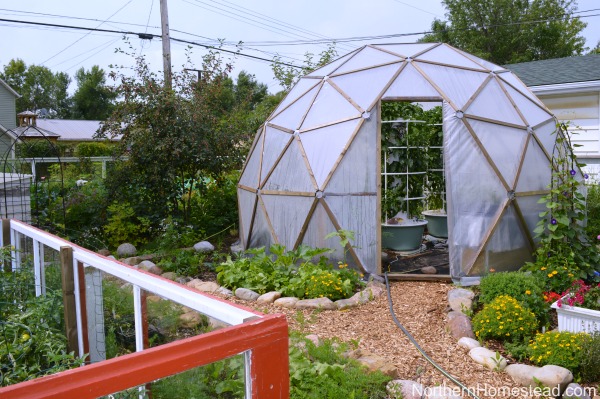 The shrink foil however still reacts to temperature change. We would not recommend it.

Polycarbonate panels are probably the most durable cover you can have. You can choose the thickness you want and the size of the panels you need. If growing a year-round garden in the geodesic dome is your goal, this would be a great covering to choose.
Here is a great tutorial about how to cover a GeoDome Greenhouse with polycarbonate panels.
If you want to build a Geodesic Dome too, we share a step by step How to build a GeoDome Greenhouse.
A Geodesic Greenhouse Book: Building and Using a Solar-Heated Geodesic Greenhouse.
Don't forget to subscribe to Northern Homestead and follow us on Facebook or Pinterest for the latest updates.
More about a GeoDome Greenhouse: